Customer Care is the holy grail to a healthy business. It's that simple. Most department stores and chains will spend hours of training on their staff, to improve the service to make sure every customer leaves happy as it will affect sales in the long term. But what about online stores? This is quite a different experience, but there are lots of ways we can improve this and learn from the retail industry.
The typical customer journey
No doubt you've bought many items yourself online, so you know what parts are essential to you to make you a happy customer. It often starts as soon as you land on any page. You know if this company is worthwhile to explore or quickly return to Google Search and try a different link within a second.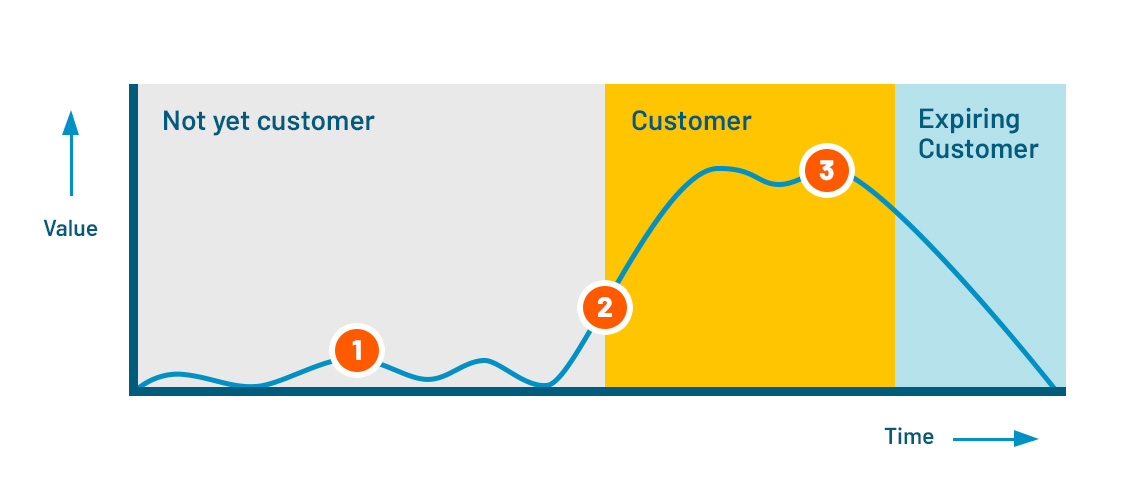 So there is the first impression of the store. Often these are icons or promises of what they deliver, like free returns, flat-rate delivery, customer chat, and many more. Each customer service USP (Unique Selling Point) also needs to be part of your store's setup.
As you continue to search for products, you will soon be sidetracked with other offers, promotions, recommendations, bundles, and more. Often this is seen as 'sales,' but you could argue that this is also customer service. Showing the customer the right products and services followed by complementary products and offers gives the best price possible. If you were helped in a store by an assistant, they would do the same. Trying to copy this service is not easy, but it will be pretty apparent if you put yourself in the buyer's shoes.
Throughout checkout, you will be faced with shipping, delivery options, payment, and confirmation. In the days and even weeks, your website becomes a platform to check details on the order, refunds, inquiries, reviews, re-order, and hopefully order more items.
It is quite an extensive list of touchpoints for each customer, and we often take this for granted to be done by the eCommerce software. Therefore, it is super easy to stand out from the crowd by improving a few of the recommendations.
You might love or hate them, but look at Amazon as an example. The top bar has many clues as to what is essential. Search, Prime, customer returns, and my account are all part of customer service.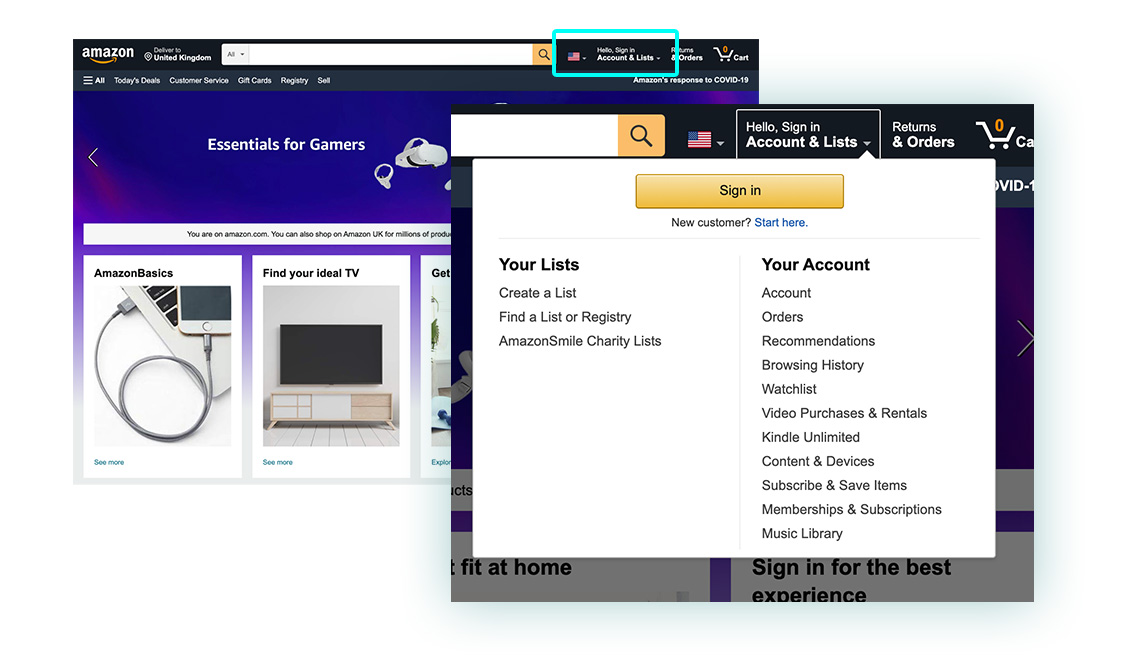 Ten valuable points to improve the customer experience for online stores
To simplify the customer service journey, we'll break it down into ten areas that you should consider improving with the following points.
1 – Find the right product fast; using Ajax search and filter plugins
2 – Wait, someone is here to help; give customers the option to get in touch
3 – Make it your own; customize your products or create bundles
4 – Not ready to buy? Come back later; just add it to your wishlist.
5 – Avoid additional costs; the power of free shipping
6 – The fast and efficient checkout experience
7 – Confirmation page and email are a golden opportunity to get things right
8 – My account; the central place to find everything
9 – Refunds happen; make an unhappy customer happy
10 – Follow up, recommendations and reviews
1 – Find the right product fast; using Ajax search and filter plugins
As mentioned in the intro, an e-commerce store has only a few seconds to impress customers before they leave. You can not show every product on the home or landing page, so a good structure of your catalog is pretty apparent. Finding the right product, or filtering it down to your size or color, will eliminate clicking through and only finding out the size is not available. Just as you go to the aisle with your shoe size to see what is available, the filter method can have a similar effect. It is better to show what you have in stock than disappointing the customer over and over again. You can just imagine how they would feel.
Use Ajax Product Search to quickly find a product by name, just by typing a few characters to complete the product name.To filter your catalog by attributes like size and color, you cannot do without the Ajax Product Filter. Just as crucial to the functionality is the experience. Thanks to a recent update, the Ajax Product Filter allows you to show filters horizontally and have an excellent mobile experience.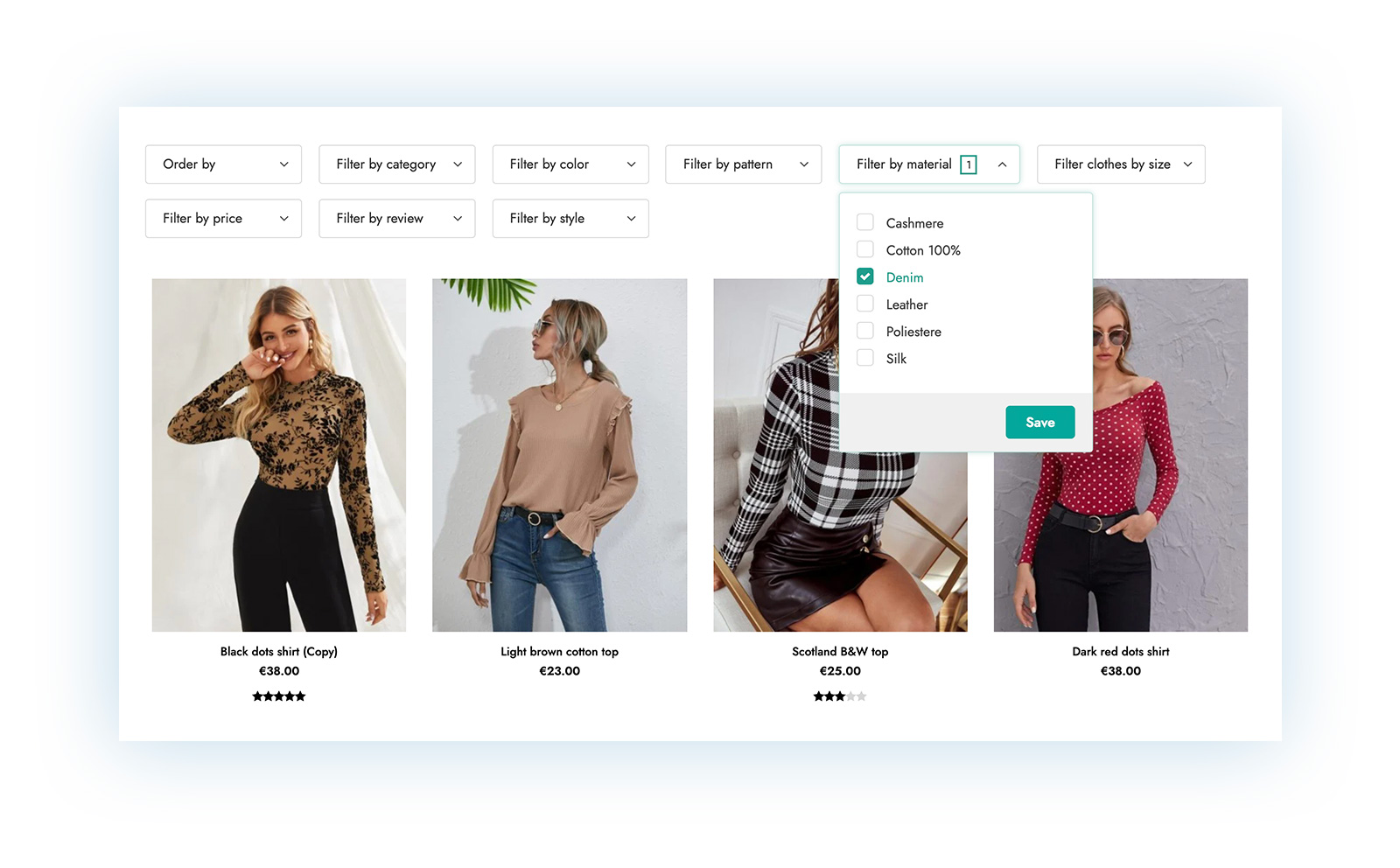 2 – Wait, someone is here to help; give customers the option to get in touch
Imagine looking for something specific, but you're not quite sure what the product's name is. Would it not be fantastic if there was somebody available to ask? Yes, you can send an email, but better would be to chat with somebody directly who can point you in the right direction.
Thanks to chatbots apps, it is now more common to see a pop-up with the offer of help by the store assistant.
Being available to customers 24/7 is now expected for most e-commerce sites, whether to help, navigate the site, ask for a refund, or support your services.
Online chat also helps the customer feel reassured to buy from this store; even if they don't use it, they know the facility is there.
3 – Make it your own; customize your products or create bundles
If you go to the supermarket, you are faced with options. You can pick the ingredients to make your meal or find a meal deal. You can choose colors and garments in clothing stores to create a costume, possibly because the store has put them together or an assistant helps you find complementary items. At a surf store, you can pick your surfboard, wetsuit, sail, and bag to make your bundle. When doing this online, it's becoming a lot more complicated as not everything is laid out in front of you. Sometimes you need to help the customer and either create bundles or give them the options to build up the ultimate product they are looking for.
Several tools can help these, including YITH WooCommerce Product Add-ons and Extra Options or YITH WooCommerce Product Bundles.
Creating bundles helps you sell more, but it is also good customer service to show the various complementary options and the best price to your customers. In return, they feel they've purchased a custom/personalized solution for the best possible price. But beware of out-of-stock items, as there is nothing more frustrating than to click around to only find out they are not available.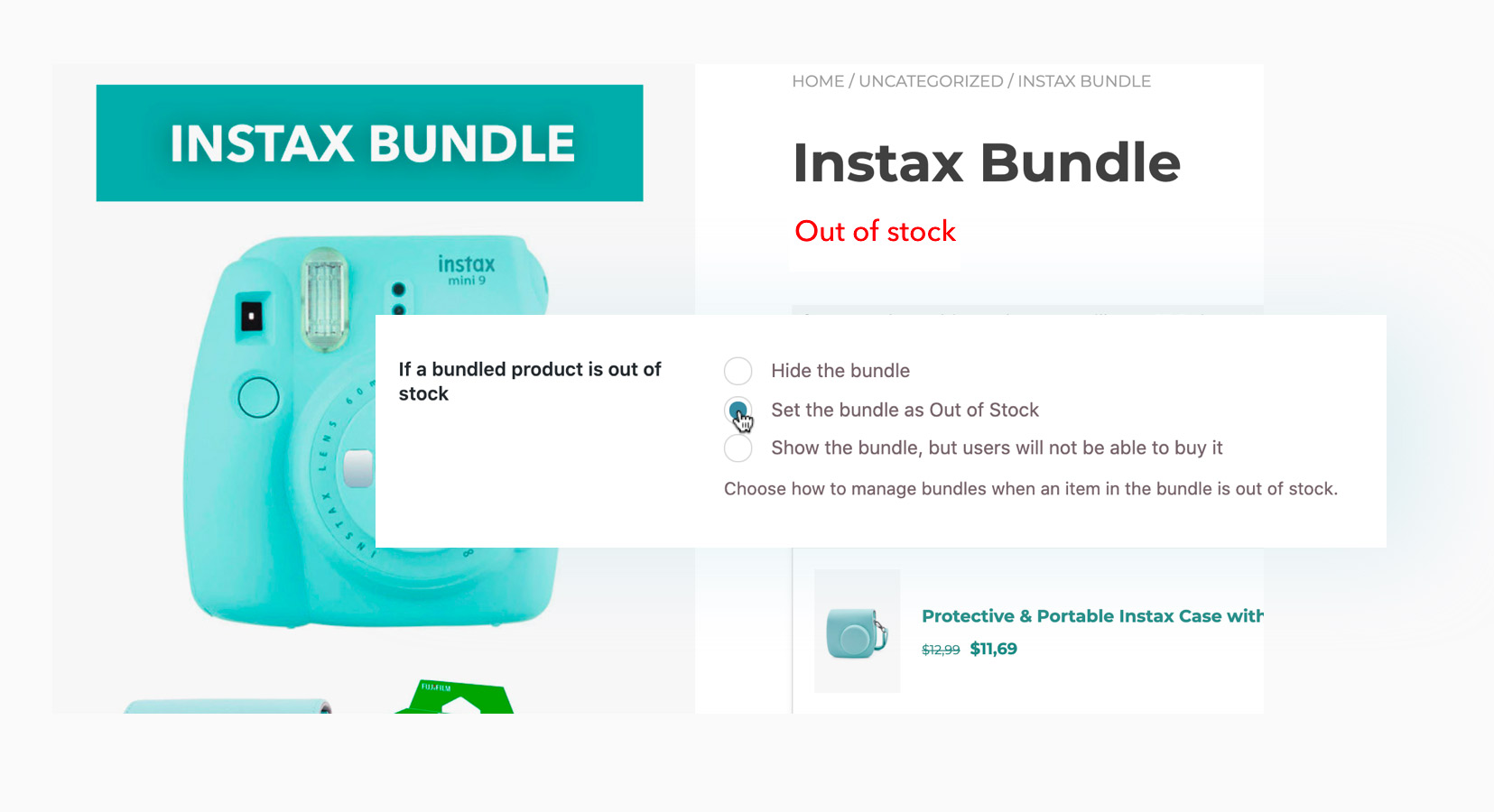 4 – Not ready to buy? Come back later or add it to your wishlist
Many visitors who come to your store for the first time might not be prepared to buy. Maybe they are comparing prices or have something in mind for a future project. Like in an actual store, you don't mind telling the customers that you will keep the product available till later or even reserve it.
The digital world is slightly different, but it can be just as powerful. With a good Wishlist plugin, you're enabling users to create lists to come back to later, maybe ask for a special price or discount, or share it with their friends.
As the store owner, you can use this opportunity to send a reminder and even automate sales notifications to get them to buy from your shop based on what is in their wishlist. There is a fine line between service and sales, but you provide excellent service when a customer realizes you have their interest in mind.
5 – Avoid additional costs; the power of free shipping
According to the Baymard Institute, 68% of users abandon their cart, of which 50% left due to unexpected costs. It is essential to set the right expectation as early as possible as nobody likes to be charged an extra 10-20% for a single product due to taxes or shipping costs. If you don't offer free shipping, understand that this is an opportunity to significantly increase the average order value. A live push notification pop-up can remind you that free shipping is mainly available when you order more than $100, for example. There is a good chance the customer will buy more to qualify for free shipping. For sure, it will make the customer happy as nobody likes to pay for something they cannot touch, which postage is like.
6 – The fast and efficient checkout experience
Whether you are a new or existing customer, it is crucial to go through checkout as soon as possible to eliminate friction. But also to have a good experience when purchasing from a mobile phone. Registering an account or logging in are often pain points in the checkout experience. It follows payment issues and minimizing the potential problems by reducing the number of fields and errors. When addressing these points, it is a straightforward way to increase conversions and ultimately a happy customer. Take a look at optimizing the checkout experience with the support of the following plugins: Easy Login & Register Popup, Multi-step Checkout, and Checkout Manager.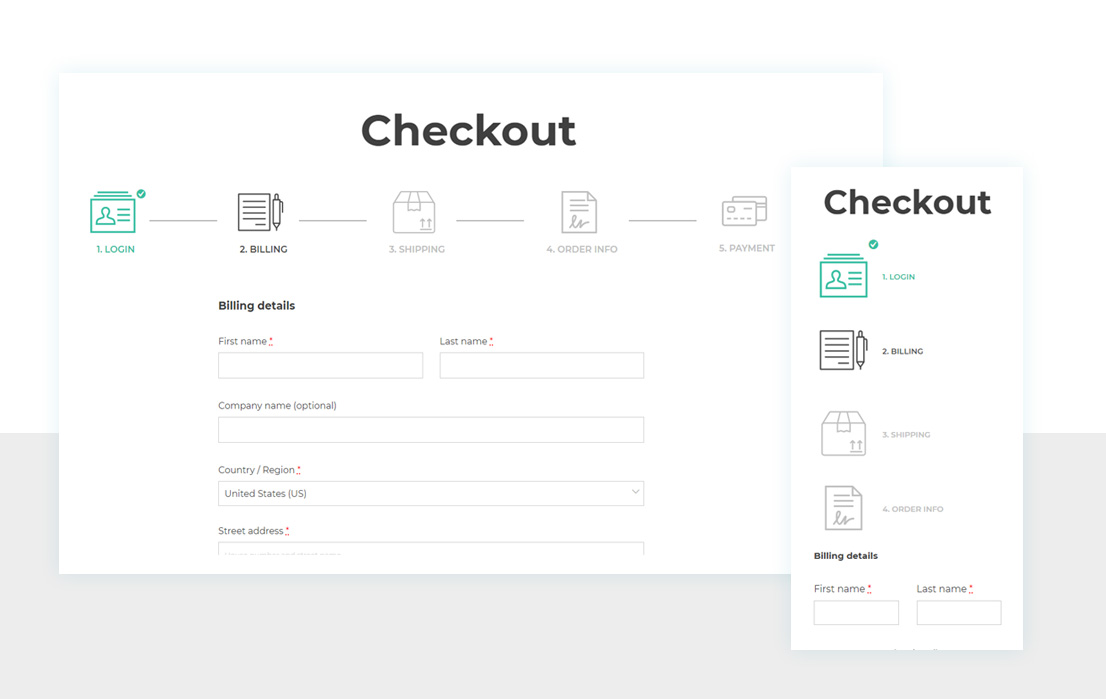 7 – Confirmation page and email are a golden opportunity to get things right
After you've made payments and parted with your money, you want to ensure the ordered goods will be delivered. A good confirmation page and email are crucial for the customer. The confirmation email is one with the highest opening rate. But let's also consider this allows you to sell additional items to complement products, based on the recent purchase.
A thank-you page can include many parts that will help your customer with the next step. From selling complimentary items, instruction on what to expect next, to submitting a feedback form. Take a look at Custom Thank You Page.
8 – My account; the central place to find everything
What do you do if you are looking for a past order, need to refund an item, or check the delivery address? You look for my account, as it's a central place where every bit of information should be found. Amazon must have it right at the top at a very prominent position, as it knows the power of my account and its importance.If you want to better manage this area and make it more individual with links to pages, instruction videos, customer contact pages, and various other areas that matter the most to your customers, then install Customize My Account Page. It is the only plugin that genuinely lets you control the look and feel of the my-account area.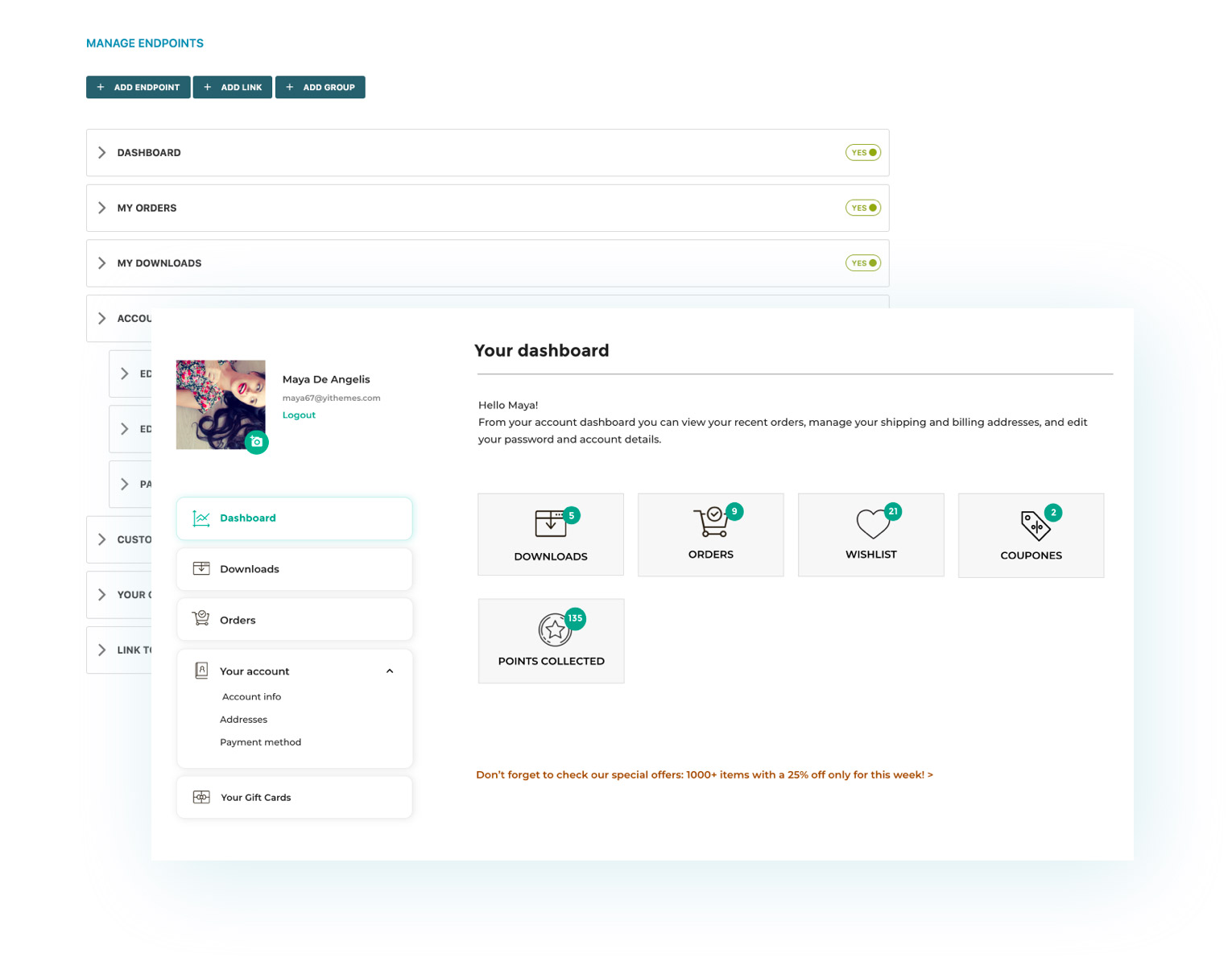 9 – Refund requests happen; make an unhappy customer happy
Most businesses have to deal with it, but it's the least favorite part to many business owners. Dealing with complaints and eventually making a refund can be very demoralizing. But how to turn an unhappy customer into a happy customer?
Firstly, don't make the process difficult for the customer or they will never come back to your store. It is one of the most frustrating parts for the customer too. Secondly, don't make the process time-consuming on your side either. YITH WooCommerce Advanced Refund System is the only solution to manage your customers' satisfaction and make the process practical for your store's staff.
Customers are more likely to purchase from a store when they know they can return an item without issues. When you turn a bad experience into a positive one, you will have loyal customers for life. Do you have physical stores? Imagine going to the post office to send an item; you might as well take it directly to the nearest branch and pick up the correct size or color from there.
Making sure that your location is found on Google, but also clearly on your site is crucial. Using the Store Locator plugin is a great method to pinpoint different branches and the facilities it offers, like parking, customer service desk, curbside pickup, and other facilities.
10 – Follow up, recommendations and reviews
Looking after your customers goes beyond the initial purchase and visit to the site. It continues after delivery and even when the customers use the product within the guarantee period. In the EU, this can be as much as two years on some products, so this relationship is significant. Good communication is most certainly a critical factor for the customer. This is mainly done using emails, and if you have 100's of customers, then automating these processes is vital.
When sending follow-up emails, you can use this opportunity to ask a customer to leave a review on purchased items or recommend the service to friends and new customers with Review Reminder.
Where to start?
These are just ten small steps with a big difference to take to improve your store's customer service. It will never replace the same level of support you get in a physical store, but if the experience is flawless, the customers will be just as happy as they did not need to leave their house.Focus on one step at a time of the complete customer journey, and you will notice more repeat purchases and an expanding customer base. Check the previous month's Level Up your Store to see how you can measure this.