Creating loyal customers is as much about customer service and quality products as it is about providing good features on your site to live up to expectations. In this part of the Level Up series, we will focus on the loyalty of a customer. Loyalty in the sense of regular customers that keep coming back and spend more in your WooCommerce store.
The goal of this final part in the series
The goal of the 'Level Up Your Store' blog posts with the various suggestions are to increase each part of the customer's journey by at least 10% – see the graph in the first part. 'Level up your store this festive season' first article, on how to raise and increase the number of customers, and the second one, about increase average order value and retargeting customers, and here comes the third installment on how to get customers to come back for a repeat purchase.
Four examples of how you can boost this part of your revenue stream and increase the frequency of your customer's orders.
Not sure what to buy? – the power of gift cards.
Product Reviews – an opportunity to build and engage with your audience.
Loyalize your customer to make sure they come back in January
Building up a mailing list – the more advanced, the better
1- Not sure what to buy? – the power of gift cards.
The power of Gift Cards. Often we don't know what to buy on a special date and don't want to put our foot on it. Our customers have the same problem, and giving them the possibility to buy gift cards is wonderful for them. Using this plugin is a great option to increase sales volume and promote customer loyalty. Imagine your users' joy buying gift cards and looking good for that special person without giving the wrong gift or looking for the ideal (often impossible) present.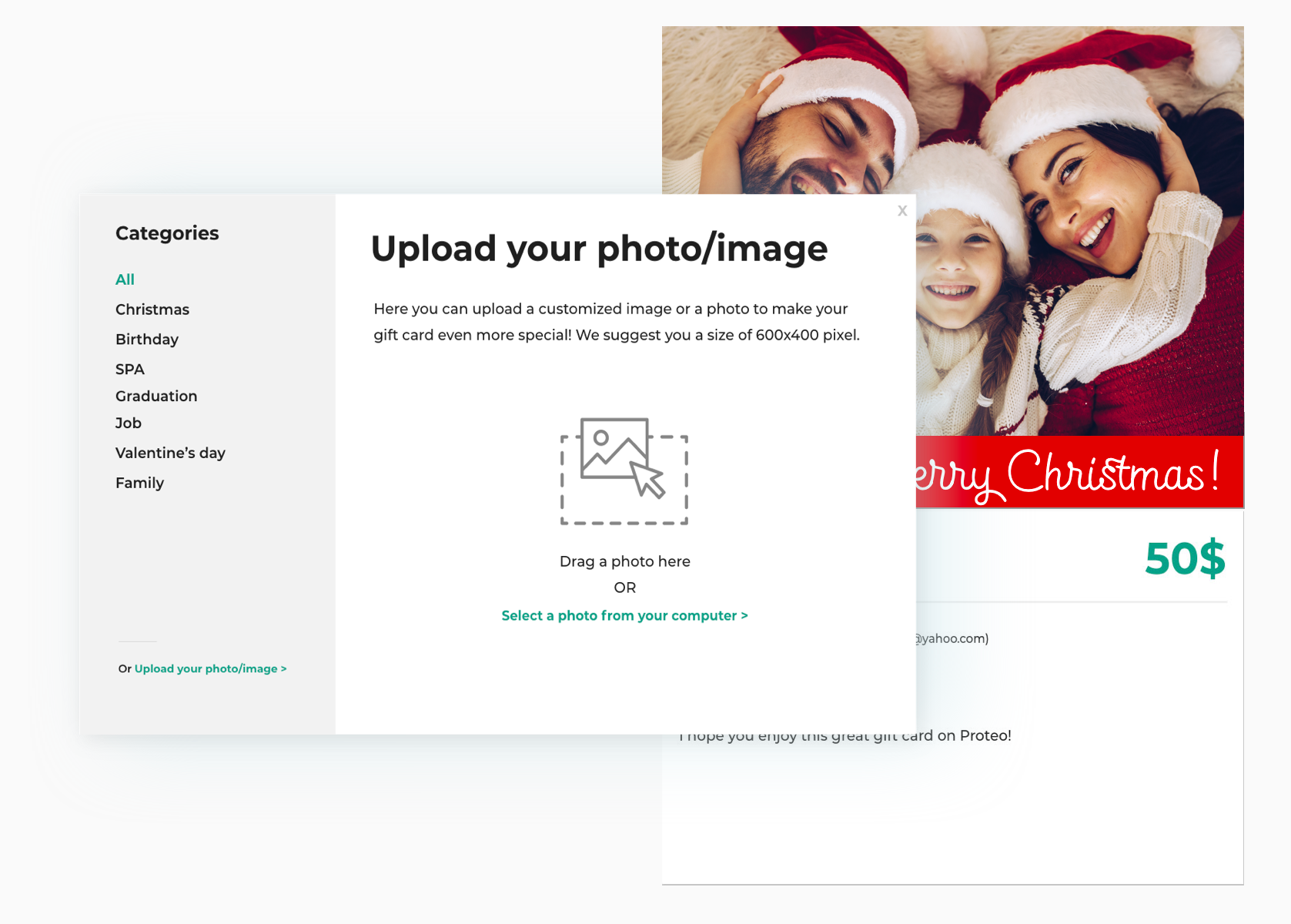 Allowing users to create and upload their own design will give it a personal touch, which then can be printed off, scheduled, or sent immediately by email. It is a bit like comparing a Fiat and a Ferrari, gift card plugins all offer the same, but the presentation is often makes the difference. So let's present you with the Ferrari of Gift Card plugins.
Just as important is the plugin management of the gift card codes, checking balance, and resending or tracking e-gift cards.
2 – Product Reviews – an opportunity to build and engage with your audience.
Amazon understands the power of reviews and, therefore, so should you… or should you just let users have the free reign in writing about your products? We think it is better if you manage this in a controlled way. Not only should you time a reminder well, making sure it stands out and looks nice, and whilst your users write raving reviews, let's make them purchase again.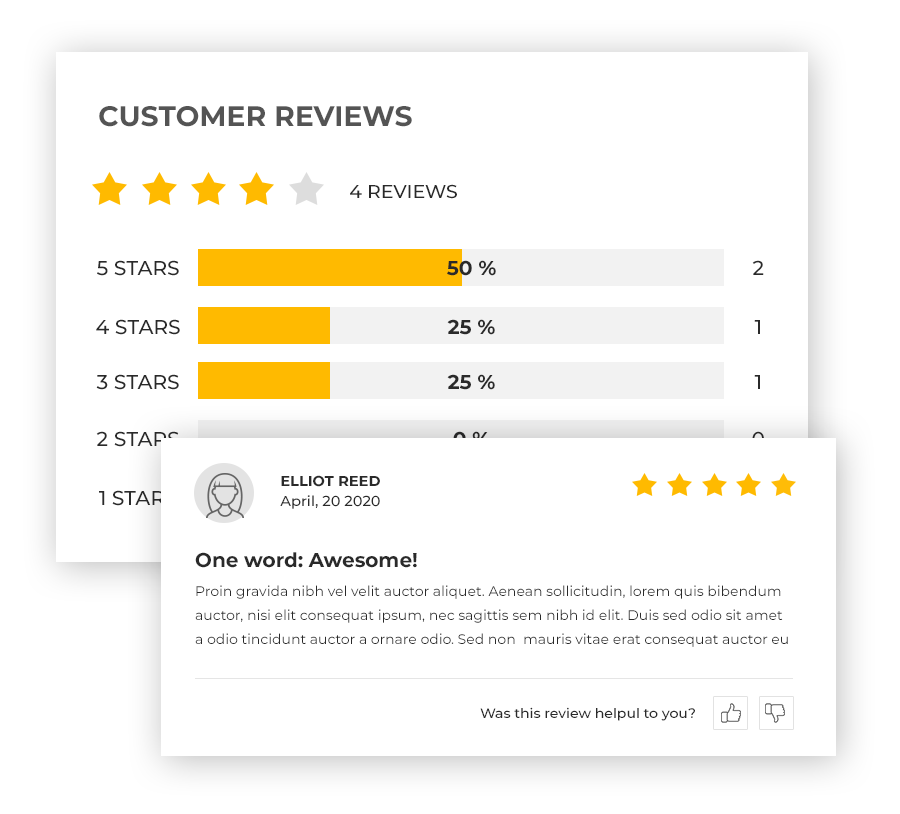 Remember the review. Who hasn't looked at restaurant or product reviews before buying? We feel safer doing so because we trust the opinion of other buyers we can identify with. In fact, 77% of users refer to reviews before purchasing. With the YITH Review Reminder for WooCommerce plugin, you can increase the number of your reviews by sending an email to your customers reminding them to leave a review for the products they bought. Also, by integrating it with YITH Review for Discount (which we will see later), you will get the most out of your customers' reviews.
Review in exchange for a discount. But many times, the customers will ask: what do I get in return for a review? Simple: with Review for discounts, you can increase your review numbers and engage your customers by asking them to leave one and give them a coupon for your shop in return. The user will earn a discount, and you will use this marketing tool to increase conversions and get your e-commerce recognized. In this way, you will receive good reviews and encourage users to place a new order in your shop. Everyone wins.
Opinions that increase your credibility. If you want additional features to increase visibility, sales, and credibility, Advanced Reviews is perfect. You can optimize your review section with filters, counters, and other tools, substantially increasing the number of reviews. You can also create a review section making it captivating, useful, and easy to navigate, choosing the most outstanding ones, allowing filters, and visualizing the most significant ones. Reviews are the showcase of your store, so take good care of them.
3 – Loyalize your customers, and make sure they come back in January
Even the most loyal customer can be turned off by a simple promotion in another online store. That's why you must keep in mind the following plugin integrations so that your users come back even after January.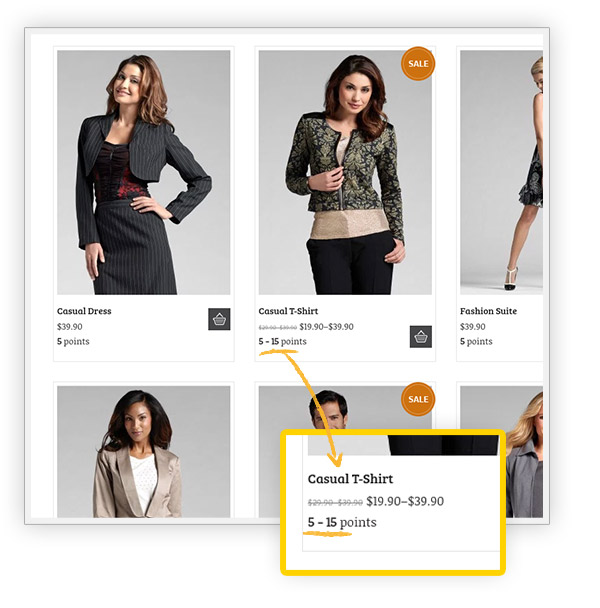 Rewards for customer loyalty. Loyalizing our customers is not easy, but plugins such as Points and Rewards make this task easier. This tool is based on earning points and instant rewards; through the points, we increase the percentage of customer retention, loyalize them, and encourage repeat purchases. 47% of buyers complete the collection of points to obtain a discount coupon or a free product, so simply through this, we will achieve loyalty and make them happier customers.
The YITH WooCommerce Points and Rewards plugin also allows you to reward your users who leave feedback. The options are pretty much endless, and you can reward your most loyal users even more with double points, and so on.

Did we mention Amazon Prime before? Well, you guessed it read this blog post on how to achieve the same as Amazon Prime. With a combination of Membership, Dynamic Pricing, and optionally Subscriptions, you can create the most loyal and regular customer ever. Free shipping, exclusive content, special deal events, and that's only the start… Knowing all YITH plugins integrate so well, there is little it can't achieve; only your imagination limits it.
Building up a mailing list – the more advanced, the better
We are ending with one of the most popular tools-of-the-trade webshops use, or do they use it well? Pretty much every store has a newsletter subscription opt-in, but sending targeted newsletters is not easy. You can expect either too many or none at all. If done well, emails are one of the most rewarding channels in online business. In fact, most online marketplace owners worldwide claim that a large part of their income comes from their mailing list. If so, why don't you exploit this tool to the fullest?
With the help of Mailchimp. Can you imagine being able to create campaigns focused on every customer type? Let's go beyond newsletters and abandoned carts and imagine that every purchase or pageview is tracked and recorded to the user, enabling you to create segments and target offers specific to their needs. For this to work, you need a deep integration into WooCommerce, and this can only be done with the help of a plugin like YITH Woocommerce MailChimp. Once you see the power of segmentation, conditional logic, and other premium settings in return for your investment, you will soon become one of the store owners who swear by the power of email lists.
The advantages of Active Campaign. Taking automation to the next level, using tags and lists with conditional blocks to create campaigns that perform better than anything you've created before. Does this sound exciting to you? If that's the case, you will want to explore Active Campaign and, in particular, the best integration that is out there on the market. The YITH Active Campaign for WooCommerce plugin allows you to create custom fields and forms to integrate with 'the beast' of a marketing machine.
To conclude, let's recapitulate the three posts:
Level up your store – create loyal customers for life.
If you increase each by 10%, you will have doubled your business revenue in no time. The owner of any e-commerce must keep in mind the following: the implementation of tools such as plugins is not an expense; it is an investment to increase sales, to make the experience of our users more favorable, and return over time. After reading the three posts, what are you waiting for and planning for the next 'level up of your store?'
Good luck!
List of useful plugins to consider