You're probably anxious to know how to increase your orders' value at this time of year. It's certainly a great opportunity to do so at Christmas as many little elves get lost in our eCommerce stores looking for the ideal gift. And unfortunately, if we don't manage to attract them, they will abandon us, go to another store and not buy from ours.
In the first installment of "Level up your store," we already prepared you for this Christmas season by helping you get a grasp of the scale of the opportunity. In this second installment, we will give you some ideas on how you can increase your AOV.
But what is AOV?
AOV is the Average Order Value calculated by your total revenue through your e-commerce website, divided by the number of orders. For example, if your revenue is $20.000 and you have 100 orders, the AOV is $200. And why is it so important? Mainly because increasing your AOV means an increase in revenue, not customers. You are making each customer spend more on your store through bundles, offers, among other reasons.
We have selected some ideas to help you increase your Average Order Value. You can do many things to increase it, but these may be your best options, especially at this time of year.
They consist of the following plugins.
Help a 'slightly' lost or returning customer using 'Recently Viewed Products'
Upsell to increase the order value with the help of 'Frequently Bought Together.'
Cart abandonment, get a second chance with the plugin 'Recover Abandoned Carts'
Create a deal, a deal too good to refuse using 'Bundles.'
1. Help a 'slightly' lost or returning customer.
Surely you too have seen a product you like but, immersed in browser tabs, you lose sight of it, and then you don't know how to find it. Our customers face a similar situation every day. When buying online and finding a wide range of products, if they don't open the products' pages in separate tabs, they have to search endlessly until they find the desired product. And if we try to search for it the day after the first search, it's already mission impossible.
If we want a solution for this, the Recently Viewed Products plugin can be our greatest ally. This tool allows you to easily find the products you have recently visited in the shop to integrate a slider on the home page and on every product page where these items will be displayed. This will provide customers with a positive purchase experience. Also, in a time like Christmas where we visit 20 websites in one day, what better option than to remember the products visited recently so that customers don't pull their hair out looking for the desired product?
Improve the experience, increase sales
But this plugin has not only positive aspects for the customer but also for the administrator. It offers us the possibility of sending automatic emails to users to remind them of what they have seen and encourage them to buy, thanks to integrated discount coupons.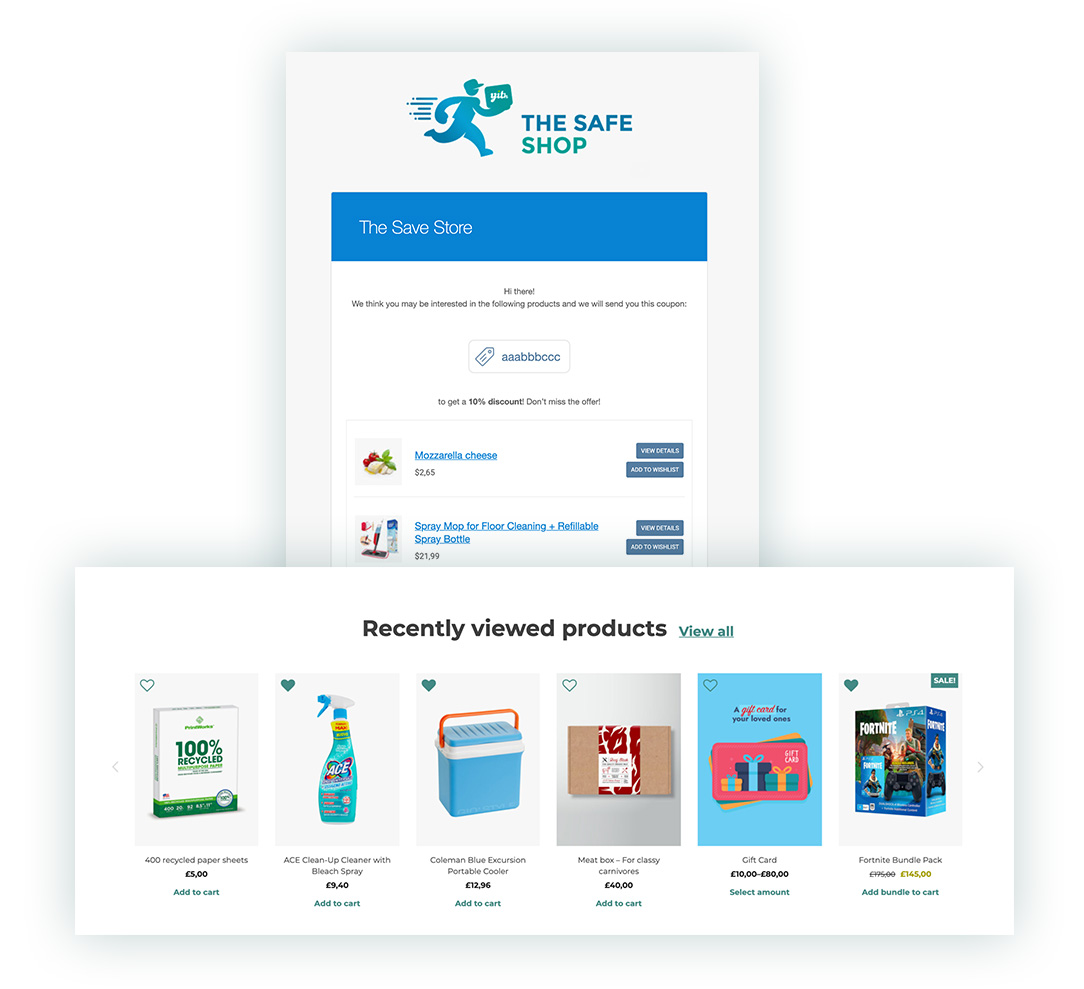 From within the plugin settings, you can configure the emails to send with an example shown above. Next to each product, users will click on the button that redirects them to the product page or that lets them add the product to their wishlist.
Imagine that you have an online store of original t-shirts and a significant flow of users visiting your shop. When you know the products your customers have recently visited, you decide to send automatic emails with fantastic Christmas offers. If you have sent ten emails to different people, four of them come back to your store to buy items they have previously seen. But maybe if you hadn't acted on it, only one would have returned. These are all simple steps to increase your customer orders. For more information, click here.
2. Upsell to increase the order value
Offers are usually a strategy to increase sales and profits, but how can we increase the order's value? Frequently Bought Together plugin allows you to display a section on the product page to suggest items usually bought together with the product seen by the customer. This is a typical sales strategy to push users to buy more, and no doubt, you have noticed this on Amazon.
Imagine that you want to buy her a reindeer sweater for a Christmas gift for your child because you didn't have time to knit it. When you go to the online store to buy it, it suggests buying a related product such as two pairs of matching Christmas socks. If you buy both products, you will get $2 off. What would you do? As customers, we would surely buy it because not only do you save when buying two items, and it also feels good to add a complimentary item. As a store owner, it's a great idea to use this sales strategy to push users to buy more and increase the average order value. Instead of offering a discount, you can also offer 'free shipping' or include an additional gift.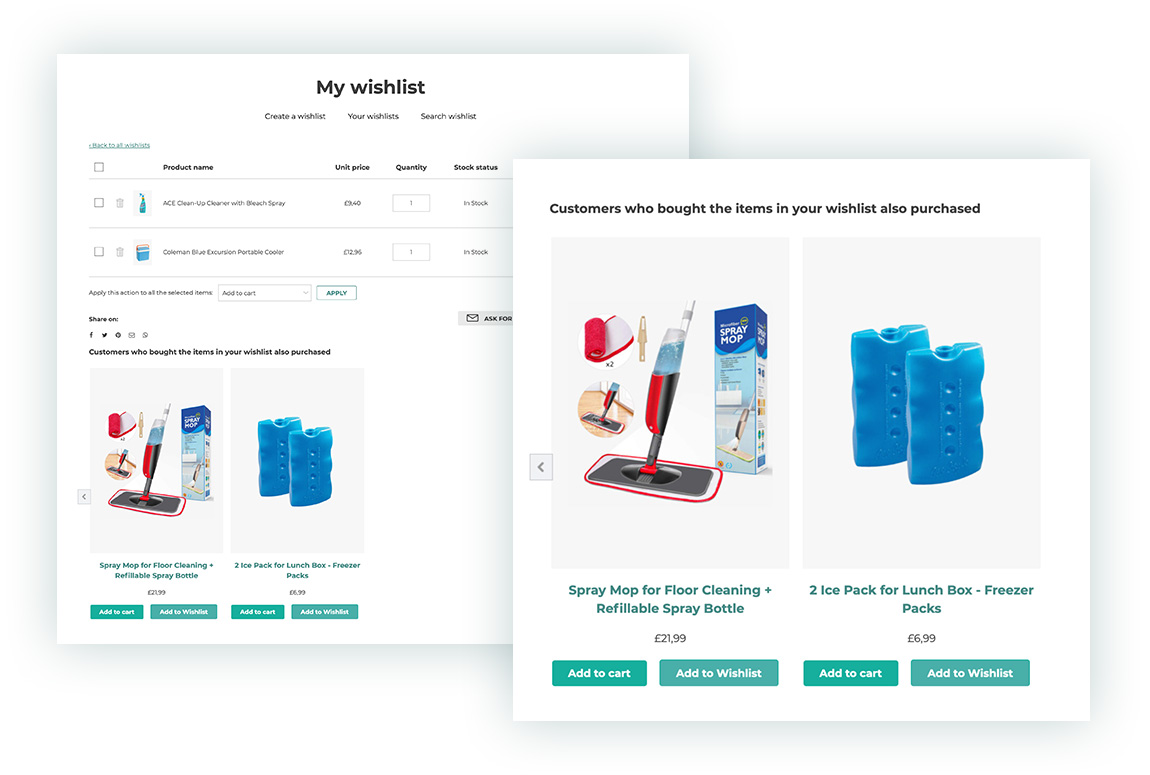 Frequently Bought Together + Wishlist = perfect mix
Frequently Bought Together is already a great complement to any store, but now imagine combining it with another interesting one like Wishlist. We have integrated both plugins to create a perfect mix. If you, as a store owner, install both, when users add a product to the wishlist, they will see a slider with the products that are frequently bought together. This is an example of a combination of two or more plugins.
To get more information about Frequently Bought Together, click here.
3. Cart abandonment, get a second chance
Surely you have left a cart in one of the thousands of websites you have visited. And as a store owner, surely you have experienced how users fill their carts and unfortunately do not finish their purchase. Especially at Christmas, where many people look for the ideal gift without knowing what to buy.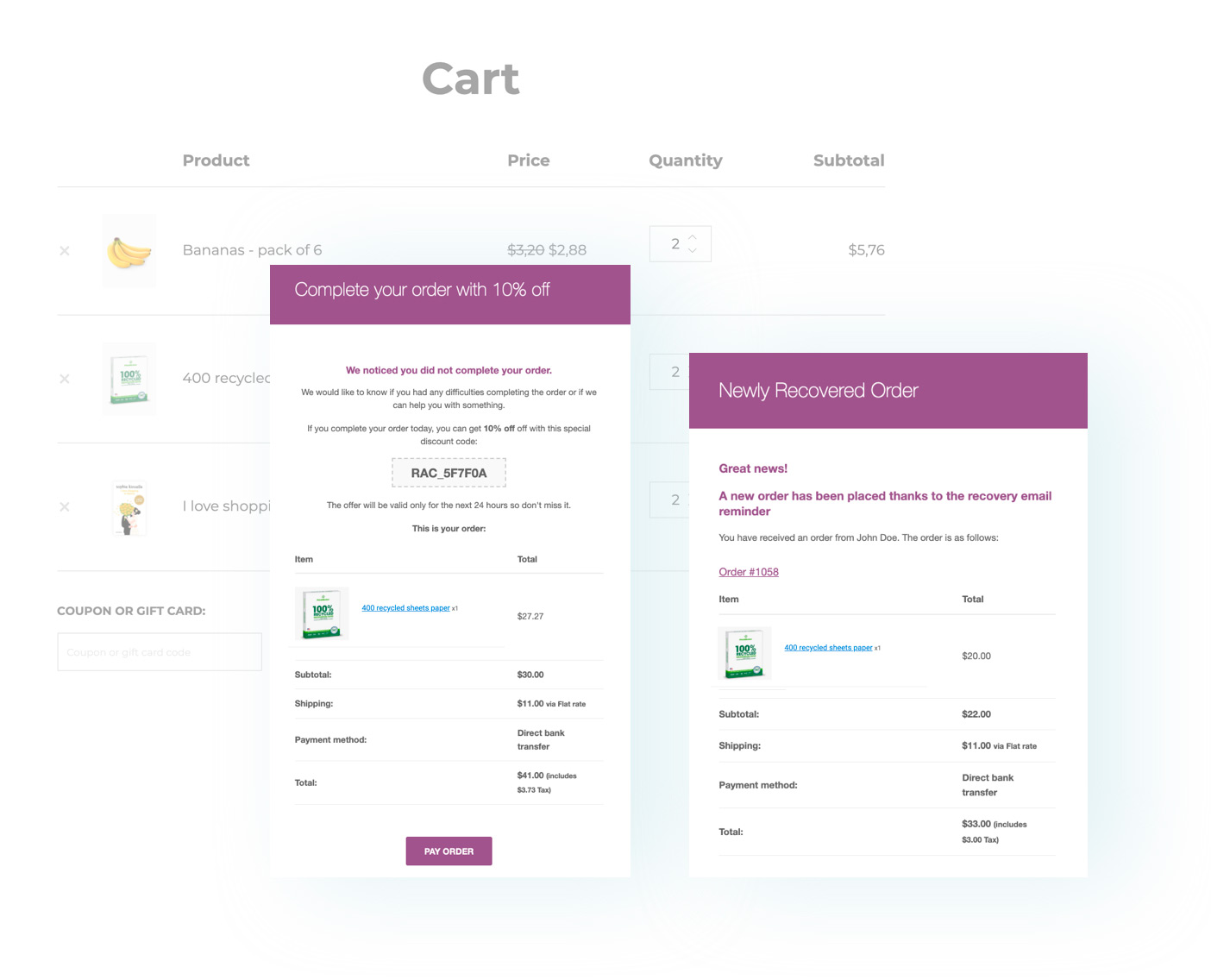 There is an abandoned cart waiting for you.
To put an end to all those abandoned carts, we present you with 'Recover Abandoned Carts.' It allows you to send automatic emails to users who unfortunately abandoned their cart or did not complete payment for an order, sending them optional coupons to encourage them to fulfill their purchase.
According to a report by SaleCycle, nearly half of all abandoned cart emails are opened, and over a third of clicks lead to purchases back on site.
From the plugin settings panel, you can define how many emails will be sent and the specific time period, customize their content, add images, etc. The plugin has a dashboard where the administrator can monitor the sending of emails, orders, and recovered carts.
The Christmas season can be a great time to start using this plugin to encourage customers to buy products they left in their carts. Who knows, maybe you can give your users inspiration and remind them of products they were interested in during the run-up to Christmas. If you want more information, click here.
4. Create a deal, a deal too good to refuse
A similar function to Frequently Bought Together but with more advanced features is our Bundle plugin. With this plugin, you can also create special offers by combining products into bundles offered with discounts or special prices.
This is one of the best ways to increase the average order value. It offers more items to sell in a single 'add-to-cart' click, and, besides, you can sell them at a better price compared to buying them individually. The user will be very pleased to find this great deal, and no doubt will consider this, especially when comparing similar items from rival stores. Creating value for the customer and the feeling they get more for their money is a technique as old as humans roamed this world. By automating these great bundles, the customer, and most importantly, you, the store owner, will win.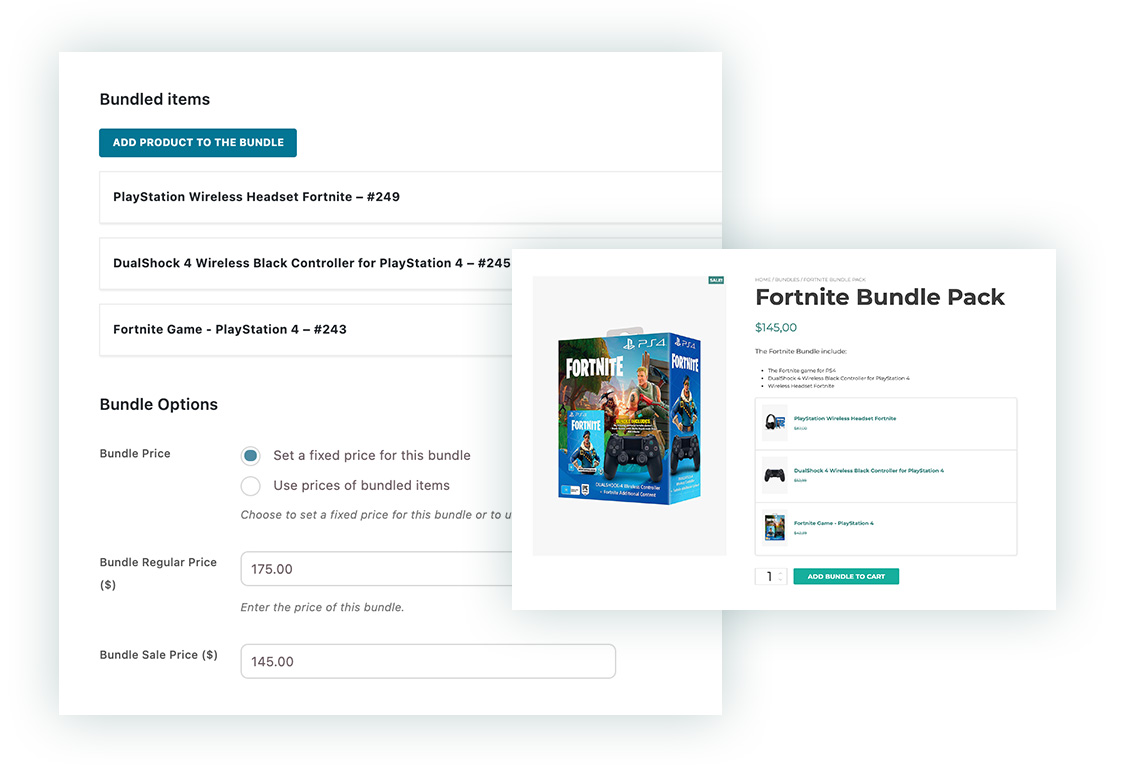 Just as we can combine 'Wishlist' and 'Frequently Bought Together,' we can integrate the 'Bundle plugin' with 'Memberships.' In this case, we can create bundle products and make them available only to users who have joined a membership plan. For more information about the Product Bundle, click here.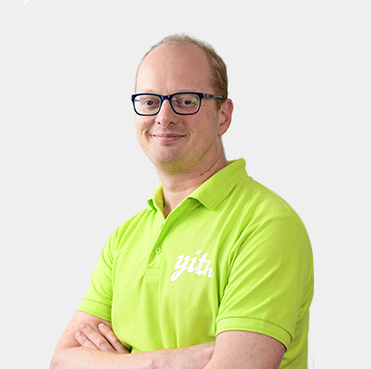 Ronald Gijsel - Partnership Manager
Building an e-commerce store is a real art; you need a good feeling of what the customer wants and is looking for. If you manage to put the right products in front of them, you will quickly see that not only will you sell more, but the customer returns as they had a great experience. Tools like 'Recently Viewed History' and 'Frequently Bought Together' are so easy to use, and to me, must-haves for any serious store that takes their customer seriously.
What is important to realize for any shop owner that once the customer lands on the desired product page and adds it to the basket, you have not made the sale yet. All too often, customers will scan the web for better prices and even coupon codes. Keep the customer engaged and make them feel they get the best deal. Once you become a master, many other parts are just as important to gain the user's confidence. Check out the online video course to create the best customer service area.
Also, while customers are clicking through to the checkout, there are several opportunities to sell more items. Some of these could be products the user was not even aware that you would be selling them or impulse-buys that might complement their main purchase. Think of storage boxes and shoe polish for an expensive pair of leather boots. But there is a fine balance between selling additional items pleasantly and ethically and flogging anything with popups and countless reminders, so consider the user experience carefully.
Other posts in the 'Level up your store' include: 'Preparation for the Festive Season' and 'What is AOV and how to increase it.'
Check out these plugins to boost the average order or bring back a customer to your store and make a sale.