By now you should have thought about how you can attract your regular and new customers to your eCommerce store this festive season. New products, season's favorites, and the one or two daring items to get a few extra clicks. But have you thought about how your customers will interact with your site? Will they leave without making a purchase because they could not find something or are they comparing prices on other sites? Whatever the reasons, and there are many more, you have to take action and create a strategy to convert more customers to make a purchase.
The next two editions in this series include many ideas to 'level up' your store for this festive season including Black Friday, Thanksgiving, Christmas, and other religious festivities. In this first post, we want to help you get a grasp of the scale of the opportunity, including:
Power of wishlists and why it can help the customer
Create great offers based on customer loyalty, quantity, and a special event.
Quote for custom products or handmade items without losing the customer's interest.
Work on a recurring income model for 2022!
When was the last time you researched your customer's behavior and their goal of finding what they are looking for? Or what process do you have in place to bring people back to your site if they are not yet ready to buy? Or what makes your store different (better) from your competitors?
1. Power of wishlists and why it can help the customer
A wishlist is really 'a must-have' for pretty much any store because not everyone is ready to buy and most customers will want to do some research first. If you have a very large catalog, consider that a user is not familiar with your layout and structure, so encourage them to add products to one or more lists for later reference.
Some key features that your customers would appreciate:
Create one or more wish lists to organize products for different occasions

Being able to share it with their friends, great to ask for someone opinion on presents

Keep track of their favorite products and monitor the prices
Some key features that you appreciate as a store manager:
Monitor popular products that most customers have added to their wishlist.

Send out promotional emails and discounts

Great user experience and design that your users are familiar with, even if it is the first time on your site.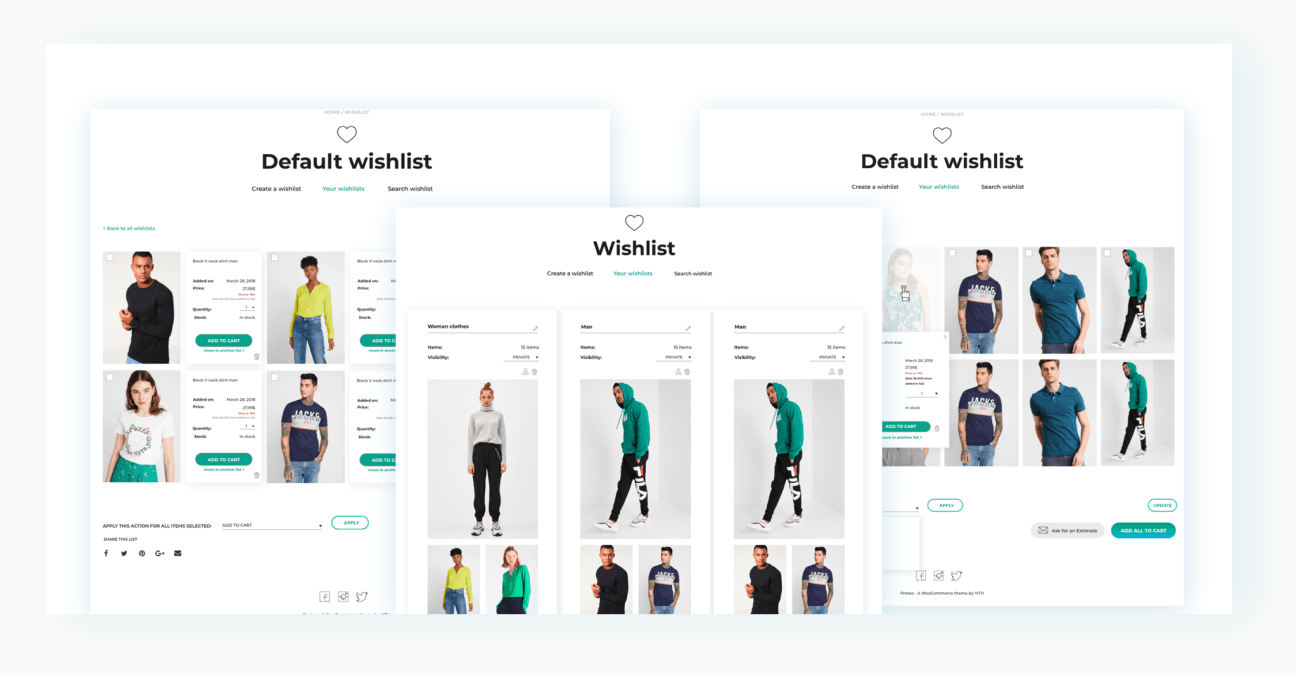 There are so many more features and views that come with YITH's wishlist that once it has been installed you almost can't imagine the site without it anymore.
Read more in this blog post, check out the plugin, and learn to optimize it.
2. Create great offers based on customer loyalty, quantity, and a special event
Creating special promotions is very important for a business, especially at this time of year. That's why physical stores take brightly colored cards, markers and display offers in their shop windows that you can't resist. But what about online stores? Exactly the same thing and for this reason the YITH WooCommerce Dynamic Pricing and Discounts plugin is so important unless you want to manage every product individually.
It is easy to discount, but creating an offer is an art
Among other things, you can create special offers based on the cart value, on the quantity, or on specific products by dynamically editing the prices, avoiding creating coupons, and sending them to your users. In addition, you can activate promotions for specific niches such as loyal customers and make all the offers you consider necessary for your store. You will have a multitude of options where the only thing that will limit you is your imagination. 
This will help you capture the attention of your customers and build their loyalty over time, increasing visits, and probably sales. Keep in mind that the competition on the Internet is very high, so it is necessary to differentiate ourselves from the rest. If we manage to do so, the user will come back to our site to make that first purchase and be looking for more new offers.
Any better option than this add-on to do so?
Spend more to save more
And you might be thinking: 'since when does discount my products make me earn more money?' Sometimes you have to think like the saying: "spend more to save more". A very clear example is that of volume discounts. If you put a single shirt at $5 or 3 for $10.00 with a 'three for two' discount banner, which do you think people will buy? With the discount, you give away one shirt for free, but the customer now spends $10 instead of $5. it might be the most basic example, but the idea remains the same.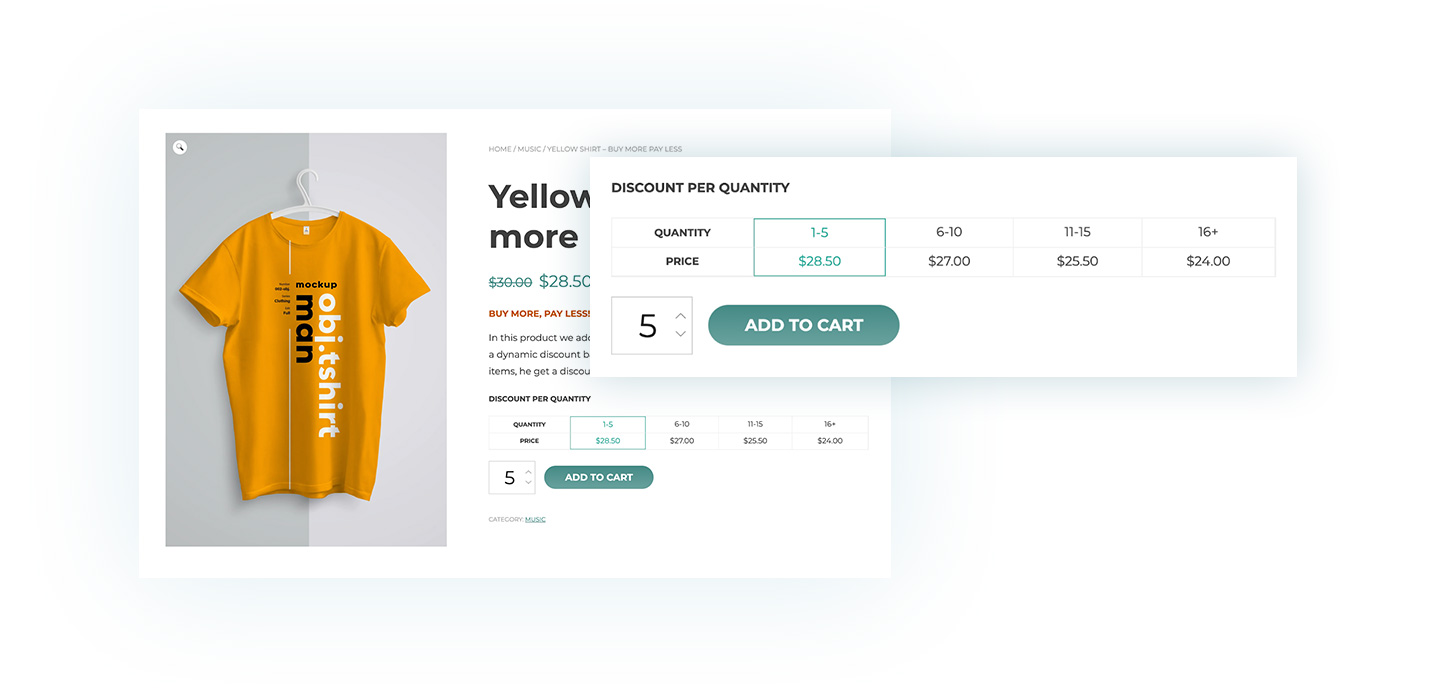 And there is no better time than now to install this plugin for your WooCommerce store. Black Friday and January Sales. Do you need to read more? It's the perfect time because buyers are looking for the best deals on the Internet and this way you can get, through special promotions, to increase visits and sales on your site. If you have any doubts, check the plugin.
3. Quote for custom products or handmade items without losing the customer's interest
Request a quote for a hand-made one-off item. Hiding the price of our products or services is sometimes necessary. Will a small tattoo of a butterfly on the wrist cost the same as one with the same animal but on the back in a large size? Obviously not, despite being the same service (tattoo) with the same drawing (a butterfly). That is why sometimes it is better to hide the price of our products.
Start the conversation based on curiosity and convert based on trust
But how do customers know our prices? Very simple. All you have to do is activate a plugin like YITH WooCommerce Request a quote and customers can add items to a list and send it to the shop owner for a personalized quote. In addition, you will be able to get an idea of what is common or demanded by customers in order to make ad hoc offers according to customer requests. But by now, you will have a relationship with the customer or loyalty, which no doubt helps to convert the customer.
If we show a fixed price for a product that varies according to size, location, etc., when the customer goes to pay for the product or service he will feel cheated and will leave our store. And the worst thing is that if our competition has already realized the benefits of using this complement, we will be pushing consumers to go with them and we will lose customers.
When you are clear about hiding the price and allowing your clients to ask for a personalized quote is the best option for your business, the rest will be very simple. You will have to install the plugin, configure the form and quote details, and you will have everything you need for your store. It will probably take you longer to make the quote for each of your customers, but this time and money invested will be compensated with your sales and reputation by not cheating them with fixed prices in a catalog where the cost of products or services varies.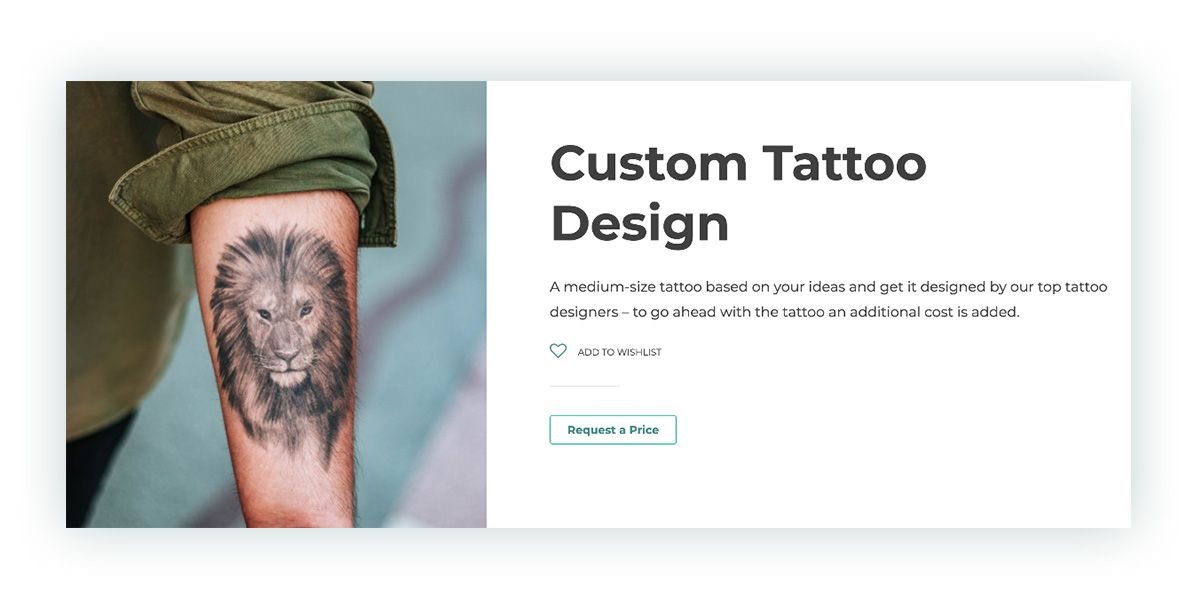 A simple example of how this plugin can work in a business, and that without it would be unthinkable, could be a store of handmade products. Now for Christmas, we can find many businesses like this and who wouldn't feel special receiving a unique handmade item? Imagine a company dedicated to creating Christmas items: sweaters, gingerbread cookies, Christmas details designed entirely by the customer, or baubles for the Christmas tree. Indeed every item is unique and depending on the quantity the price can vary a lot.
In this case, we could have an online catalog with your designs and products, but with the price hidden so that customers request a quote and there is closer contact between client and supplier. Once the quote has been accepted, a unique link will take the customer to the WooCommerce checkout. Try our live demo and find out how it works.
4. Work on a recurring income model for 2022!
The subscription model in online stores has become almost as common as decorating the Christmas tree. In fact, you can find subscriptions everywhere: newspapers, libraries, video games, digital platforms… At YITH we have thought about this too, and that's why we believe that using the YITH WooCommerce Subscriptions plugin is the best option. These are some of its improvements and new features:
Use of variations to create different subscription plans that can be up- or downgraded

Better emailing and automated correspondence options; set your message and email content and never worry again about reminding customers.

More flexibility for the user: you can give more options to customers and allow them to pause, renew and make payments from 'my account'.

Integrate with YITH memberships and create your own courses.
And there is so much more to it… but one thing you should be clear about is that running a subscription business model will increase your revenue. We may think that charging a lower amount will cause us to make a loss, but doing it on a regular basis and in the long term will generate more income and a stable flow.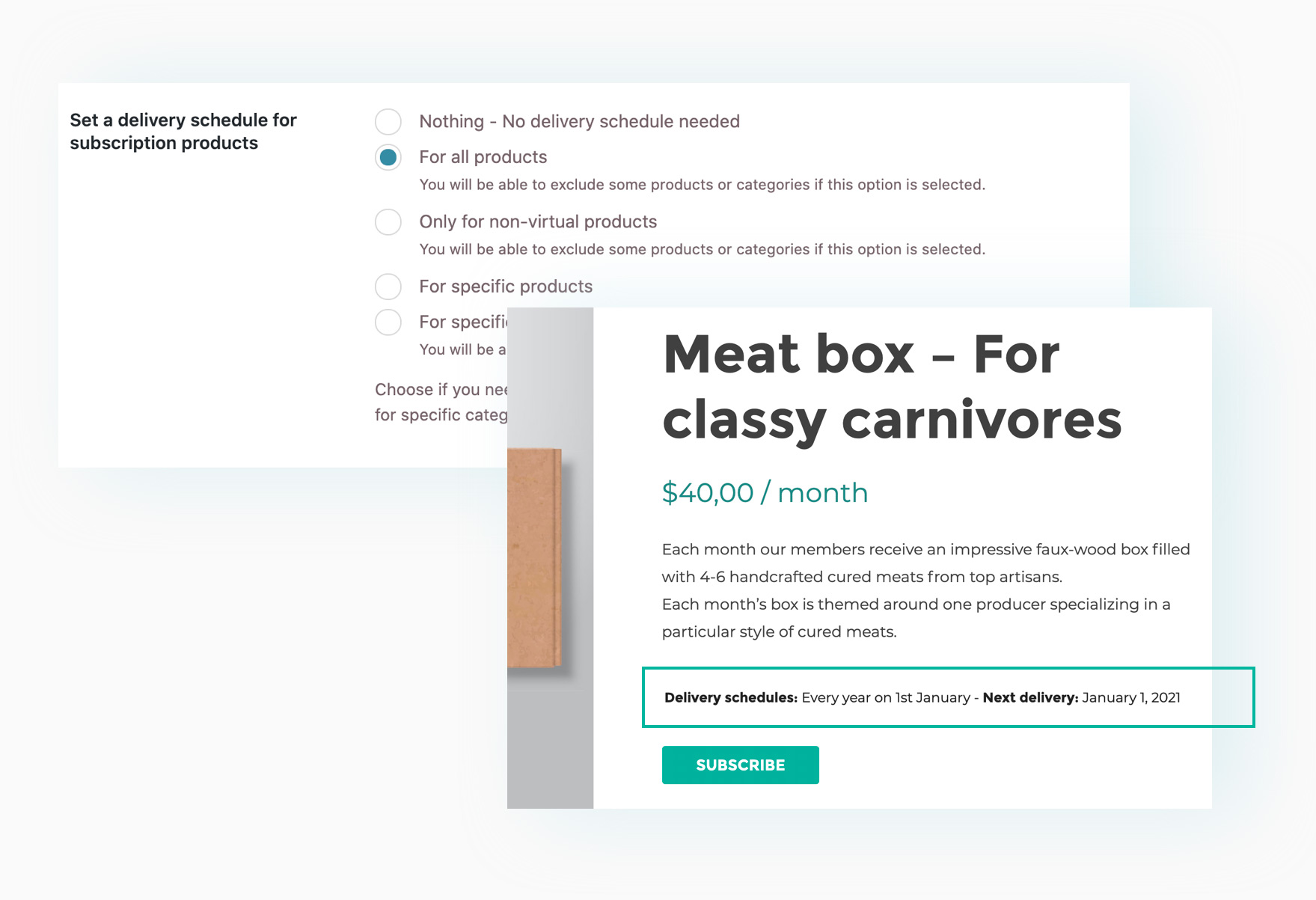 Setting up a recurring revenue stream is easier than you think. Once you've decided which consumable product could really benefit from a monthly/weekly service, create a nice packaging or bundling, additional information to support this service, a dedicated landing page, and finally a plugin to manage all the payments.
Set up a regular date to collect the funds, so you can dedicate a day to dispatch all the subscription plans or boxes each month. It is really that easy and you will be surprised how quickly this can increase your monthly revenue and better even, it is regular recurring income from your most loyal customers. Your store may also need the subscription model and this plugin is what you were looking for without knowing it.
There is a subscription for everything
Imagine that your business is a small local cafeteria really famous for its delicious food that wants to launch a 'five lunches per week' offer for local workers. It could also be a flower shop or a farm shop, anything you can imagine, but let's think about the cafeteria. You offer different options and for office workers to collect (or deliver) their lunches 5 days a week. Now you might want to offer them a discount, but you will be assured they are a customer every day and you can manage your stock level impeccably too. Using this as an example, there is not a single business that can not make use of this type of subscription model, right?
And in the end, what do you get? Higher-income from weekly offers, loyal customers, and secure payments (you can control payment holidays, cancellations, or upgrades, and whichever action, you can create suitable email reminders). It doesn't matter the size of the company as long as you have a plan to attract your customers. Read more on a recurring subscription model, about create subscription-based memberships for your users, or get the plugin here. Don't forget to test it using our demo here and activate the membership plugin to experience the power of both.
An investment that is well worth making…
Whether you implement one solution or three, let's do a bit of maths to calculate the investment and opportunity.
Assuming your monthly turnover is $2000 and the average order value is $100 which comes to about 20 orders to fulfill each month.
1 – If you can increase the number of new customers by 10% of your total income + $200 (only 2 new customers to convert)
2 – In the next blog post we will focus on how to increase the average order value by 10% + $200 (increase the AOV from $100 to $110)
3 – And after that how to bring customers back to make a second/third purchase… (create a reminder or add a promotion to get the customer back to your store)
If you implement each of the three tactics and only focus on an increase of 10% you will soon quadruple (x4 or more) your revenue as shown in this graph as an example.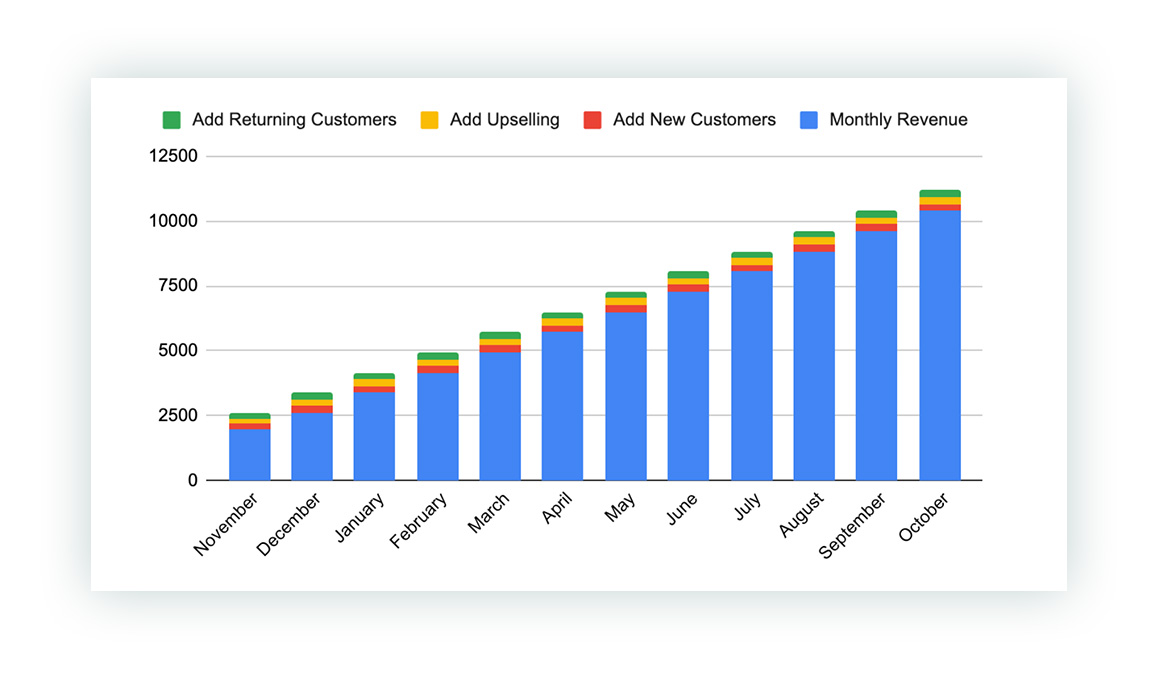 You can read the second part of Level Up this festive season, named 'increase the order value and retarget customers this festive season'. And not only that: you can also read the third part named 'create loyal customers for life'.