Do you own a store that gets a fair few visitors, but maybe struggles with sales? If this is the case then check that you cover the basics and guide people to make a purchase easily.
In this 'level up your store', we take the example of a fictional shop that sells fashion and beachwear. The shop attracts a lot of clicks from popular social media platforms like Pinterest and Instagram. The beautiful images shared by the owner often get hundreds of likes but don't always share the same trend when it comes to sales.
Do a little research first
Use Google analytics to compare your visits from different sources. When checking the social media sources and look under the e-commerce column, does this feel good or is the performance quite poor with many visits and few sales in comparison to other sources?
The data can sometimes be mind-boggling so keep it simple and pick out the top three sources or social networks.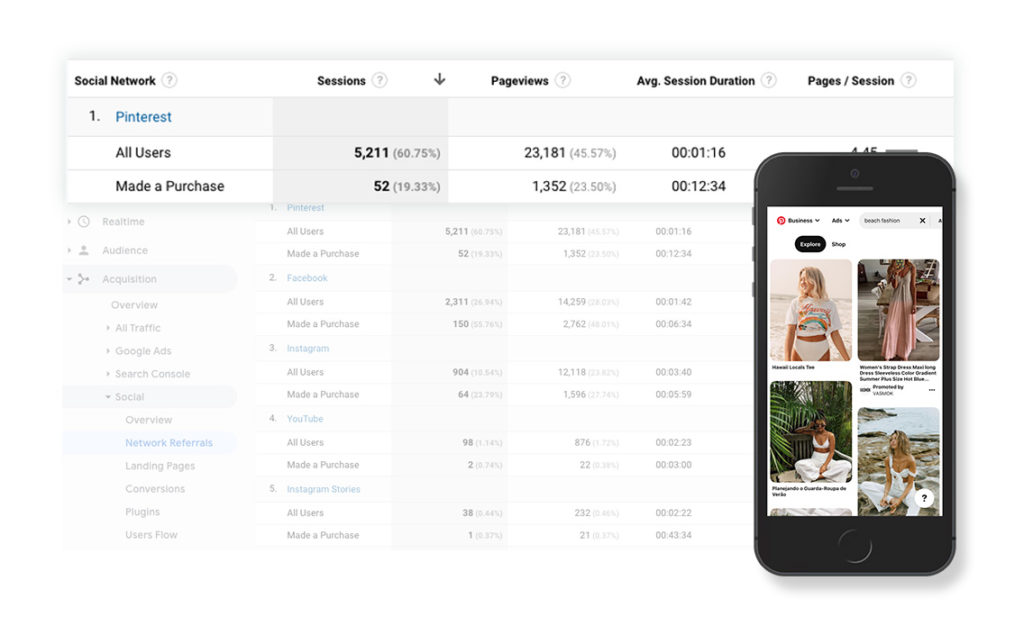 Next is to identify what the customer experiences visually when they click on an image or link, and also what the first impression is. Maybe ask a friend and get them to be as honest as possible, is the content what they expected when clicking on a link? Was there enough to see and click-through, or too much to make a choice as to what to do next?
Most of your customers will likely land on a product page, either through Google Shopping, Facebook posts, or a recommendation link shared by their friends.
Ask yourself the following questions:
Does the product page load quickly (especially on a mobile device)?
Are the images showcasing the products from all angles – you can never have too many images?
Is there quick information to find out the details or additional charges, taxes, and shipping?
If the product is not quite right, is there an alternative or complementary choice to click through to?
Can you save the product for later, or create a save basket?
Is the price right, or can it be made into a deal that looks even better?
pacThere are most likely many more elements which you probably already thought of. But to help you turn a visitor into a customer, we will explore the following tools at each decision point.
A product landing page, show your best features?
Creating a landing page that supports your social post, paid ad or even the lucky person that landed on here via Google, the first impression within a second or two is crucial. Do they find what they were expecting?
Adding rich media to your product page
Images tell a thousand words, but what about videos? Adding a video can totally change the way you showcase your product, seeing people wear it, use it or even give full user instructions has an effect on the conversion rate. You'll spend enough time creating the videos and what you don't want is to worry about how to make it work on a product page. Luckily with YITH Featured Video and Audio, this is just the same as adding an image to your gallery. Just think of the engagement of anyone who lands on your product page. Seeing someone walking in trendy slippers on the beach will connect a buyer emotionally.
One size fits all or none?
Do you sell fashion items in different sizes and colors? What happens to the image if you select green swimming shorts, will you remain seeing the blue ones? When viewing this on a mobile device, it can not always be obvious to check the other gallery images, so changing images based on the color swatches is a no-brainer. Sadly, this does not work as standard with WooCommerce, so the YITH Color and Label Variations is a vital tool for any fashion store.
Other product page improvements include a size chart guide to support international users in choosing the right size; this will, of course, reduce the return rate and increase the decision-making time and ultimately the conversion rate.
Let's make it a deal!
Let's give you a simple example. You sell a swimwear set for $49.99 with free shipping – the competition sells it for $45, but charges $4.00 for post and package.
At this stage, you are not convinced if the buyer will shop with you or the competition, right? Different pricing strategies, almost the same cost to the buyer.
Now, what if you can offer the set for $40? But only if the customer buys a complete set including a beach dress, a pair of flip-flops, and a free hairband, worth $99.00 – hang on, the comparison with the competition is now not possible anymore. You get a free hairband, free shipping, and discounted swimwear set.
You have suddenly made a very good deal, yet the customer is prepared to spend double the amount than originally intended to spend.
It is a very clever pricing strategy to 'put doubts' into the customer with a deal by taking away the 'like for like' comparison. This is of course easier said than done, but with the help of the following plugins, you can easily create different pricing strategies.
Upselling with Product Bundles
The example is easiest to achieve using a bundle plugin. YITH WooCommerce Product Bundles you can combine simple and variation-products to create the ultimate deal with a special price, add different rules like minimum items to include in a bundle, whether to hide this, if one item is out of stock and more options.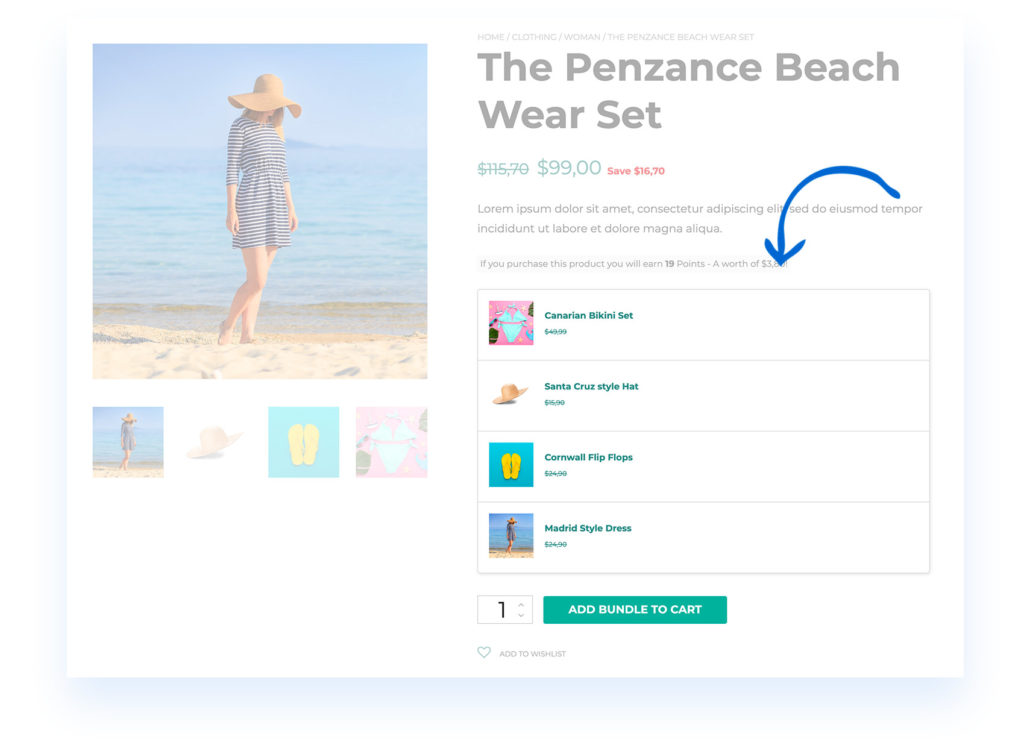 One of the most-used plugins to create any type of deal is YITH Dynamic Pricing and Discounts. Think of BOGO, Buy 3 get 4, get a double discount with free shipping if you are a Prime Member, and so on. You can read more about this in the blog on how to create your own Amazon Prime.
Cross-selling with Frequently Bought Together
A bit easier to set up and can be applied to all of your products with automatic rules. It is a strategy most familiar when shopping at Amazon. When you browse for one product, it suggests combining an additional two products and you can save 10%, for example. No doubt, you have seen the Frequently Bought Together section below a product on Amazon. This cross-selling strategy will tempt your customers to add more items to their basket and therefore increase the Average Order Value.
Suggestive-selling; by rewarding your customers with points
Giving additional points with any purchase or product, you give customers the idea to buy more and come back to redeem the points for either free products, or a discount. Or create a sense of urgency by rewarding double points when they check out today or increase the value to $100. This tactic is often referred to as 'gamifying' the purchase or customer relationship with the store.
But essentially, you are suggesting ways for the customer to save, increase spending and come back another time with points. Look up YITH WooCommerce Points and Rewards to learn more.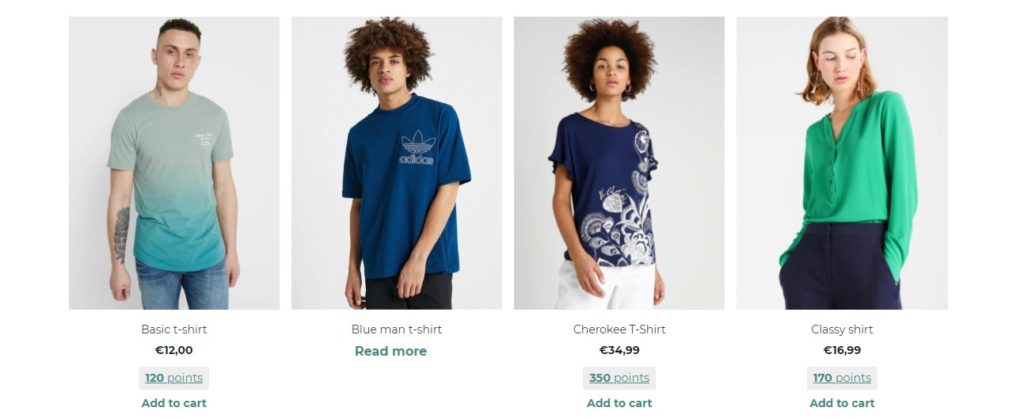 Not ready to buy? Save for later
There are many scenarios where a customer is not quite ready to check out. Think of browsing while on the bus, no credit card at hand, need to check a size or even comparing prices on other stores.
Don't be discouraged, but use this as an opportunity to give some good customer service.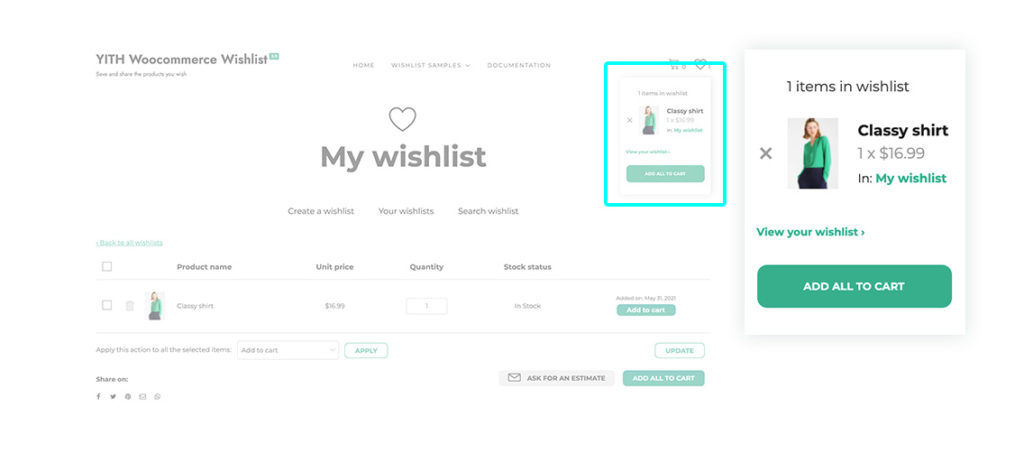 Wish lists
You can imagine the situation whereby you see lots of items you might like, but you can't save every link or add them to a basket. The wishlist plugin is a perfect in-between solution to give your customers the ability to create one or many lists. The customer might choose to share this with their partner for them to buy this for an occasion, create a wedding list, or simply for another time until it is on offer. Actually, you could set a notification to all customers with a particular item in the wishlist when ti comes up for sale. A great way to increase conversions.
Save cart for later
If the customer was super eager to add items to their basket, but then realized they were not ready to check out, you can now create an option to save the cart for later. Not just the whole cart, also a few items you can select to buy later. Does this sound familiar? Indeed Amazon has been doing this for years, so it must be an excellent strategy.
The advantages for both customers and retailers are plenty, but above all, it is good customer service like you would offer your assistance to keep an item behind the register for the customer, in a brick and mortar shop.
Is it an impulse buy? Create a quick checkout process
Many customers are ready to buy, maybe whilst watching TV, commuting home, or in bed not being able to sleep. You get the idea that a purchase can be made by your customers in many unlikely places you least expect. One thing for sure, most customers are not on the same iMac 28 inch on which you designed the website. So check the experience on a mobile device and see how quick it is to check out. Oh, and better when you are commuting on the bus, whilst you forgot your credit cards at home.
Maybe not so difficult to imagine that there is much reason why customers abandon their carts. Adding a cart abandonment plugin is a great idea to remind customers, but better would be if you made the checkout process much better, so there would be little need of doing this.
A big frustration is to remember passwords or to create an account. Using the Easy Login and Register popup, easily solves this problem. With one click you can use social login or have a popup to login which is user friendly for mobile users – an easy way for your customer to no longer need to remember their password.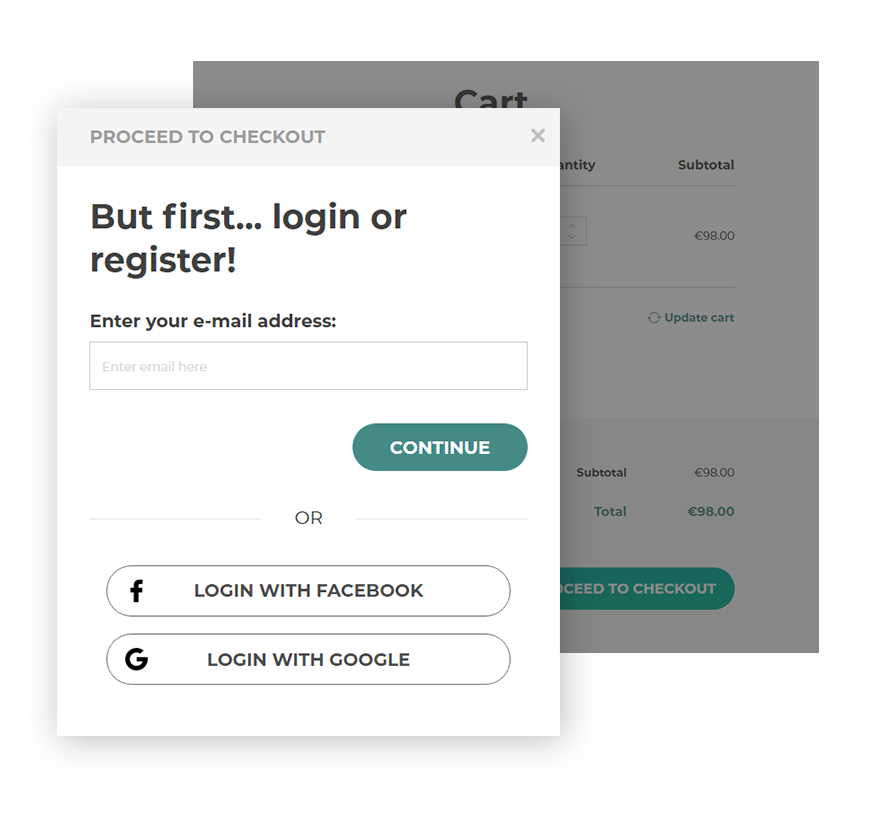 The one-click checkout
Consider the option kept under lock and key by Amazon since the late 1990s. I am speaking, of course, about one-click checkout, the very notion of which was patented until 2017.
The advantages are clear to anyone who knows a thing or two about online shoppers: they crave convenience over virtually everything else. By removing friction from the checkout process — that is, making the act of checking out as easy and fast as possible — you maximize the chance that those on your site make a purchase. YITH WooCommerce One-click Checkout does this and can be particularly helpful for returning customer. For a one-click checkout that does not rely on existing customers to work as intended, consider PeachPay.
PeachPay, a WooCommerce-backed company, has developed a one-click checkout plugin available on the WordPress repository. PeachPay introduces a button to your product and cart pages that streamlines the checkout form. The best part is that for those who have used PeachPay once, on any site, using it again is as easy as one click.
A summary to level up your store
The suggestions and possibilities to optimize your landing page with a clear path to conversion, now or later, are plenty. You really don't need to implement each suggestion as each store and customer is very different. What is most important is that you put yourself into the shoes of the customer and consider each possible action that will help the customer to make the purchase. Once you have implemented some of your improvements, check back the Google Analytics view and see if the conversion rate has improved. If so, you have invested in a solution that will make you more money every time a customer lands on your site.