The free version of this theme is no longer available
This is the theme of the eternal spring: shiny, cozy and tasteful. Just like the sensation that the city of Tenerife gave us: sensations that we could not keep unexpressed in our heart.
The creative verve of a web designer is influenced day by day by what he sees and what he feels. A color, a smell, even a small perception like a presentiment: everything can be the spark to something beautiful to share with everyone.
Santa Cruz is the result of this incredible process of influence, a completely responsive WordPress theme, designed to work on WooCommerce to the highest levels of productivity.
You can create your own online WordPress shop, just like you have always imagined, without any limit. Santa Cruz offers thousands of options to make your business a long-lasting and profitable success.
Try it now!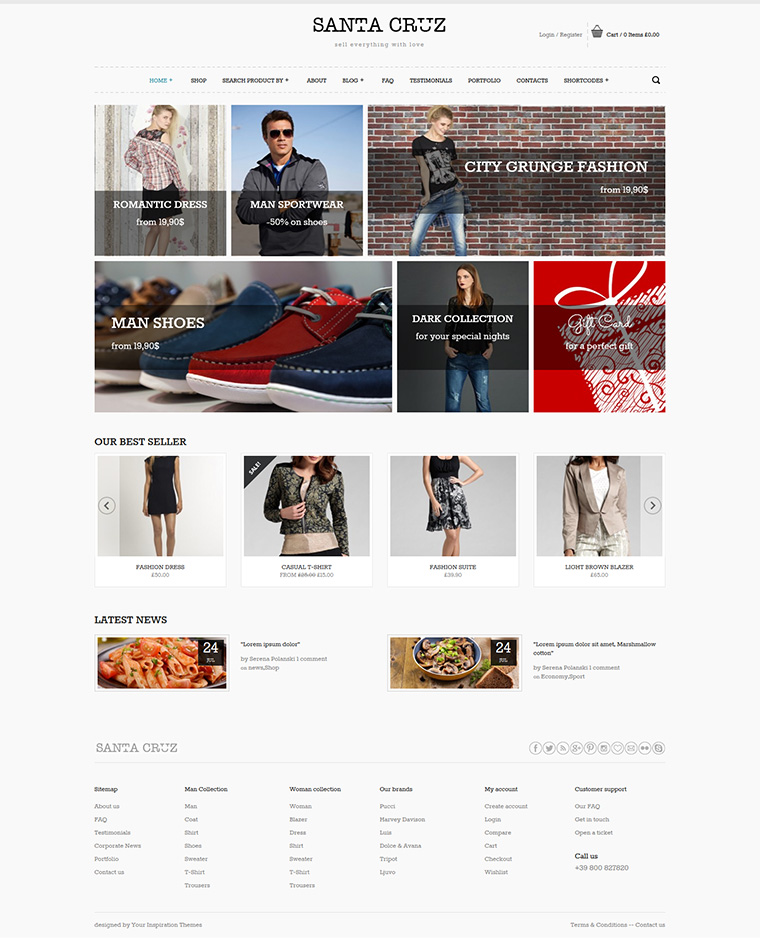 SANTA CRUZ FEATURES
Santa Cruz is a completely responsive WordPress theme, full of various feature designed to sell on WooCommerce. It is not just a great theme ready to work right away, but it is also a powerful and versatile weapon, offering the control on every kind of configuration, or feature, you want to implement in your online shop.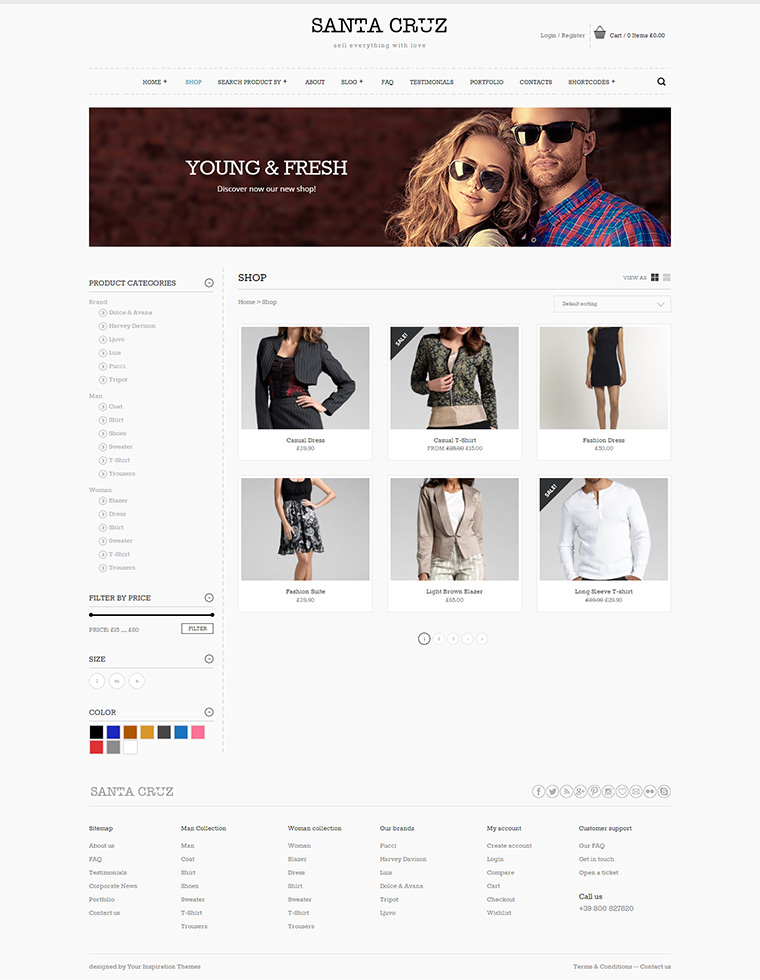 SANTA CRUZ CUSTOMIZIATION
With Santa Cruz, you can configure the theme according to your needs. Colors, fonts, widgets, galleries, everything is easily configurable in few click from the control panel.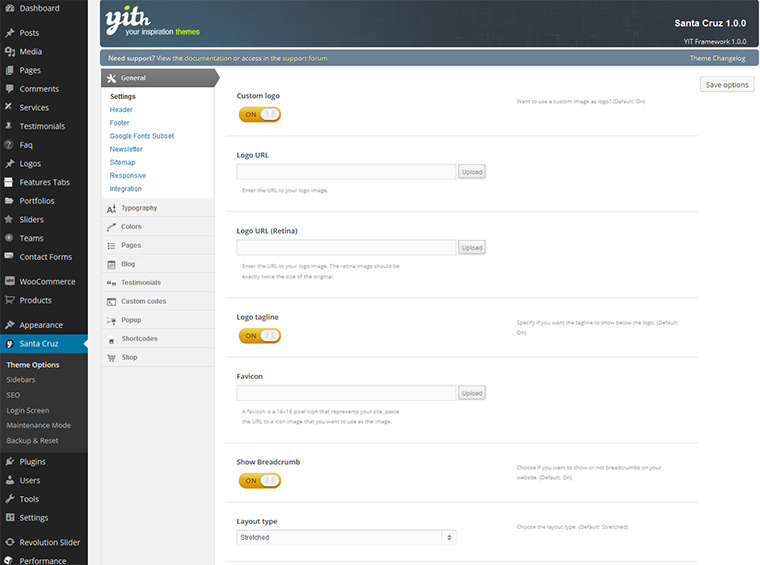 ENDLESS CONTACT FORM
You can easily create all the contact forms you need for your business, and develop convenient relations with your audience. You can customize them, organize them as you prefer, and make them operative in a little while.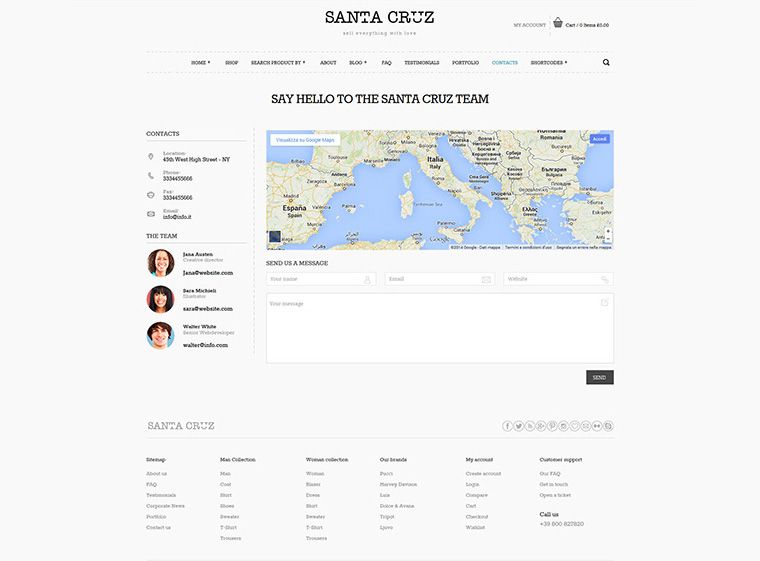 TWO PORTFOLIO LAYOUTS
If you have a portfolio, you can choose between two preset layout: straightforward, smart and efficient for their goals. This does not prevent you to use Santa Cruz to create layout as you want, adding your solutions to ours. We know inspiration is unexpected and striking: you will know when you get it. And when it happens, you will need the correct tools to shape your idea in something concrete that works.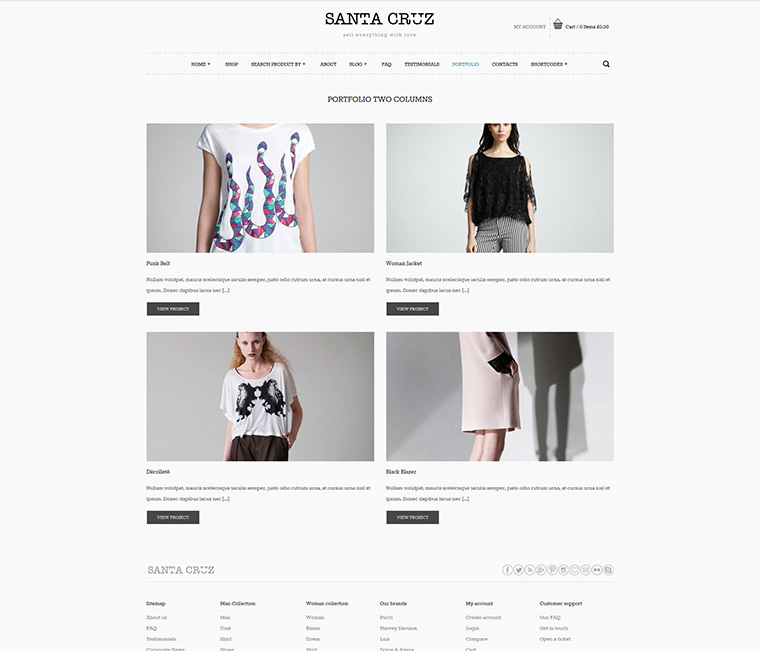 THE TOOLS FOR YOUR GREAT E-COMMERCE
This is the best part. Santa Cruz is a true set of equipment to sell online. It offers high valued tools for the usability and user conversion. Designed to work perfectly with the latest WooCommerce version, it allows you to:
Compare products — Your users could compare products in a dedicated table.
Make a wishlist — Users can create a personal list about what they would like from your online shop.
DETAIL PRODUCT PAGE
In the detail page of the product, you can set:
Multiple images for your product with the zoom effect.
Related products, ratings and description tabs.
A "Product enquiry" tab with a contact form: in this way, users can contact you to ask about products.
Custom tabs: you can add customized contents in the product page.
Unlimited product variations option like size, colors, etc.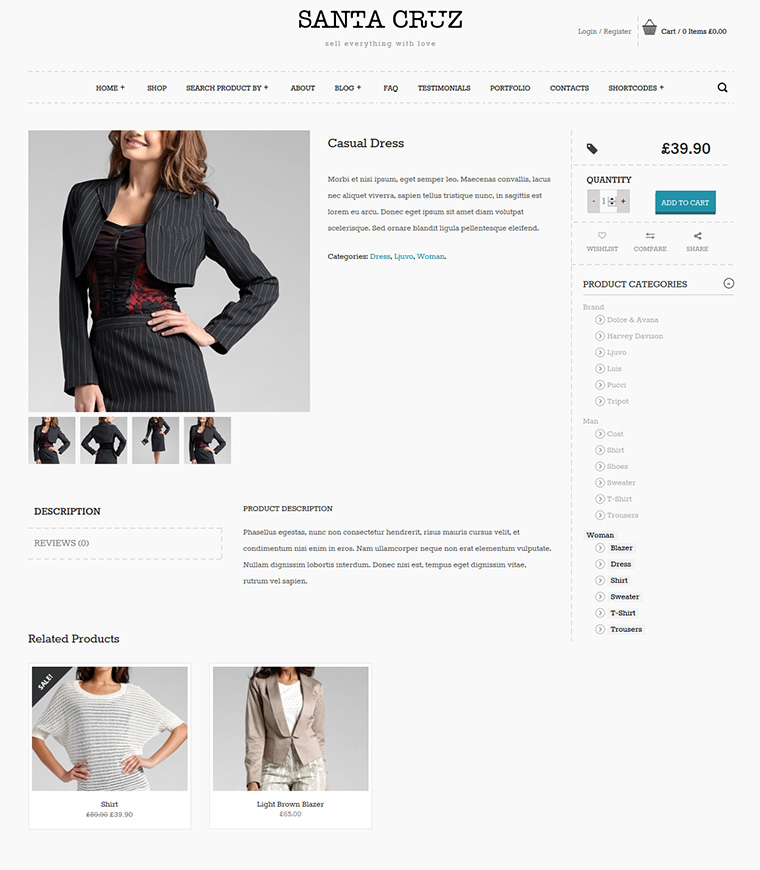 SHORTCODE MANAGER WITH MORE THAN 300 SHORTCODES
There are shortcodes available for featured products, recent products, best sellers and general products (you can set how many items to show, the type of order and so on).
You can use a shortcode manager with 300+ shordcodes ready to use, adding elements on each page with just one click, without code to copy and paste.
SAMPLE DATA
With a simple click, you can import our demo file and have an identical website of our preview. Later, you will be free to modify the contents according your needs.
CONCLUSIONS
If your business is based on an online shop of physical and digital products to sell, and you would like to have a professional, elegant and shiny appearance, Santa Cruz is the right theme for you. You must have it.
The free version of this theme is no longer available