2016 is finished and it's time to draw our conclusions, as usual. It's been a year full of radical changes for YITH, as stated in previous articles, we focused entirely on our customer support service as we decided to put "our customers first".
The first aspect we wished to improve was customer satisfaction and, as you can see from our reports, we managed to do so, getting a steady 98% in the last six months.
Once this was done, another important goal we set for ourselves was to lower the first response time, a very important factor for our customers who work with their e-commerce stores.
Providing quick responses is also a sign of respect towards our customers, so that's what we did.
In December we reached an average first response time of about 9 hours, when our previous record was 14 hours
You might be wondering how we reached these results in just one month, so let me share what we did to improve this vital aspect of our customer service.
In December we rolled up our sleeves and rearranged our work shifts so that we could cover for Saturdays and Sundays as well, the only two days of the week we never covered before, which are not covered by our support policy.
Let me show you a couple of charts that will display the improvements obtained during December. It took us just a little longer than anticipated, due to the Christmas festivities: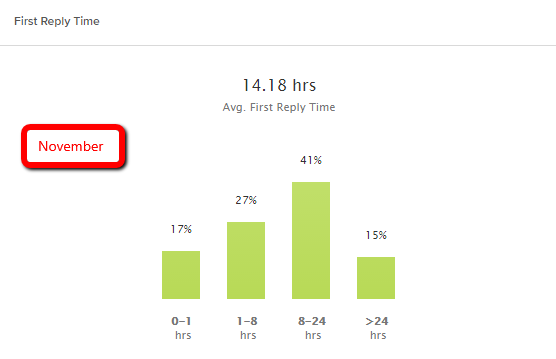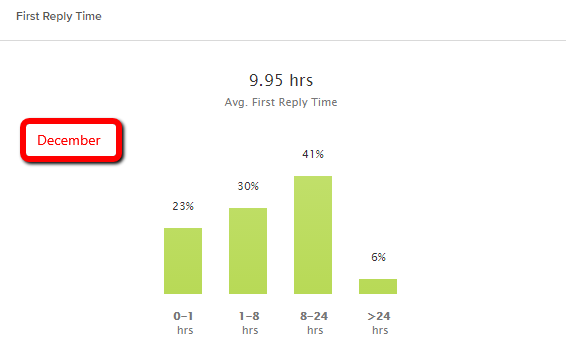 In December, 23% of our requests – almost one quarter of the total – has received the first response within one hour since it was sent, and we are currently working towards eliminating the possibility for a support request to take longer than 24 hours to receive a response.
That's what we mean when we say that "YITH never leaves you" 🙂
Here is more data collected during the month of December for a general overview:


The efforts we put into achieving these results are constantly repaid by your words and the trust you put in us day after day.
P.s. Thank you for the thousands of greetings messages you have left in your own support tickets, Happy New Year to all of You!
And now, as usual, back to you:
Okananter: I bought a lot of themes over the years at Themeforest. I think what you have created as support is impressive. Thank you. All the best.
Maurice: Super fast response and a rock solid solution. Just perfect.
German: yes yes thanksss, im not good with websites and the support is doing a lot for me! thanks 10/10
Richard: Problem solved in short time. Now the plugin works as good as I hoped it would.
Eric: My customer service rep, Giuseppe, has always been quick at responding and very detailed when offering solutions to my problems. A+ service!
Daniel: YITH always has great support. The quality of support is by far unmatched in my humble opinion. Thanks!
Candor: Awesome! Custom CSS Code you wrote for me worked perfectly! Very Much Appreciated!
Daniel: YITH support is seriously unmatched. They are in a superior league of thier own and it's the reason i will continue to do business with them.
Marius: Order Tracking issue for An Post Ireland was resolved very quickly and professional by Giuseppe. Thank you.
Ramon: Amazing support! Expert advice, successful execution and fast turnaround… and this is not the first or the second time I get this quality service!
Aline: The customer service is the absolute best! I am so pleased with their products and service. I have been using YITH products for some time and I would highly recommend them. Their customer service is top notch.
Shabnam: Best support team I've dealt with for any WordPress related theme/plugin!
Matt: The support I have received from Yith has been outstanding to date. Initially, as a free plugin owner, my questions were all answered promptly.
Now, as a premium plugin owner, my feature requests have all been dealt with amazingly fast as well, sometimes with different options suggested and then with code snippets provided to add the various features or changes I have been looking to achieve.
The team provides great value for money and I highly recommend their plugins and services. If only all theme and plugin creators could offer products and support like these guys do! Matt Dickson, Director, Internet Business Consultants
Jani: Always getting a fast support and the guys / gals really know what they are on about!
Mrst: Yith is so awesome and support is amazing. I love these guys especially seeing how I'm new to websites and things. They make it easy! Keep it up!
Hello91: Quick reaction, proper answer that solved the problem, What else would we need
Lajos: Thank you very much. I received good answer, and the programming work was done in a short period.
Wayne: Excellent help in trying to resolve my problem and even though it wasn't fixed you went above and beyond what I expected. Really appreciate the service, will be looking at yith in the future for plugins I need.
Bo: Very good and fast support. the support team are kind and helpful. Definitely a five star rating from here