2017 has started and our new year's resolution is to keep our customers satisfied, happy to have chosen us.
In this article, we will analyze all the things occurred in January and February.
In regard to January, the results we achieved are not bad, in spite of the holidays still under way and the lack of available staff during the first weeks of the month.
Customer satisfaction registered: 98% and first response time lower than 10 hours.

In short:


As previously mentioned, the holidays in January were not over yet.
Seeing as how our developers had days off in turns, we didn't succeed in achieving lower times.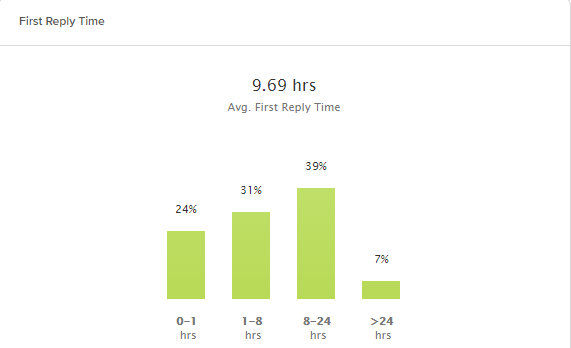 7% of our customers received a reply after 24 hours.
That is what we aimed to improve.
It's a piece of cake 🙂
In February, when all of our team worked at full steam, we managed to achieve the expected results.
During this month the customer satisfaction increased to 99% and the first response time went down to about 7 hours.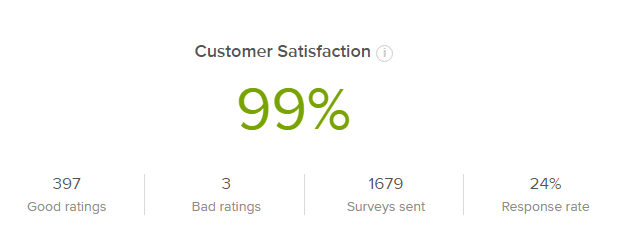 In short:


We are very close to achieving our goal of offering a near to real time customer service.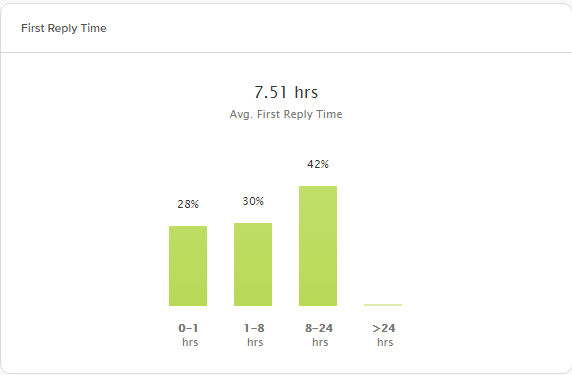 We zeroed the replies given beyond 24 hours (7% in January) and increased from 24% to 28% those given within 1 hour. But this won't stop us since we'll try to improve even more.
Now it's time to share your wonderful and motivating feedbacks as usual:
Lynda: Much faster than I thought and very helpful and responsive. Made it very easy to understand and had my issue fixed within just a few hours. Totally happy with support!!
Frank: Giuseppe support was above and beyond the norm. Fantastic effort. Thank you so much.
Carlo: Class A support from Giuseppe and his team. Good job!
Ianmac62: Problem solved incredibly quickly, brilliant support service
Eantunes: I am fully satisfied with your work. And that's why I'm joining the Club.
Kimberly: I've been thrilled with the support I receive from Giuseppe! I feel I have a true partner!
Francesco: per migliorare il supporto potete solo continuare il lavoro impeccabile che già fate.
Morten: Very quick answer and my issue was resolved in a matter of 15 minutes!
Maurice: Great and quick solution to this problem! Now the PDF invoices look really great! Thanks for your awesome work!
Pietro: This Guy is the best geek.. I thank for the full support I received!
Leonardo: Very good support, responded very attentively and quickly to the problems that were emerging. We are very happy with the service, Excellent!
Albert: Most likely the best customer support throughout any themes on woocommerce, period.
Maurice: Maybe you should create an extra button on how to rate this ticket and your service. Simply 'Good' doesn't fit.
It's EXCELLENT. Yith support is the best I've ever seen since I work with WordPress sites and external plugins.
Giampaolo: Giuseppe, the assistant who helped me was fast and accurate as well.
I'm very pleased. I've bought the full assistance pack and they are great! just a little note. They are Italians like me and I'm very proud how they represent my country.
Travers: Excellent work again Giuseppe and co. Thanks for fixing that.
Christine: Your help is highly appreciated. I am glad you did not give up on helping me resolve my issue. Thanks a lot.
Giordano: This guy did a great job again, I appreciate his patient and professionalism. I recommend him to everyone who feel doubts about to hire this website services. Thanks Armando
Paul: Any amazing product backed by Awesome support. It's always great to find a company that is a pleasure to deal with 🙂
Carlo: The support is very good. Despite initial doubts, I realized the team will support me all throughout to resolve my issues, going the extra mile. Giuseppe is particularly very helpful and understanding.
I still have some issues unresolved but now I am confident these will be sorted out eventually. Thank you.
Maurice: Giuseppe fixed this very hard to find problem. He's very professional, dedicated, polite and an extremely talented tech-guy. Thanks a million!!!
Cohen: Really appreciate Giuseppe! He's always there for me. Don't know what I'd without him! Thanks so much!
Marina: The agent did great and fixed the issue I was having with the plugin. I will most likely purchase more plugins from YITH. thank you for the support
Ong: I never would have thought that the support of Yith will be this good. They are always available on live chat, and our problems are usually resolved within 1 business day. The tech teams are really good. APPRECIATE IT. highly recommended!
Maurice: The people at YITH are very patience and polite and they offered a great solution to the problem I had. I'm very curious for the new feature, that's goinf to be added in a future update. Thanks YITH!
Camcbain: Giuseppe provided awesome support. The issues were solved 100%. Giuseppe answered emails very promptly. Outstanding support backed up with video and screen shots. Thankyou Giuseppe for sorting out all my issues. Awesome, excellent, outstanding.
Pietro: Armando help me again with the issues.. He is very professional. Good Job!
Jakke: This customer service is something i've not seen before. You really get help and they even log in to your site to ensure that the product works. Also they tell in detail what was wrong and what they did to fix the issue (this is very important to me).
Phillip: Out of all tech support requested across the board – the guys and gals at yith are the fastest, most responsive and successful to solve my problems.
Maurice: YITH Support is the best you can get. Just like their plugins. They REALLY help you to get your plugin running (if you need help) AND they help you with things that are related to it.
They are VERY knowledgable and kind people. I can describe the quality of their plugins and their support in one word: AWESOME!
Juddi: Really, I feel soooooooo Gooooooooooood! I love guys, especially Giuseppe.
Ikonomova: Giuseppe is support prodigy. Never had experience with such speed and patience before. Thank you Giuseppe!
Mathias: Best support. Fast response time and very competent answer. Kind regards from Mathias (the WebGuy from Switzerland 🙂
Petrus: Showww !!! They're saving my life, congratulations to the team!
Kimberly: Giuseppe has been fantastic! I could not have met my client's requirements without his and his team's help! They are just awesome!
Kimberly: I feel very fortunate that Giuseppe would take the time to review my dashboard to analyze what was causing the problem; then took the initiative to resolve it for me.
Understanding and working with a new plug-in can be overwhelming at times. But he's been extremely supportive and helpful throughout my learning curve.
He's a pleasure to work with and I'm so appreciative of his support.
Vasileios: Very fast response, fixed the problem and explained me how he/she did it. Very Satisfied.
Colin: Really great service and support…..very surprised compared to other plugin support developers. Keep up the great service and ideas!
Franco: It is a pleasure and tranquility to be attended by Giuseppe. Always concrete solutions.
Maurice: The people at YITH surprise me every time I have a question or issue.
Nothing I ask is too much asked. I had a problem that wasn't even fully YITH-plugin related. OTHER people would have said: 'Sorry, I can't help you with that'. But not YITH. They really did a perfect job (again). I have over 20 premium plugins installed on my website, and it all works flawlessly.
My webshop went from 'just another WooCommerce shop' to a Super Sophisticated, Marketing Savvy, Super Shop.
The guys at YIYTH really do so much and everything they do is done with precision, speed and quality. I highly recommend them if you want to have more than just another WooCommerce shop.
Damn, I wish I had found them earlier… 🙂 Maurice
Matt: I COULD NOT ASK FOR ANYTHING BETTER, SOLVED THE ISSUES RIGHT AWAY, THE FIRST TIME! THANK YOU!
Ian Mac: Excellent and all solved within an hour of me submitting a ticket. First class customer service.
Ruth: Response was very quick. I submitted a ticket late afternoon and problem was solved when I returned next morning. 🙂
Mike: Very impressed with the prompt reply to my request for this time of the year.