Why is it so hard to sell a product?
This question crosses the mind of all of those who are trying to sell something, sooner or later. The kid on the lemonade stand thinks that as well as the big store owner with thousands of items for sale.
Such a common question is like gold for those who know how to answer it and by creating WooCommerce based websites.
WooCommerce stores: Pros and Cons
Each time we need to make a choice, we lay down a mental scheme of positive and negative aspects of each side.
When we do this, we need to avoid stopping at the first column, or we might make the wrong choice.
Let's take for instance one choice that's very close to us: which tool would you use to create an online store for you or your customers?
We might use WooCommerce, but what are its negative sides?
WooCommerce is an extension of WordPress' functions, which wasn't originally intended to be a sales platform, differently from other platforms such as Magento or Prestashop, and it acquired this function thanks to WooCommerce.
What does this imply? That since its "birth" a store created using this service lacks all of those features that other platforms offer, which need to be integrated using plugins.
If any extra feature requires a plugin, the more plugins you install, the more you run risks, since:
Plugins, especially if created by different developers, might conflict with each others.
A plugin made by a freelance developer might be abandoned at any time, creating issues to the stores that are relying on it.
Plugins require support and constant updates, which may become complex in case of plugins developed by companies that don't keep their plugins updated.
This is a negative aspect that all people trying to use a WooCommerce based stores have to face.
Now, if we were to stop our analysis at the negative aspects, we clearly would never go as far as creating a websites that might run these kind of risks.
So how is it possible that WooCommerce is currently the most commonly used e-commerce platform in the world?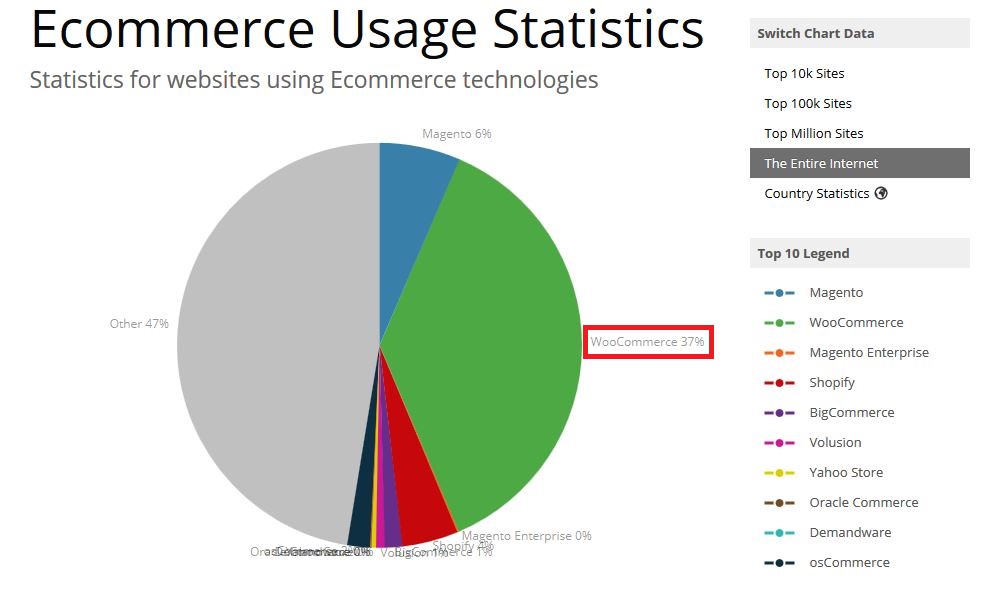 In order to understand the reasons behind this kind of success we need to move to the second column of our mental scheme: the positive aspects.
Positive aspects of WooCommerce
The first element we should take into account is that it's surprisingly easy to use.
Considering the fact that, as I said, WooCommerce is an extension of WordPress, it comes with its simple and understandable approach which applies to the e-commerce store creation and management as well
So clearly users that want to create their online stores without having to get specific competences and skills are going to rely on this platform, and the same can be said about those who sell a website creation service.
If I need to create a website for my customers, it better be as easy as I could possibly make it for them, so that:
They are not going to need much support.
It's going to be easier for me to create this kind of website.
And everybody is a winner!
The fact alone that WooCommerce is the most used platform in the world means it has access to a huge amount of dedicated products, developers and other users to share thoughts with.
In case you are still caught in the middle between negative and positive aspects, there's one last massive weight we should add to the scales of the latter: WooCommerce's potential.
Adding many features to your store in the form of plugins might be a negative aspect, but it also allows you to customize and improve every single aspect of your store.
And this is when the second service we might offer our customers comes into play: an online store optimization service.
WooCommerce's potential: The second question
I already turned the spotlight on the fact that the effectiveness of a tool is based on the hand that uses it, in previous articles.
Imagine customers that ordered an e-commerce store creation service from you: you make it and they begin their business.
It's easy to predict what's going to happen from that moment onward: they will wait, looking at their sales stagnate and sometimes rise in sudden fluctuating bursts, reaching to a much lower income than they were expecting. At this point they will wonder the same question: "Why is it so hard to sell a product?"
Many of those who open an online store already had (or still have) experience with real life stores, owning their own shop and thinking things work the same way on the internet.
If a showcase may attract passersby, the internet is so full of online stores that's just like imagining a street that's thousands of kilometers long and that has shops on each sides, one by the other.
Clearly, besides from the regular customers, very few will get to your store then.
At this point they generally start doing research, looking for some miracle strategy that would increase their sales.
Maybe they try out different plugins and offer discounts, since it's a common strategy, but they hardly manage to revitalize their store by themselves.
And this is when we come in: we are the solution to a problem, the answer to a very important question. In fact, if the sales don't go up, a store might as well close.
Remember what I said before? We saw how to t the question "Why should I let others create my own e-commerce store" customers tend to find answers of their own.
We have a second question now: "How do I increase sales?"
In this case the answer is less clear than before, that's why we need to provide this answer: "You need to purchase an advisory service" but before doing so, we need to understand what it represents ourselves and why it's so important and then see how to sell it to our customers.
You might not have thought about it, but as we are going to see in our next article, a consultancy service is like a goldmine compared to a mere website creation service.