How do you evaluate the success of a business?
Is it from its sales? From its position in the worldwide market? From the reputation its brand has?
Clearly, all of these are key aspects of any business, but the most important aspect for us, the one we pride ourselves on, is our customers satisfaction.
It was the same three years ago when, in an article similar to this one, we were proud to share with you the results of our customer service assistance and we still are today, with our 97% satisfaction rate.
The reason why I'm writing this article today, three years after its predecessor is because if we were in China, then this would be the Year of Support!

What does this 97% represent?
Well for us, it's both an objective and a goal: we work towards raising this percentage every single day, each positive evaluation you write is a word of congratulations for our developers and every negative one with constructive criticism is an incentive for us to do better.
A team works when each one of its members cares for the results obtained together and this success rate affects all of us and it's only fair to share it with you.
Why is support so important?
Because it allows us to assign a face to each single customer, which is something we often forget about and gets buried under busy work and order numbers. Each customer has a name and is back to being a person and so are our customer assistance managers Giuseppe and Armando who are no longer
If you are wondering why this is "the year of support", the answer is that since January we decided to further improve our efforts on this so important aspect of our business, multiplying our dedicated forces four times and involving all of our developers into our assistance process, in order to provide the goal we had in mind: a day bay day support service, one customer after the other.
So let's go through our data of the last six months, starting from January.
January 2016 – Customer Satisfaction Rate of 95% and average answer time of 29 hours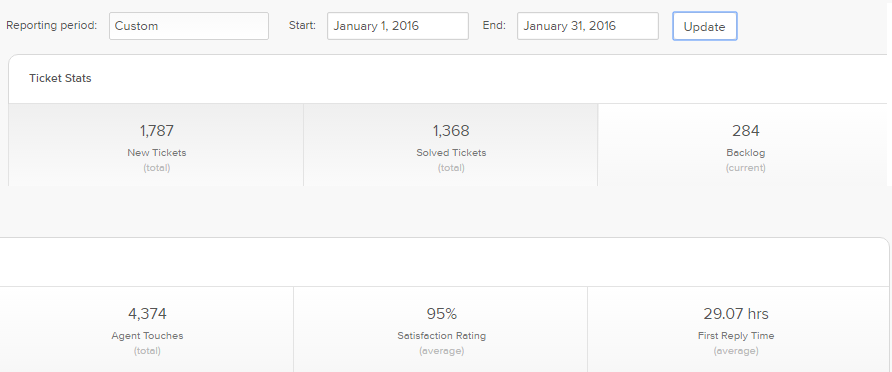 in January we had a satisfaction rate of 95% (an excellent result to start with) and a first answer time of 29 hours.
This latest element has always been of prime importance for our customers, especially in the fast-paced online sales business, which is why we focused our efforts on reducing this time even further, but without sacrificing the quality of our answers.
February 2016 – Satisfaction Rate of 96% and average first answer time of 20 hours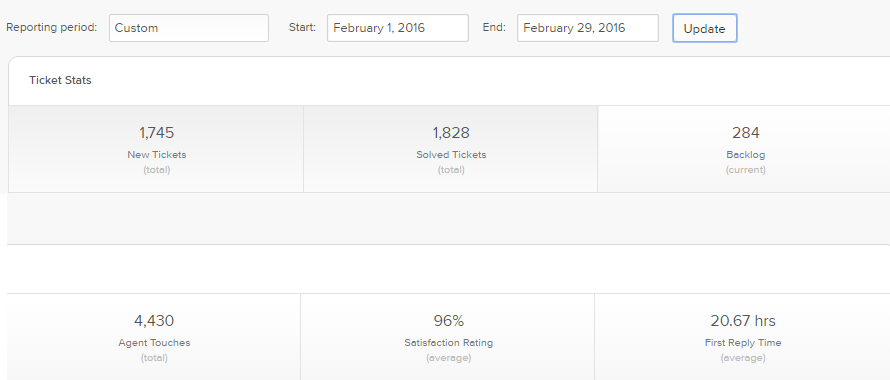 This leads us to February: with a 96% satisfaction rate and a first answer time slightly above 20 hours, we managed to reach a goal we have been aiming for in a while: getting under 24 hours with the average first answer time.
But as I said before, every new goal reached sets a new objective to aim for.
March 2016 – Satisfaction rate of 96% and average first answer time of 18 hours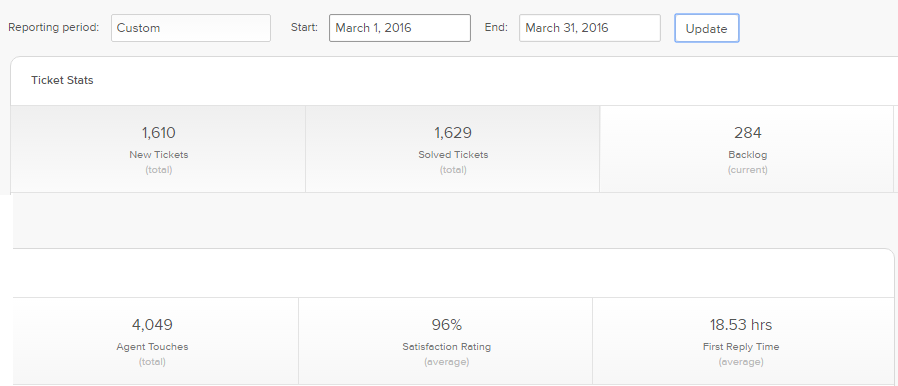 In March, the fresh smell of spring came with more good news, confirming our 96% satisfaction rate, but we also managed to lower our first answer time even further, reaching to 18 hours
What's noteworthy is that we managed to lower the amount of our customer service tickets thanks to our Live Chat service and by populating our Help Center with operators that will take care of your questions.
April 2016 – Customer satisfaction of 96% and average answer time of 24 hours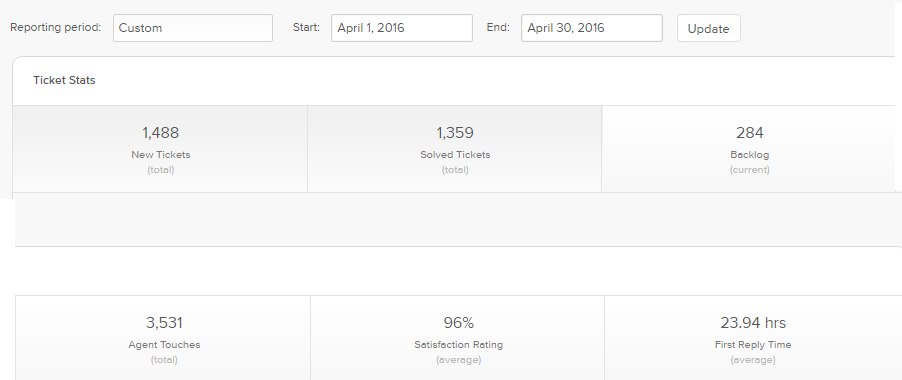 Once we reached April, we knew already our first answer time would have risen up due to the holidays (Eastern and related festivities) and we know we would have paid the price for our rest. In fact, while the satisfaction level would remain the same, the first answer time went back to almost 24 hours.
We kept staying faithful to our 24 hours objective in order to understand we can clearly state it was an exception if we look at next month's data!
May 2016 – Customer Satisfaction of 98% and average first answer time of 17h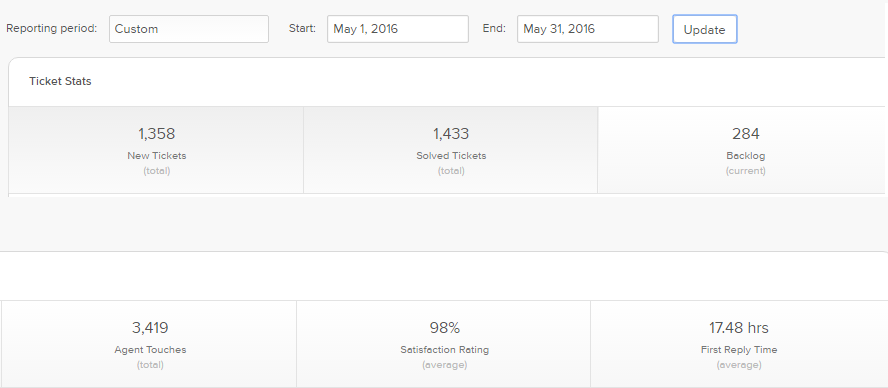 May was starting to feel hot, but not was as hot as our achievements! Being able to go under 18 hours made us very happy, and the 98% satisfaction rate made us simply ecstatic!
June 2016 – Satisfaction Rate of 97% and average first answer time of 17 hours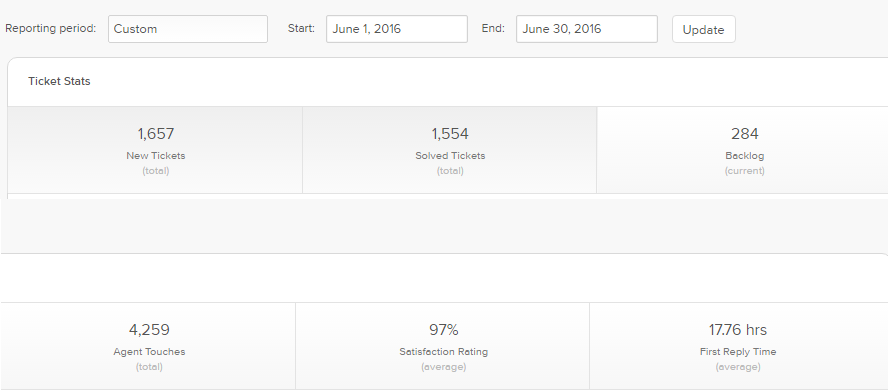 In the and we reached June and kept the same results of the previous month, which confirmed we weren't dreaming 🙂 a 97% customer satisfaction rate and an average first answer time of 17 hours… these are excellent results and are also a new ground to keep building and improving even further!
The number of open tickets rose again since the 2.6 WooCommerce update… this was another challenge we faced and which didn't keep us from staying at the high levels we reached in the past.
And this is all for now, we care about sharing our achievements with all of you, thanks to our Support Team in these first months of 2016. And for these amazing results, we thank Giuseppe – Head of our support team and we use this opportunity to apologize to that 3% of our customers which seem to be still not satisfied with our services and we promise to do our best in our next months to include them to make them join the group of our satisfied customers.