Welcome back to our monthly report for our Support Service activity!
We left August behind accepting the challenge offered by the holidays some of our team members were on, and still showing good results both in answering time and customer satisfaction.
In September, while we were free of any obstacle, we again aimed for perfection and took a further step ahead towards our objective.
So let's see our results for the month of September in detail:

Getting closer to 100% makes it harder to further improve the quality of the service, as one single negative mark would make the difference, this is why we are proud of our result: 98% customer satisfaction during the month of September.
We made it one point further, compared to last month's 97% and we also received 60 more positive notes and 4 less negative ones 🙂
Let's see this month's data in detail: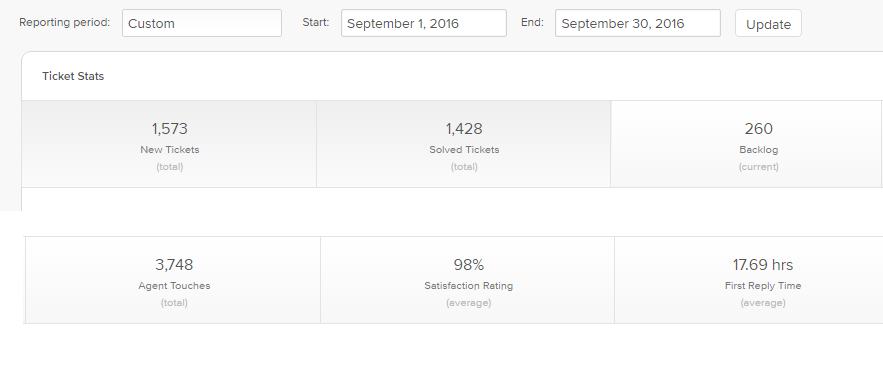 Despite a slight increase in the number of tickets, we managed to lower our first response time by almost 8 hours since August! Going from 25 hours to 17, we didn't just lower the response time, but we also beat June's and July's results!
Concluding, as always, here are some of the feedback you left us:
Hans: Excellent support and quick responses to questions. Technical solutions provided equally quickly, where feasible. Keep up the good work!
tlcabral : Really impressed with the level of support this company provides.
Martin: Tremendous! Fast, reliable, and nice. And that with a problem connected to a third party plugin. Thank you!
Saadusmani: thank you so much guys you are so awesome. I can't thank you much awesome work
Kim: The same person has helped me a couple of times and I appreciate his knowledge, patience and ability to help me understand what needs to be done. Very grateful for Armando!!!
Mariangela: Giuseppe, thanks very much for your help and patience! The support I've received has been fantastic. 5 stars
Thomas: excellent, support person went above and beyond and fixed the problem straight away following up to my second query the next day as expected. very highly appreciated of Giuseppe and his support on my site.
Ronald: I love the fact that you publish your support results and are very transparent about your service. A company that puts service and customers first will do very well. Thanks – R.
info1095 : I am very satisfied with your support. Everything went fine though i asked for a difficult customization! Thank you again!!
Andrew : As ever with development and CSS and how things actually work, issues occur. I've spent quite a lot of money with YITHEMES and as a business owner it's important I get the right support. This I do get – I can even grumble and they help. Thanks YITHEMES.
Jason: Absolutely fantastic customer service. Thanks for your assistance. Working as described now! – Many thanks for the fast turn around.
Sadus90: i have never seen such awesome support anywhere. You guys rock. Awesome support once again thank you so much
Joakim : Never experienced customer support like YIThemes has – outstanding. I've replaced several plugins from Codecanyon to YITHs versions because of their support-team. It is vital that my shop works flawlessly, and YITH always makes sure that it does. A big thanks to you all!
Joakim: YIThemes support team defines how all customer support should be like in a perfect world.
Clearly, it's very hard to resume personal experience and the value of a whole team in a few lines, which is why, in case you wanted to look further into ur customer feedback, you will find more right here 🙂