An efficient way to increase sales is by gift cards
A study by the Nielsen Norman Group on a sample of people who usually purchases on the internet has proved that when they receive a present, they appreciate it more if it is in the form of a gift card.
A gift card makes their lives easier for both the person who makes the gift and the person who receives it. This is the reason why gift cards have become more and more popular, to such an extent that 98% of shops – and not only virtual shops – use them to increment sales volume and to loyalise customers.
Thanks to YITH WooCommerce Gift Cards you will be able to create gift cards of any amount and give your users the possibility to purchase what they really want freely.
Quick info
Requires:
WordPress 4.5 or higher
Compatible up to:
WordPress 4.9.x
Requires:
WooCommerce 3.2.x or higher
Compatible up to:
WooCommerce 3.4.x
Minimum PHP version:
5.6
Version:
1.8.5
Released:
2018-05-28
100% WPML Compatible:
yes
Translation ready:
yes
Languages:
Dutch, English, French, German, Italian, Spanish
Support to:

All YITH plugins
All YITH themes

GDPR Compliant:
YES
WITH
YITH GIFT CARDS

YOU CAN:
Set the amount you want
Choose the value or let your users decide how much they want.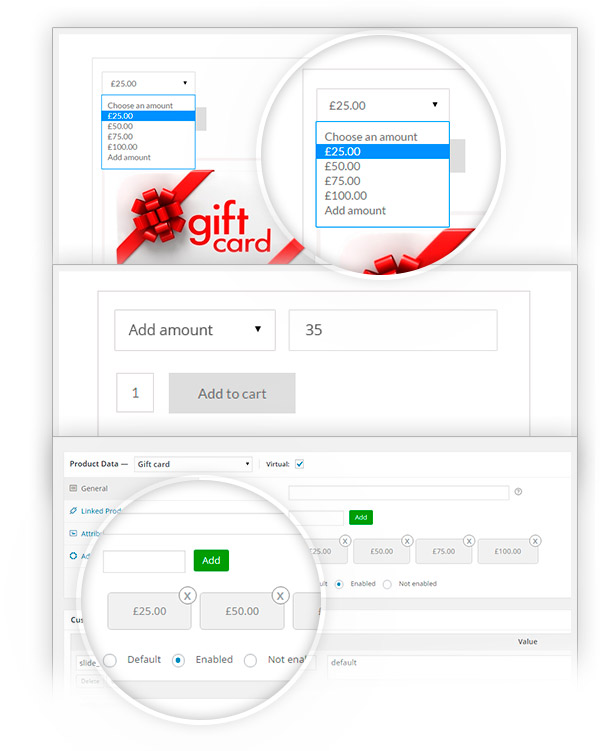 Customize cards how you prefer
Allow your users to change images and texts, and shape their gift.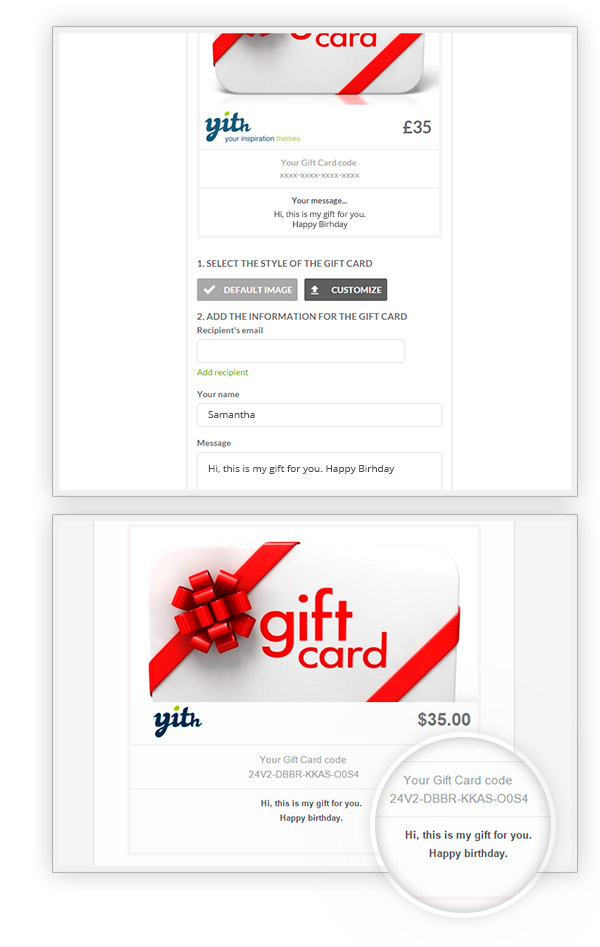 Send the gift card to whoever you like
One person or ten people, it doesn't matter. Your users just have to add the email addresses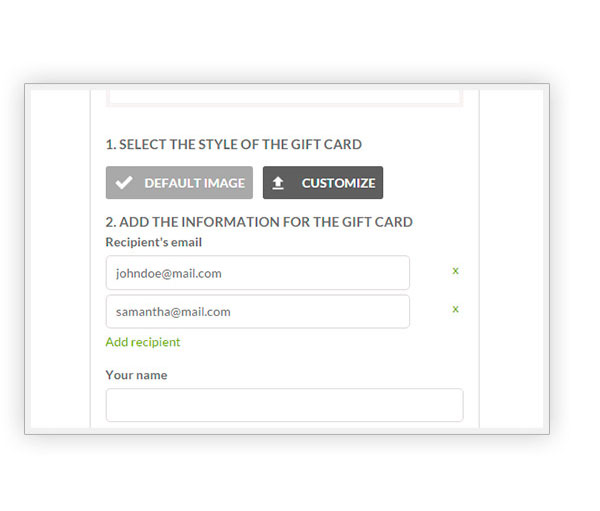 Show the email address linked to each gift card on the Cart page
To let the user check the information inserted before purchasing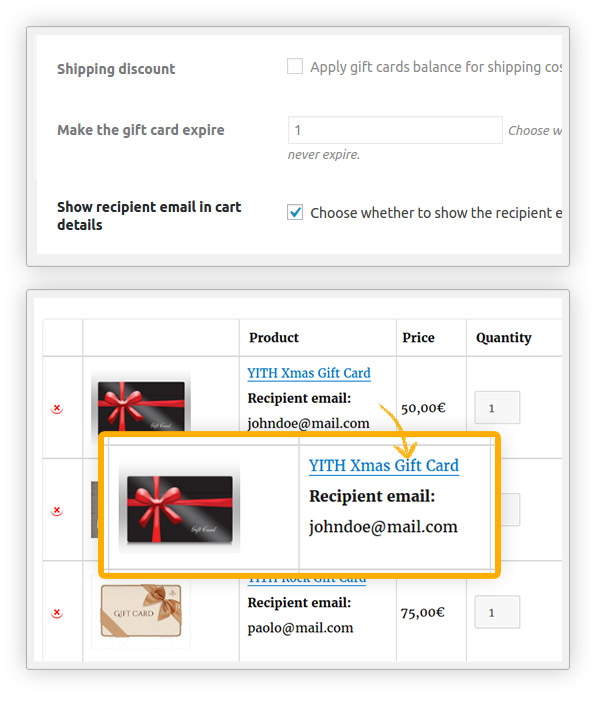 Send the gift card when you want
Your users can set the dispatching date, and now exactly when the people involved will get their gift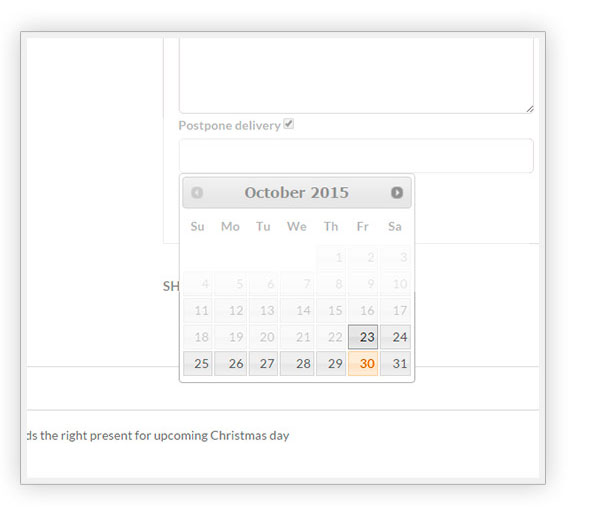 Set an expiration for the gift cards created
The users will be encouraged to use the remaining balance before the gift card expiration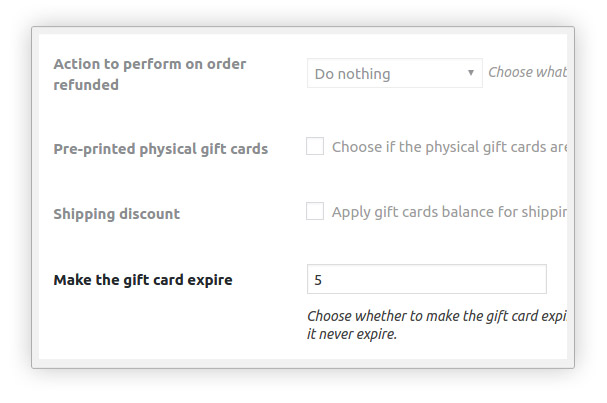 Suggest a product
The gift card will have the value of the selected product, and your users be free to suggest thier friends what to buy.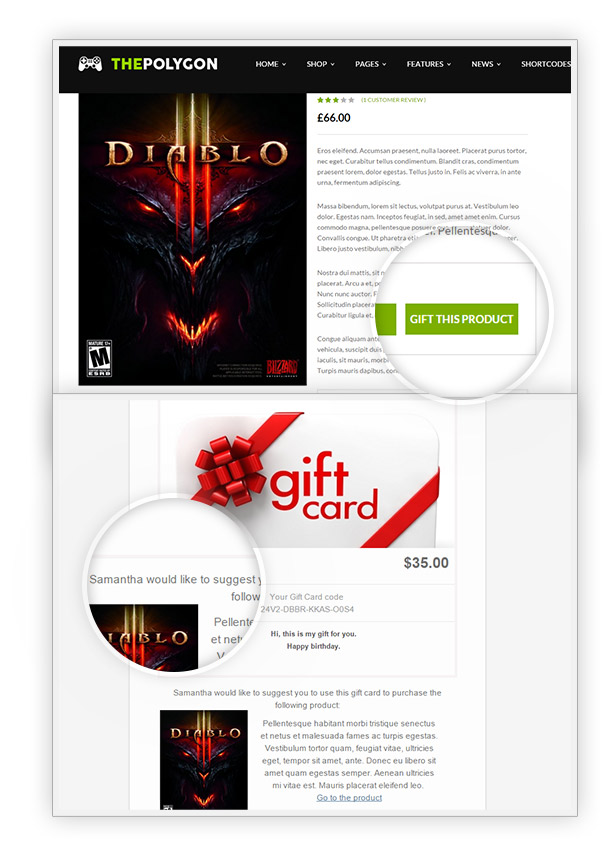 Create gift cards to print
And to send physically, for those who love to touch their gifts.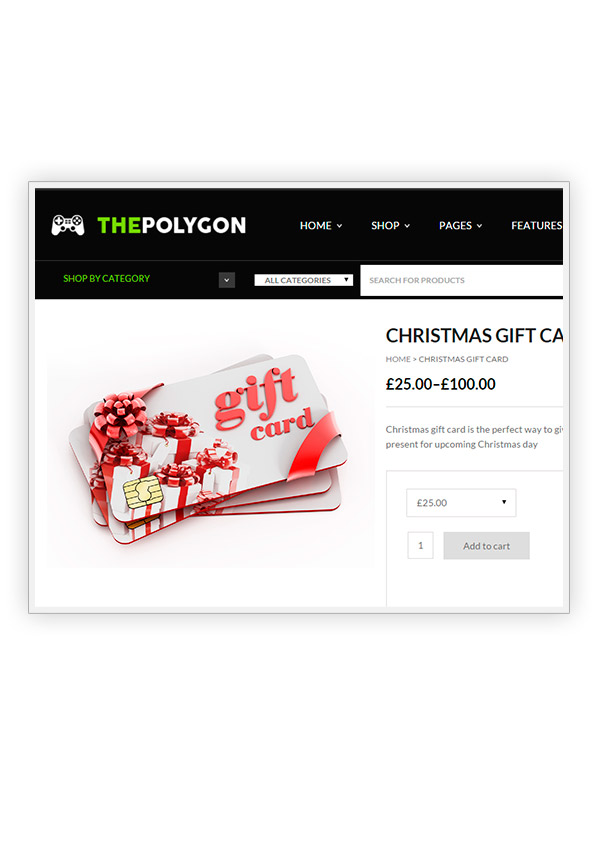 Notify gift card use
By an automatic email sent to users whenever the gift card they purchased has been used.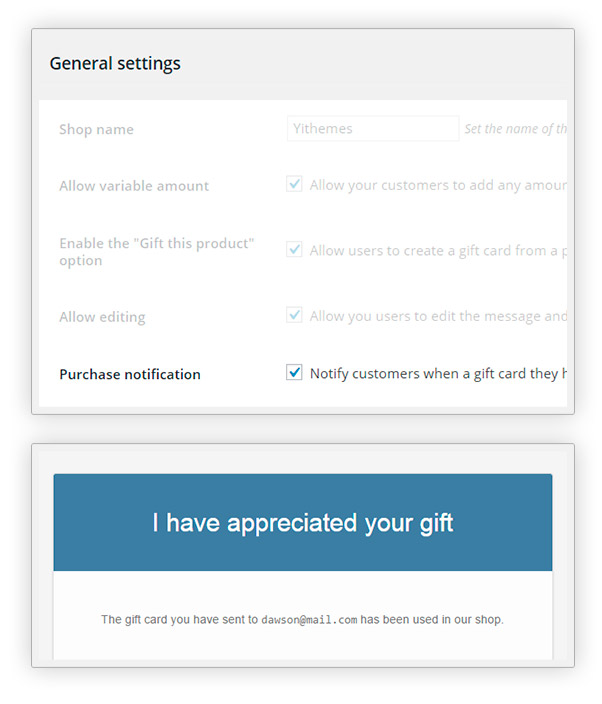 Verify gift card sending status
And resend email in case of a sending error occurred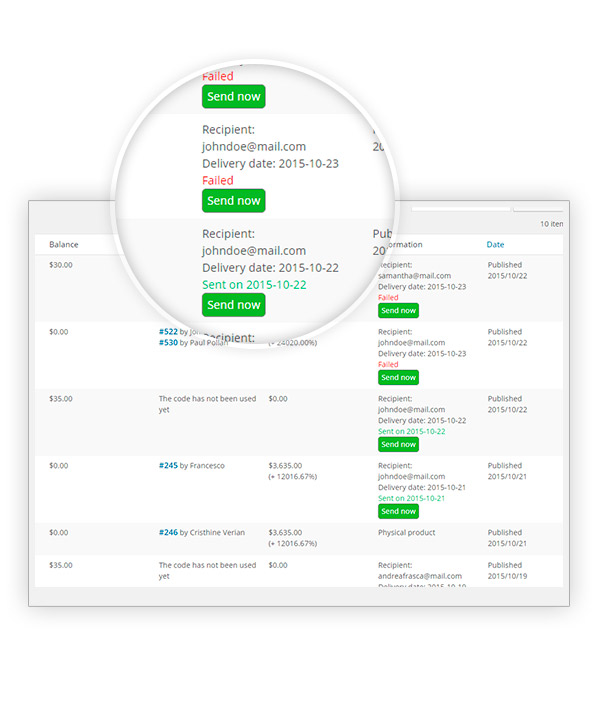 Suspend a gift card
To temporarily block its use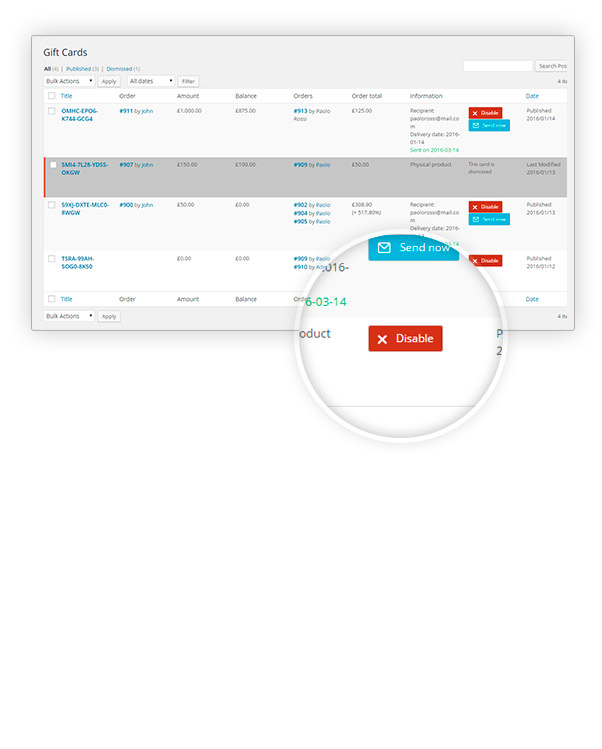 Syncronize cards to the related orders
To temporarily suspend or remove the card when order acquires the "cancelled" or "refunded" status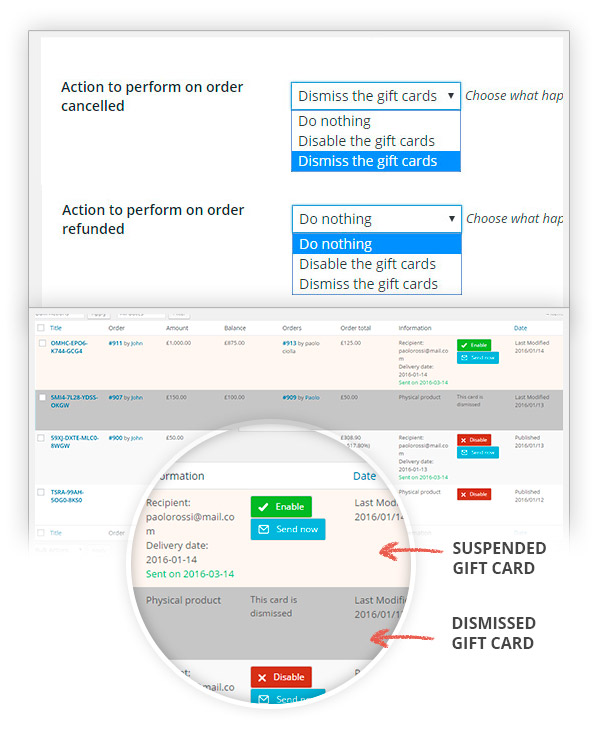 Select your gift cards template
And choose the position where to show your shop logo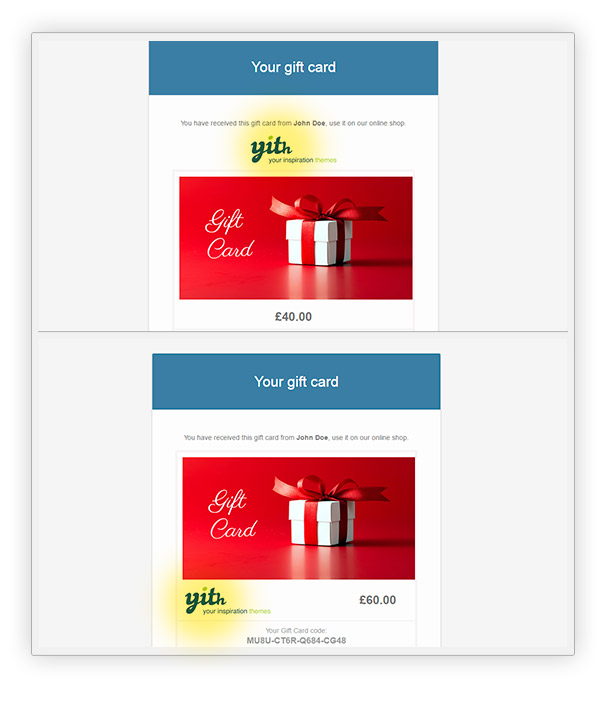 Offer a wide range of gift cards
Select the most beautiful images and associate one to each gift card of your shop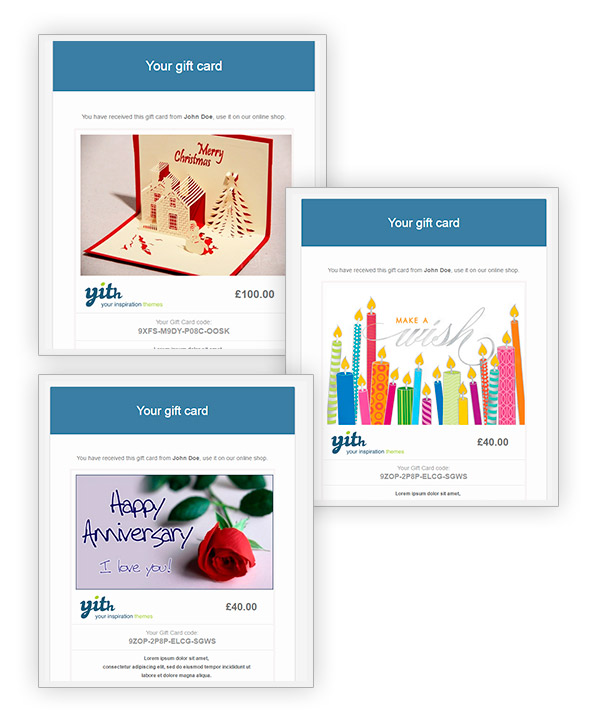 Create an image gallery
And allow users to choose them for their gift cards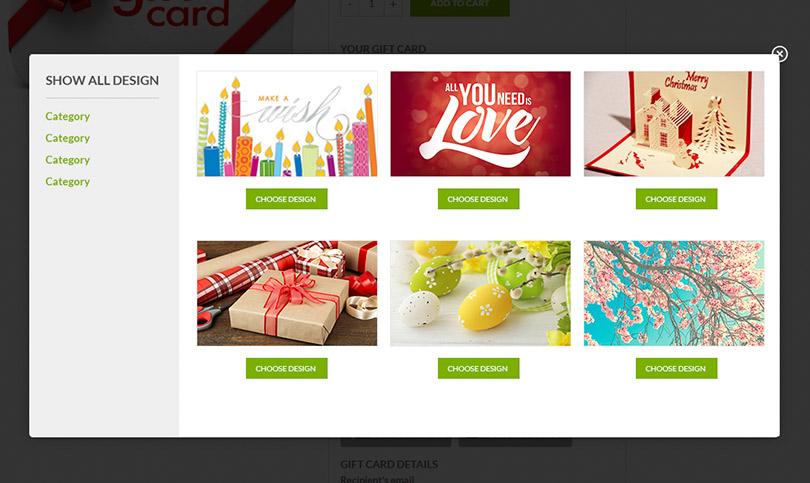 Enable the gift card stock management
Users can't purchase the product if the configured quantity is no longer available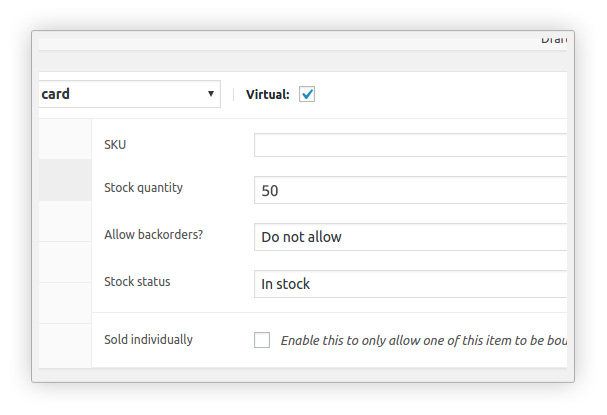 Create and edit the gift card from the back-end
In a few steps, you can fix the errors made by your users during the checkout process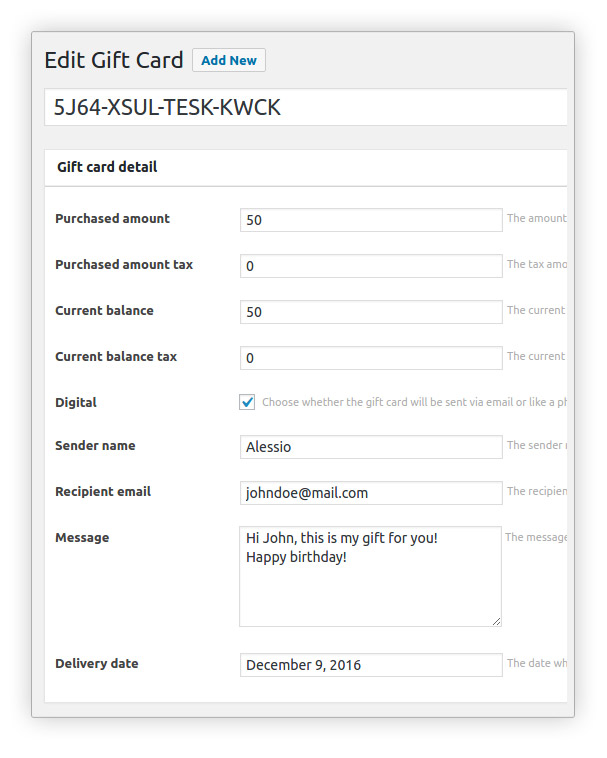 Use the gift card neither proceeding to the checkout nor creating an order on your shop
Update the gift card balance from the back-end for those users who make physical purchases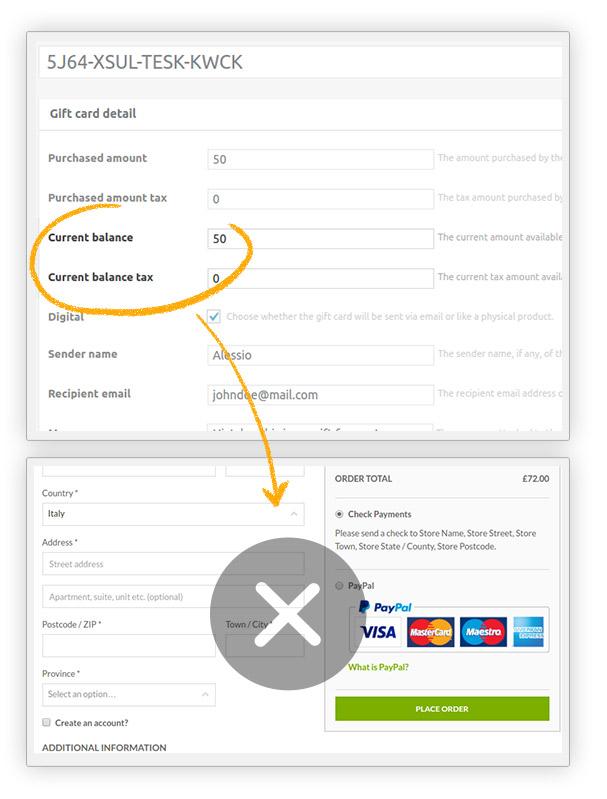 Create a custom template for your gift cards
Overriding the plugin standard templates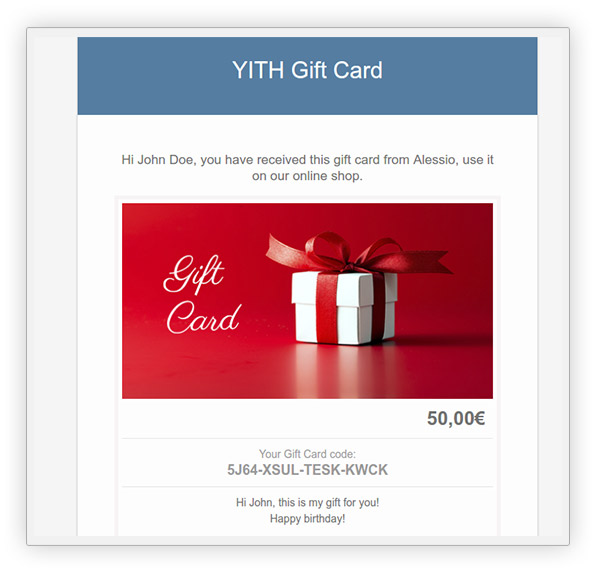 Take advantage of the wpml compatibility
You are free to easily translate the plugin with the powerful wpml to