Main overview
A simple way to ensure constant earnings is selling products under subscription
Purchasing online services like hosting, coaching, courses or podcasts is nowadays a routine. These products often have something in common: they are purchasable with a subscription process. Do you know why?
Selling products with a subscription lets you receive scheduled and constant payments, in order to supervise month by month the grow of your income; this is why big companies offer their products with this formula.
You can sell magazines or consultations with a subscription, but also training courses, videos, audios and a lot more, allowing your customers to enter a special and exclusive club with your shop as the main protagonist.
Thanks to the complete integration with YITH WooCommerce Membership, you will be free to create subscriptions for online products that will be exclusive to whoever will purchase them, like video courses, monthly podcasts, etc.
The trial mode will make your customer access freely to your products for a limited time, in order to increase registration to your shop and purchases.
In addition, the included reminder system of YITH WooCommerce Subscription will remind your customers the actions to fulfill, increasing in this way the percentage of subscription renewal.
Automatic charges on renewal orders are available with the following payment methods: PayPal standard, YITH WooCommerce Stripe Premium, YITH WooCommerce Stripe Connect Premium, YITH PayPal Express Checkout for WooCommerce, YITH WooCommerce Account Funds Premium and WooCommerce Stripe Payment Gateway.
Multiple subscriptions
More than one subscription can be associated to the same user, and based on the selected gateway, users will also be able to add more than one subscription to the same cart.
Payment Date
Based on the selected gateway, the admin can also edit the date of the next payment.
Standard features
Changes allowed
Cancellation
Pause
Multiple subscriptions in cart
Amount
Payment date
PayPal Standard
YITH WooCommerce Stripe – Premium
YITH PayPal Braintree

New

YITH PayPal Express Checkout*
YITH WooCommerce Stripe Connect
YITH WooCommerce Account Funds
WooCommerce Stripe Payment Gateway
*In order to manage recurring payments it is necessary that the reference transactions are active on your PayPal account. Verify through PayPal support if they are active before implementing the payment method.
WITH
YITH SUBSCRIPTION

 YOU CAN:
Include variable products in your subscription
So you can create many more ad hoc solutions for your users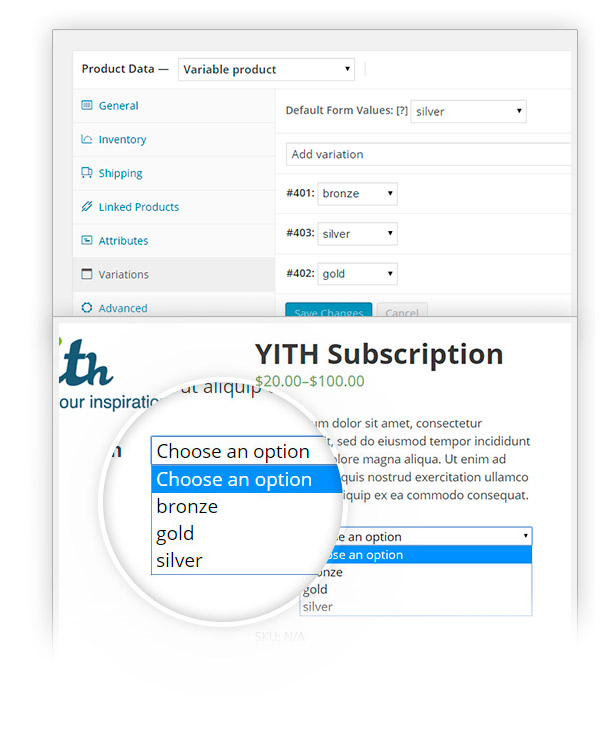 Pause subscriptions
And resume it only when you have time to use it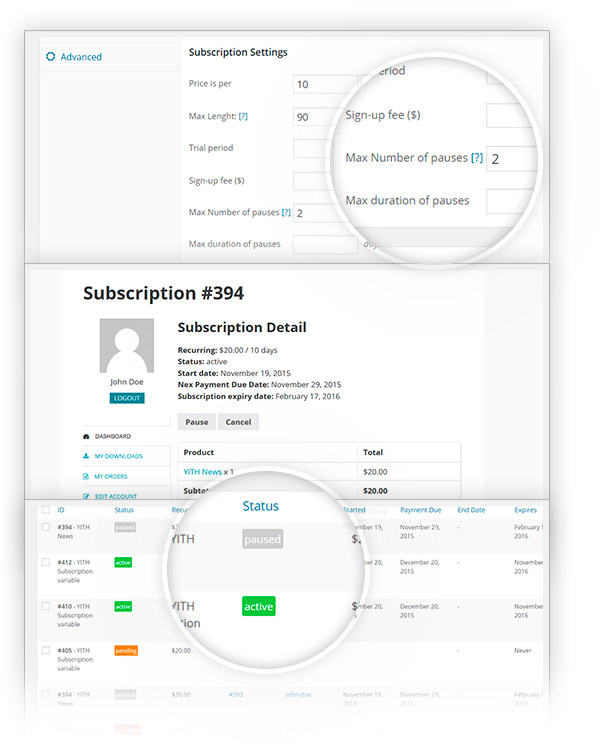 Allow payment deferment
To let your customer catch up missed payments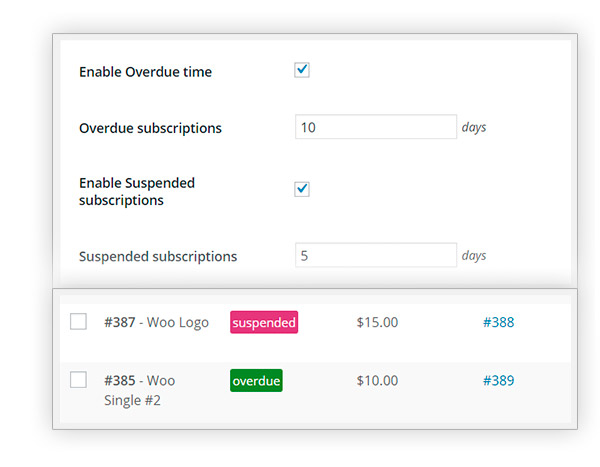 Allow a free trial period
After which users can purchase the subscription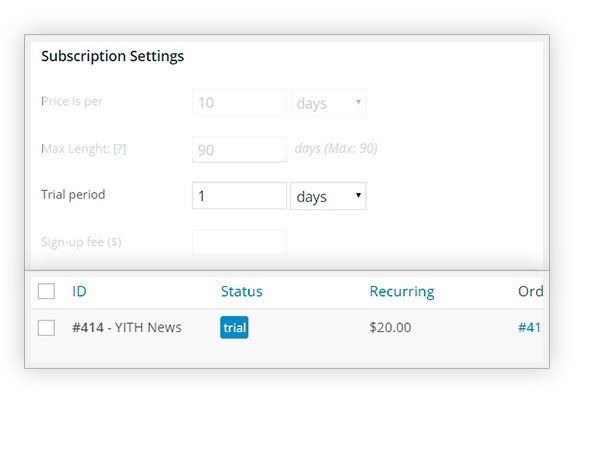 Add a sign-up fee to subscriptions
Or let your customers just pay for recurring fees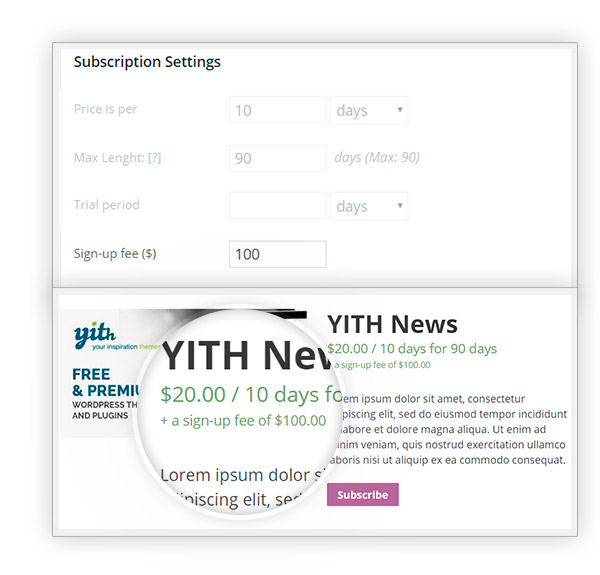 Cancel and renew subscription
Directly from My Account page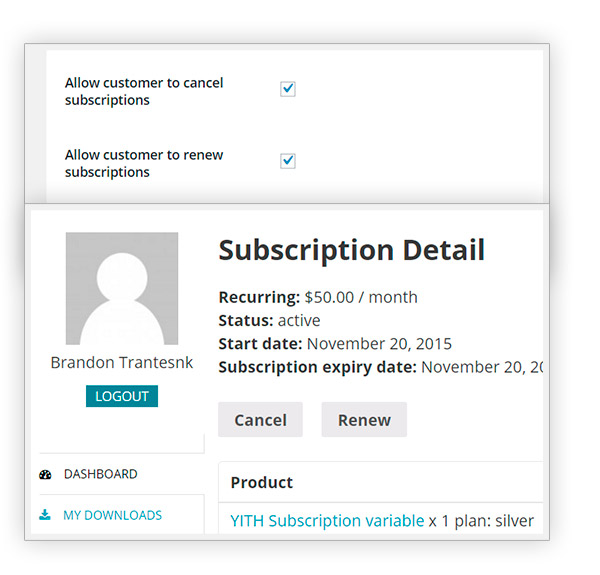 Have immediate access to subscription details
Such as start and end date and products associated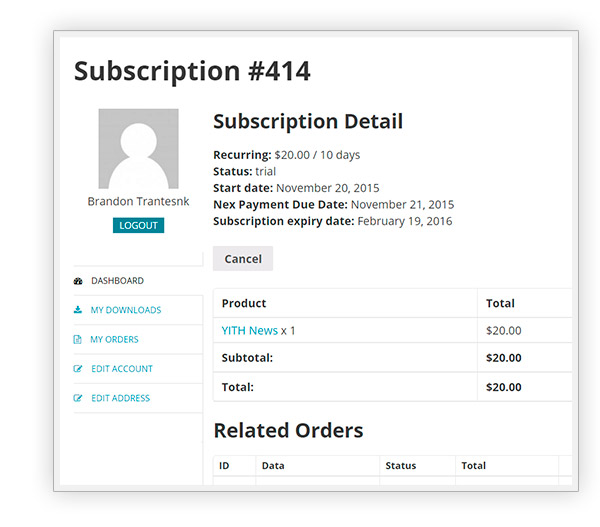 Allow upgrade or downgrade
To switch easily from a subscription plan to another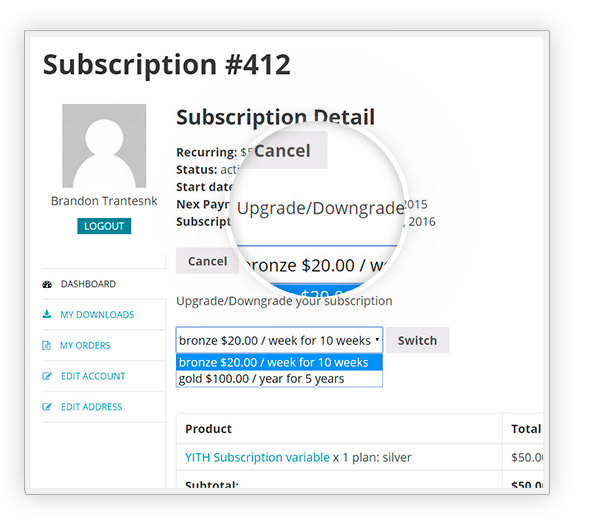 Receive and send emails to customers
Each time a new action is applied to a subscription
Use two additional types of coupons
To apply offers on sign-up and recurring fee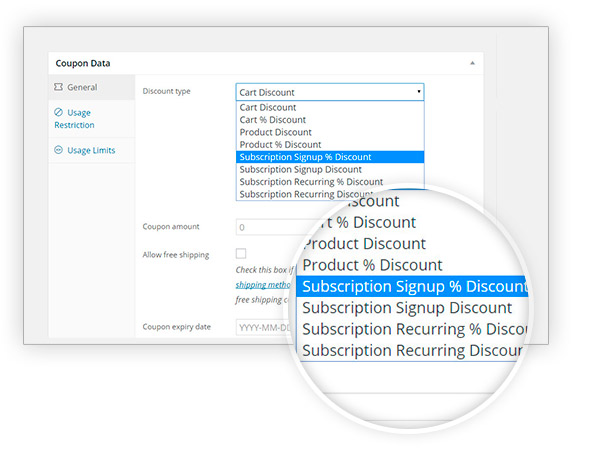 Track all subscription activities
Even the smallest change will be recorded and showed in a table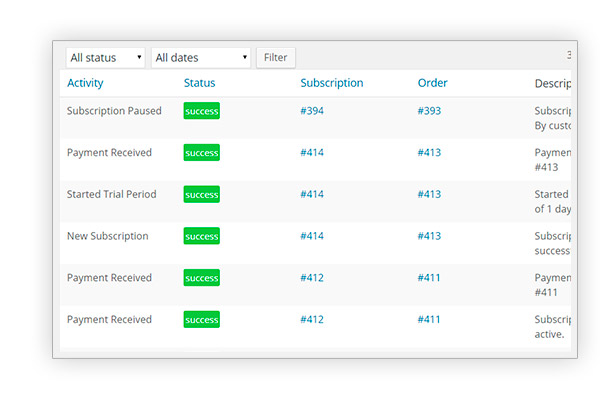 Integrate it with YITH WooCommerce Membership
To create plans entirely customisable for what concerns duration and content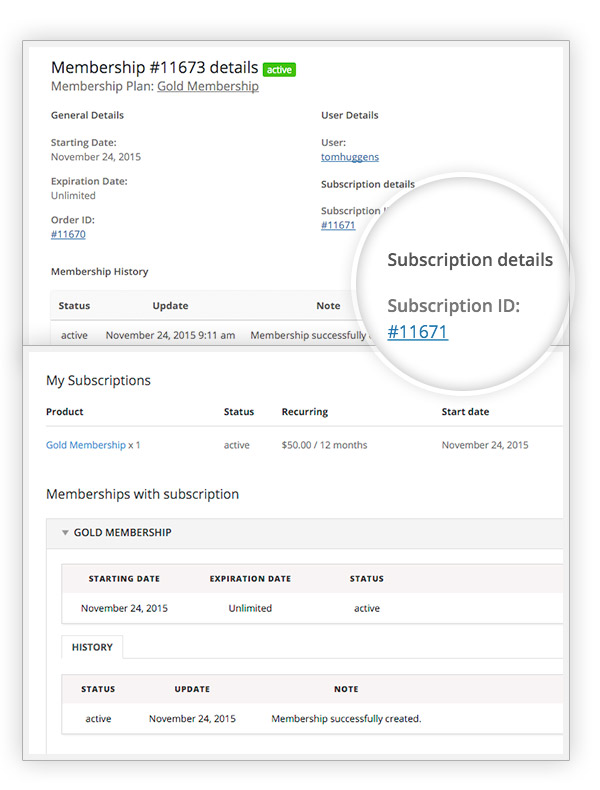 Cancel subscription automatically
When the associated order is removed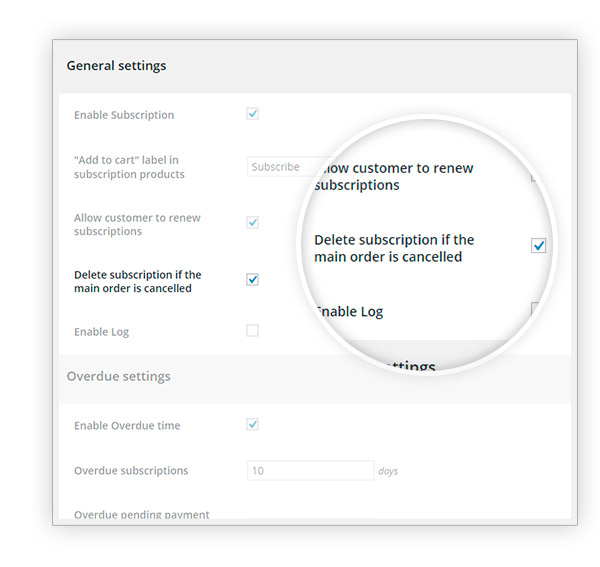 Suspend subscription automatically
In case the recurring payment fails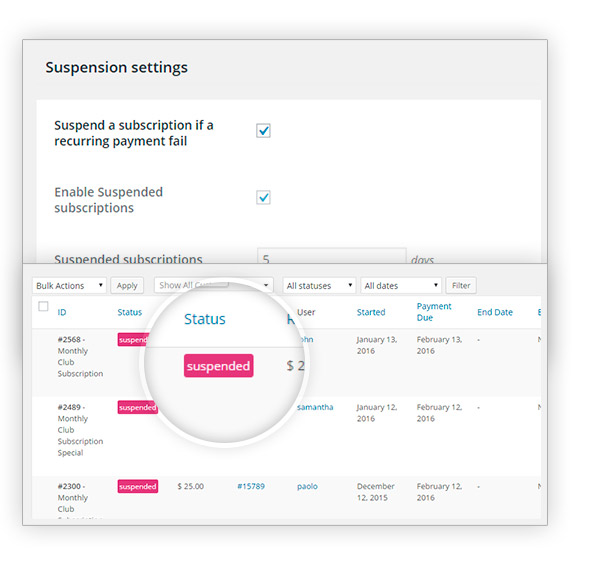 Keep track of failed payments
So the subscription status is automatically set to "cancelled" after three failed attempts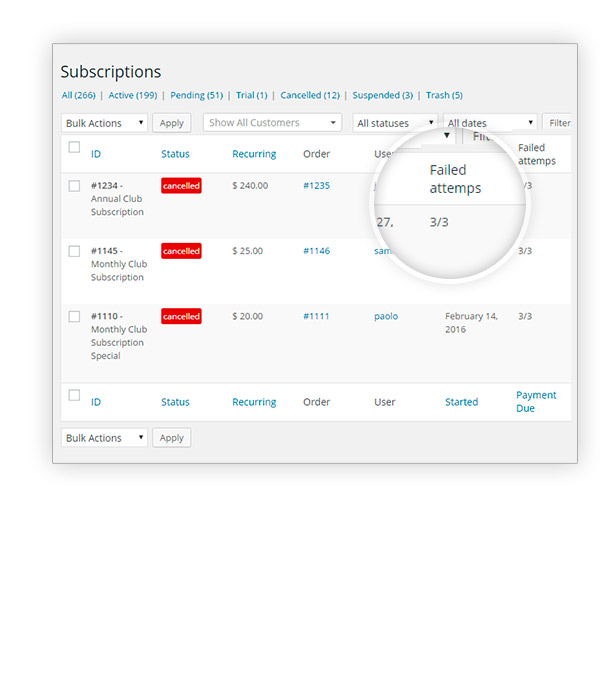 Allow delays in payment
By providing a grace period before subscription status is switched to "overdue", "suspended" or "cancelled"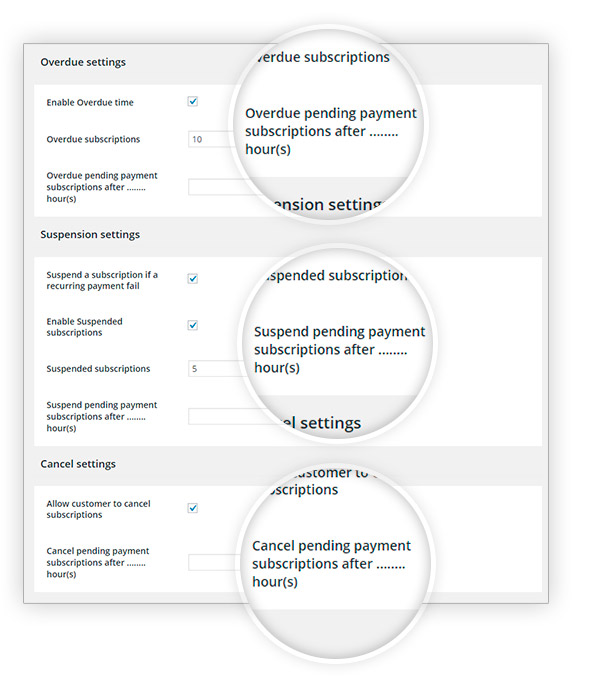 Charge shipping fees only once
And avoid your users pay the shipping every time the subscription renews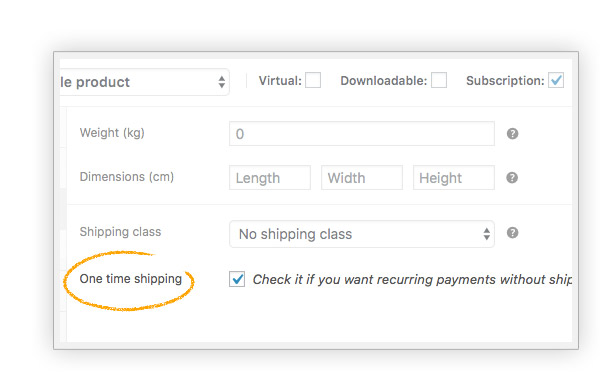 Edit and load Billing and shipping address
Admins can edit and load this information right in the subscription details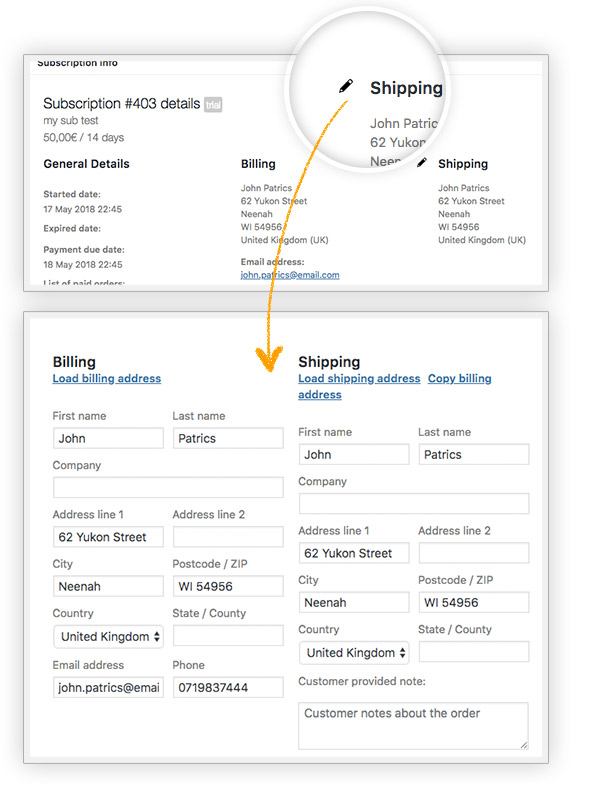 Let customers edit the address for one or all subscriptions
Right from My Account page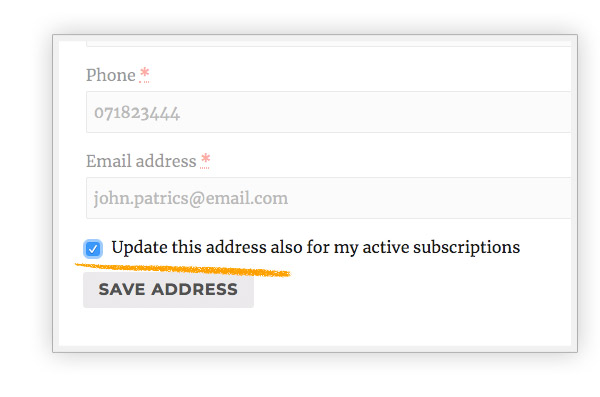 Handle personal data requests and anonymisation process
And choose how long retaining data for accounting if necessary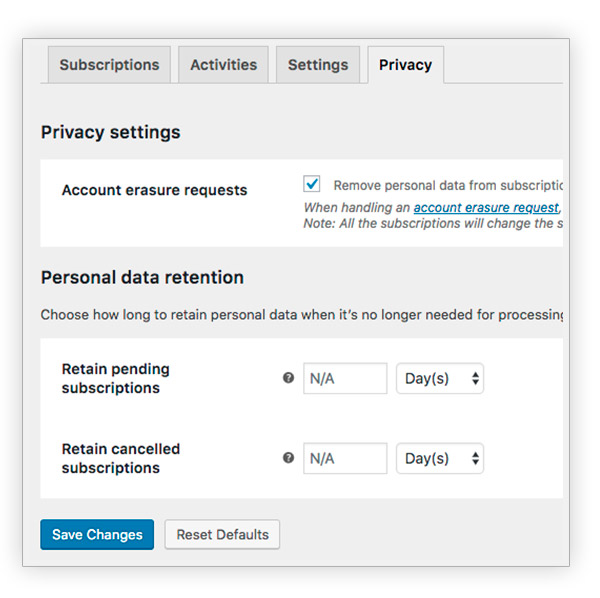 Add multiple subscriptions to the same cart
With YITH Stripe, YITH Stripe Connect, YITH PayPal Braintree and YITH PayPal Express Checkout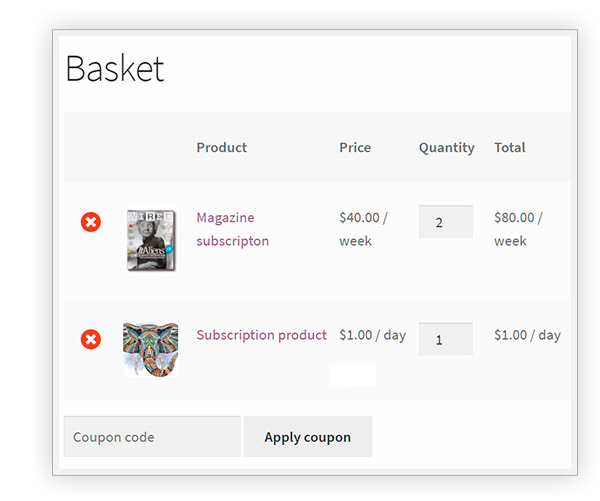 Edit details of ongoing subscriptions
Like biling date, expiry date, billing cycle and amount based on the selected payment gateway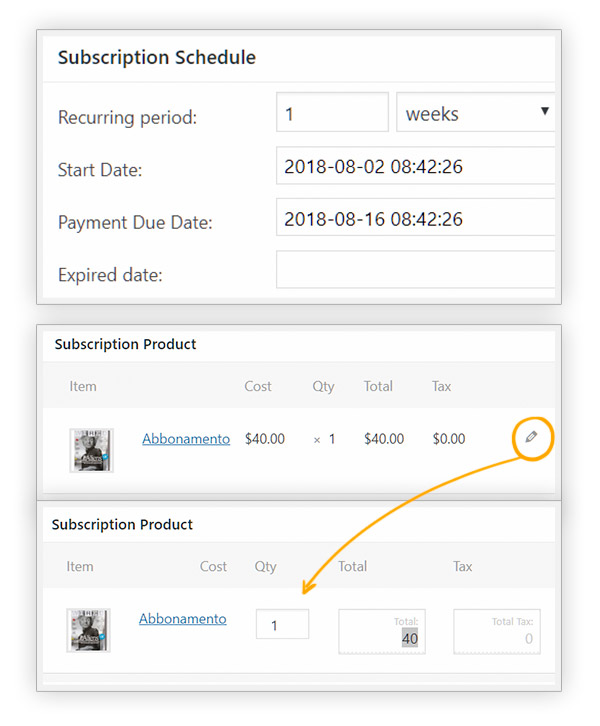 YITH WooCommerce Stripe support
Stripe is also available among payment gateways for joining and renewing subscription plans.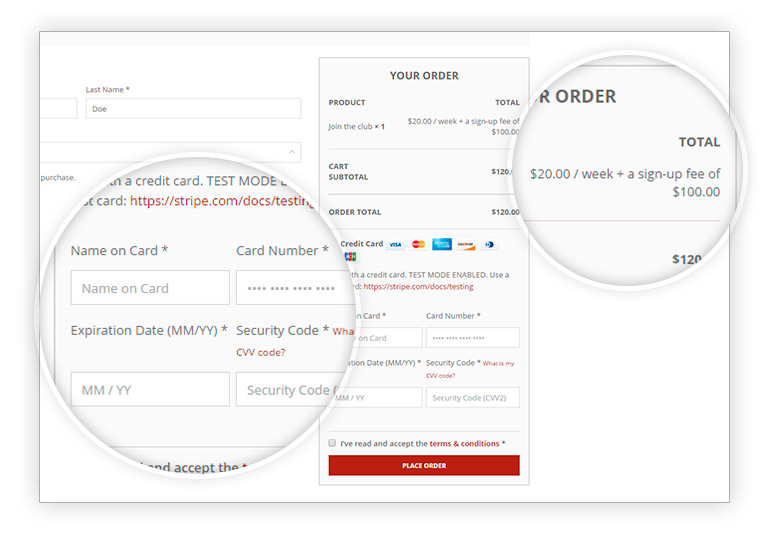 Take advantage of the wpml compatibility
You are free to easily translate the plugin with the powerful WPML tool