¡La libertad de personalizar tus pedidos es una ventaja que asegura a los usuarios ese extra que otros no tienen. Permite que suban imágenes, documentos de texto o cualquier otro archivo adicional con YITH WooCommerce Uploads y satisface tus necesidades y las de tus clientes!
El objetivo de este plugin es simple: ayudarte con la gestión de tu sitio de comercio electrónico. Ya sea que ofrezcas la libertad de personalizar las camisetas que vendes con una imagen o un texto, o si necesitas documentos firmados específicos, o tal vez deseas permitir que los usuarios suban un archivo en particular para aquellos pedidos que implican personalizaciones, YITH WooCommerce Uploads es lo que necesitas.
Piensa en lo incómodo que sería recibir todos esos archivos por correo electrónico: generaría fácilmente un caos y podrías perder todos los archivos adjuntos de tus clientes, que no estarían contentos de recibir una camiseta impresa con la imagen de otra persona. Afortunadamente, YITH WooCommerce Uploads resuelve este problema y, al permitir la subida de cualquier archivo, organiza los pedidos y los archivos adjuntos relacionados de una manera ordenada, ¡sin dejar lugar a la confusión!
Versión:

1.23.0

Publicada:

2023-05-11

Versión mínima de PHP:

7.0

Requiere:

WordPress 6.0

and WooCommerce 7.5

Compatible hasta:

WordPress 6.2.x

and WooCommerce 7.7.x

Plugins multidioma compatibles:

WPML, Loco Translate

Traducción lista:

SÍ

Idiomas 100% garantizados por YITH:

Italian, Spanish

Idiomas proporcionados por usuarios:

Dutch (100%), French (100%), German (100%), German Formal (100%)

Compatible con:

Tema YITH Proteo. Todos los plugins de YITH

Constructores de página compatibles:

Elementor
CON
YITH UPLOADS

PUEDES:
Aceptar o rechazar los archivos adjuntos
Gestiona los archivos de usuario y ofrecerles una segunda oportunidad para subir un nuevo archivo.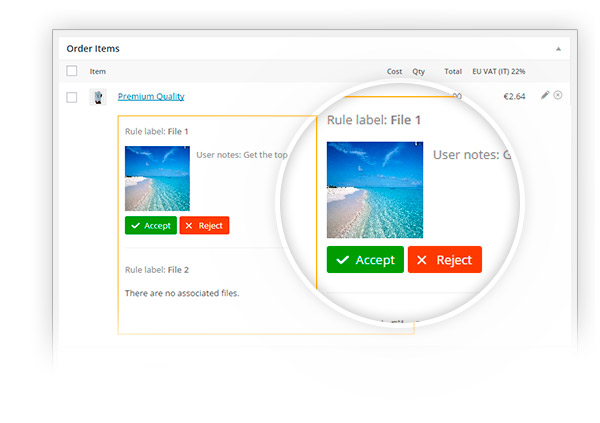 Reconocer los productos inmediatamente
Tus clientes pueden subir archivos adjuntos para un producto específico desde el carrito o la página de "agradecimiento".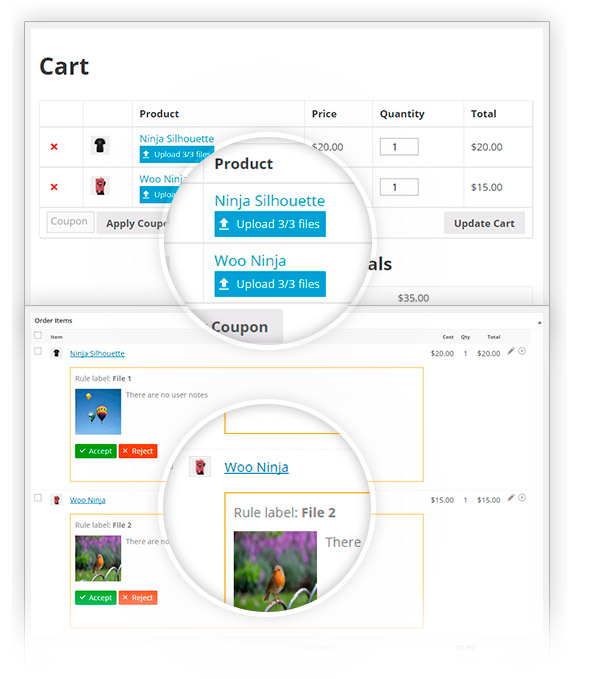 Dividir artículos del mismo producto en el carrito
Y permite a los usuarios subir archivos diferentes para cada uno de ellos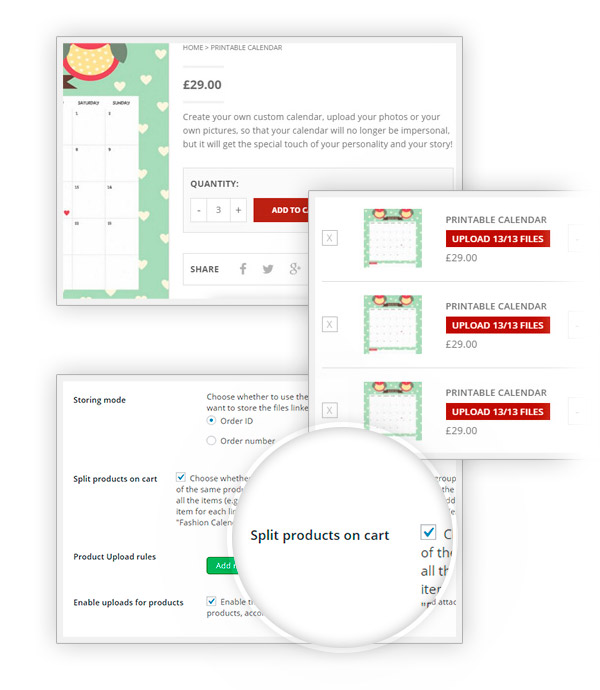 Enlaza los archivos adjuntos a la totalidad del pedido
En caso de que no necesites vincularlos a un producto específico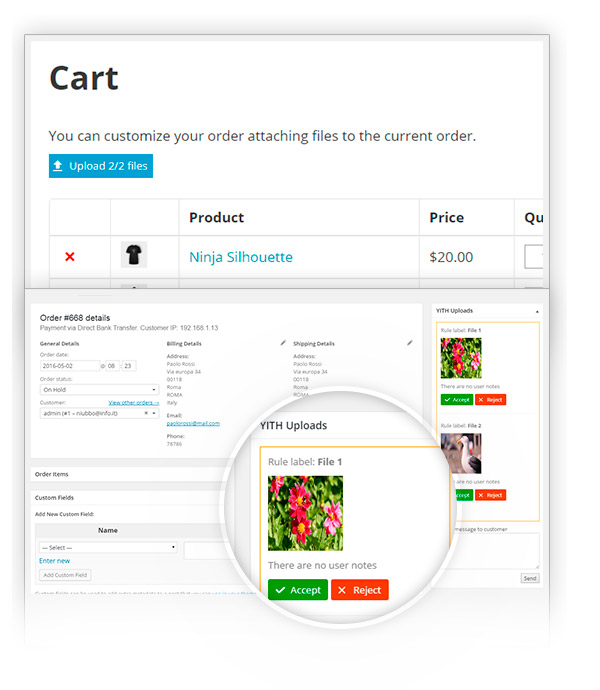 Decidir cuántos archivos adjuntar
O desactiva la función de adjuntar archivos con determinados productos.
Permitir la eliminación de archivos
¡Establece el estado del pedido en el que los usuarios puedan cambiar sus archivos adjuntos y que sean libres de elegir!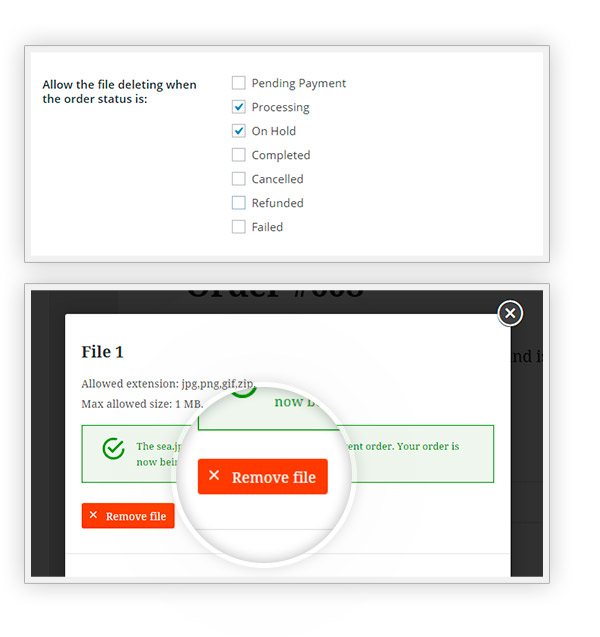 Añadir notas a los archivos adjuntos
Tanto tú como tus clientes pueden añadir notas para dar más información y obtener un buen resultado.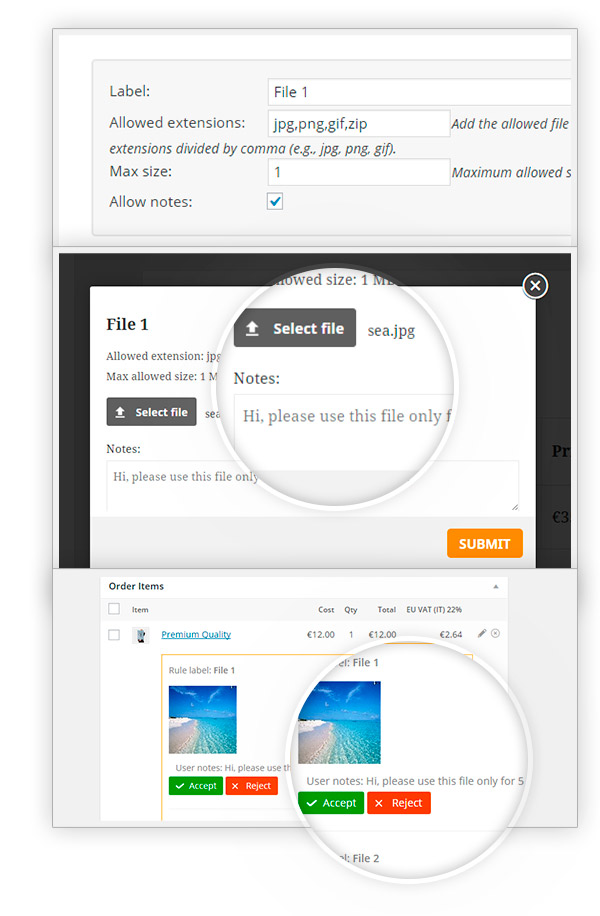 Enviar mensajes a tus usuarios
Gracias a un sistema de correo electrónico rápido que puedes utilizar para enviar mensajes desde la página detallada de pedido de WooCommerce.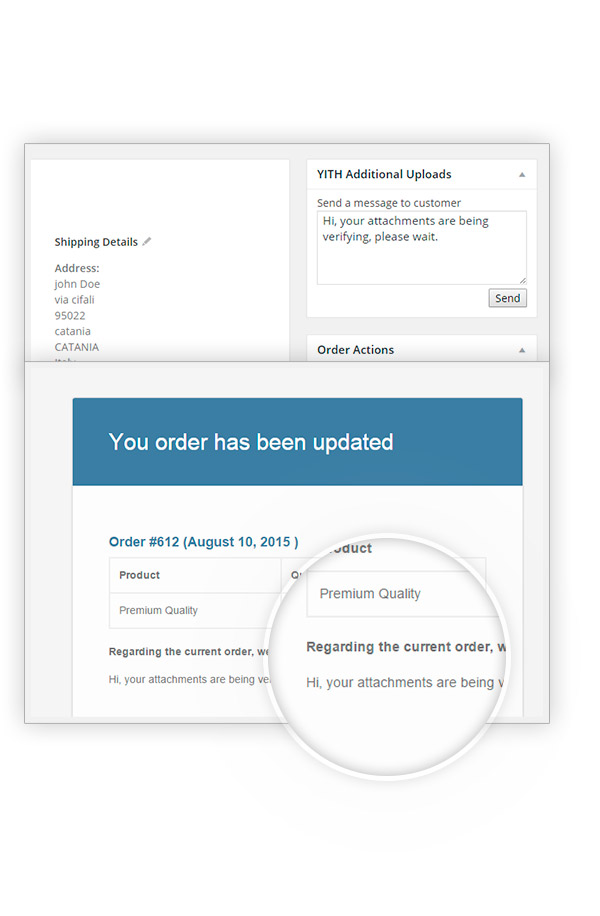 Enviar una notificación por correo electrónico
Notifica a tus usuarios si sus archivos han sido aceptados o rechazados.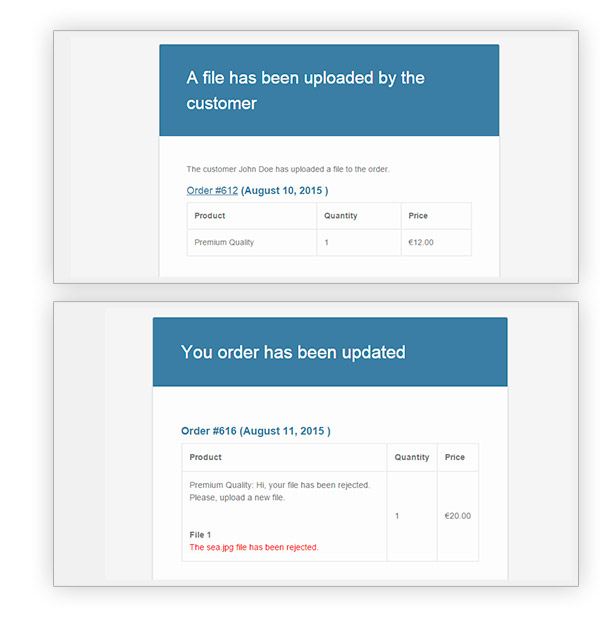 Elegir cómo guardar los archivos
Clasifícalos identificación del pedido o por el número de pedido, ¡los encontrarás más fácilmente!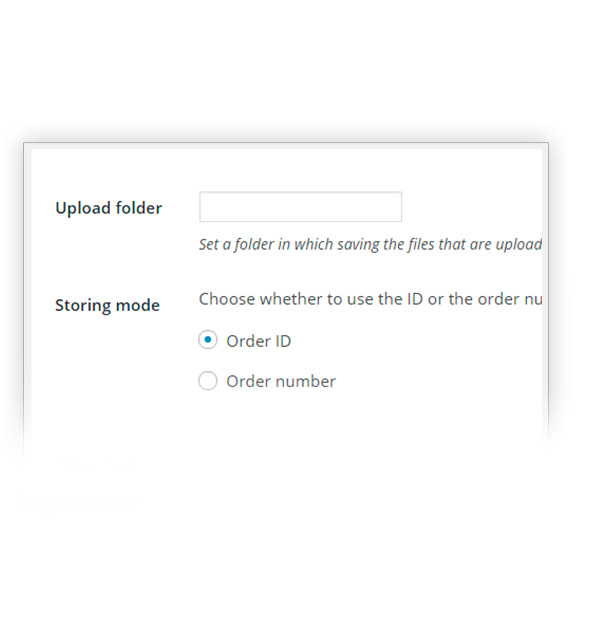 Solicitar archivos adjuntos desde diferentes páginas en tu sitio: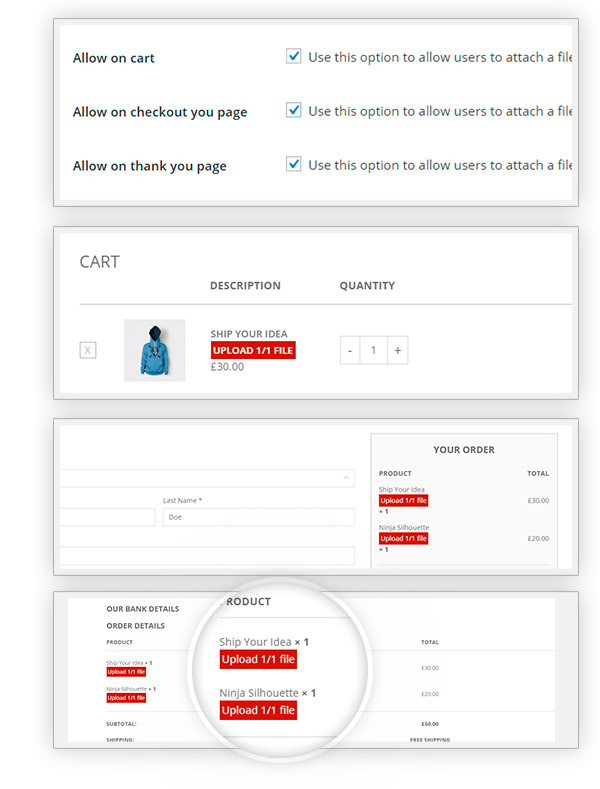 Ocultar el botón de subida de archivos en productos que no necesitan archivos adjuntos
Para evitar que tus usuarios suban un documento innecesario por error.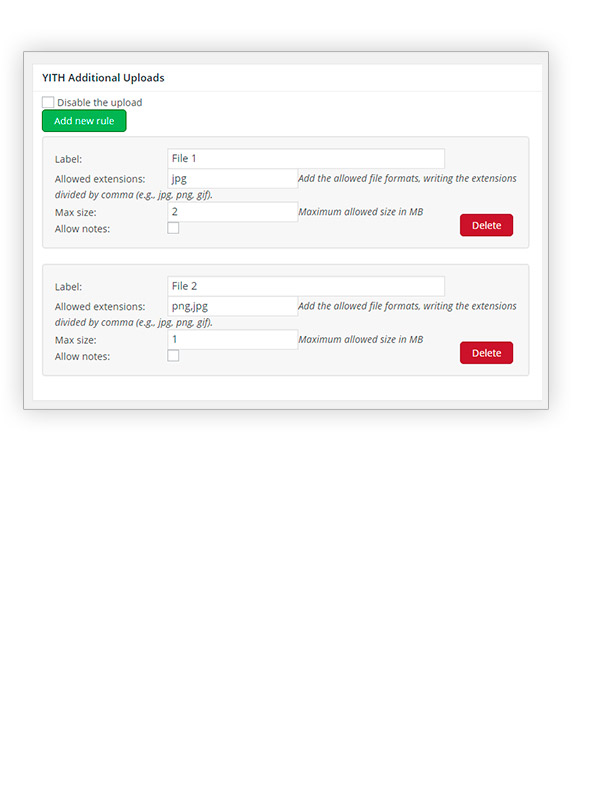 Aprovechar la compatibilidad con WPML
Podrás traducir el plugin fácilmente con la potente herramienta de WPML