Carica i file multimediali di WordPress su Amazon e migliora la sicurezza dei tuoi prodotti digitali
Quando sviluppiamo i nostri plugin più popolari siamo spesso ispirati da funzionalità di piattaforme e-commerce di successo come Amazon. In molti casi, prima di vendere i nostri plugin, li installiamo e li usiamo sulla nostra piattaforma per capire le loro piene potenzialità e per migliorarli e renderli ancora più potenti ed efficaci.
Ecco perché YITH Amazon S3 Storage non è solo un plugin ma la risposta completa agli obiettivi a cui aspiravamo quando abbiamo iniziato a vendere prodotti digitali: ridurre il consumo della larghezza di banda per rendere il tuo e-commerce più efficace e proteggere i tuoi prodotti una volta che sono online.
La nostra esperienza prova che, indipendentemente dal tipo di attività online che gestisci, se ti stai focalizzando sulla vendita di prodotti digitali ti troverai ad affrontare il problema dello spazio hosting che non è mai abbastanza e della necessità di proteggere i tuoi prodotti in modo che siano accessibili solo a coloro che ne hanno diritto.
Il nostro plugin ti permetterà di caricare automaticamente – senza dover aprire la pagina Amazon S3, pubblicare i media, copiare l'URL, sostituirlo manualmente con l'URL WordPress – tutti i tuoi file media (video, immagini, file PDF, archivi zip, ecc.) su Amazon S3, rendendo così il carico del server per il tuo sito molto minore e tutto in un'unica azione!
Una volta caricati i file su Amazon S3, saranno molto più sicuri poiché potrai anche renderli "privati" – pertanto accessibili solo ai clienti verificati – e/o disponibili solo per un determinato periodo di tempo.
YITH Amazon S3 Storage: lo strumento più potente e versatile per gestire e proteggere i tuoi file online.
Versione:

1.26.0

Rilasciata il:

2023-09-18

Versione minima di PHP:

7.0

Requisiti minimi:

WordPress 6.1

and WooCommerce 7.9

Compatibile con:

WordPress 6.3.x

and WooCommerce 8.1.x

Plugin multilingua supportati:

WPML, Loco Translate

File di lingua inclusi:

SÌ

Lingue garantite al 100% da YITH:

Italian, Spanish, Greek

Traduzioni degli utenti:

Dutch (100%), French (84%)

Supporta:

Il tema YITH Proteo. Tutti i plugin YITH.
CON
AMAZON S3 STORAGE

PUOI:
Copiare tutti i nuovi file media WordPress in Amazon S3
Immagini, audio o video: avrai un backup sincronizzato di tutti i tuoi file media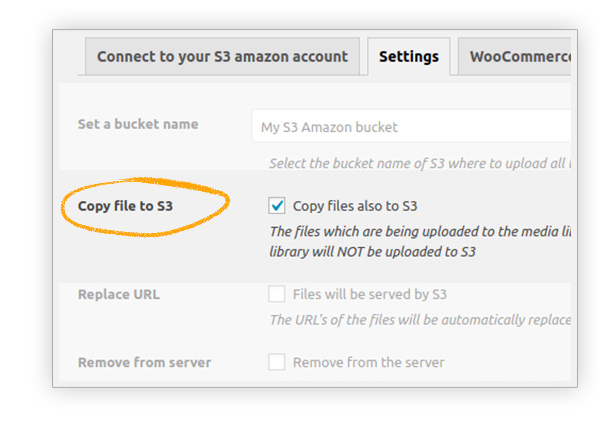 Scaricare i file da Amazon S3 invece che dal tuo sito
La sostituzione automatica dell'URL del download renderà il tuo sito più veloce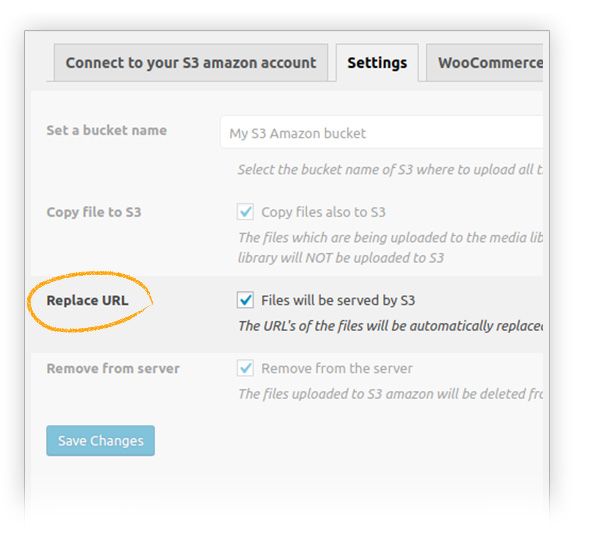 Rimuovere dal tuo sito i file spostati su Amazon S3
Grazie a questa azione automatica potrai ottimizzare lo spazio sul tuo server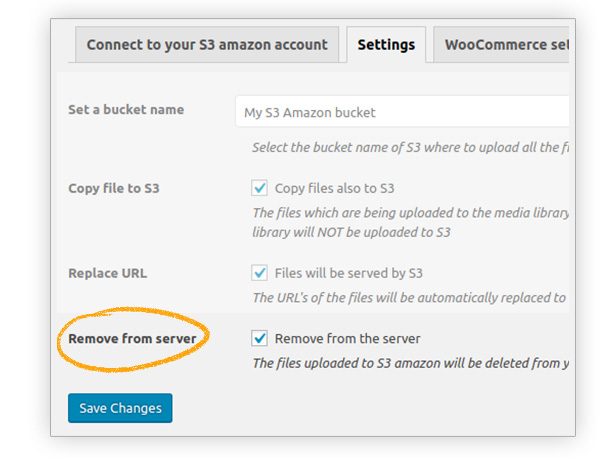 Attivare il download diretto da Amazon S3 per i file collegati ai tuoi prodotti WooCommerce virtuali
Sfrutta al massimo le potenzialità e la sicurezza di un account Amazon S3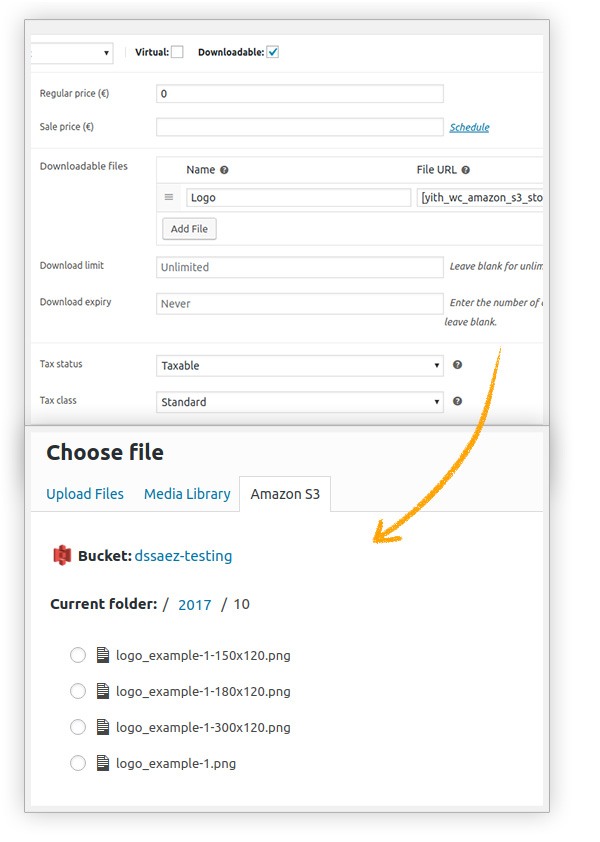 Aggiungere file ad Amazon S3 manualmente approfittando della media gallery di WordPress
Usa questa possibilità per caricare file che non hanno niente a che fare con il tuo sito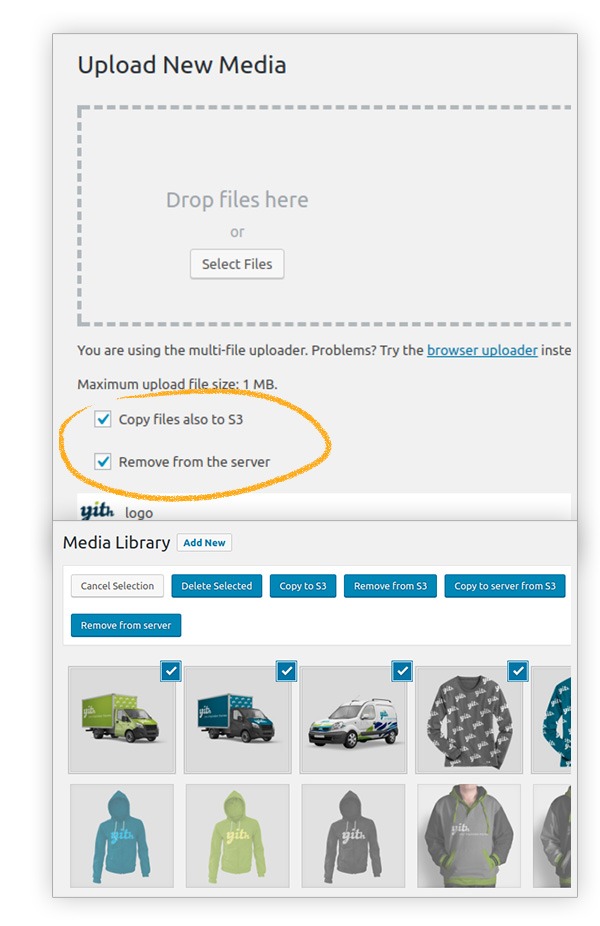 Impostare una scadenza per i download collegati ai prodotti
L'accesso alla risorsa può essere limitato anche a pochi minuti dal momento in cui l'utente accede alla pagina di download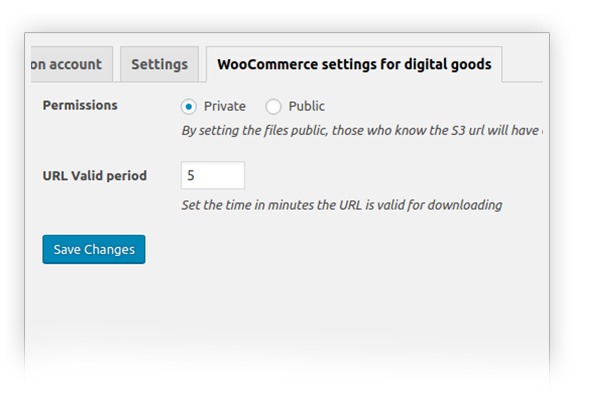 Approfittare della compatibilità con WPML
Puoi facilmente tradurre il plugin con il potente strumento per siti multilingua