I tuoi clienti vogliono poter comprare i tuoi prodotti ancor prima che siano disponibili: permettigli di farlo!
Vuoi che ogni tuo prodotto sia un successo e faccia tantissime vendite? Sfrutta un efficiente sistema di prevendita nel tuo negozio!
Quando un prodotto o un servizio sta per essere lanciato sul mercato, si innesca un senso di attesa nei clienti che li predispone all'acquisto. Purtroppo, però, questo processo inconscio raramente viene sfruttato e nel momento in cui il prodotto viene finalmente messo in vendita, molti clienti hanno già perso interesse nei confronti dell'articolo.
Grazie a YITH WooCommerce Pre-Order puoi vedere sin da subito e aumentare le vendite dei nuovi prodotti o di quelli momentaneamente non disponibili, dando la possibilità al cliente di acquistare l'articolo e riceverlo solamente quando viene ufficialmente messo in vendita.
Molte grandi aziende sfruttano un sistema di prevendita per aumentare le proprie vendite e promuovere un prodotto.
Basti pensare ad Apple! Quindi perché non cominciare sin da subito a sfruttare questo sistema di marketing vincente sul tuo sito? Per rispondere a questa esigenza abbiamo creato YITH WooCommerce Pre-Order, un plugin che ti permetterà di integrare facilmente sul tuo e-commerce un sistema di preordinazione efficace e intuitivo.
In questo modo potrai creare dei prodotti pre-ordinabili e farli acquistare ai tuoi clienti ancor prima della data di lancio e creare un sistema di email automatiche che informeranno il cliente dell'effettiva messa in vendita.
Sarà inoltre possibile offrire uno sconto a coloro che acquisteranno il prodotto in prevendita in modo da rendere ancora più efficiente questa strategia e aumentare di conseguenza le conversioni. Il plugin funziona perfettamente con i prodotti variabili e permette il pagamento con carte di credito grazie alla sua compatibilità con il plugin YITH WooCommerce Stripe.
Offri sin da subito i tuoi prodotti, anche quelli non ancora disponibili e ricorda: le vendite di ogni giorno in cui non permetti l'acquisto sono perdute per sempre!
Versione:

1.12.0

Rilasciata il:

2021-12-29

Versione minima di PHP:

7.0

Requisiti minimi:

WordPress 5.6

and WooCommerce 5.8

Compatibile con:

WordPress 5.8.x

and WooCommerce 6.1.x

Compatibilità con WPML:

SÌ

File di lingua inclusi:

SÌ

Lingue disponibili:

Dutch, English, Italian, Spanish

Supporta:

Il tema YITH Proteo. Tutti i plugin YITH.

Plugin di terzi supportati:

Aelia Currency Switcher, WPML Currency Switcher

Page builder supportati:

Elementor
CON
YITH PRE-ORDER

PUOI:
Permettere acquisti in prevendita sul tuo sito web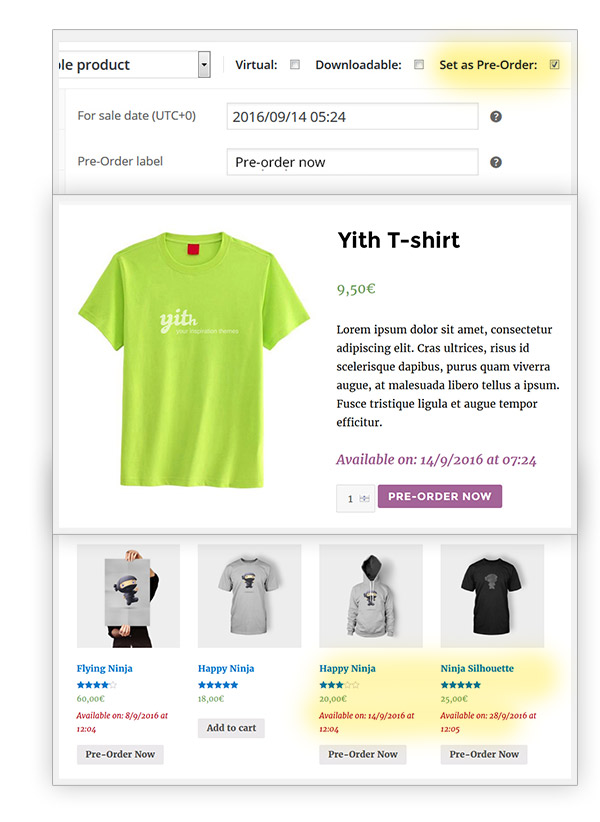 Scontare o aumentare il prezzo dei prodotti preordinabili
Applica uno sconto oppure un rincaro a prezzo fisso o percentuale ai tuoi prodotti in prevendita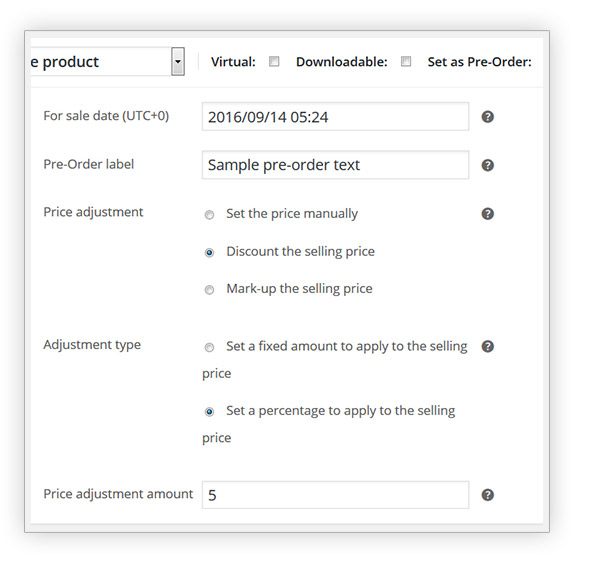 Avere una visuale precisa e aggiornata dei preordini
Mostra i "Preordini" nella pagina Ordini di WooCommerce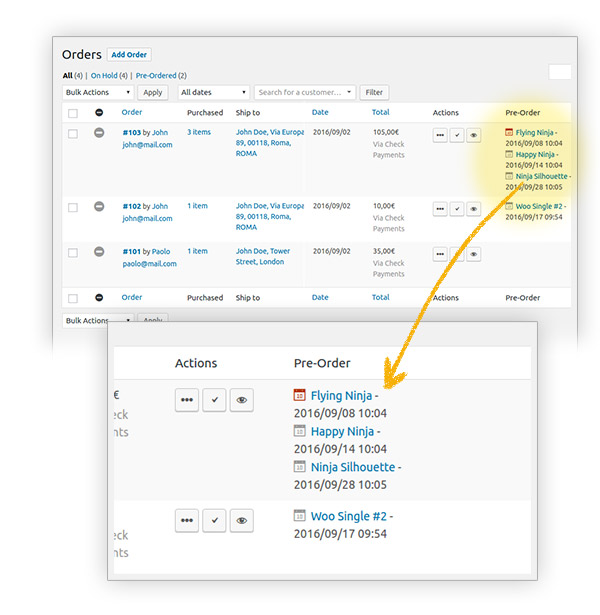 Spingi i clienti ad acquistare tramite un testo personalizzato
Personalizza il testo del pulsante "Preordina" e la data di scadenza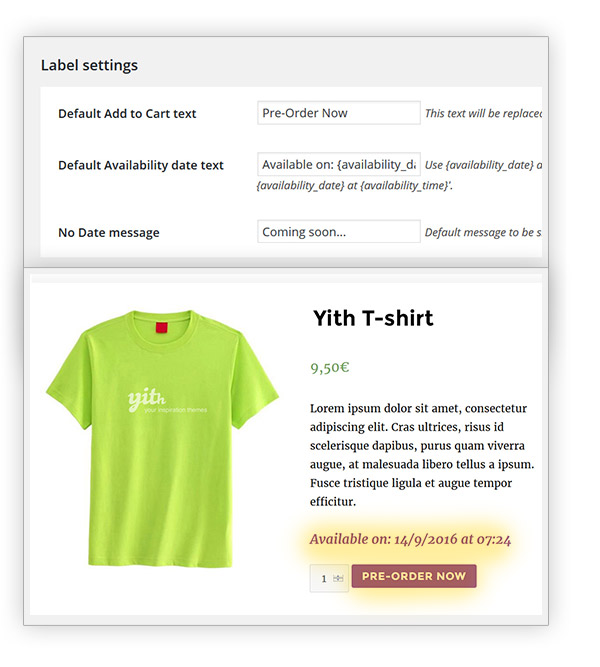 Scegli quando iniziare e terminare il periodo di prevendita per ciascun prodotto
Imposta un giorno e un orario per l'inizio e la fine del periodo di prevendita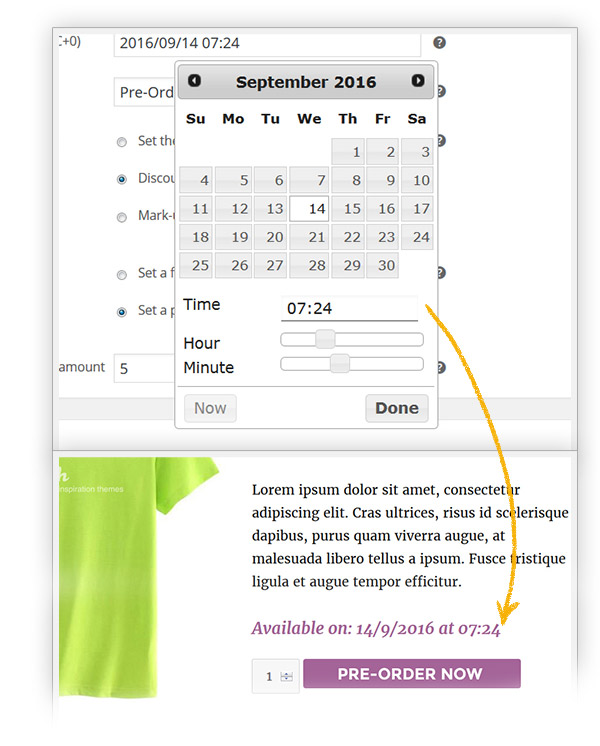 Funziona con i prodotti semplici e variabili
Avrai la possibilità di impostare anche una sola variazione di prodotto come preordinabile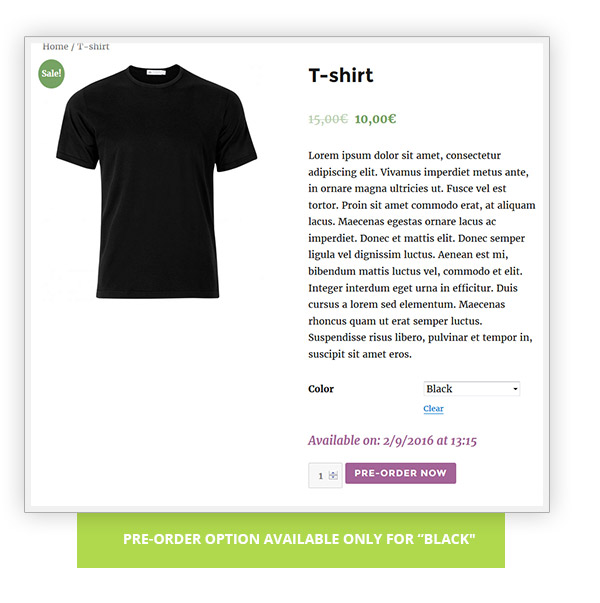 Non perdere nessuna vendita, imposta gli articoli esauriti come preordinabili
Scegli se attivare automaticamente la possibilità di preordinare il prodotto quando esaurisci le scorte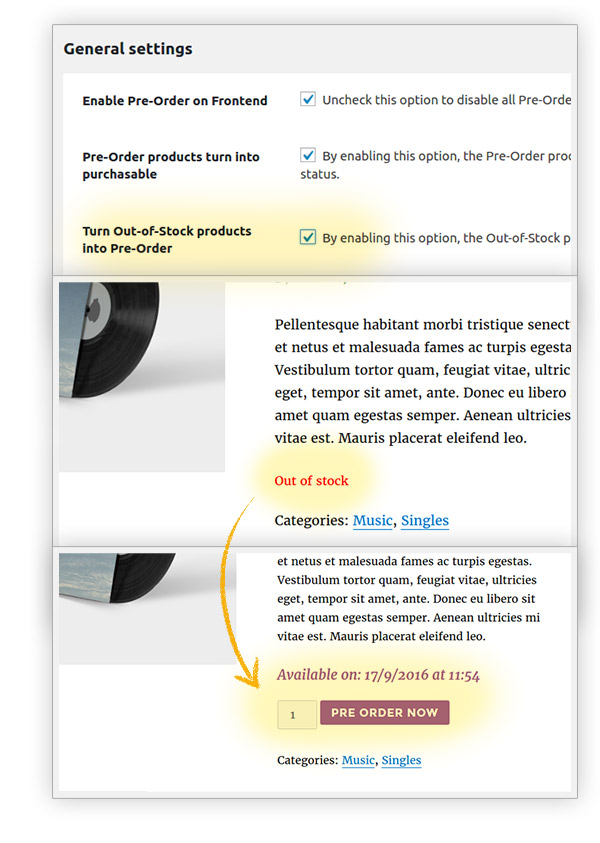 Offrire ai tuoi clienti una visione chiara e aggiornata dei propri preordini
Attraverso un report dedicato nella pagina "Il mio account"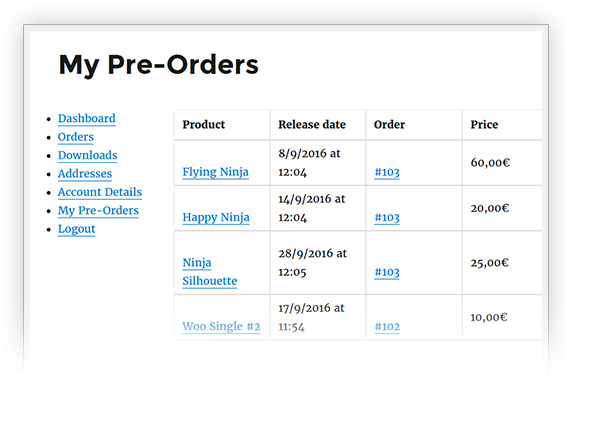 Abilitare lo stato "preordinabile" su qualsiasi prodotto grazie alle azioni di gruppo
Puoi usare le azioni di gruppo per impostare gruppi di prodotti come "preordinabili" sulla base di categorie e/o tag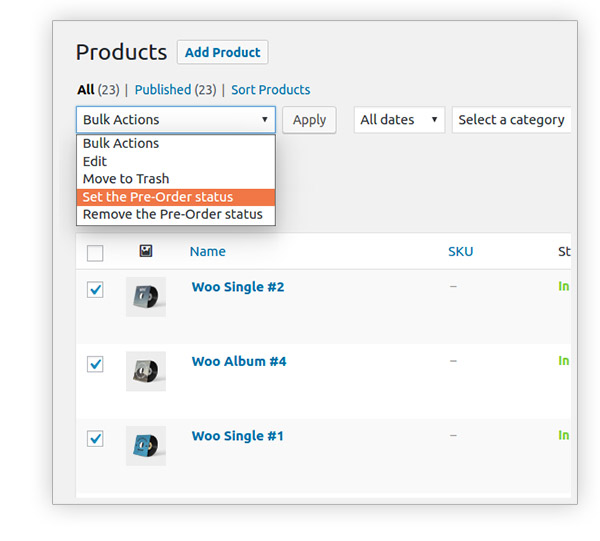 Utilizzare il sistema di email automatizzato per gli amministratori e i clienti
Notifica gli amministratori quando sta per terminare il periodo di prevendita per un prodotto e i clienti non appena il prodotto è acquistabile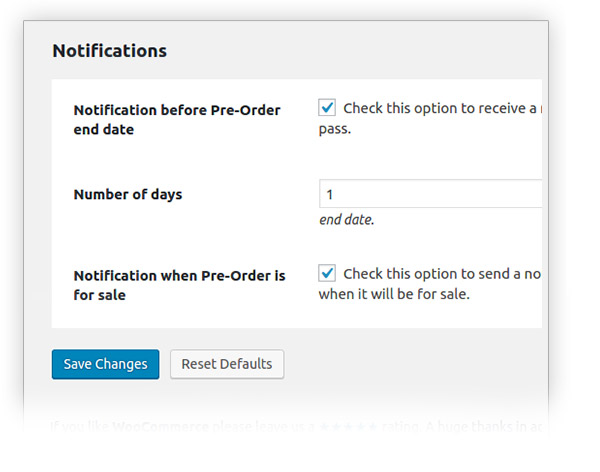 Prevenire l'acquisto in contemporanea di prodotti preordinabili e di altro tipo
Il sistema impedirà agli utenti di aggiungere un nuovo prodotto al carrello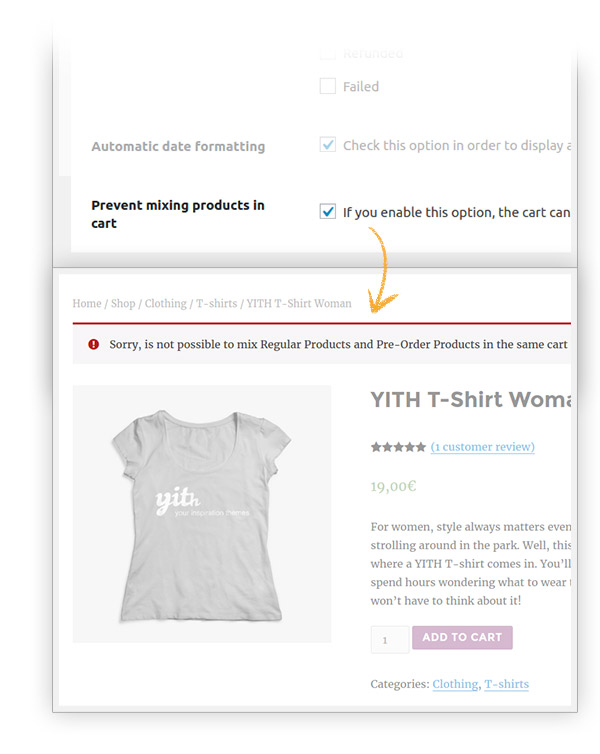 Approfittare della compatibilità con WPML
Puoi facilmente tradurre il plugin con il potente strumento per siti multilingua