Crea un programa de afiliados para que tanto tú como tus afiliados puedan ganar más y obtener visibilidad en vuestros sitios
Has diseñado una tienda de comercio electrónico moderna y funcional donde vendes productos de calidad a precios competitivos. Sin embargo, nadie conoce tu sitio web y las visitas están bajando, así como los pedidos: en la práctica, eres el propietario de una maravillosa tienda escondida en una calle con poco tráfico. Lo que necesitas se puede resumir en una palabra: visibilidad.
Piensa en personas compartiendo tus productos en sus sitios, dándoles así más visibilidad: sin duda convertirás las visitas en un gran aumento de ventas, sin esfuerzo y a cambio de una comisión, que tú estableces sobre el precio de los artículos vendidos. ¡Una asociación que solo crea ganancias!
Si estás buscando una forma de publicitar tus productos y aumentar el número de tus ventas pero no sabes cómo hacerlo, si te quedaste sin ideas o si ya has publicado anuncios en cada blog, entonces haz que otras personas, bloggers publiciten tus productos en sus sitios web.
Si pueden ayudarte a vender tus productos a cambio de una comisión por cada venta, puedes estar seguro de que te ayudarán activamente a promocionarlos. Configurar un programa de afiliación nunca ha sido tan fácil, ya que YITH WooCommerce Affiliates te ayudará a automatizar todo este proceso.
Muchos programas de afiliados fallan porque las comisiones solo se pagan si los clientes compran un producto tuyo justo después de llegar a tu sitio web, lo que puede hacer que todo el sistema de afiliación pierda sentido.
Gracias a YITH WooCommerce Affiliates no correrás este riesgo: el plugin te permitirá elegir durante cuánto tiempo los afiliados seguirán recibiendo comisiones de los usuarios a los que se llegue a través de sus enlaces.
Los administradores tendrán el control total de sus afiliados gracias a los informes detallados de clics generados por cada enlace individual, que te dan la oportunidad de elegir si deseas pagar comisiones manualmente o configurar un sistema de pago automático.
También puedes configurar diferentes tarifas de comisión basadas en el producto o usuario, lo que te permite crear un sistema de afiliación automatizado personalizado a partir de ahora, utilizando un sistema de publicidad exponencial que aumentará tus ventas.
PayPal MassPay es un servicio obsoleto. El servicio se ha restringido a determinados socios para casos de uso aprobados y no debe utilizarse para nuevas integraciones sin la orientación de PayPal.
Si ya tienes una cuenta aprobada, podrás utilizar el servicio con el Affiliates plugin .
Por el contrario, te recomendamos que te pongas en contacto con PayPal antes de adquirir este plugin.
Versión:

1.11.0

Publicada:

2021-11-04

Versión mínima de PHP:

7.0

Requiere:

WordPress 5.6 or higher

and WooCommerce 5.6 or higher

Compatible hasta:

WordPress 5.8

and WooCommerce 5.9

Plugins multidioma compatibles:

WPML, Loco Translate

Traducción lista:

SÍ

Idiomas 100% garantizados por YITH:

Greek, Italian, Spanish, Dutch

Idiomas proporcionados por usuarios:

French (100%), German (100%)

Compatible con:

Tema YITH Proteo.Todos los plugins de YITH

Temas de terceros compatibles:

Avada, Divi, Flatsome, Neighborhood, Storefront, X

Constructores de página compatibles:

Gutenberg, Elementor

Cumple con RGPD:

Sí
CON
YITH AFFILIATES

PUEDES:
Pagar comisiones de manera automática
Cada vez que se emita una comisión, en el día concreto de cada mes o al alcanzar un cierto umbral de ganancias de comisiones.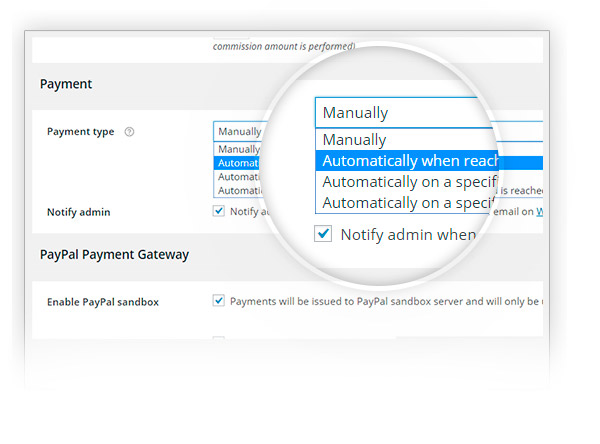 Configurar la información a almacenar por cada visita
Nombre de afiliado, página visitada, ID y hora de la conversión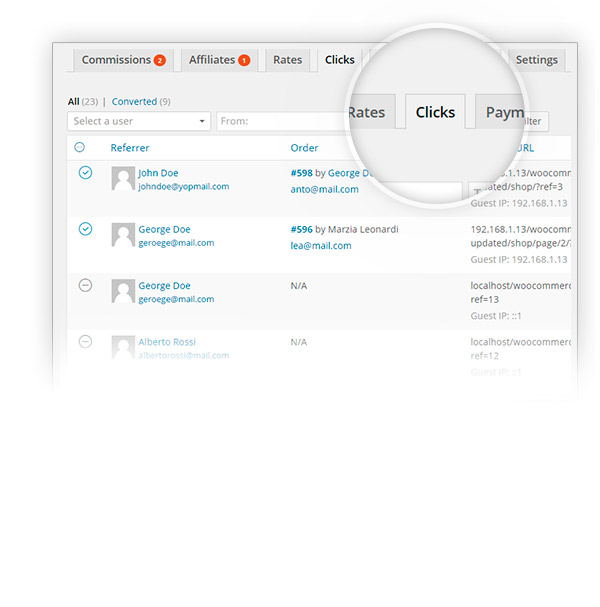 Establecer una tasa de comisión diferente
Para diferentes productos y usuarios en tu tienda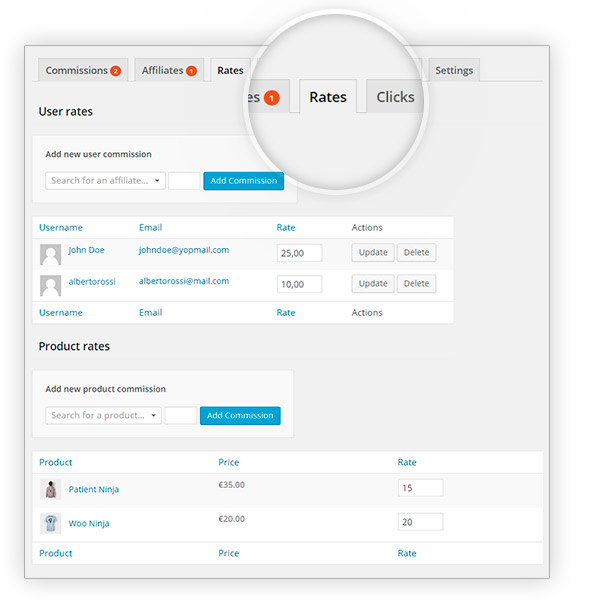 Asociar permanentemente las compras del mismo usuario a un afiliado
Tras la primera compra hecha a través del enlace referencial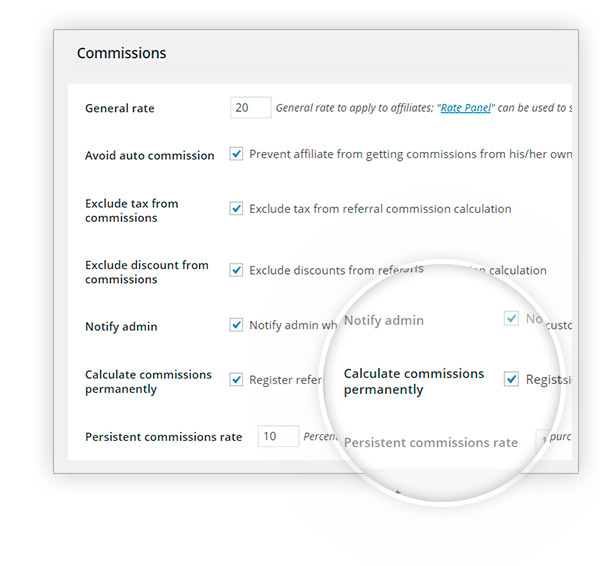 Crear una historia de afiliado para cada visita
Y mantener un seguimiento de todos los afiliados que han contribuido a generar esa visita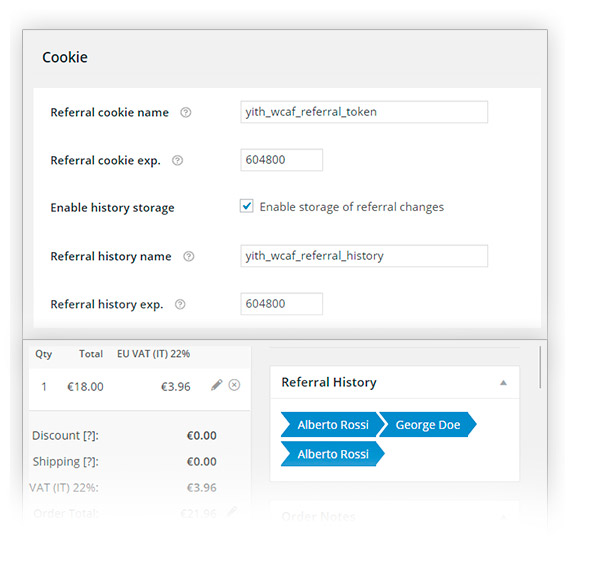 Aprobar automáticamente nuevos afiliados
Y ahorra el tiempo de tener que aprobarlos uno por uno manualmente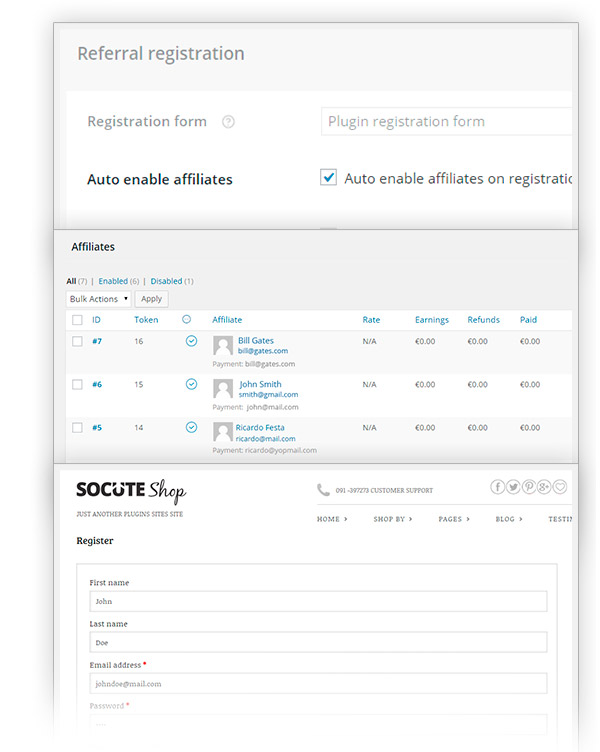 Crear y asignar cupones a tus afiliados
Eso generará una comisión al utilizarlos después de compartirlos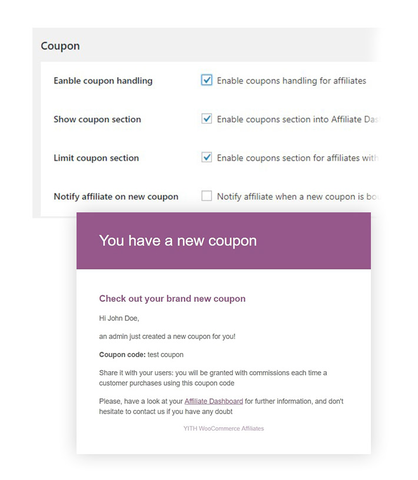 Configurar una hora para los clics del mismo usuario
Para que el recuento de clics sea más preciso y no se distorsione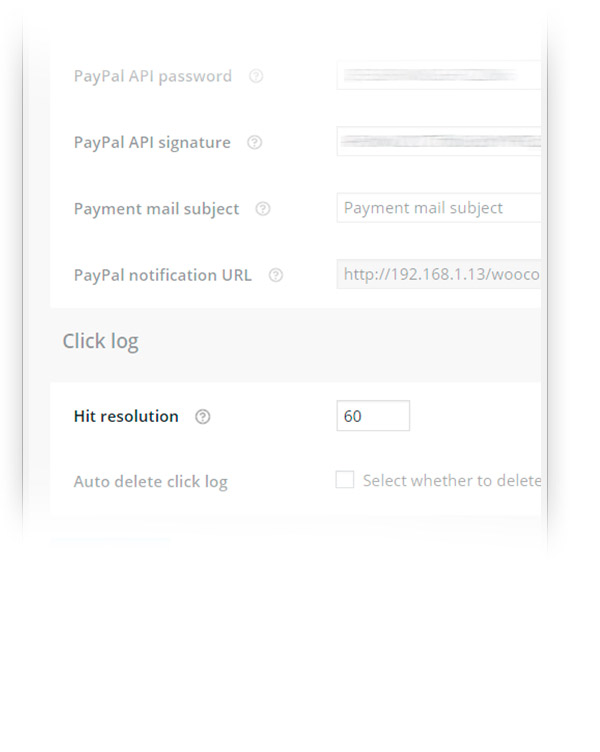 Mostrar informes sobre las comisiones
Y mostrar incluso detalles para cada producto individual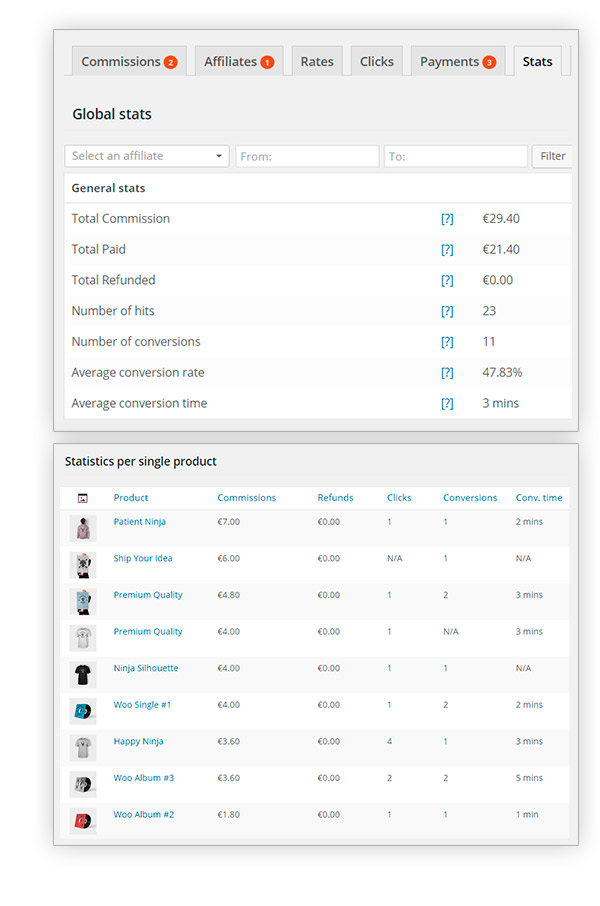 Notificar cada acción en tu sitio por correo electrónico
Para mantener todo bajo control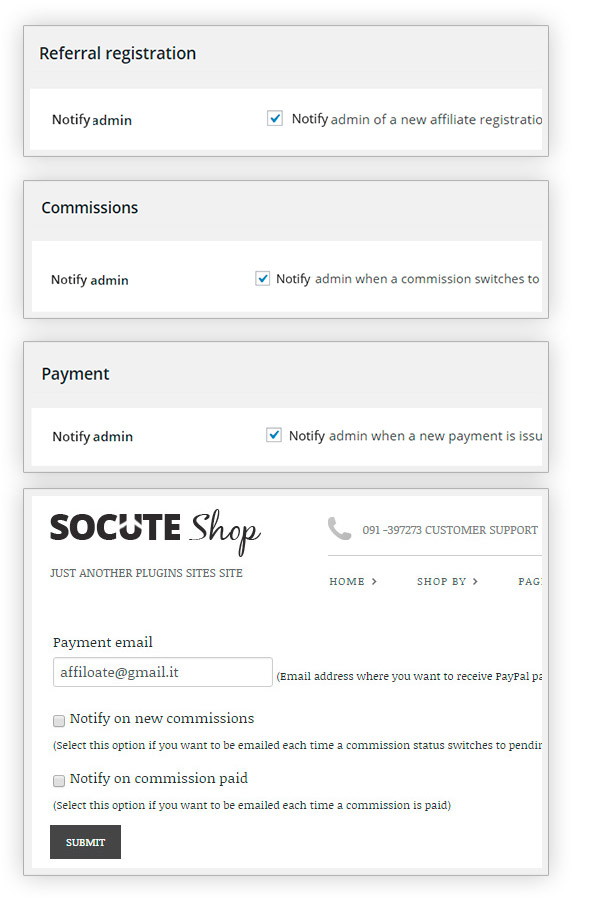 Elegir cómo obtener el código de afiliación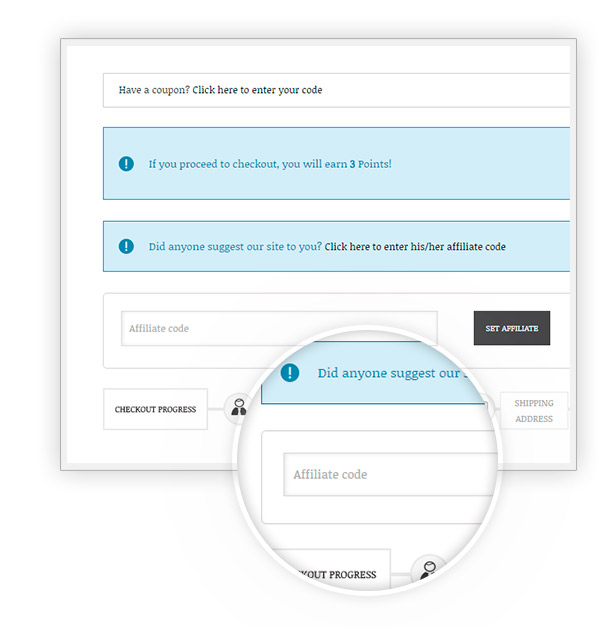 Permite a los afiliados solicitar pagos
Los afiliados pueden ahora solicitar la retirada de sus comisiones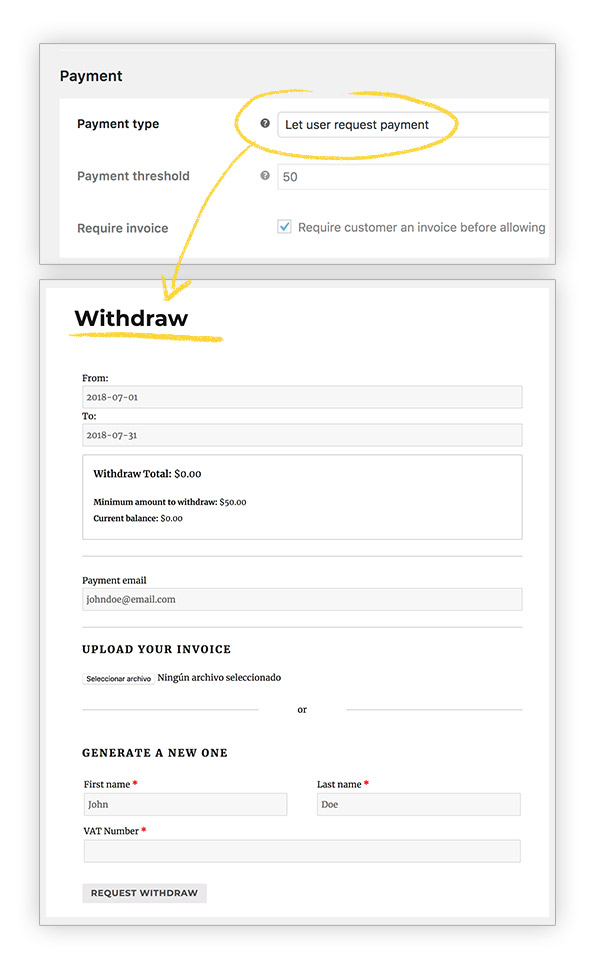 Añadir o eliminar un afiliado en el pedido manualmente
Las comisiones se procesarán automáticamente después de guardar nuevos datos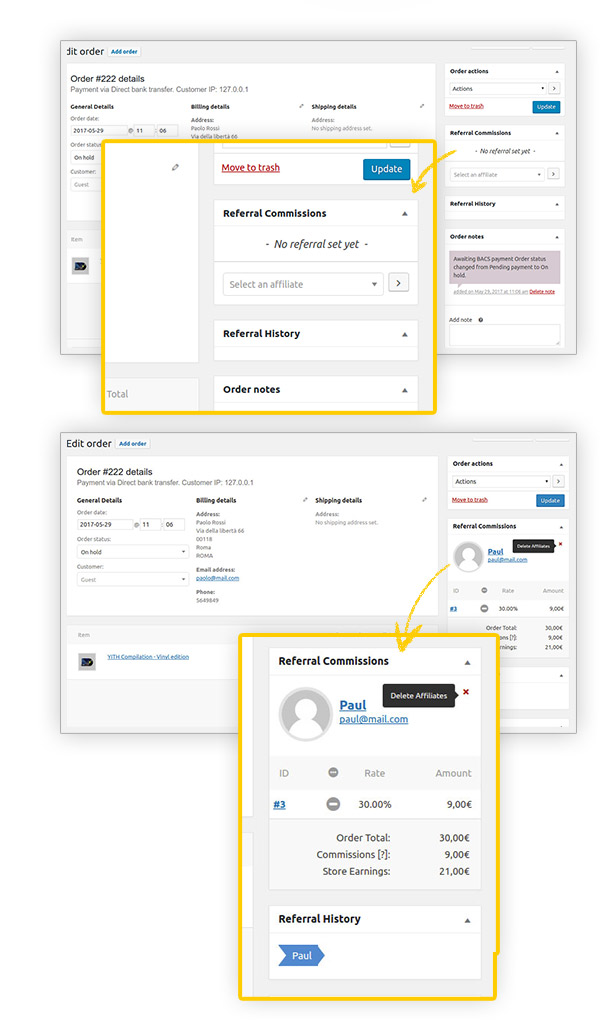 Eliminar la afiliación después de la primera compra
O después de la fecha de vencimiento prevista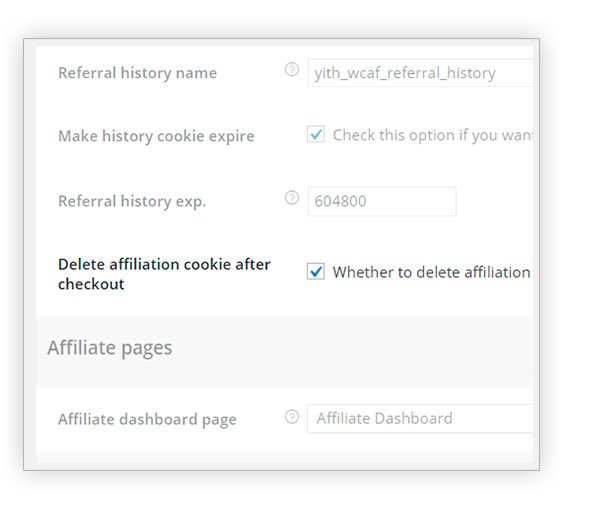 Aprovechar la compatibilidad con WPML
Puedes traducir el plugin fácilmente con la potente herramienta de WPML