Ahorra tiempo y edita productos diferentes al mismo tiempo
La edición de varios productos puede ser agotadora: tal vez solo desees cambiar el precio o cambiar rápidamente la pequeña descripción de todos los productos de una categoría determinada. No te preocupes: con YITH WooCommerce Bulk Product Editing, ahora puedes cambiar fácilmente todos los campos de tus productos con extrema facilidad.
En una tienda, el tiempo es dinero: imagina tener que cambiar el precio de 1000 productos uno por uno … ¡eso llevaría una eternidad! Y una vez que termines, probablemente tendrías que comenzar de nuevo. Considera el tiempo dedicado a hacer esto que podrías haber usado para hacer otras cosas más productivas … ¡sería perjudicial para tu negocio!
Ya sea que tengas una tienda pequeña o un gran sitio de comercio electrónico, los problemas para modificar los productos son siempre los mismos: estás obligado a abrir páginas de productos una por una para cambiar el campo que deseas. Además, a veces es necesario editar lo mismo una y otra vez, como pequeños ajustes de precios durante las vacaciones. Y es entonces cuando YITH WooCommerce Bulk Product Editing puede ayudarte simplificando tu vida y editando tus productos más rápido.
Con nuestro plugin, no solo filtrarás fácilmente los productos que desees, para mostrar solo aquellos que desees editar, sino que el procedimiento de edición también te permite cambiar el nombre de los archivos con solo un clic. Una poderosa herramienta que te permitirá ahorrar horas y horas de valioso tiempo, lo que te permitirá revisar lo que necesitas, ¡además de importar y exportar productos en un archivo CSV de inmediato!
La ventaja de WooCommerce es que al usar el plugin correcto puede automatizar casi cualquier proceso, reduciendo tu carga de trabajo y posiblemente posibles gastos de personal que debe realizar este tipo de trabajo.
Por esta razón, desarrollamos YITH WooCommerce Bulk Product Editing: para reducir decenas de horas de trabajo en unos pocos clics, brindándote la libertad de editar cualquier tipo de información de tus productos: desde el precio hasta su descripción, hasta la creación de campos personalizados para cada uno de tus productos.
Versión:

1.12.0

Publicada:

2022-06-16

Versión mínima de PHP:

7.0

Requiere:

WordPress 5.8

and WooCommerce 6.4

Compatible hasta:

WordPress 6.0.x

and WooCommerce 6.6.x

Plugins multidioma compatibles:

WPML, Loco Translate

Traducción lista:

SÍ

Idiomas 100% garantizados por YITH:

English, Italian, Spanish, Dutch

Idiomas proporcionados por usuarios:

German (100%), French (100%)

Compatible con:

Tema YITH Proteo.Todos los plugins de YITH

Temas de terceros compatibles:

Avada, Divi, Flatsome, Neighborhood, Storefront, X

Cumple con RGPD:

No aplicable
CON
YITH BULK PRODUCT EDITING

PUEDES:
Editar cualquier campo de producto
Absoluta libertad de editar como si estuvieras en la página de detalles del producto.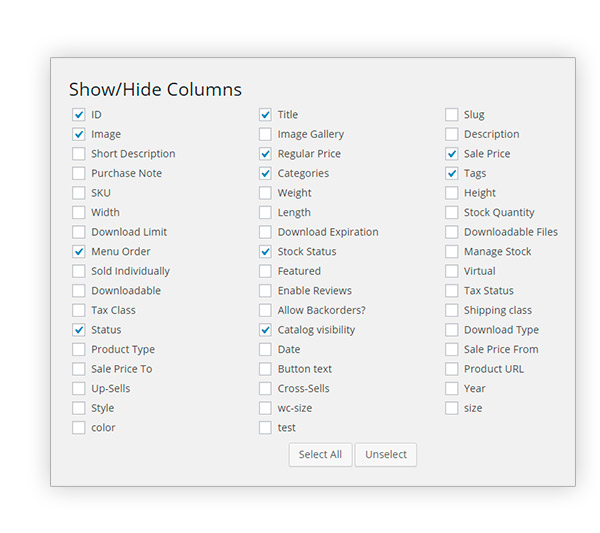 Cambiar textos en todos los productos al mismo tiempo
¡Agrega un prefijo antes del texto o el sufijo después, o cámbialo todo!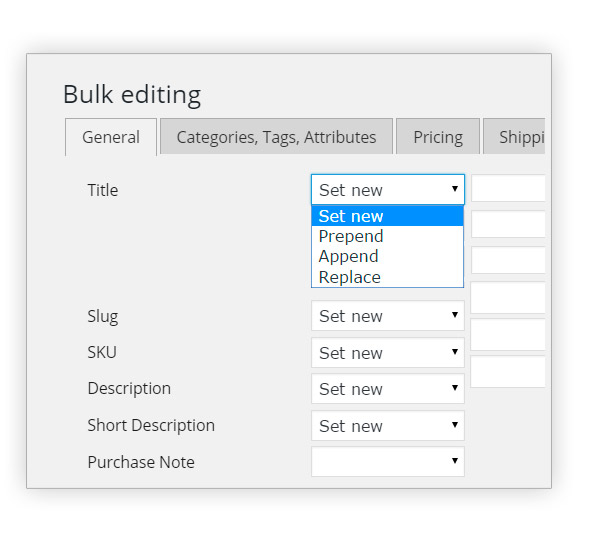 Cambiar los precios más fácilmente
En porcentaje o por una cantidad fija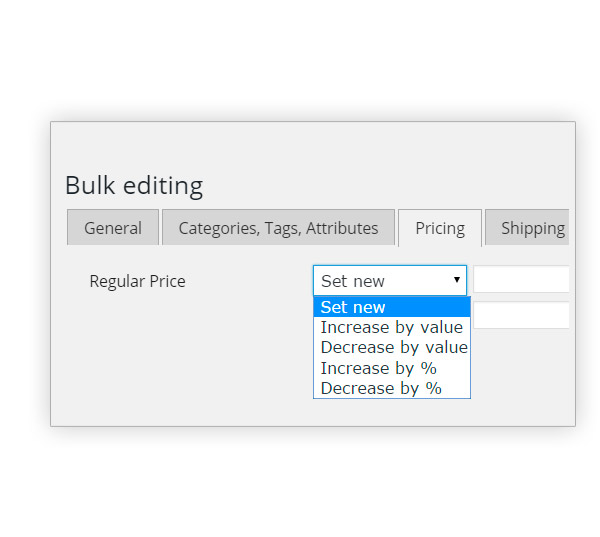 Beneficiarte de filtros precisos
Para encontrar inmediatamente los productos que estás buscando y editarlos en un abrir y cerrar de ojos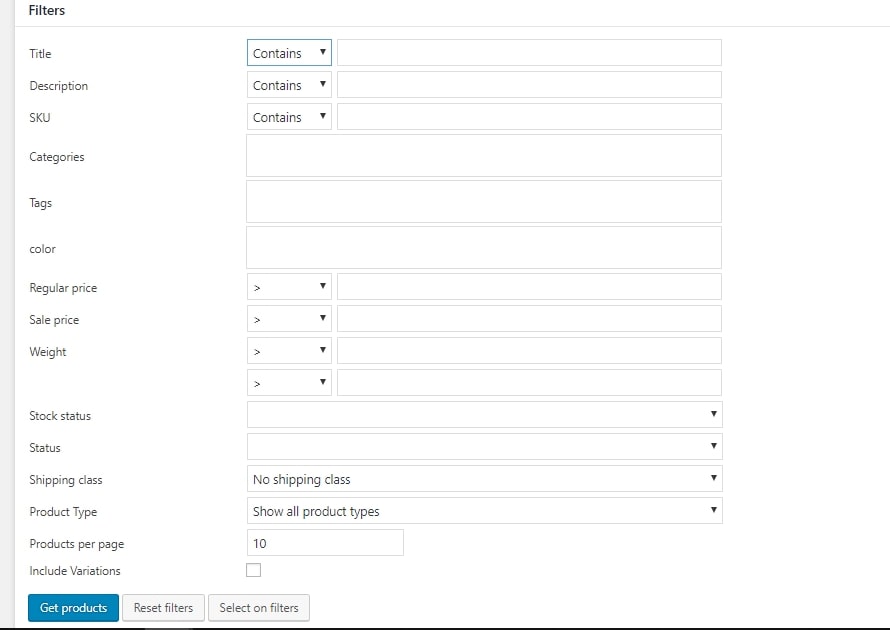 Utilizar las opciones disponibles al filtrar el título, la descripción y el SKU
Elegir entre Contiene, No contiene, Comienza con, Termina con o Expresión regular

Controlar todos los productos
Incluidos los productos variables y personalizar incluso las variaciones individuales de tu tienda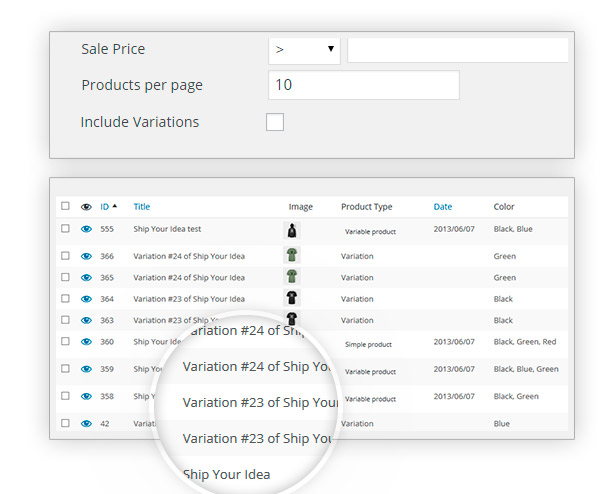 Crear nuevos productos rápidamente
¡La página del plugin te ayuda también a crear un nuevo producto!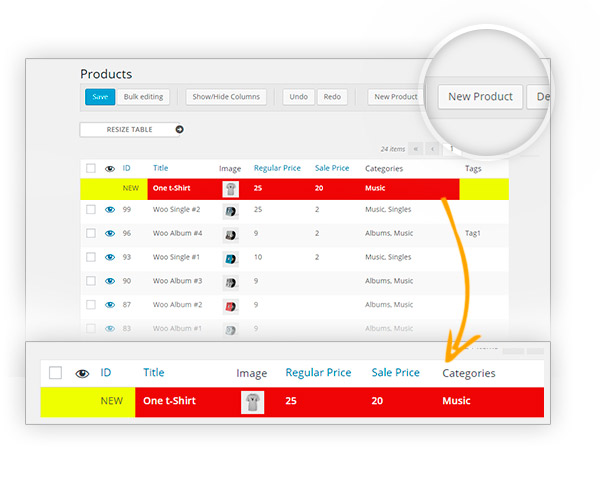 Eliminar productos
Con un clic solamente, tu tienda estará más ordenada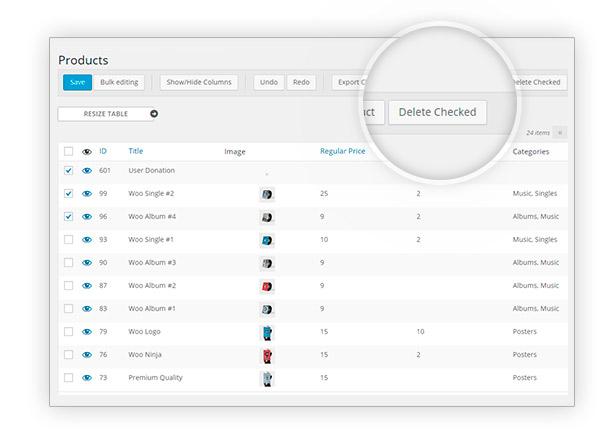 Exportar datos
Con el plugin puedes exportar fácilmente datos de productos a un archivo CSV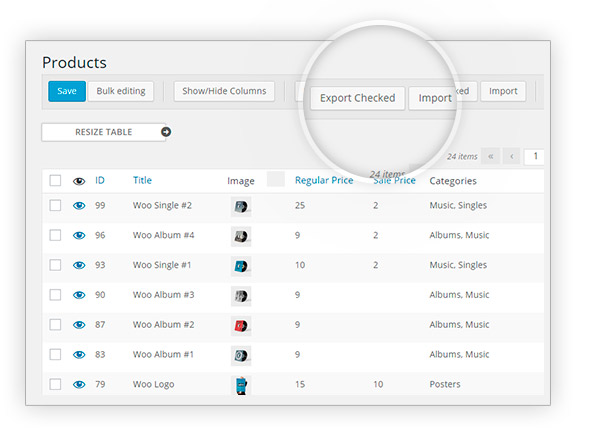 Editar campos personalizados de manera masiva
Cambiando los disponibles o creando nuevos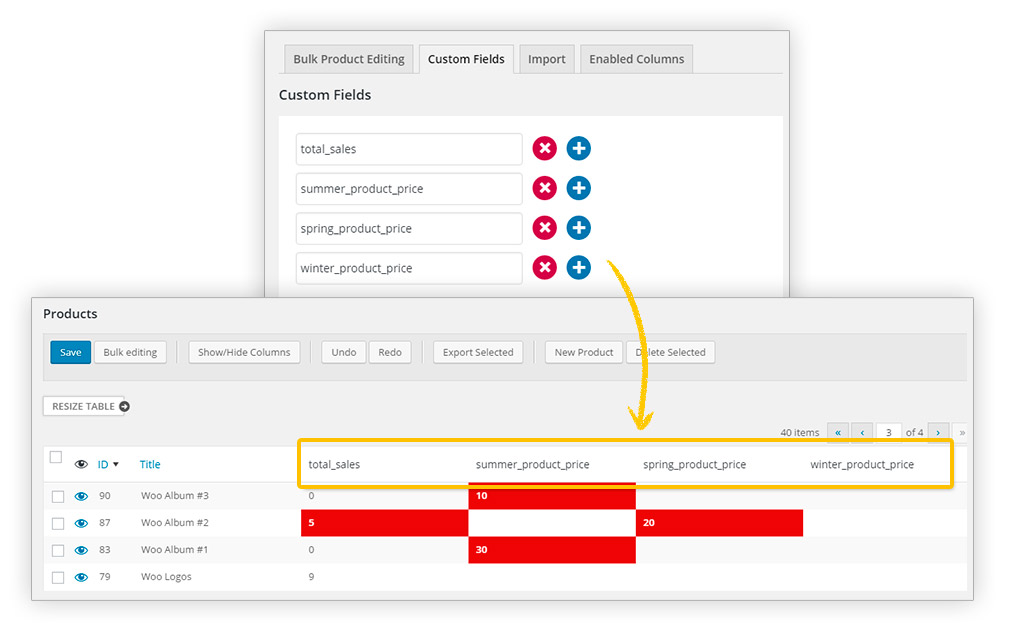 Aprovechar la compatibilidad con WPML
Puedes traducir el plugin fácilmente con la potente herramienta de WPML