MUESTRA LAS CATEGORÍAS DE PRODUCTOS DE UNA MANERA ENCANTADORA Y EFICIENTE
Haz una lista eficiente de las categorías de tus productos y mejora la experiencia de usuario de tu comercio electrónico: un plugin simple y potente que permite a tus usuarios tener una visión general clara de los productos disponibles en tu tienda.
El plugin YITH WooCommerce Category Accordion te permite crear un widget con unos pocos clics para enumerar las categorías de los productos a la venta en las barras laterales de tu comercio electrónico.
Gracias a la función de acordeón, podrás mostrar todas las categorías y subcategorías sin sobrecargar visualmente la página, y facilitar la navegación a los clientes de tu tienda.
De acuerdo con tus necesidades, puedes mostrar cuántos productos contiene una categoría, ocultar las categorías vacías, decidir si mostrar por defecto el acordeón cerrado o abierto, y muchas más opciones.
Versión:

1.20.0

Publicada:

2023-03-15

Versión mínima de PHP:

7.0

Requiere:

WordPress 6.0

and WooCommerce 7.3

Compatible hasta:

WordPress 6.2.x

and WooCommerce 7.5.x

Plugins multidioma compatibles:

WPML

Traducción lista:

SÍ

Idiomas 100% garantizados por YITH:

English, Italian, Spanish

Idiomas proporcionados por usuarios:

Dutch (100%)

Compatible con:

Tema YITH Proteo.Todos los plugins de YITH

Temas de terceros compatibles:

Avada, Divi, Flatsome, Neighborhood, Storefront, X

Plugins de terceros compatibles:

Elementor

Cumple con RGPD:

No aplicable
CON
YITH CATEGORY ACCORDION

PUEDES:
ELEGIR QUÉ CATEGORÍAS MOSTRAR
Estableciendo un número en particular o mostrando solo las categorías de un nivel jerárquico en particular.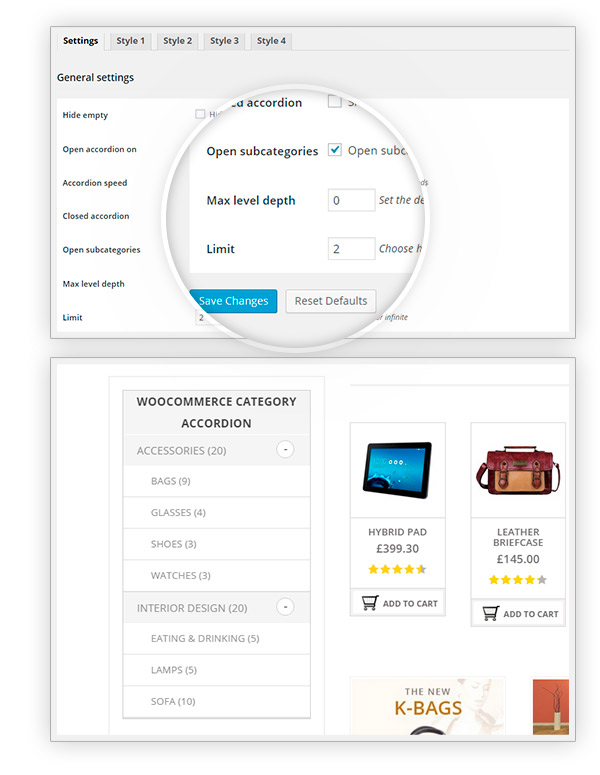 MOSTRAR TAMBIÉN MENÚS Y ETIQUETAS
Puedes seleccionar ambos menús personalizados o etiquetas asignadas a los productos de tu tienda.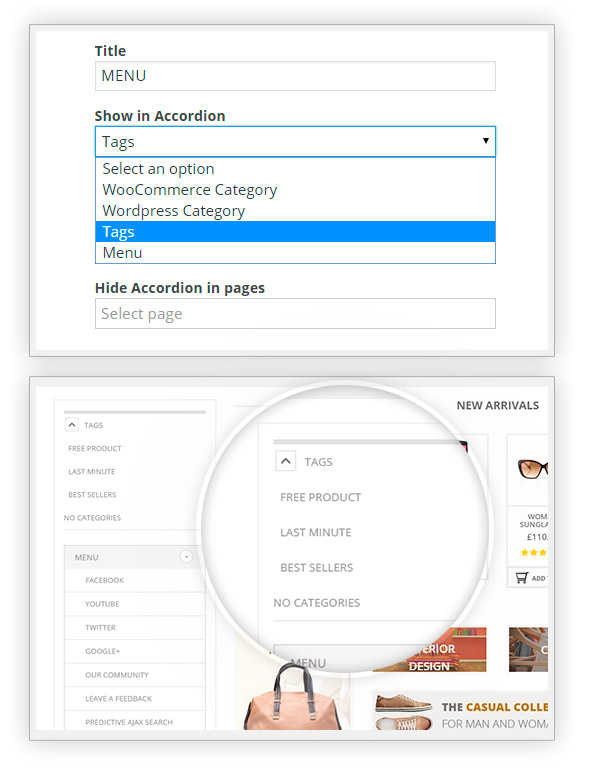 USAR 4 ESTILOS DIFERENTES
Para evitar modificar el código para cambiar los gráficos de los widgets y shortcodes.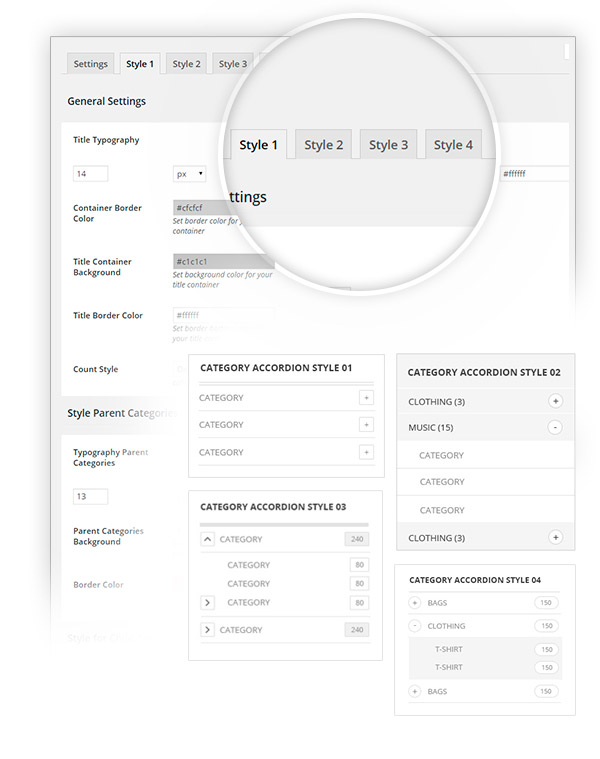 APROVECHAR UN SHORTCODE
Las mismas características y opciones, pero el shortcode te permitirá añadir acordeones en cada página de tu sitio.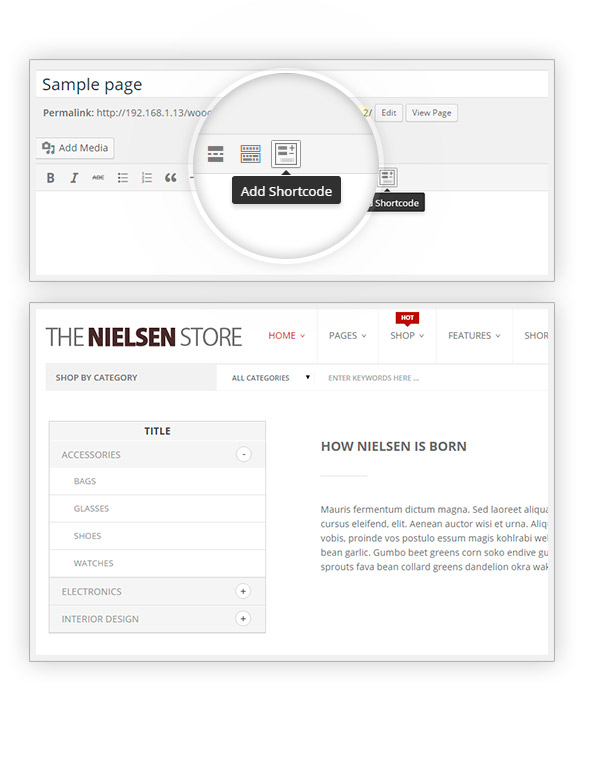 ORDENAR LAS CATEGORÍAS COMO QUIERAS
Tres opciones a tu disposición: por identificación, por nombre o por el número de elementos asignados.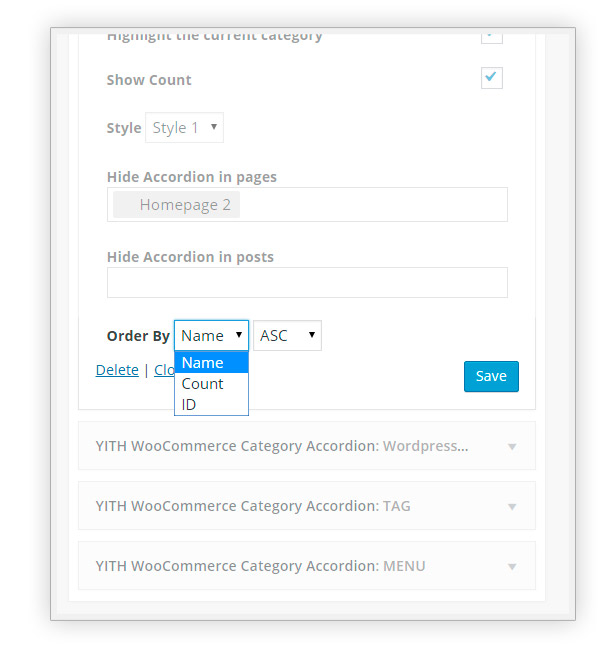 ELEGIR DONDE QUIERES MOSTRAR EL WIDGET Y EL SHORTCODE
Serás libre de elegir las páginas o los puestos en los cuales no quieres que aparezcas; además, también puedes ocultar las categorías sin elementos asignados.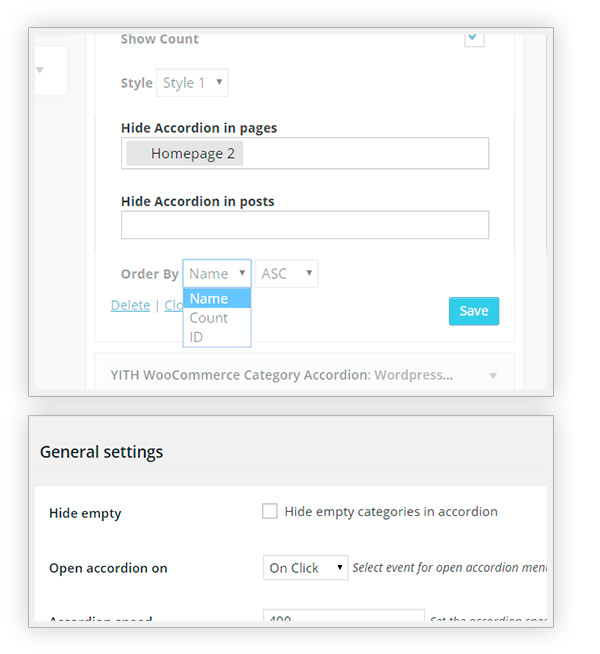 Aprovecha la compatibilidad con WPML
Puedes traducir el plugin fácilmente con la potente herramienta ofrecida por WPML