Dale a tus clientes la herramienta perfecta para entender qué producto es el mejor para ellos
Haz la vida de tus clientes más fácil y permíteles hacer una comparación entre tus productos de la manera más fácil y eficiente. Con unos pocos clics, obtendrán una descripción general de todo lo que ofreces y podrán elegir lo que mejor se adapte a sus necesidades.
YITH WooCommerce Compare es una herramienta indispensable para ti si tienes una tienda bastante grande, incluidos muchos artículos con características similares.
Las investigaciones realizadas en las tiendas de comercio electrónico más populares han demostrado que cuantas más opciones tienen los consumidores, y productos tan similares para elegir, más tienden a sentirse confundidos y tienen la necesidad de analizar cada posibilidad antes de comprar.
Gracias a este plugin, tus clientes podrán comparar de manera simple y eficiente los productos en venta de tu tienda, analizar sus características principales en una sola tabla y comprender de inmediato lo que es adecuado para ellos, sin tener que examinar cada página de producto individualmente en busca de la información que están buscando.
Facilitar el proceso de selección significa acelerar el proceso de compra alentando a tus clientes a comprar en el menor tiempo posible..
Versión:

2.30.0

Publicada:

2023-09-12

Versión mínima de PHP:

7.0

Requiere:

WordPress 6.0

and WooCommerce 7.9

Compatible hasta:

WordPress 6.2.x

and WooCommerce 8.1

Plugins multidioma compatibles:

WPML, Loco Translate

Traducción lista:

SÍ

Idiomas 100% garantizados por YITH:

English, Italian, Spanish,

Idiomas proporcionados por usuarios:

Russian (100%), German (100%), French(100%), Dutch(100%)

Compatible con:

Tema YITH Proteo. Todos los plugins de YITH

Temas de terceros compatibles:

Flatsome

Cumple con RGPD:

No aplicable
CON
YITH COMPARE

PUEDES:
MOSTRAR LA COMPARACIÓN EN OTRA PÁGINA
Una página que puedes añadir incluso entre las entradas de tu menú de la tienda.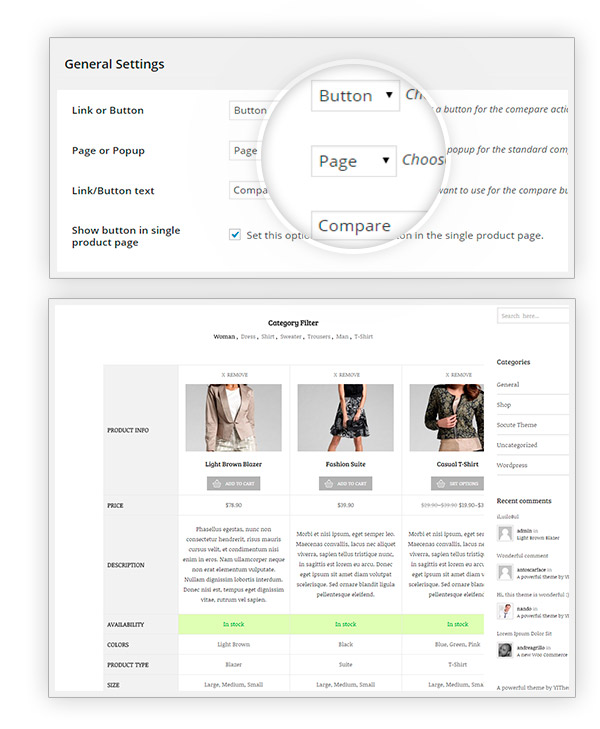 COMPARAR ELEMENTOS POR CATEGORÍA
Eliminando cualquier duda de tus clientes gracias a la opción «Comparar por categoría«.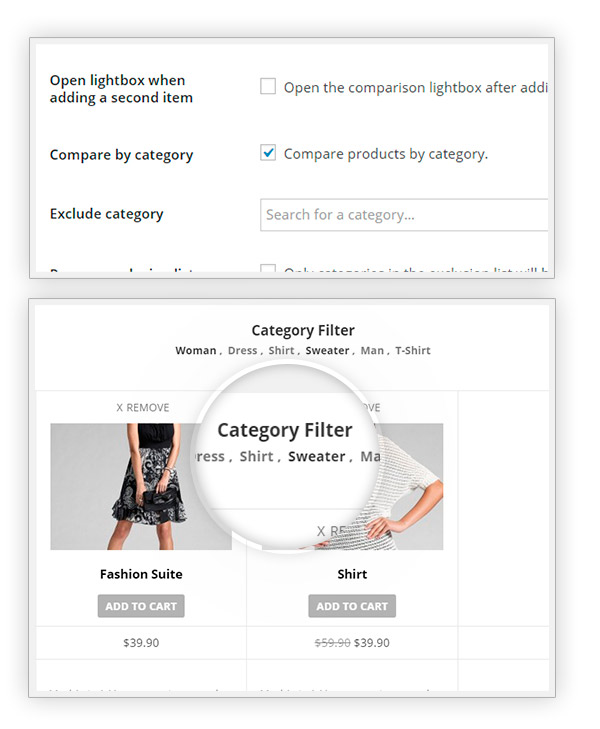 EXCLUIR CATEGORÍAS ESPECÍFICAS
De esta manera, no estarán disponibles para la comparación y, por el contrario, puedes activar sólo las seleccionadas para ser comparadas.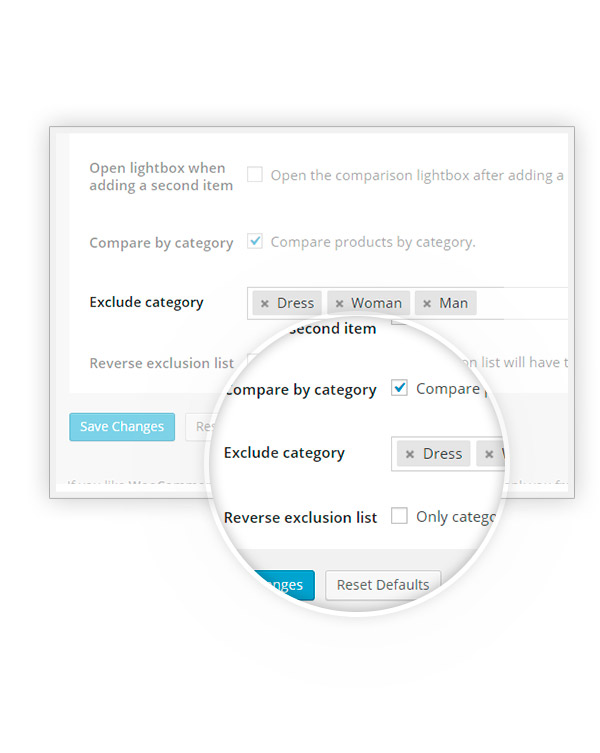 AÑADIR UNA IMAGEN EN EL ENCABEZADO DE LA TABLA
¡Personaliza la tabla de comparación como quieras!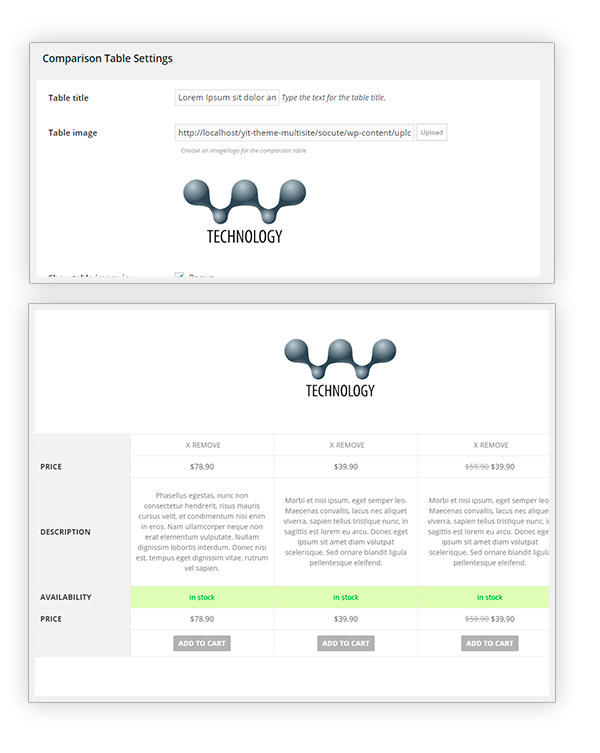 COMPARAR SIEMPRE LA INFORMACIÓN DEL PRODUCTO
no más comparaciones con campos vacíos: ¡Se ocultarán automáticamente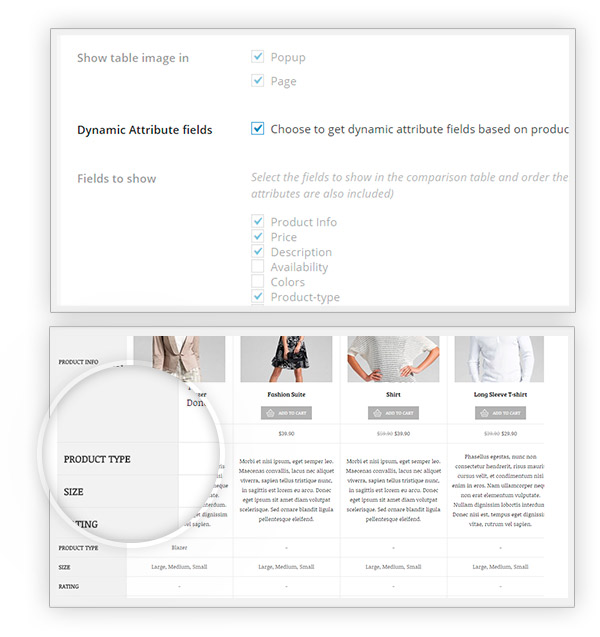 COMPARTIR LA COMPARACIÓN EN REDES SOCIALES
Crea tu comparación y compártela en Facebook, Twitter, Google + y Pinterest.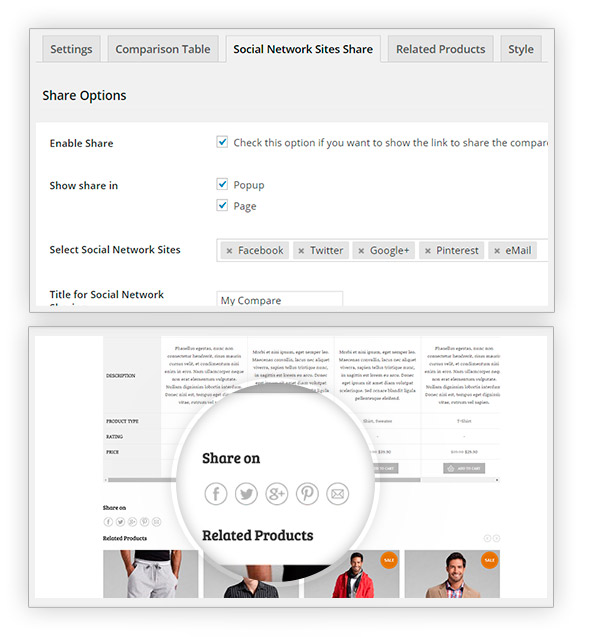 MOSTRAR INMEDIATAMENTE LOS PRODUCTOS RELACIONADOS
¡Gracias a un carrusel bajo la tabla que muestra los productos con la misma categoría/etiqueta!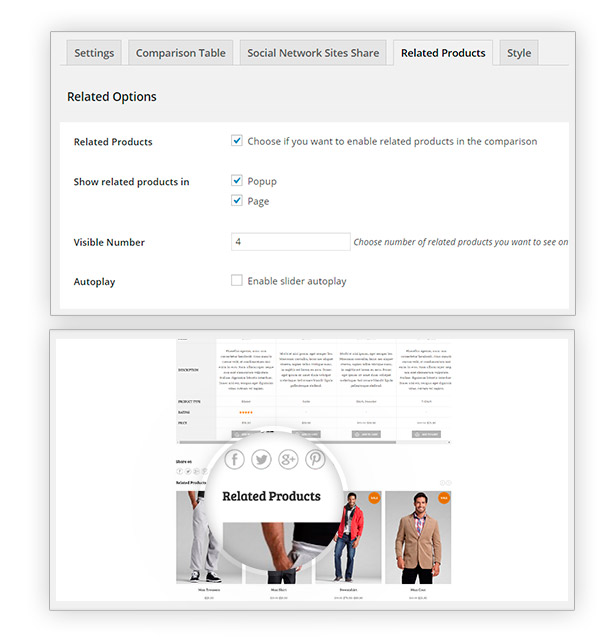 CAMBIAR EL ESTILO Y LOS COLORES
¡Haz el plugin totalmente compatible con el diseño de tu sitio!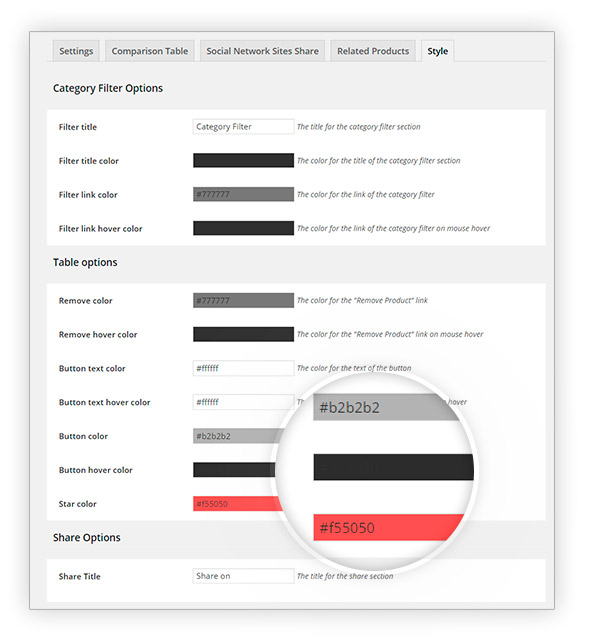 PERSONALIZAR ATRIBUTOS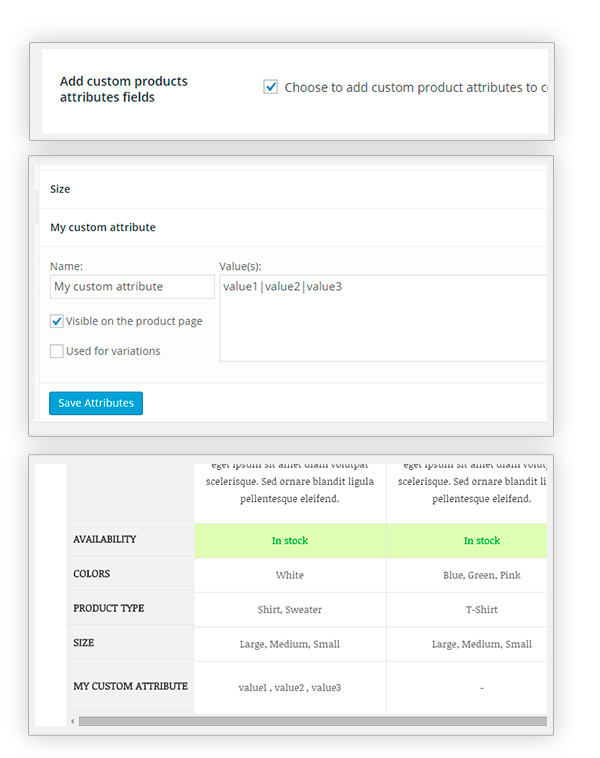 CREAR UNA TABLA CON LOS PRODUCTOS DESEADOS
Selecciona los productos y usa el shortcode generado para añadir la tabla en la página que quieras.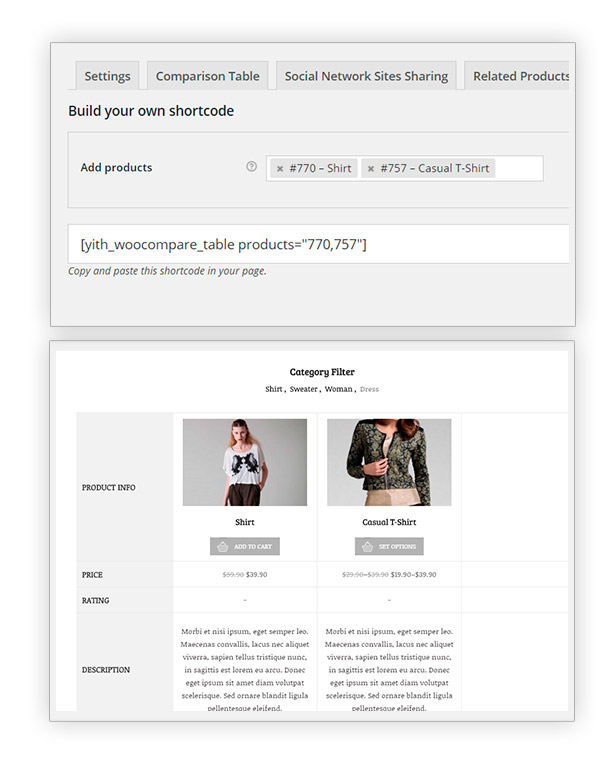 Mostrar la lista de productos añadidos a la tabla de comparación
Gracias al Widget incluido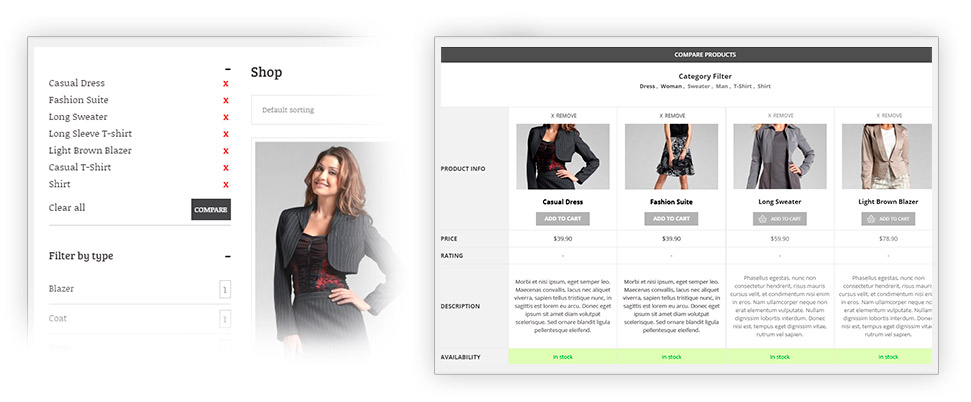 Mostrar un contador de productos añadidos a la tabla de comparación
Con un útil widget o el shortcode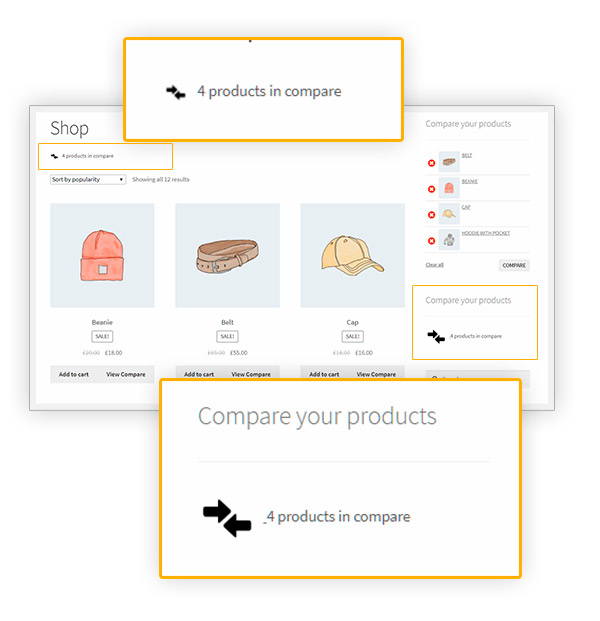 Aprovechar la compatibilidad con WPML
Puedes traducir el plugin fácilmente con la potente herramienta ofrecida por WPML