Da' ai tuoi clienti uno strumento per capire qual è il prodotto perfetto per loro
Semplifica la vita dei tuoi clienti e permetti loro di mettere a confronto i tuoi prodotti nel modo più semplice ed efficace possibile: con pochi clic avranno una panoramica completa di tutto ciò che offri e potranno scegliere ciò che più si adatta alle loro esigenze.
Il plugin YITH WooCommerce Compare è uno strumento indispensabile se possiedi uno shop mediamente grande, con numerosi prodotti dalle caratteristiche simili.
Alcuni studi realizzati sugli e-commerce più popolari hanno dimostrato che quante più opzioni hanno i consumatori – quindi più prodotti simili tra cui scegliere – tanto più tendono a sentirsi disorientati e a sentire la necessità di studiare più a fondo ogni possibilità prima di acquistare un prodotto.
Grazie a questo plugin, i tuoi clienti potranno confrontare in modo semplice ed efficace i prodotti in vendita nel tuo shop, analizzarne velocemente le caratteristiche principali in un'unica tabella e capire subito cosa fa al caso loro, senza dover studiare singolarmente ogni scheda prodotto alla ricerca delle informazioni che cercano.
Semplificare il processo di selezione del prodotto significa velocizzare la fase di acquisto e spingere il tuo cliente all'acquisto nel più breve tempo possibile.
Versione:

2.32.0

Rilasciata il:

2023-11-14

Versione minima di PHP:

7.0

Requisiti minimi:

WordPress 6.0

and WooCommerce 8.1

Compatibile con:

WordPress 6.4.x

and WooCommerce 8.3

Plugin multilingua supportati:

WPML, Loco Translate

File di lingua inclusi:

SÌ

Lingue garantite al 100% da YITH:

English, Italian, Spanish,

Traduzioni degli utenti:

Russian (100%), German (100%), French(100%), Dutch(100%)

Supporta:

Il tema YITH Proteo. Tutti i plugin YITH.

Temi di terzi supportati:

Flatsome

Conforme al GDPR:

Non applicabile a questo prodotto
CON
YITH COMPARE

PUOI:
Mostrare la tabella comparativa in un'altra pagina
Una pagina che puoi aggiungere perfino tra le voci di menu del tuo negozio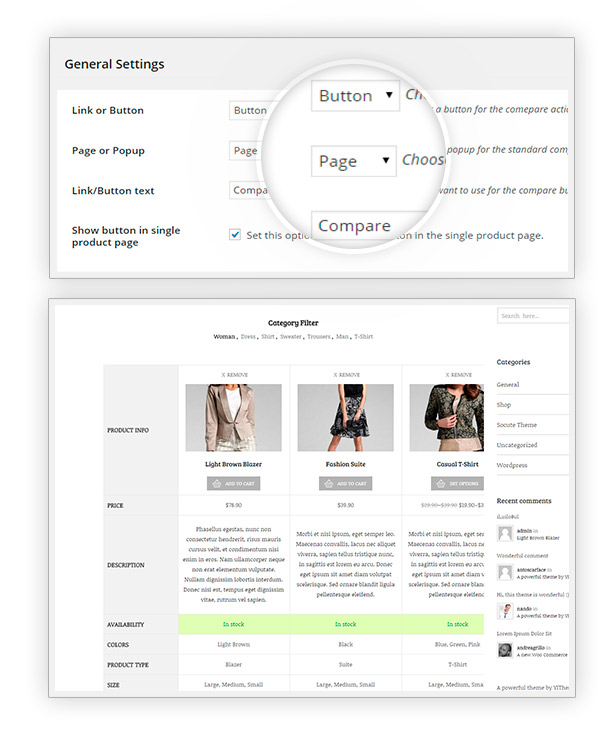 Confrontare gli elementi per categoria
Eliminando ogni dubbio nei tuoi clienti grazie all'opzione 'Confronta per categoria'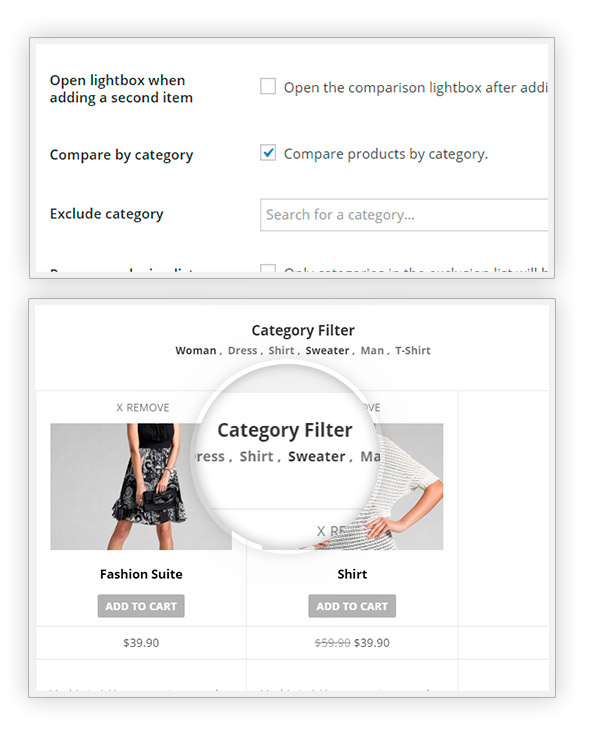 Escludere determinate categorie
Così da non renderle disponibili per il confronto o, al contrario, abilitare la comparazione solo per queste categorie selezionate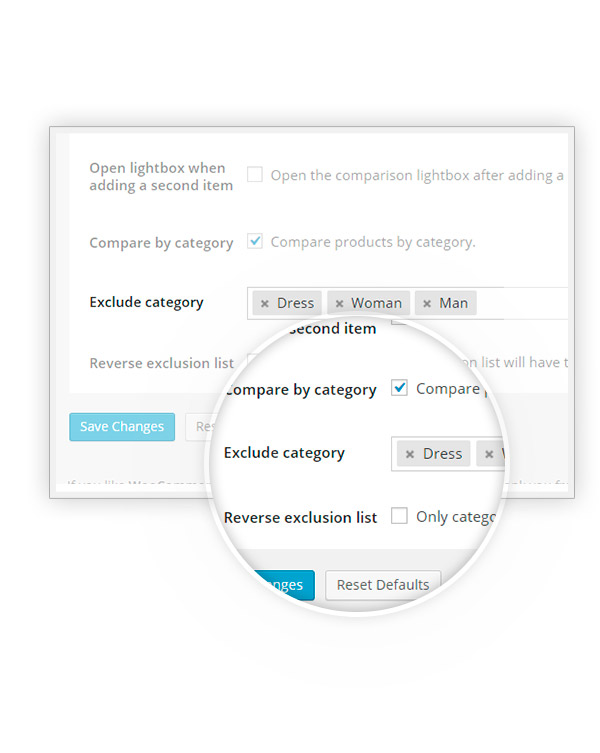 Inserire un'immagine sopra la tabella
Personalizza la tabella di comparazione come preferisci!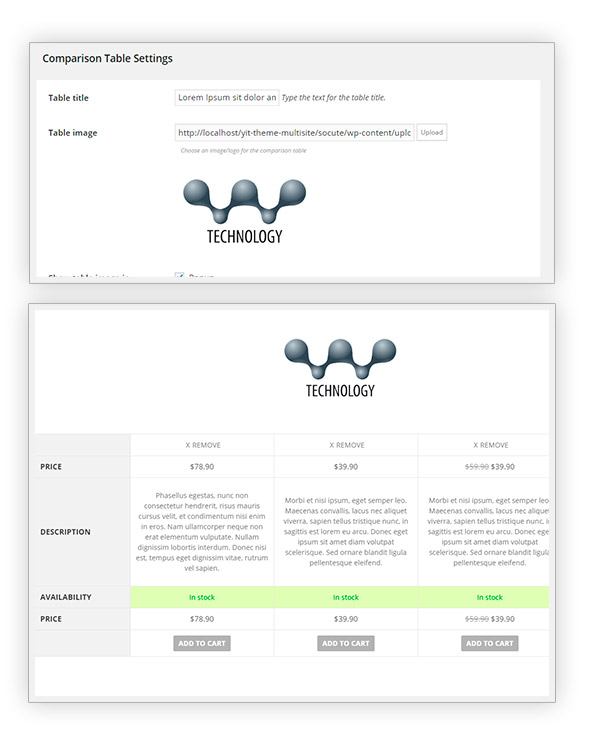 Confrontare sempre le informazioni dei prodotti
Mai più campi prodotto vuoti: questi verranno automaticamente nascosti!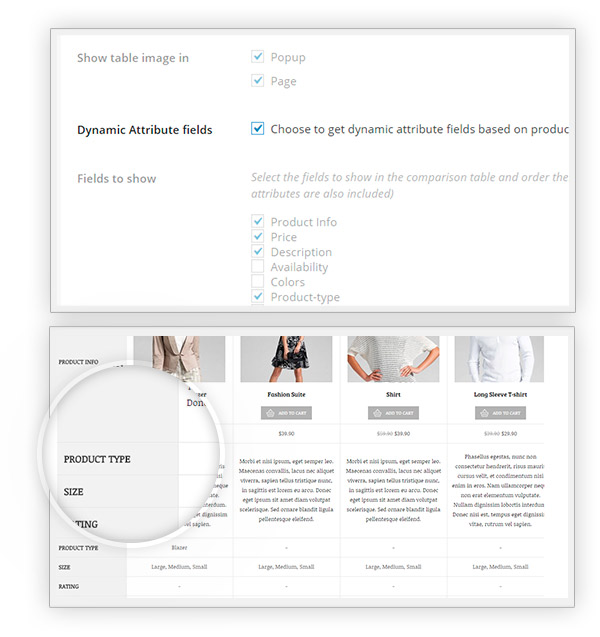 Condividere tutto sui social network
Crea la tua tabella comparativa e condividila su Facebook, Twitter, Google+ e Pinterest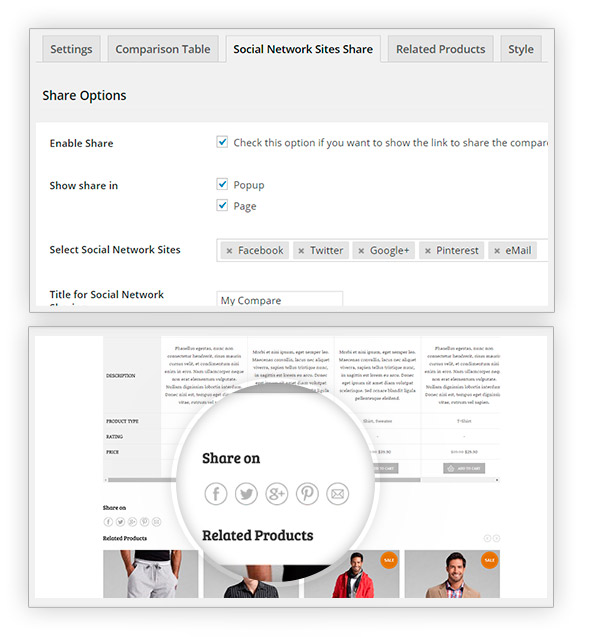 Mostrare subito i prodotti correlati
Grazie a uno slider proprio sotto la tabella che mostra i prodotti della stessa categoria o dello stesso tag!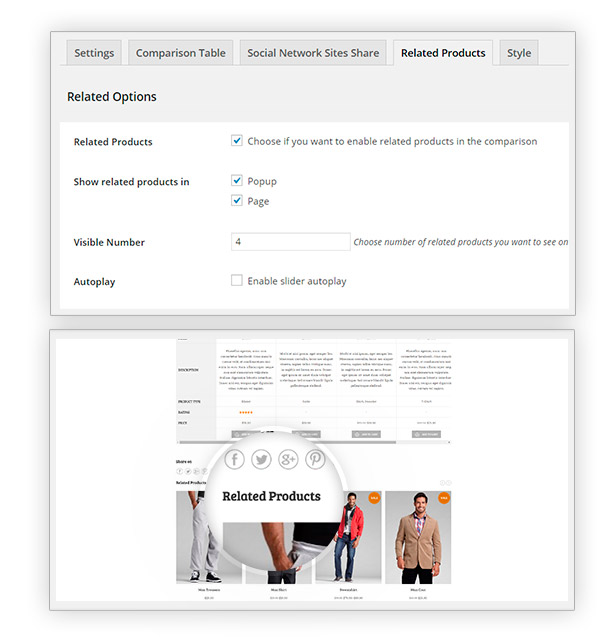 Modificare lo stile e i colori
Rendi le impostazioni del plugin compatibili con il layout del tuo sito!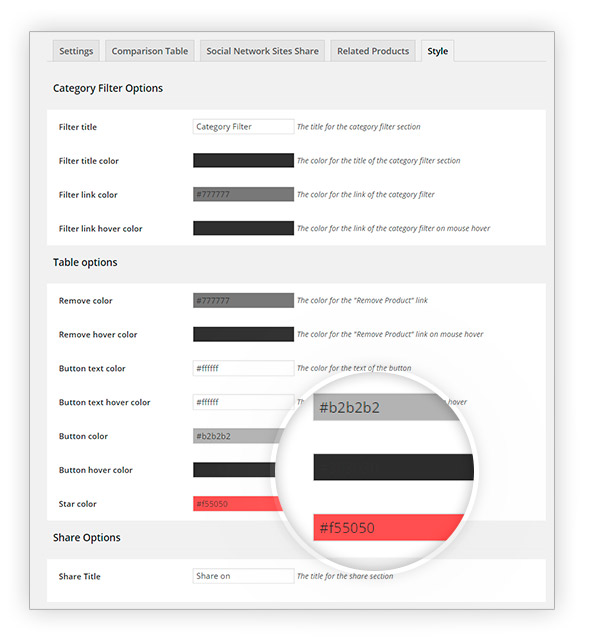 Personalizzare gli attributi
Inserisci quelli che preferisci per i tuoi prodotti e mostrali nelle tabelle di comparazione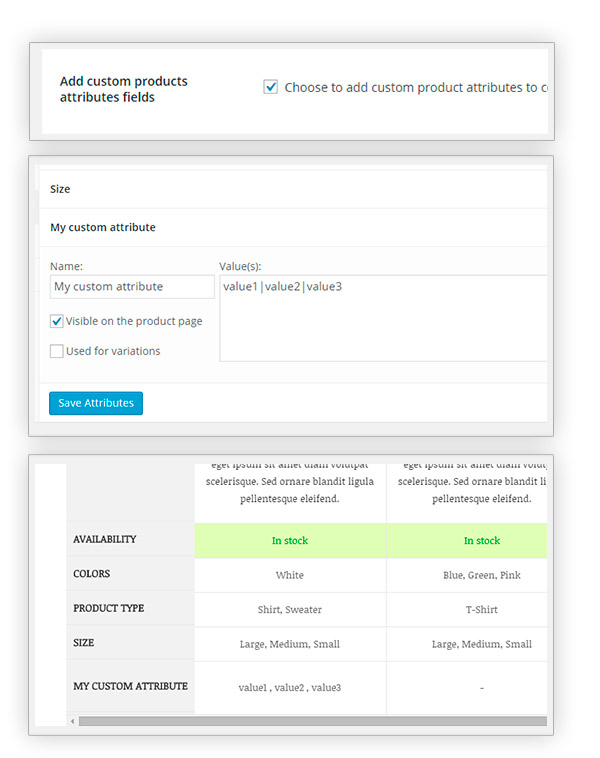 Creare una tabella con i prodotti che vuoi
Seleziona i prodotti e usa lo shortcode generato per inserire la tabella nella pagina che desideri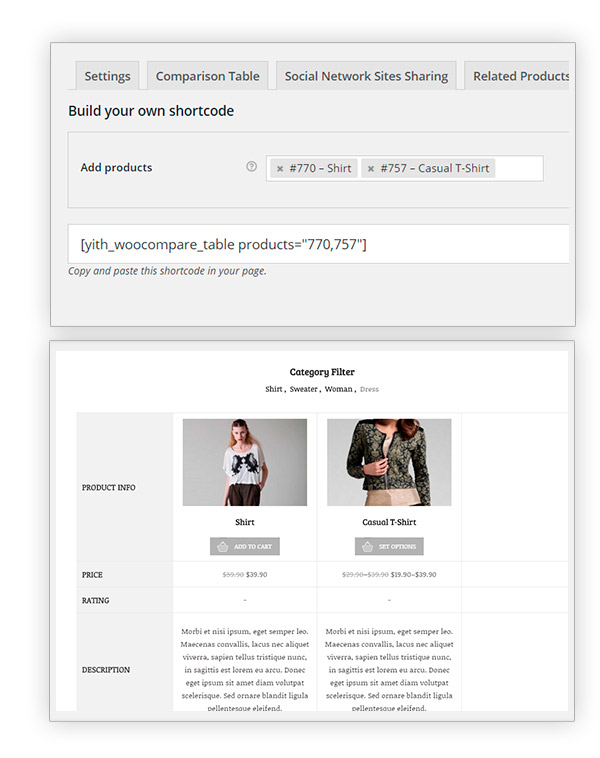 Mostrare l'elenco dei prodotti aggiunti alla tabella comparativa
Grazie al widget incluso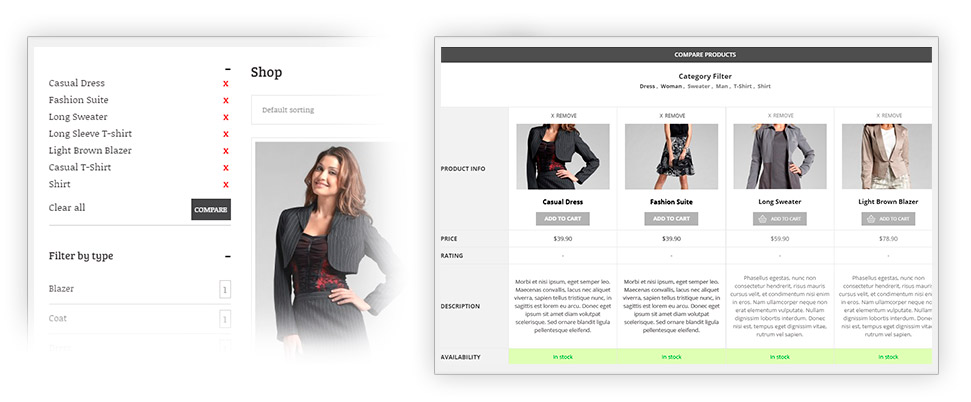 Mostrare un contatore dei prodotti aggiunti alla tabella
Con un comodo widget o lo shortcode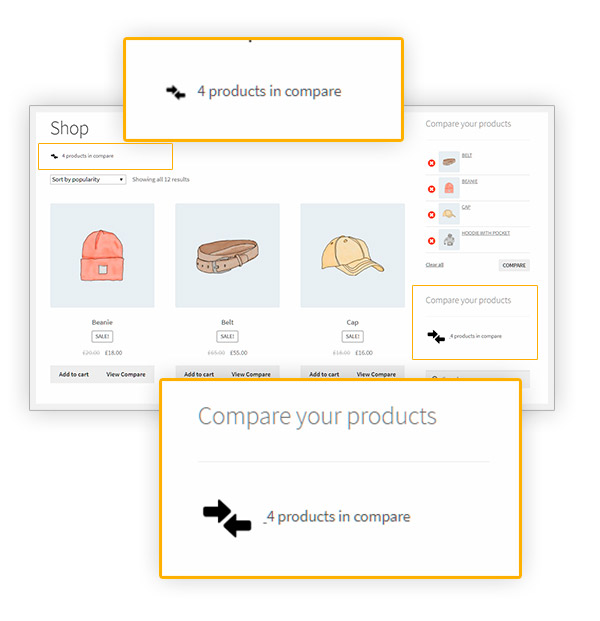 Sfruttare la compatibilità con WPML
Puoi tradurre facilmente il plugin con il potente strumento offerto da WPML