Haz tu vida más fácil y mejora la gestión de tus pedidos en unos pocos clics
La gestión de pedidos nunca ha sido tan eficiente: con un solo plugin, puedes hacer que la interfaz de tu sección "Pedidos" sea aún más intuitiva y puedas controlar simple y rápidamente el estado de las ventas de tu comercio electrónico.
Con el plugin YITH WooCommerce Custom Order Status puedes mejorar la apariencia y la usabilidad de tu página "Pedidos" para que la información más útil se vuelva aún más inmediata para los usuarios.
Además, también podrás acceder a funciones adicionales que te proporcionan un seguimiento avanzado de los pasos que van desde la compra de un artículo hasta la entrega a tus clientes.
Por ejemplo, podrás añadir etiquetas personalizadas (con colores personalizables, iconos y texto) para marcar los diferentes pasos del procesamiento de pedidos y tener una visión general inmediata de los pedidos actuales.
WooCommerce es ciertamente un plugin versátil, pero es una hecho que la gestión de pedidos puede resultar bastante caótica: nuestro plugin es la solución más efectiva para facilitarte la vida y darle a tu sección de administración una apariencia más funcional.
Versión:

1.23.0

Publicada:

2023-05-16

Versión mínima de PHP:

7.0

Requiere:

WordPress 6.0

and WooCommerce 7.5

Compatible hasta:

WordPress 6.2.x

and WooCommerce 7.7.x

Plugins multidioma compatibles:

WPML, Loco Translate

Traducción lista:

SÍ

Idiomas 100% garantizados por YITH:

English, Italian, Spanish

Idiomas proporcionados por usuarios:

French(100%), Dutch(100%)

Compatible con:

Tema YITH Proteo. Todos los plugins de YITH

Temas de terceros compatibles:

Avada, Divi, Flatsome, Neighborhood, Storefront, X

Cumple con RGPD:

No aplicable
CON
YITH CUSTOM ORDER STATUS

PUEDES:
Sobrescribir el estado de pedido de woocommerce
Personaliza los que quieres y gestiona tu tienda más fácilmente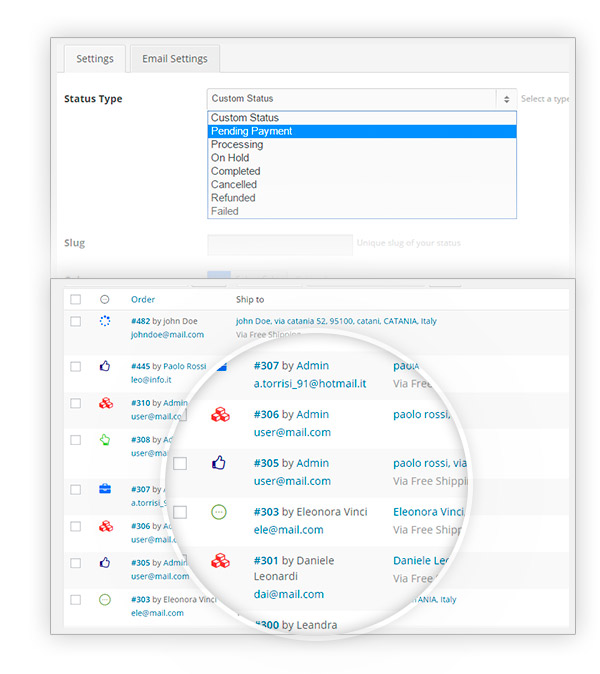 Utilizar iconos y etiquetas de identificación
Identificar los pedidos asignados a un estado específico más rápidamente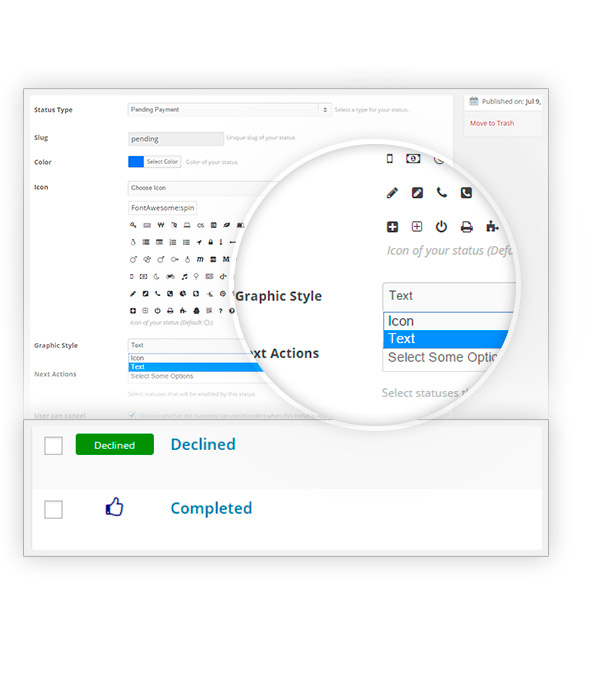 Controlar las acciones de tus pedidos
Establecer las siguientes acciones para un determinado estado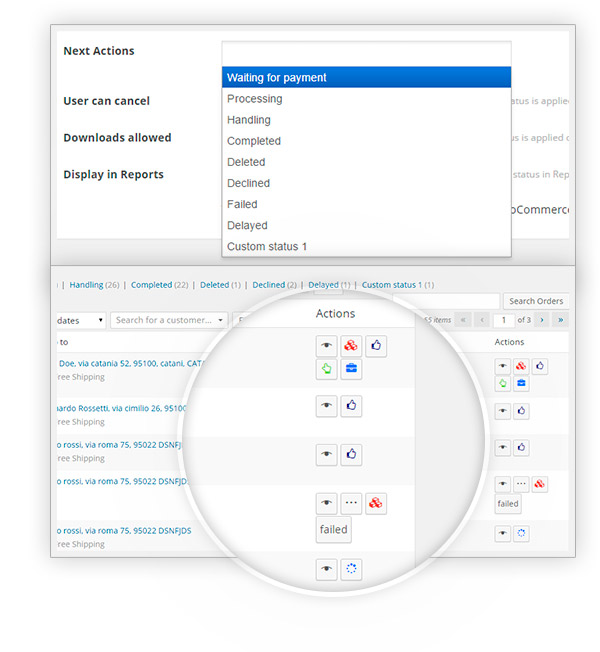 Dale más libertad de acción a tus usuarios
Permitiendo cancelar o pagar un pedido, o descargar posibles archivos vinculados.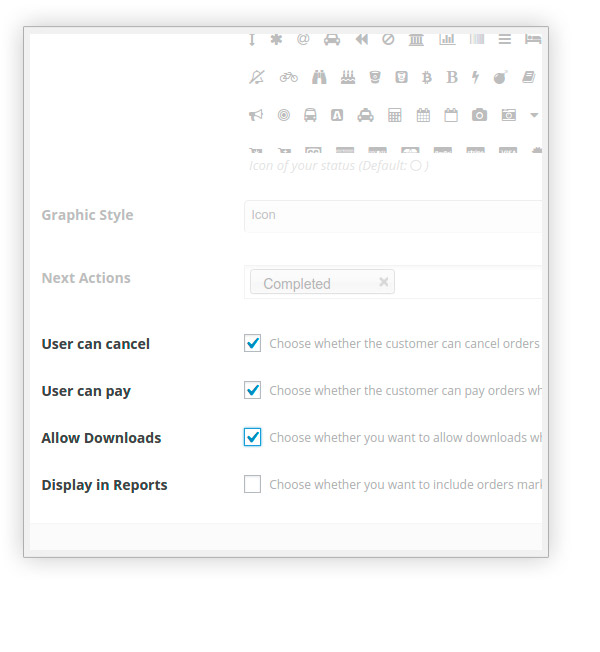 Localizar todos los pedidos
No solo los 'completados', a partir de ahora podrás incluir todos los demás estados en el informe.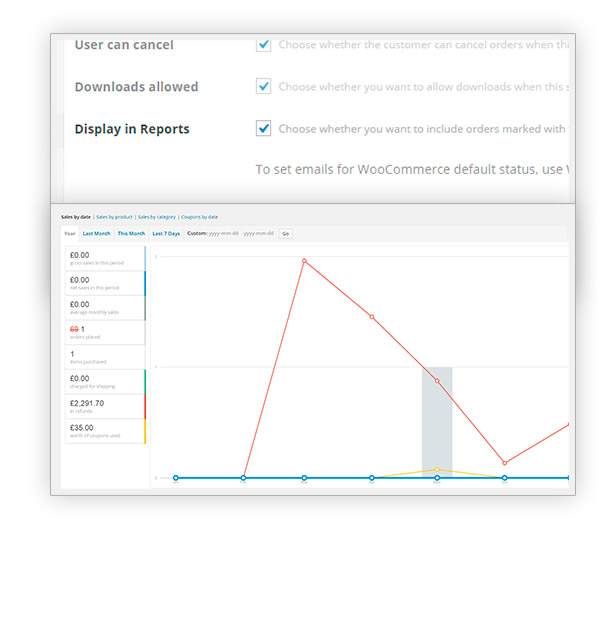 Enviar correos electrónicos para el estado del pedido personalizado
Configura los ajustes en la sección relacionada, y tu correo electrónico estará listo en pocos pasos.
Aprovecha la compatibilidad con WPML
Puedes traducir el plugin fácilmente con la potente herramienta de WPML