¡Un plugin para enviar correos electrónicos más bonitos, eficientes y funcionales!
Personaliza tus correos electrónicos con nuestras plantillas para darle un aspecto más profesional a los mensajes que recibirán tus clientes después del registro en tu sitio y después de la compra de un producto. Se crea una imagen positiva y eficiente incluso en los detalles y en cómo presentas los correos enviados a tus usuarios desde tu sitio: ¡No dejes nada al azar!
YITH WooCommerce Email Templates permite la personalización avanzada de los correos electrónicos estándar de WooCommerce (correos electrónicos de bienvenida después del registro y el correo electrónico de confirmación después de una compra) enviados a los usuarios de tu tienda.
Podrás agregar el logo de tu actividad, establecer colores y tipografía de forma fácil y rápida, para dar una coherencia gráfica entre el estilo de tu sitio y el correo electrónico que recibirán tus usuarios, y elegir uno de los ejemplos creados por nuestros diseñadores según tus necesidades.
Versión:

1.28.0

Publicada:

2023-09-19

Versión mínima de PHP:

7.0

Requiere:

WordPress 6.1

and WooCommerce 7.9

Compatible hasta:

WordPress 6.3.x

and WooCommerce 8.1.x

Plugins multidioma compatibles:

WPML, Loco Translate

Traducción lista:

SÍ

Idiomas 100% garantizados por YITH:

English, Italian, Spanish

Idiomas proporcionados por usuarios:

Dutch (100%), French (100%)

Compatible con:

Tema YITH Proteo. Todos los plugins de YITH

Temas de terceros compatibles:

Avada, Divi, Flatsome, Neighborhood, Storefront, X

Cumple con RGPD:

No aplicable
CON
YITH EMAIL TEMPLATES

PUEDES:
Asignar una plantilla a cada correo electrónico
También puedes cambiar textos y colores, para hacer tus comunicaciones únicas y con encanto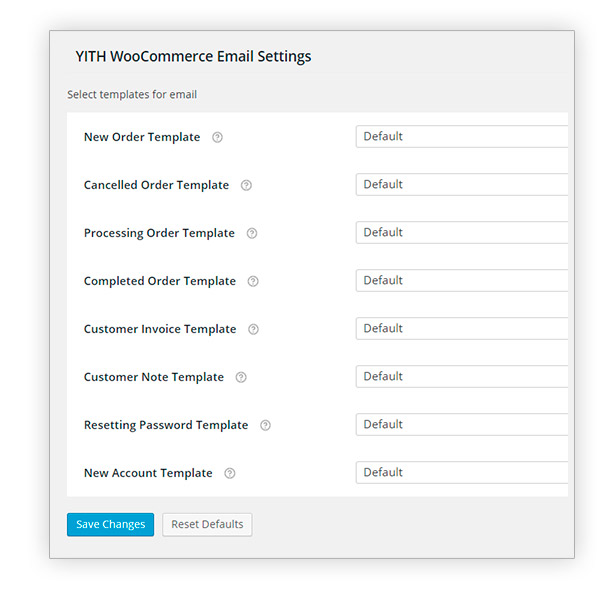 Usar 4 diseños diferentes
¡Una base sólida que puedes utilizar para crear tus plantillas personalizadas!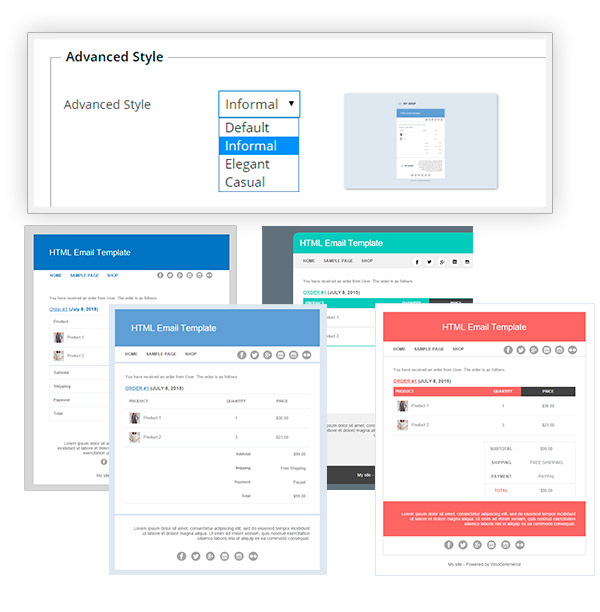 Dejar que tu imaginación vuele
Cambia los colores y la tipografía del contenido del correo electrónico, y usa la vista previa para entender si ese es el resultado que deseas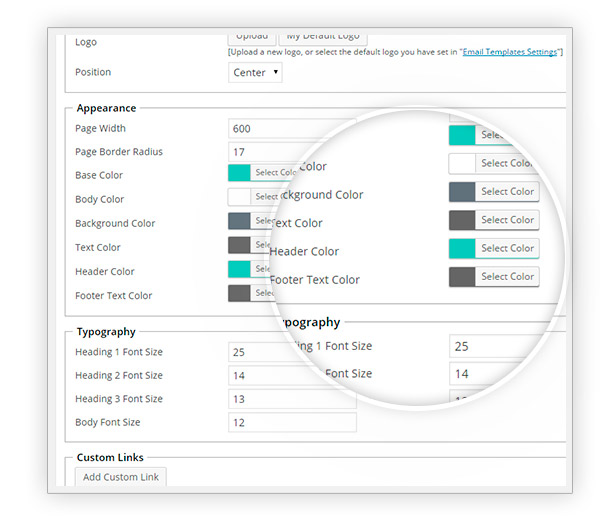 Añadir un menú en la cabecera del correo electrónico
Agrega las secciones en el menú que quieras y conéctalas con recursos útiles para tus usuarios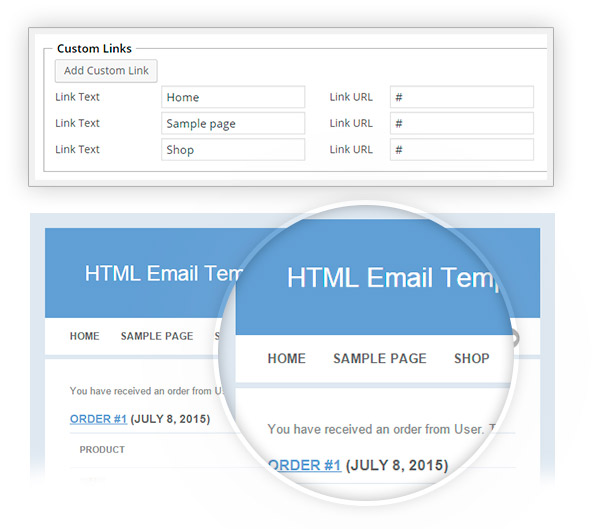 Insertar botones de redes sociales
¡Da a tus usuarios la libertad de poder acceder a tus redes sociales con un simple clic!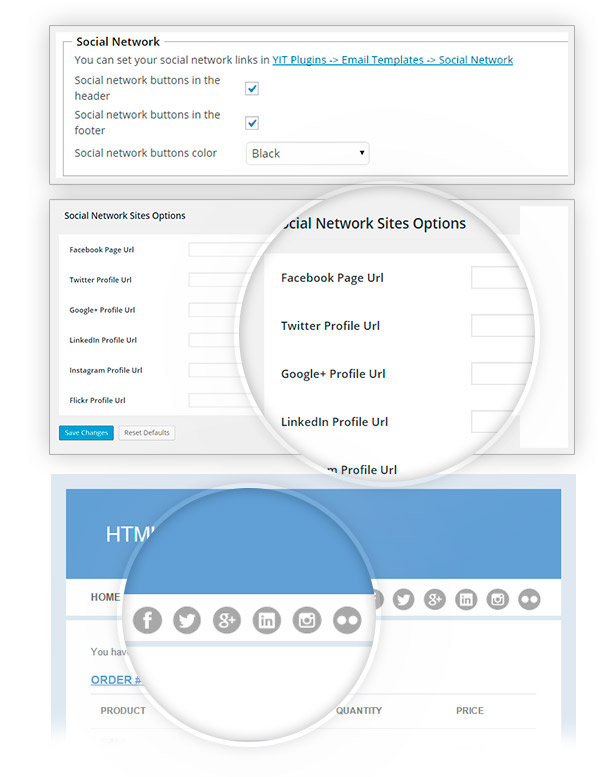 Personalizar el pie de página del correo electrónico
¡Escribe nuevos textos y añade el logotipo que deseas para que la plantilla cumpla tus necesidades!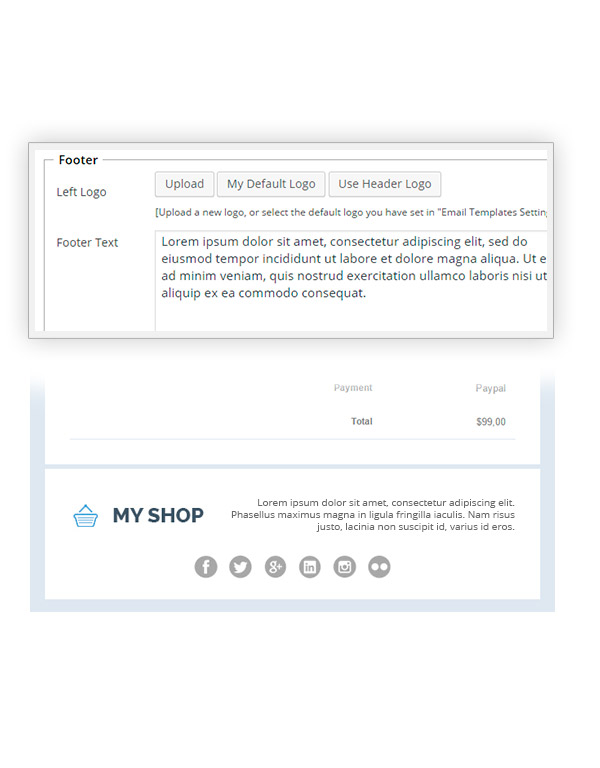 Aprovechar la compatibilidad con WPML
Puedes traducir el plugin fácilmente con la potente herramienta de WPML