Cumplir con la ley de la UE y mostrar las etiquetas de energía de tus productos
La Unión Europea ha puesto en práctica las nuevas normas sobre clasificación energética: para un mejor conocimiento y uso de los aparatos eléctricos, toda tienda online debe mostrar la clasificación energética de la UE en todos los productos. Esto implica que, tanto si tus clientes son de uno de los 28 países europeos, debes mostrar un esquema claro e informativo sobre el consumo energético de tus productos.
Cada propietario de un comercio electrónico debe conocer todas las leyes que se aplican. En el caso de las leyes europeas más recientes, esto se debe especialmente a la venta de electrodomésticos o productos con clasificación energética.
YITH WooCommerce EU Energy Label te ayuda a catalogar tus productos con las etiquetas necesarias
Además, el plugin ofrece la libertad de filtrar inmediatamente los productos de la misma categoría de energía, para permitir una navegación instantánea para tus usuarios. Por lo tanto, si necesitas cumplir con la legislación europea, hazlo utilizando un plugin fácil de configurar y rápido de usar.
Versión:

2.21.0

Publicada:

2023-05-15

Versión mínima de PHP:

7.0

Requiere:

WordPress 6.0

and WooCommerce 7.5

Compatible hasta:

WordPress 6.2.x

and WooCommerce 7.7.x

Plugins multidioma compatibles:

WPML, Loco Translate

Traducción lista:

SÍ

Idiomas 100% garantizados por YITH:

English, German, Italian, Spanish

Idiomas proporcionados por usuarios:

Dutch (100%), French (100%), German-Formal(100%)

Compatible con:

Tema YITH Proteo. Todos los plugins de YITH

Cumple con RGPD:

No aplicable
CON
YITH EU ENERGY LABEL

PUEDES:
Filtrar productos fácilmente
Un clic en la etiqueta es suficiente para mostrar todos los productos de la misma clase de energía.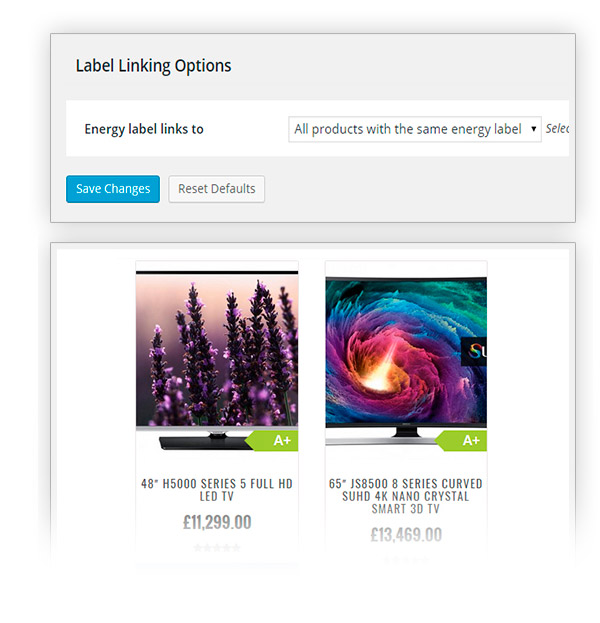 Redirige a tus clientes
Añadir una url personalizada en la etiqueta y redirigir a tus usuarios a los contenidos que crees que son los mejores para ellos.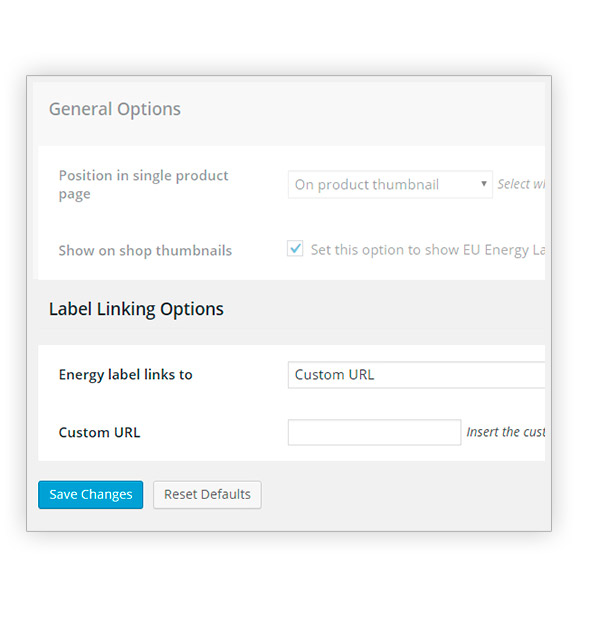 Añadir una nota informativa
Aprovecha el espacio adicional para añadir más información sobre tus productos.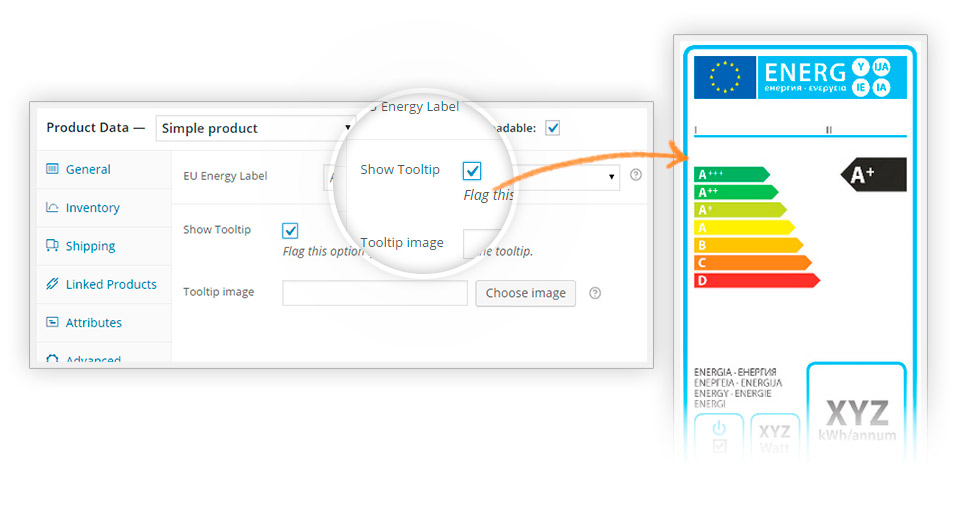 Aprovechar la compatibilidad con WPML
Puedes traducir el plugin fácilmente con la potente herramienta de WPML