Estás a un paso de llegar a evolucionar estos inconvenientes como la mejor estrategia de la web
¿Te sientes un poco incómodo al compartir los datos de administración de tu tienda con colaboradores o clientes?
Desafortunadamente, no podemos desear poder hacerlo todo por nosotros mismos, por lo que sentimos la necesidad de estar con alguien que pueda realizar acciones específicas, como subir o editar productos, y así permitirnos tener más tiempo disponible para tareas más importantes.
Pero otorgar acceso al área de administración de tu tienda viene con 2 problemas posibles que no debes subestimar.
La primera es dejar a tu colaborador solo en un área importante de tu negocio a la que desearías que otros no tuvieran acceso para evitar que puedan ver información privada que no les concierne.
El segundo problema es que, en la mayoría de los casos, los colaboradores no son muy hábiles en el uso de WooCommerce y esto puede generar una gran cantidad de tiempo en capacitación constante, lo que puede causar el mismo tipo de preocupación.
Sería fantástico si nuestros colaboradores pudieran añadir y editar productos sin tener que acceder al área de administración, y también sería fantástico si pudieran realizar todas esas acciones específicas a través de la portada de nuestra tienda, ¿no crees?
YITH WooCommerce Frontend Manager ofrece la mejor y más fácil solución para este problema, permitiendo a quien quieras que sea capaz de realizar operaciones delicadas sin tener que acceder al área de administración y limitando los errores, lo que te hará trabajar más rápido.
Y gracias a la compatibilidad con nuestro plugin YITH WooCommerce Multi Vendor tienes la oportunidad de extender estas funciones a cada vendedor individual y hacer que la administración de grandes mercados sea mucho más fácil.
Versión:

1.21.1

Publicada:

2022-11-07

Versión mínima de PHP:

7.0

Requiere:

WordPress 5.8

and WooCommerce 6.8

Compatible hasta:

WordPress 6.1.x

and WooCommerce 7.1

Plugins multidioma compatibles:

WPML, Weglot, Loco Translate

Traducción lista:

SÍ

Idiomas 100% garantizados por YITH:

English, Italian, Spanish, Dutch

Idiomas proporcionados por usuarios:

German (99%), French (99%), Dutch (100%)

Compatible con:

Tema YITH Proteo.Todos los plugins de YITH

Temas de terceros compatibles:

Avada, Flatsome

Cumple con RGPD:

No aplicable
CON
YITH FRONTEND MANAGER

PUEDES:
Habilitar la gestión de portada de tienda en tu sitio
Gracias a un panel de portada accesible por los administradores de la tienda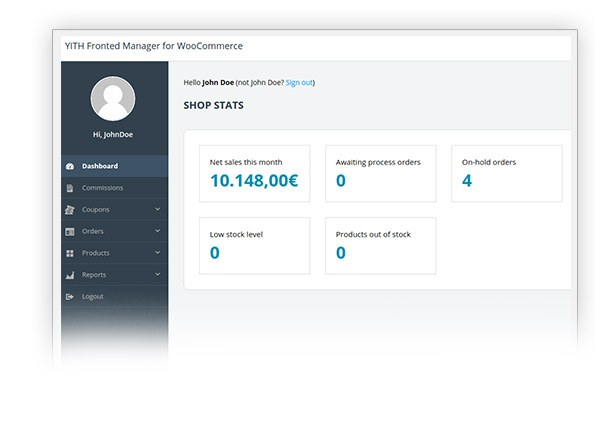 Evitar que todos los administradores de la tienda tengan acceso al backend
La tienda puede ser administrada desde el panel de frontend solamente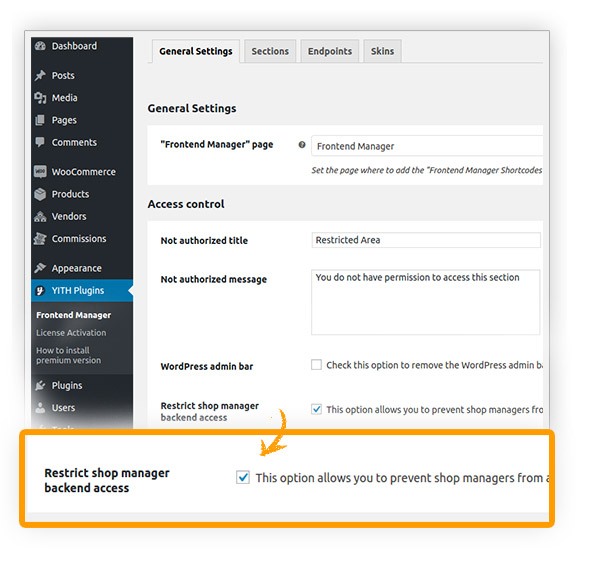 Elegir las secciones de la tienda para habilitar en el frontend
Comisiones, Cupones, Panel, Pedidos, Productos, Informes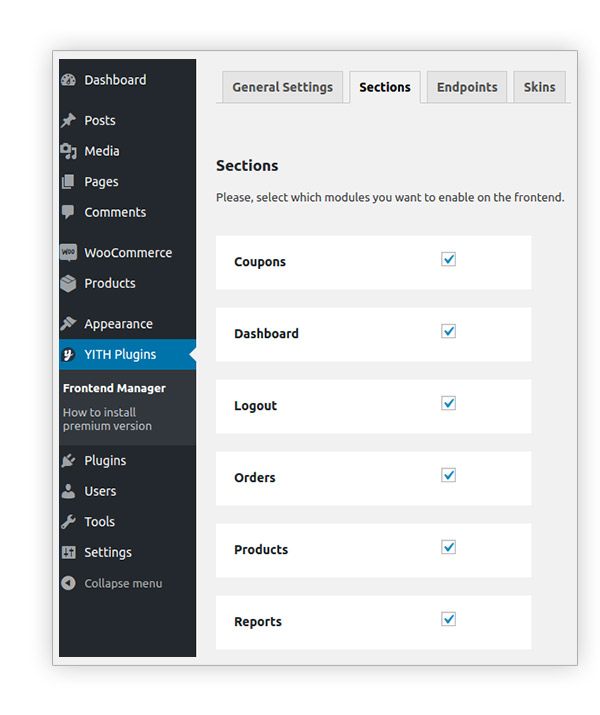 Gestionar el acceso no autorizado
Mostrando un mensaje personalizado cuando el usuario trata de acceder a una sección restringida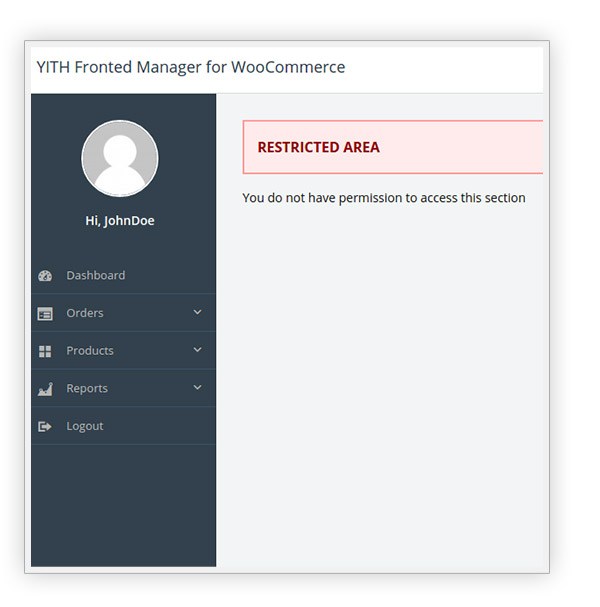 Activar la barra de administración de WordPress
Para los administradores de la tienda que acceden a la página del "Administrador de Frontend"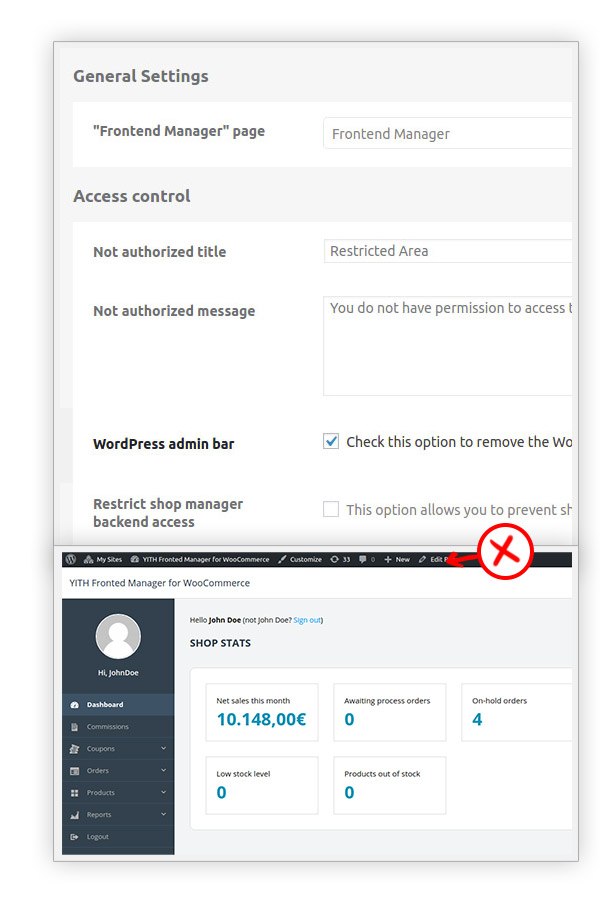 Editar los endpoints de cada sección
Desde el panel de configuración del plugin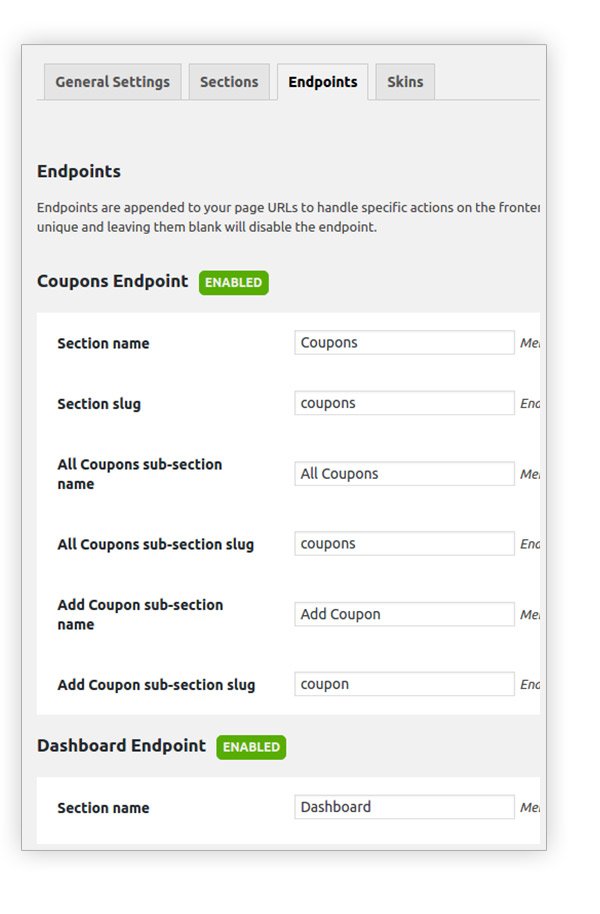 Elegir el estilo a usar en el panel
Seleccionando la mejor solución según tus necesidades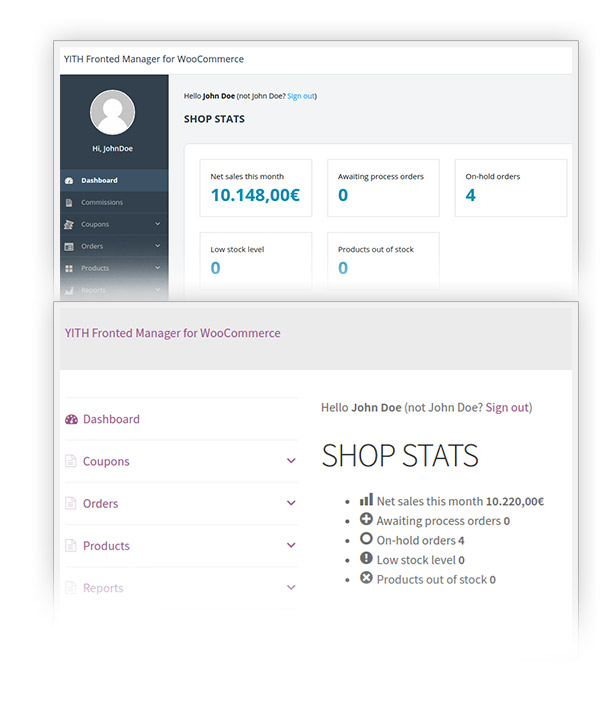 Acceder al escritorio de frontend a través de las entradas del menú
Ambos disponibles en la barra de WordPress y en la página de Mi Cuenta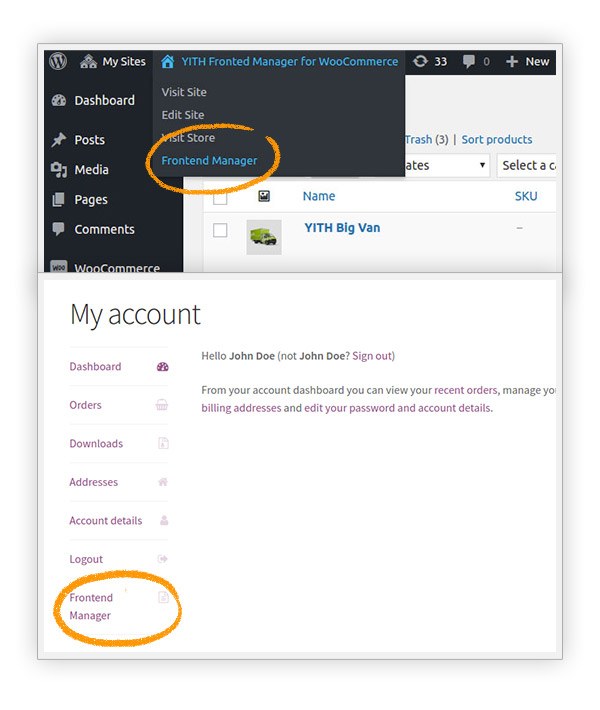 USANDO EL PLUGIN EN COMBINACIÓN CON
MULTI VENDOR

PUEDES:
Habilitar a todos los vendedores para que accedan al panel de frontend
Una gestión avanzada con un gráfico profesional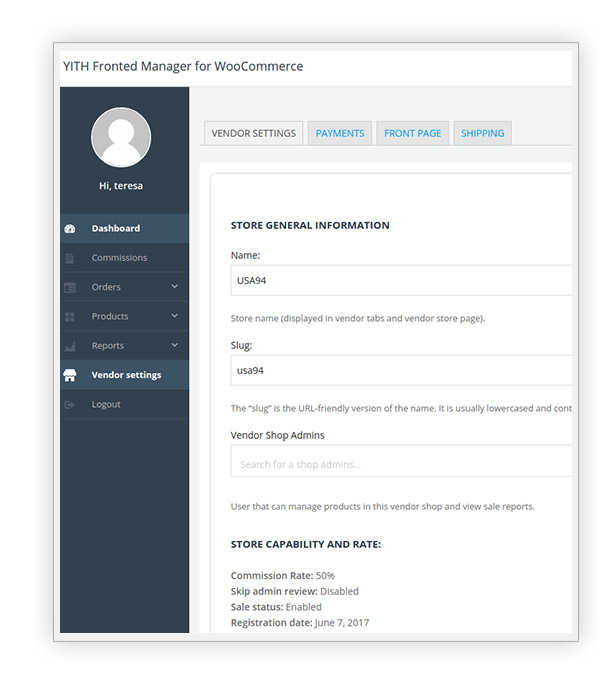 Elegir las secciones a habilitar para los vendedores
Las secciones no autorizadas no se mostrarán en el panel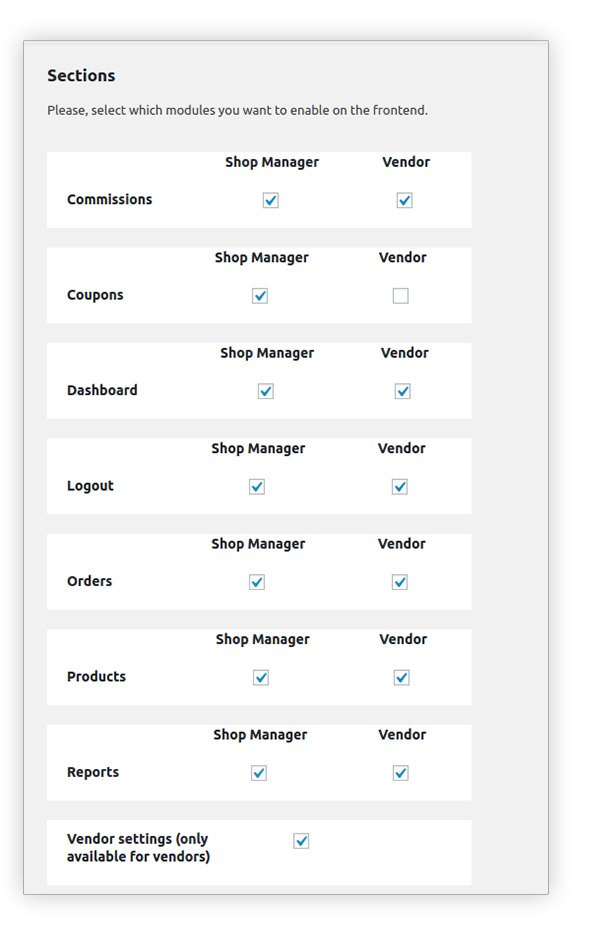 Evitar que todos los vendedores accedan al panel de WordPress
Podrían gestionar la tienda solamente desde el panel de frontend