Descubre ahora cuánto pagarán tus usuarios por su producto favorito
Se trata de leyes de mercado y psicología: los clientes satisfechos necesitan "devolver" el servicio o el producto que les hizo felices.
Pueden hacerlo con una donación, o tal vez, pagando algo más por el próximo producto que van a comprar.
Pongamos un ejemplo: vendes un libro electrónico que cuesta dieciséis dólares, pero también ofreces a tus usuarios que apoyen tu negocio añadiendo más dólares, porque tus productos han mejorado su vida en el pasado.
Según las estadísticas, al menos 10 clientes de cada 100 pagarán más del precio solicitado, redondeando el precio del producto a veinte dólares: no está mal, ¿verdad?
Los sitios como Priceline han creado un negocio con esta idea y aprovechan el poder del sistema de venta en función de cuánto estén dispuestos a pagar los usuarios para satisfacer sus necesidades.
Con YITH WooCommerce Name Your Price, ofrecerás a tus usuarios la libertad de elegir un precio, a fin de comprender el precio real del mercado, o simplemente tener un enfoque diferente de las ventas. El plugin te ofrece también la opción de sugerir un precio ideal para los usuarios y establecer un precio mínimo y máximo para tus productos.
Versión:

1.27.0

Publicada:

2023-09-13

Versión mínima de PHP:

7.0

Requiere:

WordPress 6.1

and WooCommerce 7.9

Compatible hasta:

WordPress 6.3.x

and WooCommerce 8.1.x

Plugins multidioma compatibles:

WPML

Traducción lista:

SÍ

Idiomas 100% garantizados por YITH:

English, Italian, Spanish

Idiomas proporcionados por usuarios:

Dutch (100%)

Compatible con:

Tema YITH Proteo. Todos los plugins de YITH excepto: YITH WooCommerce Deposits and Down Payments, YITH Donations for WooCommerce, YITH WooCommerce Role Based Prices

Temas de terceros compatibles:

Avada, Divi, Flatsome, Neighborhood, Storefront, X

Plugins de terceros compatibles:

Aelia Currency Switcher

Cumple con RGPD:

No aplicable
CON
YITH NAME YOUR PRICE

PUEDES:
Ofrecer un precio abierto para todos tus productos
No solo productos individuales, sino también variaciones y productos agrupados.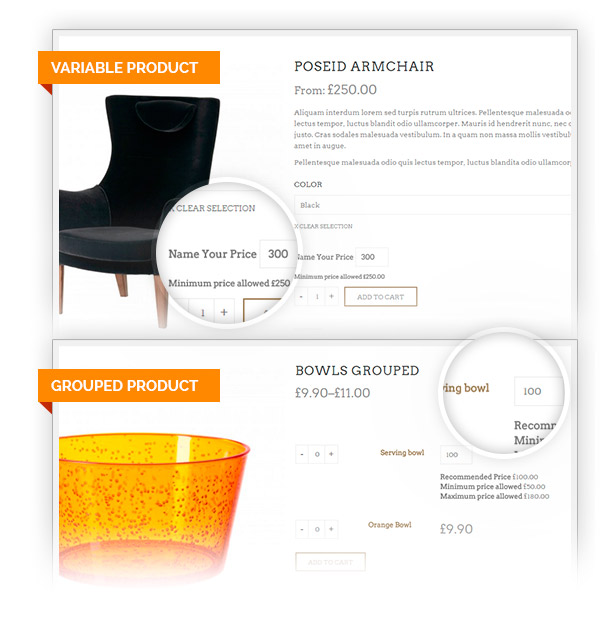 Sugerir un precio
Aparecerá en la página de detalles de los productos.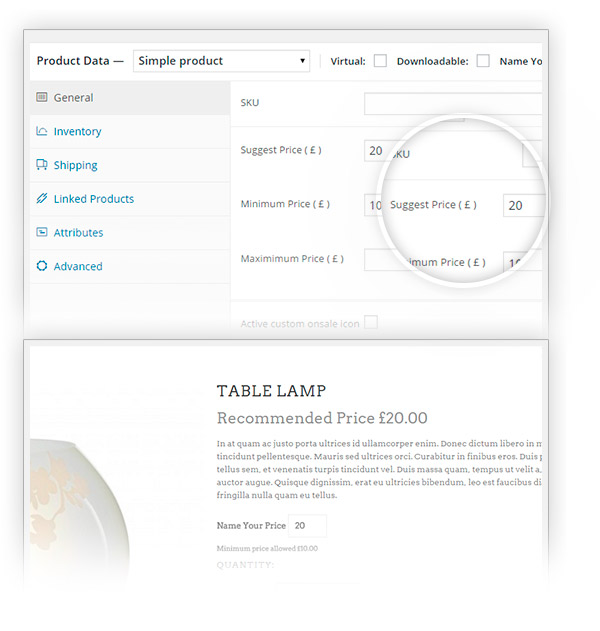 Establecer un precio mínimo y máximo
¡Evita las compras sin coste!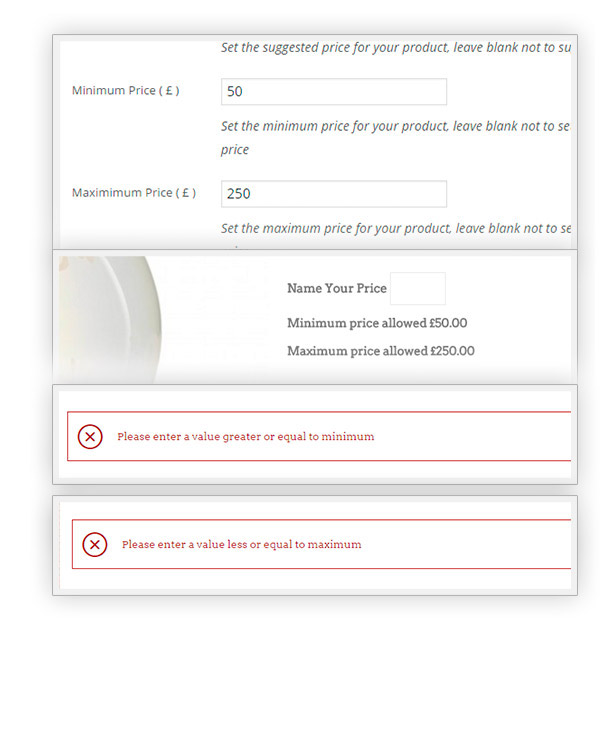 Cambiar las reglas de la categoría
Un solo paso para evitar el cambio manual de cada producto.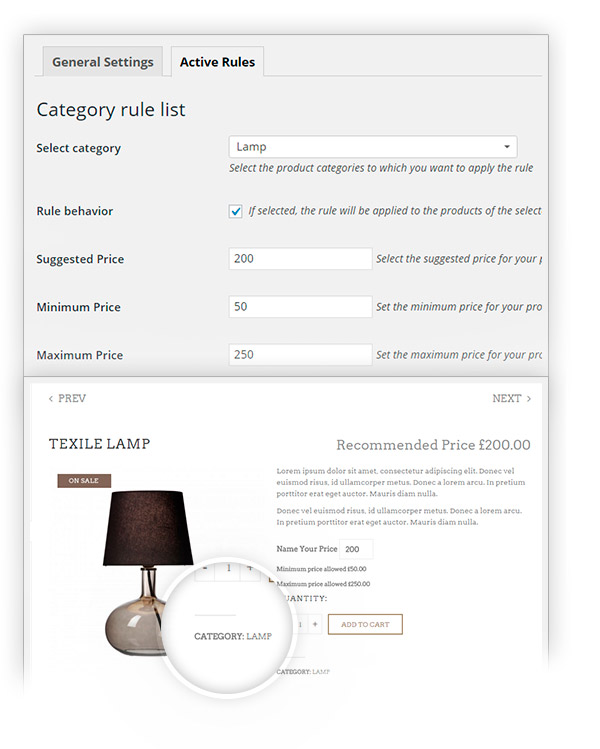 Personalizar cada etiqueta y mensaje
Tendrás el control completo de tu sitio..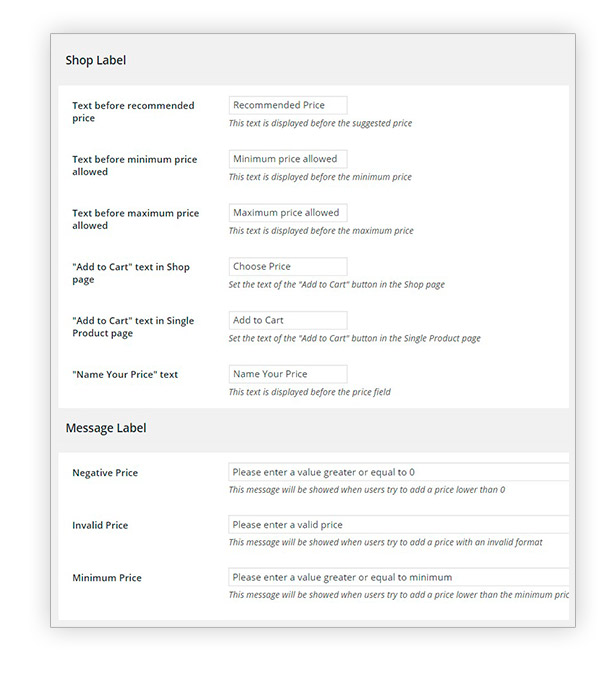 Beneficiarte de la compatibilidad con los plugins de YITH
Por ejemplo, Multi Vendor ofrece nuevas soluciones para una mejor experiencia.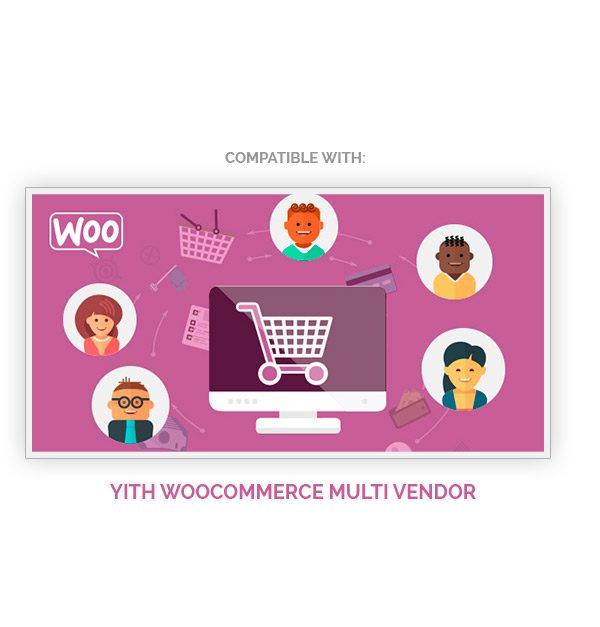 Aprovecha la compatibilidad con WPML
Podrás traducir el plugin fácilmente gracias a la potente herramienta de WPML