Scopri subito quanto i tuoi utenti sarebbero disposti a pagare per il loro prodotto preferito
È una questione di leggi di mercato e psicologia: i clienti soddisfatti sentono il bisogno di "ripagare" in qualche modo il servizio o il prodotto che li ha appagati. Possono farlo con una donazione o magari pagando qualcosa in più per il prossimo prodotto che intendono acquistare.
Facciamo un esempio: vendi un ebook che costa sedici euro, ma offri anche ai tuoi utenti la possibilità di sostenere il tuo business aggiungendo qualche euro in più, perché in passato i tuoi prodotti hanno migliorato la loro vita.
Secondo le statistiche, almeno 10 clienti su 100 pagheranno più di quanto richiesto, arrotondando il prezzo del prodotto a venti euro: non male, vero?
Siti come Priceline hanno creato un intero business proprio su questo concetto, sfruttando la potenza del sistema vendite e su quanto un utente è disposto a pagare per soddisfare i propri bisogni.
Con YITH WooCommerce Name Your Price potrai far decidere il prezzo dei prodotti ai tuoi utenti, così da poter capire qual è il vero prezzo di mercato o semplicemente avere un approccio differente alla vendita. Il plugin ti permette anche di suggerire il prezzo ideale all'utente e di impostare un prezzo minimo ed uno massimo per i tuoi prodotti.
Versione:

1.23.0

Rilasciata il:

2023-05-09

Versione minima di PHP:

7.0

Requisiti minimi:

WordPress 6.0

and WooCommerce 7.5

Compatibile con:

WordPress 6.2.x

and WooCommerce 7.7.x

Plugin multilingua supportati:

WPML

File di lingua inclusi:

SÌ

Lingue garantite al 100% da YITH:

English, Italian, Spanish

Traduzioni degli utenti:

Dutch (100%)

Supporta:

Il tema YITH Proteo. Tutti i plugin YITH eccetto: YITH WooCommerce Deposits and Down Payments, YITH Donations for WooCommerce, YITH WooCommerce Role Based Prices

Temi di terzi supportati:

Avada, Divi, Flatsome, Neighborhood, Storefront, X

Plugin di terzi supportati:

Aelia Currency Switcher

Conforme al GDPR:

Non applicabile a questo prodotto
CON
YITH NAME YOUR PRICE

PUOI:
Offrire un prezzo libero per tutti i tuoi prodotti
Non solo i singoli prodotti ma anche le variazioni e i prodotti raggruppati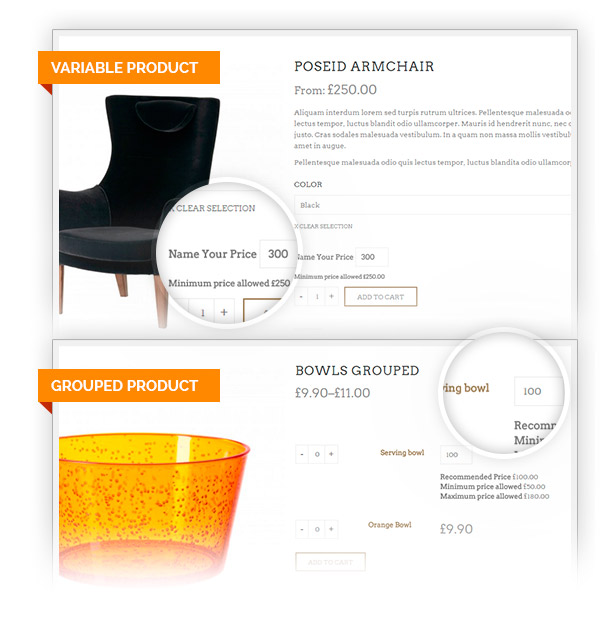 Suggerire un prezzo
Comparirà nella pagina di dettaglio dei prodotti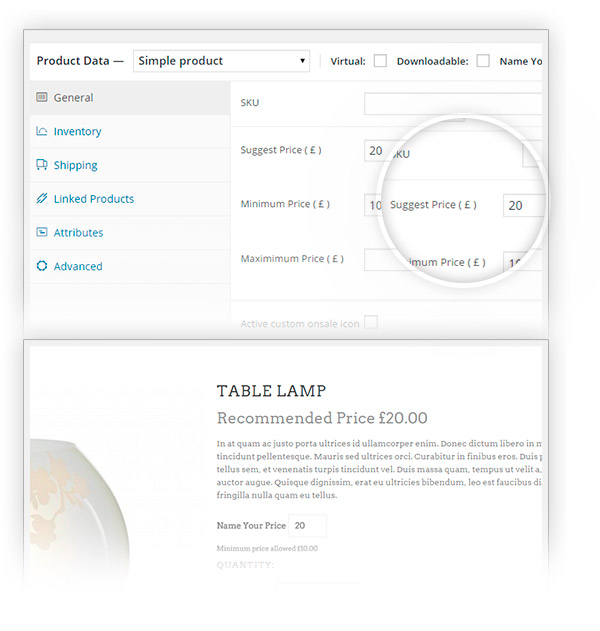 Impostare un prezzo minimo e massimo
Per prevenire acquisti gratuiti!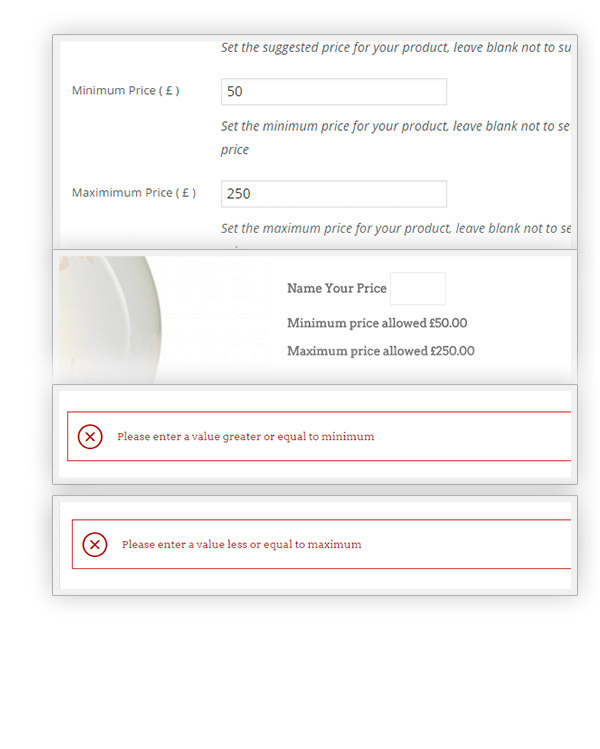 Cambiare le regole categoria
Per evitare di cambiare ogni singolo prodotto manualmente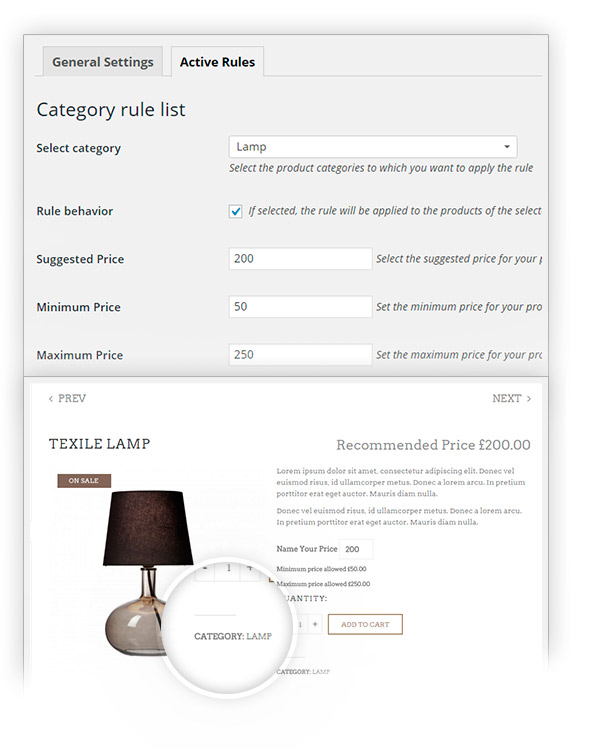 Personalizzare ogni etichetta e messaggio
Per avere pieno controllo su tutti i testi nel tuo sito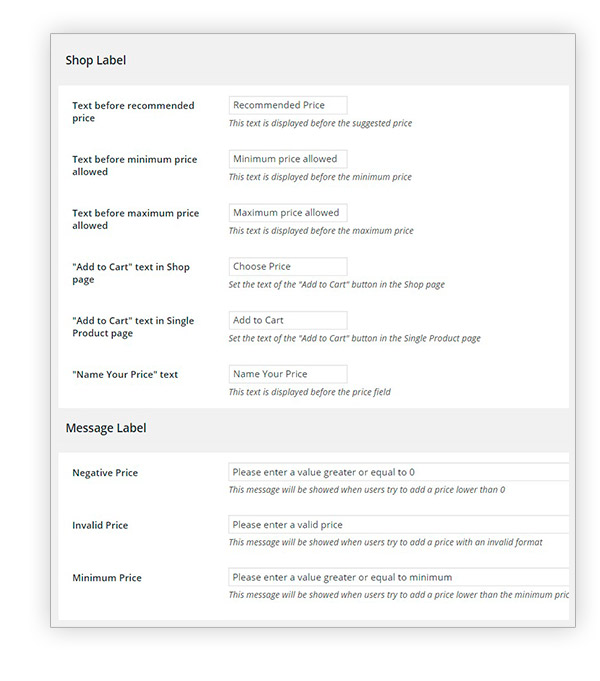 Approfittare della compatibilità con i plugin YITH
Ad esempio, Multi Vendor per offrire nuove soluzioni per un'esperienza migliore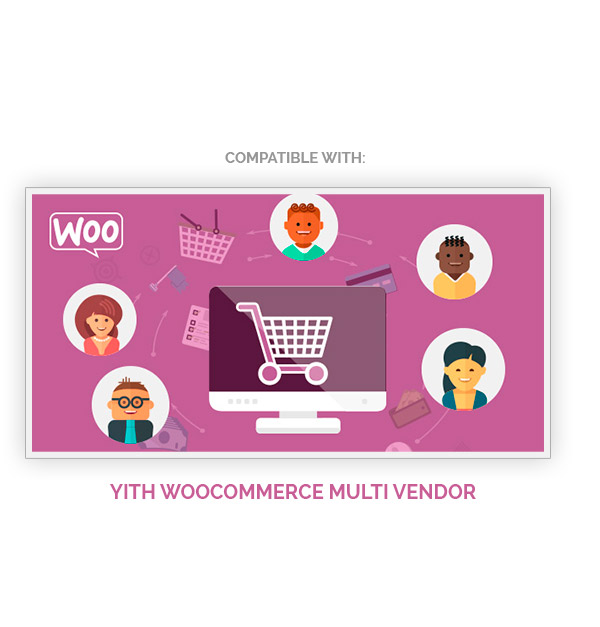 Approfittare della compatibilità con WPML
Puoi facilmente tradurre il plugin con il potente strumento per siti multilingua