Aumenta las ventas de tu sitio facilitando las próximas compras
La manera más fácil y eficiente de dejar que tus clientes administren los productos de su carrito: gracias a YITH WooCommerce Save for Later, si tus clientes deciden posponer sus compras para más adelante, siempre serán libres de eliminar productos del carrito y moverse en una lista específica disponible en la misma página.
Quien normalmente compra en línea lo sabe bien: hay que gastar mucho tiempo en un sitio de comercio electrónico, analizando las pestañas de los productos en busca de los más aptos para nuestras necesidades, leer críticas y comparar precios para añadir productos "perfectos" al carrito. Aquí es cuando sucede lo inesperado: tal vez no tengas fondos suficientes, o tal vez quieras pensar en ello antes de comprar. Por lo tanto, quitas los productos de tu carrito y, en unos segundos, pierdes todo el tiempo invertido en la selección adecuada.
Buscar de nuevo en toda la tienda los productos que te interesan será tan frustrante que pospondrás la selección a otro momento. Los días pasarán y simplemente olvidarás ese artículo en particular que querías comprar.
Quizás lo compres en otro lugar, o tal vez decidas que ya no lo necesitas. Cualquiera que sea el motivo, el resultado es el mismo: todos los productos eliminados del carrito se pierden.
Gracias a nuestro plugin, los productos retirados del carrito y "guardados para más tarde" estarán siempre visibles en la misma página y se podrán comprar en cualquier otro momento con un solo clic, sin la necesidad de que tus clientes vuelvan a buscar en toda la tienda, seleccionando tipo, tamaño, color, etc.
Cada vez que añaden un producto al carrito, incluso después de algunos meses, los productos guardados siempre estarán visibles y lo alentarán a comprar. Un verdadero recordatorio, una "llamada a la acción" ineludible que puede aumentar considerablemente la tasa de conversión de tu comercio electrónico.
Versión:

1.27.0

Publicada:

2023-09-08

Versión mínima de PHP:

7.0

Requiere:

WordPress 6.1

and WooCommerce 7.9

Compatible hasta:

WordPress 6.3.x

and WooCommerce 8.1.x

Plugins multidioma compatibles:

WPML

Traducción lista:

SÍ

Idiomas 100% garantizados por YITH:

English, Italian, Spanish

Idiomas proporcionados por usuarios:

Dutch (100%)

Compatible con:

Tema YITH Proteo. Todos los plugins de YITH

Temas de terceros compatibles:

Avada, Divi, Flatsome, Neighborhood, Storefront, X

Cumple con RGPD:

Sí
CON
YITH SAVE CART FOR BUY LATER

PUEDES:
Mostrar un enlace a la página "Guardar para más tarde" en cada producto
Dale a tus usuarios la posibilidad de añadir productos a la sección "Guardar para más tarde" en la página del carrito y recuperarlos en el momento en el que que abran la página del carrito sin volverse locos para encontrarlos de nuevo en la tienda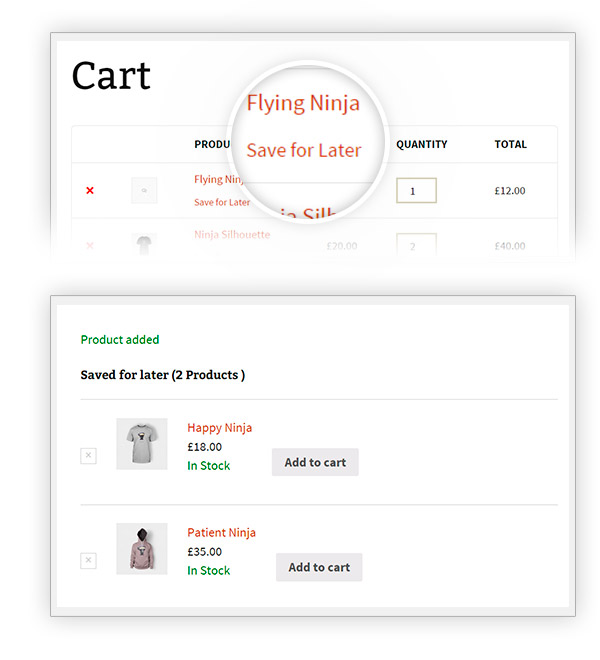 Mostrar un enlace de "Añadir a la Lista de deseos" para agregar productos a la Lista de deseos
Dale a los usuarios de listas de deseos la posibilidad adicional de añadir productos también a su lista de deseos con un simple gesto
Añadir variaciones de producto
¡Puedes agregar cualquier tipo de producto a la lista, ya sea un producto único o una variación!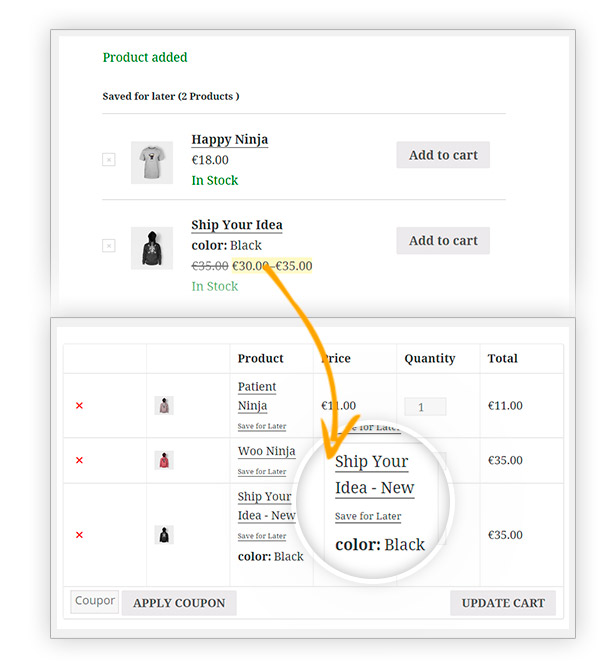 Añadir fácilmente productos a tu carrito desde la nueva lista
Una transferencia rápida para simplificar el proceso de compra de tus clientes.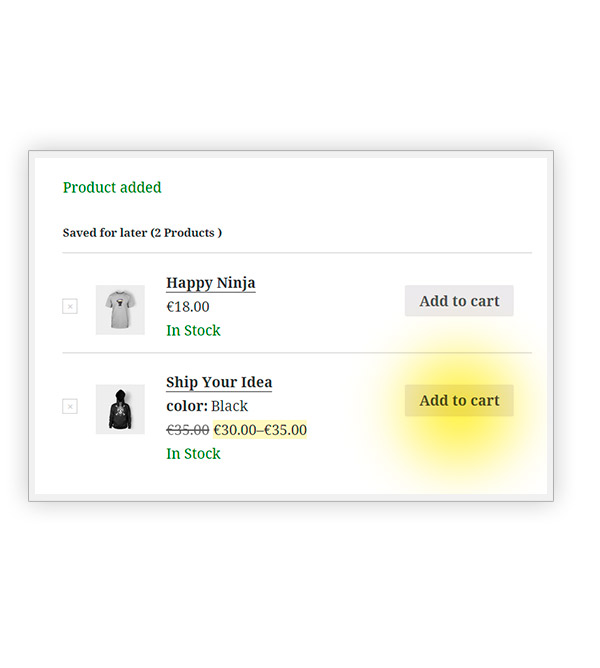 Aprovechar la compatibilidad con WPML
Podrás traducir el plugin fácilmente gracias a la potente herramienta de WPML