Aumenta le vendite agevolando gli acquisti futuri
Il modo più semplice ed efficace per permettere ai tuoi clienti di gestire i prodotti presenti nel carrello: grazie a YITH WooCommerce Save for Later, nel caso decidessero di rimandare l'acquisto ad un secondo momento, potranno infatti rimuovere i prodotti dal carrello e spostarli in una specifica lista posta all'interno della stessa pagina.
Chi compra abitualmente online lo sa bene: si passa molto tempo su un e-commerce, analizzando le schede dei prodotti alla ricerca di quello che più si adatta alle nostre esigenze, leggendone le recensioni e confrontando i prezzi, per poi aggiungere al carrello i prodotti "perfetti". Ed ecco l'imprevisto: magari non abbiamo abbastanza fondi sulla carta di credito, o forse vogliamo semplicemente rifletterci un po' prima di procedere con l'acquisto. Rimuoviamo quindi i prodotti dal carrello e in pochi secondi perdiamo tutto il meticoloso lavoro di selezione svolto.
È talmente frustrante dover cercare di nuovo all'interno dell'intero shop i prodotti che ci interessano che rimandiamo il tutto a un secondo momento. Passano i giorni e, semplicemente, ci dimentichiamo di quell'oggetto che volevamo comprare.
Magari lo acquistiamo altrove, o forse decidiamo di farne a meno. Qualunque sia il motivo, il risultato non cambia: i prodotti rimossi dal carrello sono vendite mancate.
Grazie al nostro plugin i prodotti rimossi dal carrello e "salvati per dopo" rimarranno sempre visibili nella stessa pagina e potranno essere acquistati in qualsiasi momento con un semplice clic, senza che il tuo cliente debba nuovamente cercarli nello shop, selezionare modello, taglia, colore e quant'altro.
E ogni volta che aggiungerà un prodotto al carrello, anche dopo mesi, i prodotti salvati saranno sempre visibili e invoglieranno l'utente all'acquisto. Un vero e proprio promemoria, una "call to action" impossibile da non notare e che può aumentare sensibilmente le conversioni del tuo e-commerce.
Versione:

1.27.0

Rilasciata il:

2023-09-08

Versione minima di PHP:

7.0

Requisiti minimi:

WordPress 6.1

and WooCommerce 7.9

Compatibile con:

WordPress 6.3.x

and WooCommerce 8.1.x

Plugin multilingua supportati:

WPML

File di lingua inclusi:

SÌ

Lingue garantite al 100% da YITH:

English, Italian, Spanish

Traduzioni degli utenti:

Dutch (100%)

Supporta:

Il tema YITH Proteo. Tutti i plugin YITH.

Temi di terzi supportati:

Avada, Divi, Flatsome, Neighborhood, Storefront, X

Conforme al GDPR:

Sì
CON
YITH SAVE CART FOR BUY LATER

PUOI:
Mostrare un link alla pagina "Salva per dopo" per ogni prodotto
Offri ai tuoi utenti la possibilità di aggiungere i prodotti alla sezione "Salva per dopo" per poterli recuperare in qualsiasi momento dalla pagina carrello senza dover impazzire a cercarli nello shop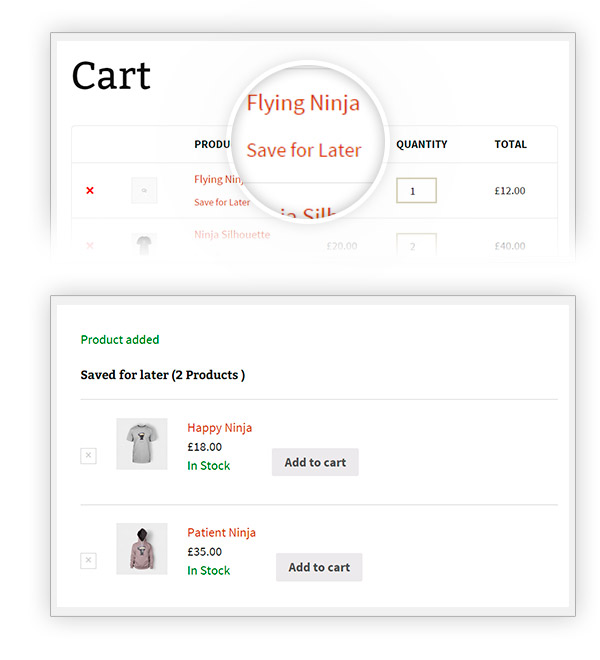 Mostrare un link "Aggiungi alla lista dei desideri" per aggiungere i prodotti alla lista
Permetti agli utenti che usano YITH Wishlist di aggiungere questi prodotti anche alla loro lista dei desideri con un semplice gesto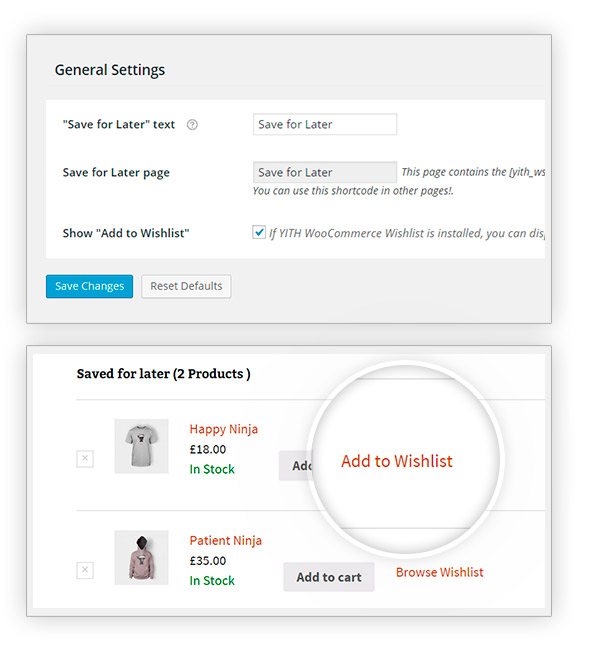 Aggiungere le singole variazioni dei prodotti
Puoi aggiungere qualsiasi tipo di prodotto al tuo elenco, che sia un singolo prodotto o una variazione!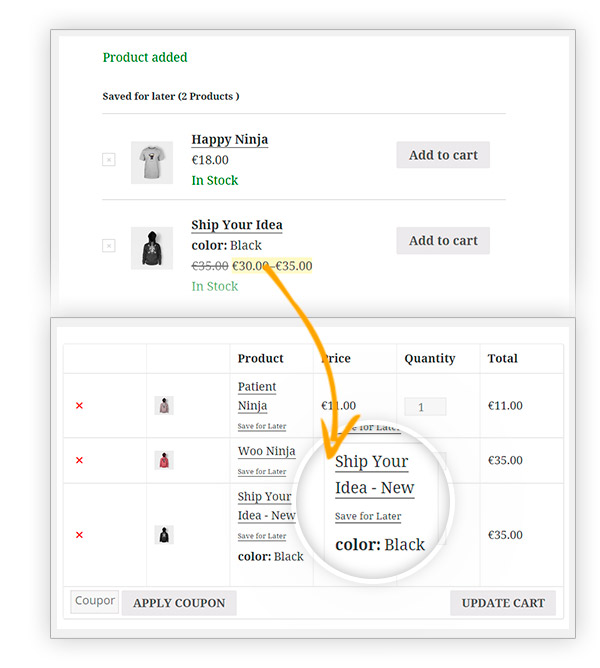 Aggiungere facilmente i prodotti al carrello dalla nuova lista
Un passaggio rapido per semplificare il processo di acquisto dei tuoi clienti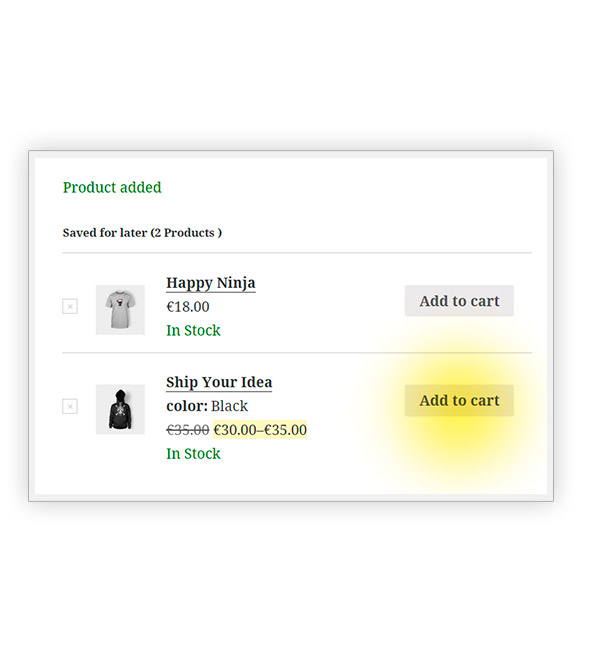 Approfittare della compatibilità con WPML
Puoi facilmente tradurre il plugin con il potente strumento per siti multilingua