Haz que tus clientes sean felices obteniendo visibilidad
En la era de las redes sociales, la palabra clave es «compartir»: una acción simple e inmediata que brinda exposición. Por lo tanto, ¿por qué no te aprovechas de ser promocionado? Con YITH WooCommerce Share For Discounts, tus clientes estarán encantados de darte a conocer en sus perfiles de redes sociales porque a cambio de su bondad, podrías ofrecerles un código de descuento para realizar compras en tu sitio.
El sistema de compartir es simple: un solo clic es suficiente para publicar en tu perfil la página que estás viendo. Por lo tanto, si tus clientes se animaran a publicar las páginas de tu sitio de comercio electrónico en sus perfiles, tu exposición aumentaría enormemente, atrayendo a más personas sin ningún esfuerzo.
Entonces, ¿cómo podrías obtener esta ventaja? YITH WooCommerce Share For Discounts tiene una solución ganadora para cualquier persona: cada vez que se comparta una página, tus clientes se beneficiarán de un descuento aplicado a su carrito.
De esta forma, no solo fidelizarás a tus clientes recurrentes, o los nuevos adquiridos al compartir, sino que también tendrás usuarios más felices y dispuestos a compartir tus productos para comprar nuevos artículos!
Versión:

1.33.0

Publicada:

2023-09-14

Versión mínima de PHP:

7.0

Requiere:

WordPress 6.1

and WooCommerce 7.9

Compatible hasta:

WordPress 6.3.x

and WooCommerce 8.1.x

Plugins multidioma compatibles:

WPML, Weglot, Loco Translate

Traducción lista:

SÍ

Idiomas 100% garantizados por YITH:

English, Italian, Spanish

Idiomas proporcionados por usuarios:

Dutch (100%)

Compatible con:

Tema YITH Proteo. Todos los plugins de YITH

Temas de terceros compatibles:

Avada, Divi, Flatsome, Neighborhood, Storefront, X

Constructores de página compatibles:

Gutenberg, Elementor

Cumple con RGPD:

No aplicable
CON
YITH SHARE FOR DISCOUNTS

PUEDES:
Crear códigos de cupones personalizados
Elige qué tipo de descuentos quieres aplicar y recompensa a los usuarios que comparten tus productos.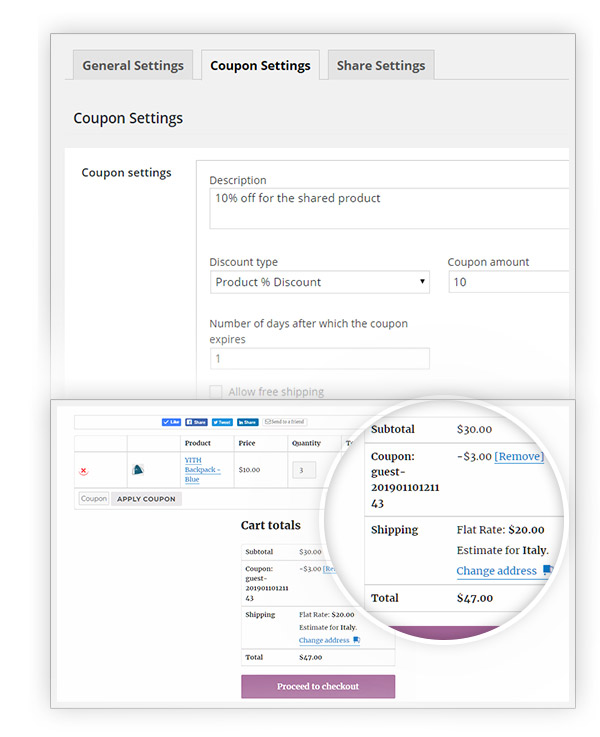 Compartir productos y páginas
Especifica la URL si deseas compartir un contenido distinto del que usó el usuario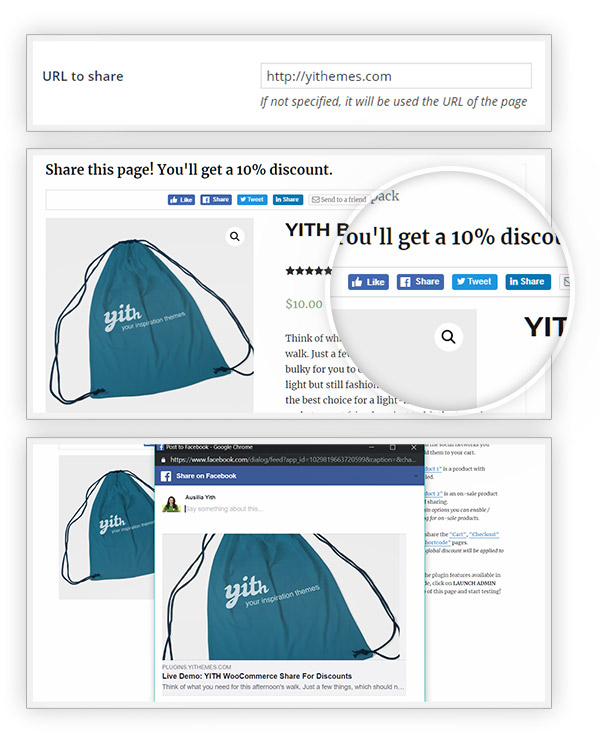 Permitir compartir a través de correo electrónico
Algunos usuarios prefieren las redes sociales, otros los correos: ¡llega a todos tus posibles clientes!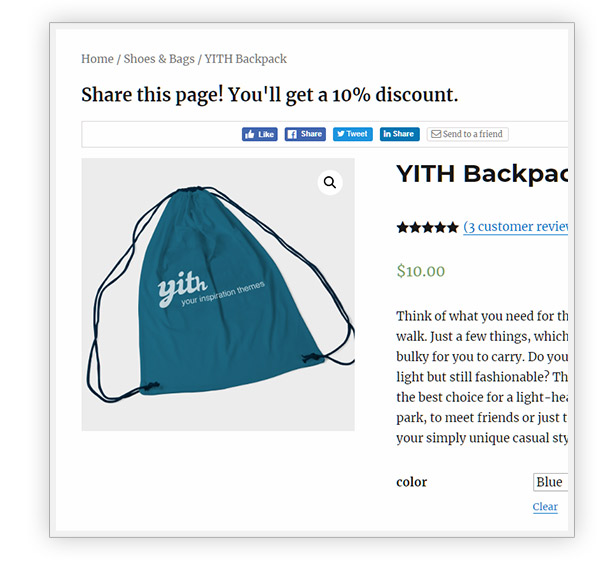 Elegir la posición de la caja para compartir
La disposición de los objetos es vital para un sitio: decide donde quieres colocar la caja según tus necesidades.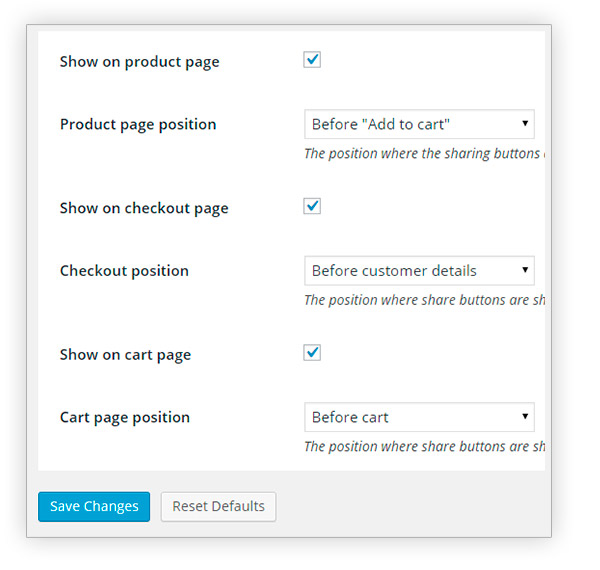 Aprovechar el shortcode incluido
Para añadir los botones de compartir donde quieras.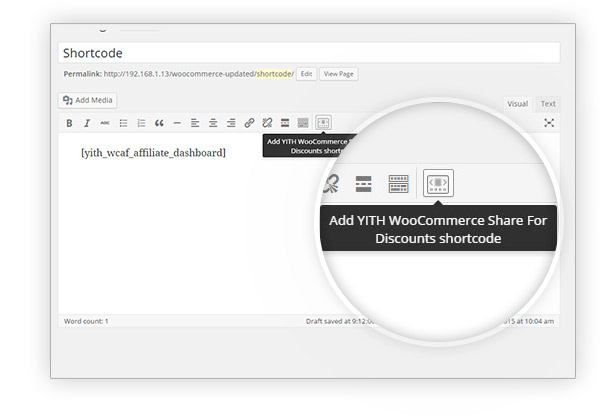 Personalizar los textos
Edítalos fácilmente y añade los más adecuados para tu sitio.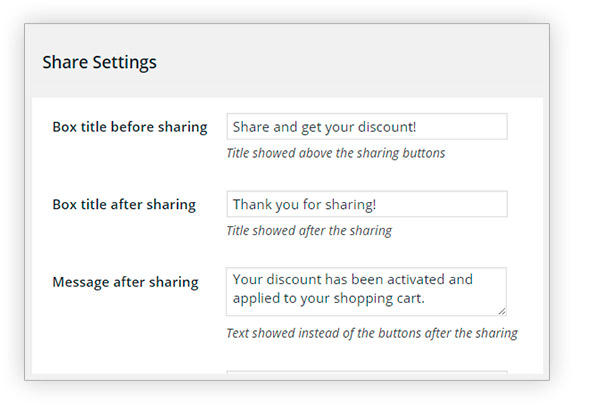 Permitir que los usuarios compartan la página de Pago y Carrito
Y obviamente ofrecerles códigos de cupón: ¡los usuarios siempre estarán felices de mostrar lo que han comprado!

Aprovechar la compatibilidad con WPML
Puedes traducir el plugin fácilmente con la potente herramienta de WPML