Vender tus productos en línea y dividir los ingresos con tus socios automáticamente
En la era de los negocios en línea, donde cada vez más tiendas y empresas ofrecen sus productos y servicios en una red, también evoluciona la forma de lanzar una actividad comercial. A veces, para comenzar un negocio en línea, todo lo que necesitas es la idea correcta y uno o más socios con quienes compartes el mismo punto de vista.
Entonces, cuando tu comercio electrónico está listo para ser lanzado y has tenido todo en cuenta, surge el problema: has planeado compartir en un 50%, pero ¿cómo lo pondrás en práctica? ¿Quién recibirá el pago cuando el primer cliente compre uno de tus productos con una tarjeta de crédito? ¿Cómo se dividirá según las comisiones que hayas acordado?
Si ya te estás arrancando los pelos pensando en consultar cada pedido, una calculadora en tu mano y administrar todos los porcentajes y comisiones manualmente, respira profundo y lee lo que nuestro YITH Stripe Connect puede hacer por ti.
YITH Stripe Connect es la herramienta más eficiente para dividir los pagos realizados en tu tienda mediante tarjetas de crédito entre tus socios comerciales de forma automática e inmediata. Concebido para hacer frente a cualquier escenario posible, el plugin le permite al administrador:
Insertar un número ilimitado de receptores, como socios o colaboradores, desde el panel
Asignar comisiones fijas (por ejemplo, $5 por venta) o porcentuales (por ejemplo, el 25% de la cantidad) a cada receptor
Asociar comisiones a las ventas de todos los productos de comercio electrónico o solo a los específicos
Establecer un tiempo de retraso para los pagos de comisiones
Desde el panel, el receptor puede monitorear cada comisión y datos relacionados con el pago realizado por el administrador.
Versión:

2.18.0

Publicada:

2023-01-04

Versión mínima de PHP:

7.0

Requiere:

WordPress 5.9

and WooCommerce 7.1

Compatible hasta:

WordPress 6.1.x

and WooCommerce 7.3.x

Plugins multidioma compatibles:

WPML, Loco Translate

Traducción lista:

SÍ

Idiomas 100% garantizados por YITH:

Italian, Spanish, Greek

Idiomas proporcionados por usuarios:

French(99%), German(96%), Dutch(96%)

Compatible con:

Tema YITH Proteo.Todos los plugins de YITH

Cumple con RGPD:

Sí
CON
YITH STRIPE CONNECT

PUEDES:
Conectar con Stripe
Conecta tu cuenta de Stripe con nuestra solicitud de pago automático de la comisión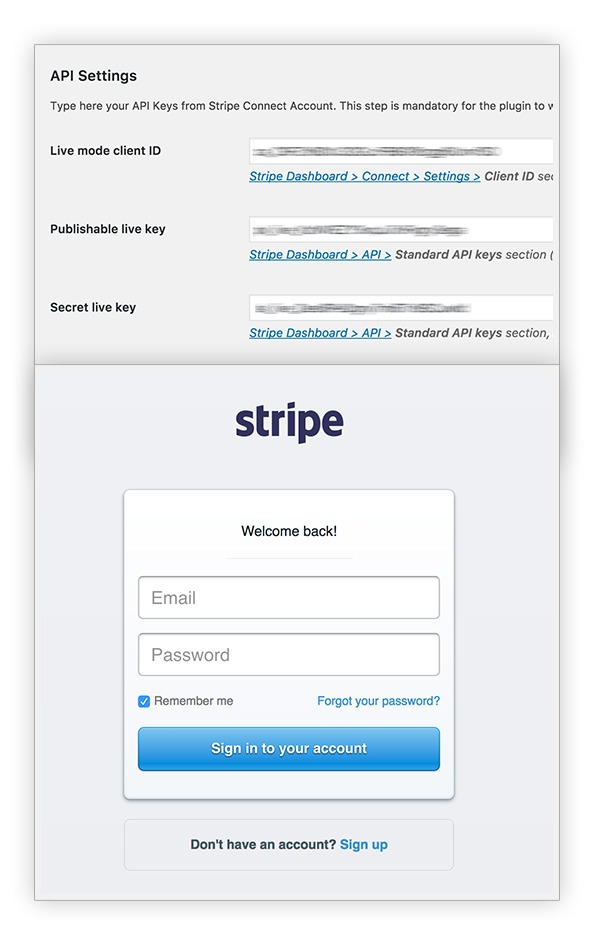 Pagos divididos entre más receptores
Establecimiento de comisiones diferentes para cada uno de ellos dependiendo de los productos añadidos al carrito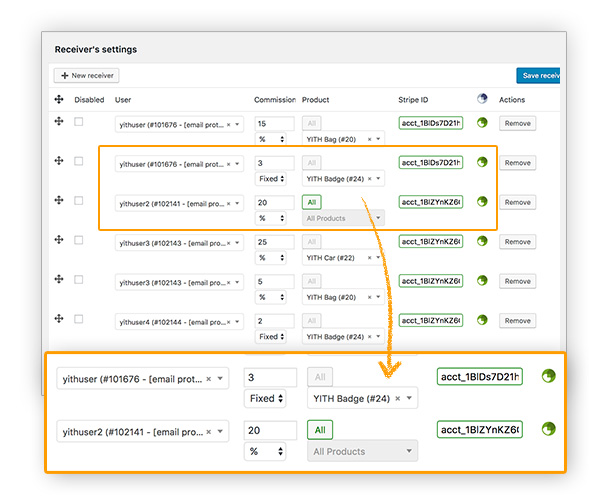 Probar el modo en vivo
Pruébalo en modo de prueba en vivo, para asegurarte de que todo funciona bien antes de comenzar y lidiar con cuentas reales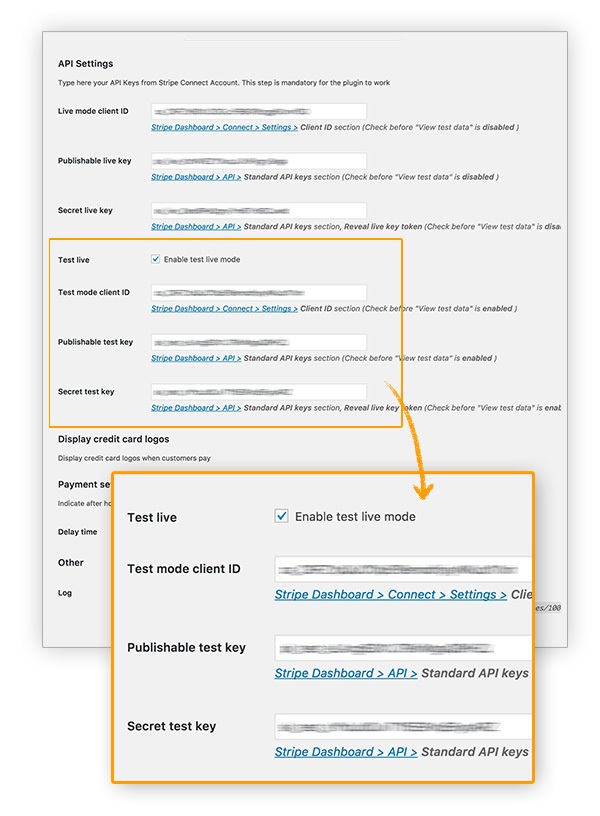 Imprimir un resumen en PDF
Tanto el administrador como el receptor pueden imprimir un resumen en PDF de las comisiones pagadas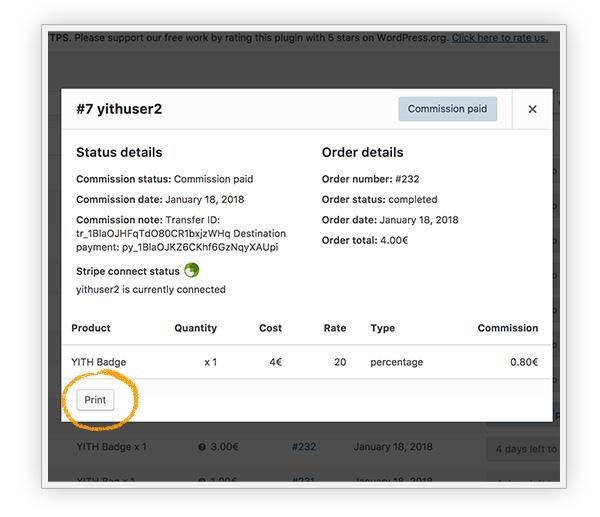 Pagar la comisión directamente
El administrador tiene una opción para pagar la comisión manualmente directamente al hacer clic en el botón "pagar ahora"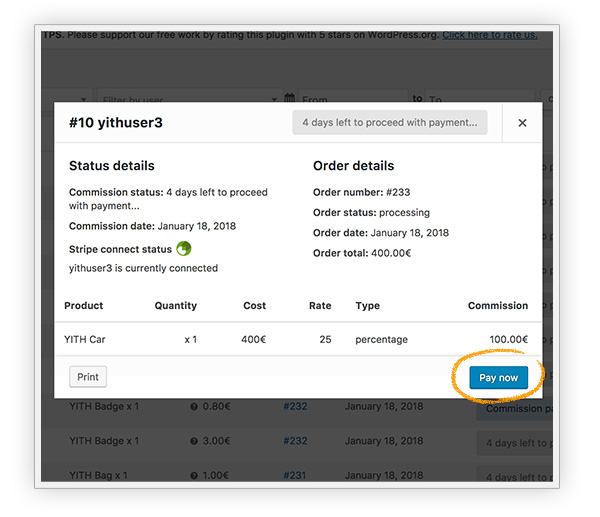 Guardar los datos de las tarjetas
Asociar los datos de más de una tarjeta de crédito a una cuenta para que puedan estar disponibles de inmediato para futuras compras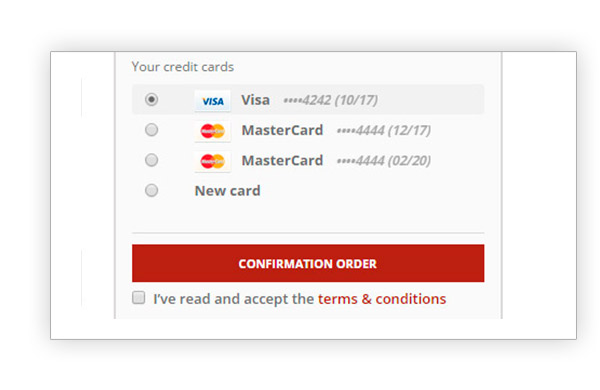 Aprovechar la compatibilidad con WPML
Puedes traducir el plugin fácilmente con la potente herramienta de WPML