Tu tienda integrada con tarjetas de crédito:
aumentar las ventas mejorando la fidelidad del cliente y la imagen de la marca
Los estudios de la industria han demostrado que los pagos con tarjeta de crédito en línea aumentan las ventas hasta en un 23% porque los productos y servicios se vuelven más accesibles para los clientes.
YITH WooCommerce Stripe ofrece la posibilidad de hacer todo esto de manera más simple y rápida en tu comercio electrónico evitándote los problemas de hacerlo desde el backend y otorgándote confiabilidad a la web.
Todos los sitios web de comercio electrónico más grandes y confiables permiten pagos con tarjeta de crédito, por lo que permiten la integración dentro de su propio sitio web en lugar de referirse a otro externo.
Algunos vendedores evitan los problemas de integración de tarjetas de crédito porque el procesamiento puede resultar más difícil, pero pierden confiabilidad. YITH WooCommerce Stripe realiza la integración del pago con tarjeta de crédito por ti.
Además, permitir diferentes métodos de pago, aparte de los estándares ofrecidos por WooCommerce, tiene muchas ventajas para tu actividad comercial. Hacer del pago un proceso automatizado mejora la productividad porque no requiere de tu tiempo para dedicarlo a otros aspectos de tu trabajo y también lo hace más rápido, lo cual es realmente apreciado por los usuarios.
Los resultados de tu imagen de marca mejoran y la fidelidad de tus clientes también. Además, la posibilidad de utilizar la tarjeta de crédito les permite a los clientes sentirse más libres para gastar más cuando hacen compras.
YITH WooCommerce Stripe lo hace posible para muchos países admitidos. Asegúrate de que tú o tu empresa se encuentren en uno de los países admitidos (consulta esta página) y luego, ¡disfrútalo!
Para el correcto funcionamiento del plugin, es vital que el protocolo SSL esté activo.
Para obtener más información, dirígete a la página de información SSL.
La lista de tarjetas de crédito admitidas por Stripe está disponible en esta sección.
Versión:

2.11.0

Publicada:

2022-05-17

Versión mínima de PHP:

7.0

Requiere:

WordPress 5.8

and WooCommerce 6.3

Compatible hasta:

WordPress 6.0.x

and WooCommerce 6.5.x

Plugins multidioma compatibles:

WPML, Loco Translate

Traducción lista:

SÍ

Idiomas 100% garantizados por YITH:

Italian, Dutch, Spanish

Idiomas proporcionados por usuarios:

French (94%), German (100%), Portuguese (45%)

Compatible con:

Tema YITH Proteo.Todos los plugins de YITH

Cumple con RGPD:

Sí
CON
YITH STRIPE

PUEDES:
Y solicitar datos de la tarjeta de crédito en tu página de pago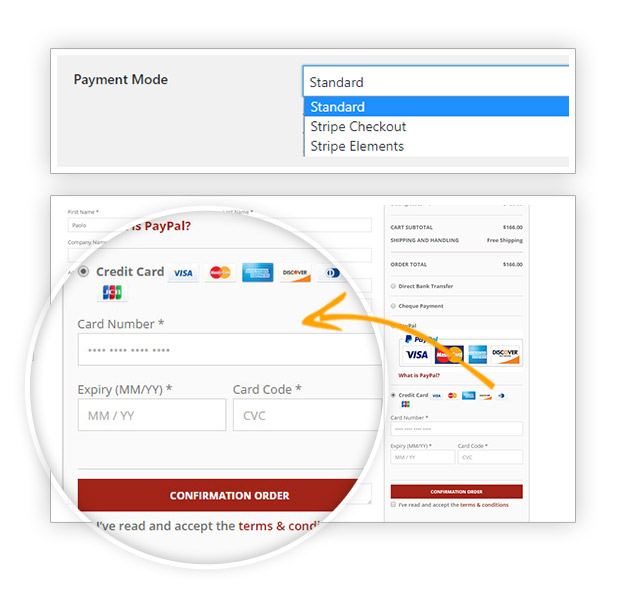 Y redirige a tus usuarios a la página de pago alojada de Stripe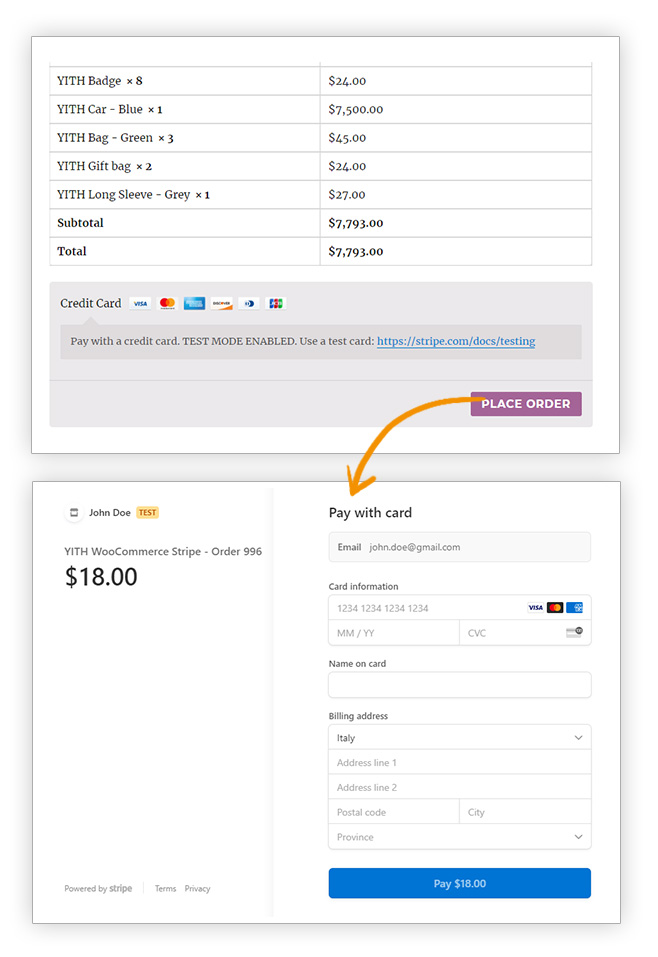 Permite que tus usuarios introduzcan los datos de su tarjeta en tu sitio web utilizando el formulario integrado de Elements proporcionado por Stripe y gestionado íntegramente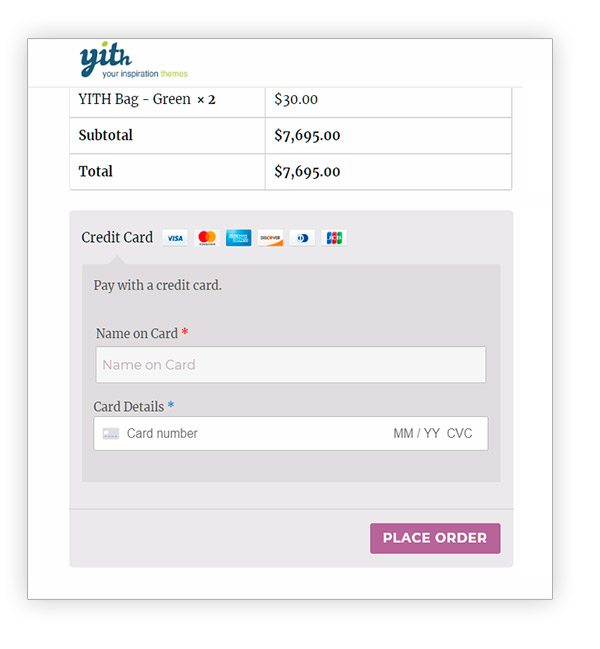 Guardar datos de tarjeta
Asocia los datos de más de una tarjeta de crédito a una cuenta para que puedan estar inmediatamente disponibles para compras futuras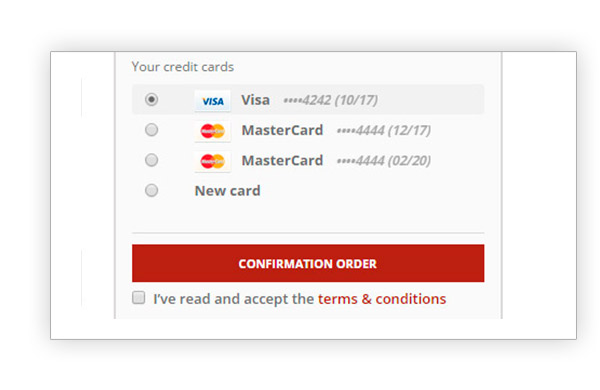 Reembolsar fácilmente
Desde el panel WooCommerce con un solo clic, reembolsa la suma en cuestión a la tarjeta especificada.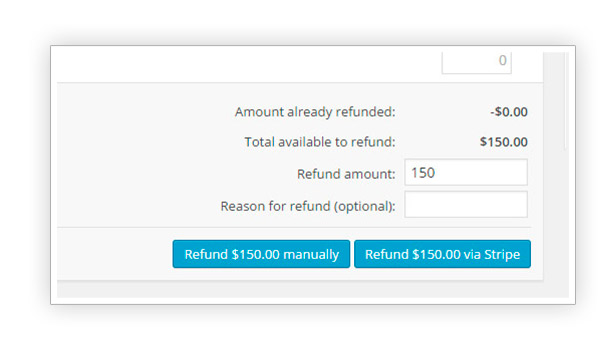 Configurar tu sitio a través de WeebHooks
Realiza acciones en los pagos (por ejemplo: los reembolsos o cancelaciones) de tu cuenta de Stripe y encuéntralos automáticamente actualizados dentro de tu sitio web.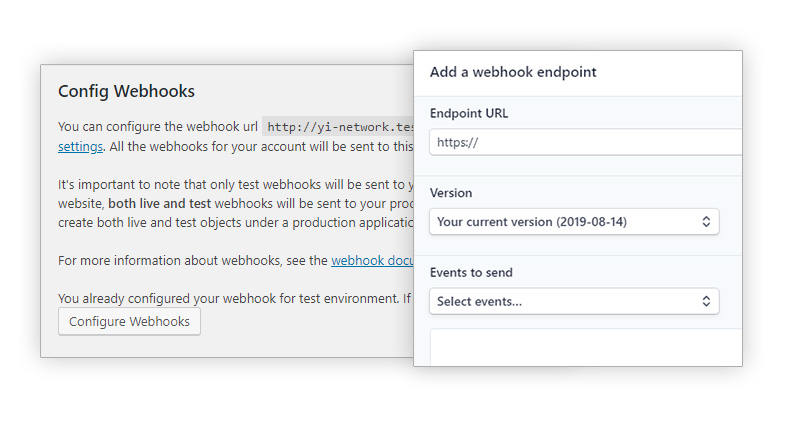 Añadir a la lista negra
A aquellos usuarios que han tenido un pago denegado con tarjeta de crédito anteriormente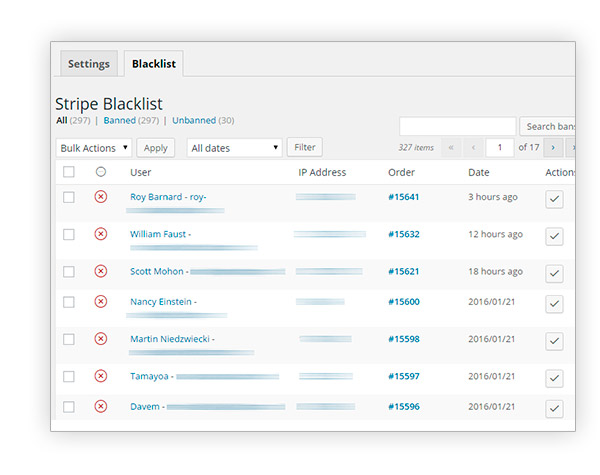 Prevenir los pagos fraudulentos
Al hacer obligatorio la inserción de los datos de la factura también cuando no se proporciona el pago clásico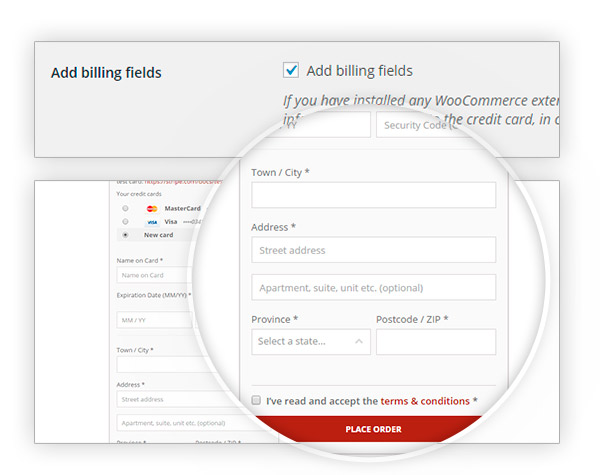 Autorizar primero y capturar más tarde
Capturar el pedido tan pronto como los usuarios envíen una petición o justo después de que se haya enviado el pedido.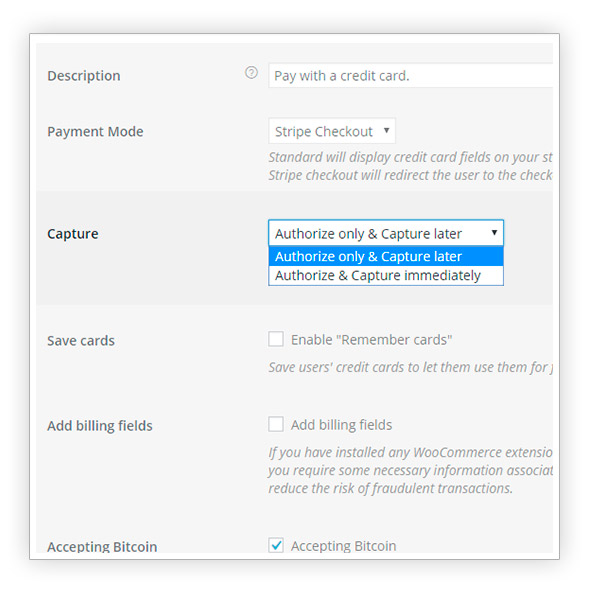 Lanzar suscripciones registradas con tarjetas de crédito
Gracias a la compatibilidad con YITH WooCommerce Subscription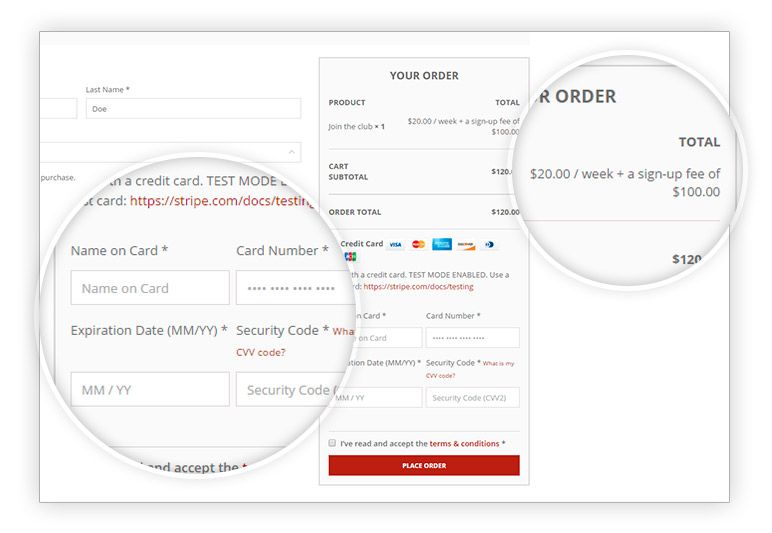 Aprovechar la compatibilidad con WPML
Puedes traducir el plugin fácilmente con la potente herramienta de WPML