Integra WooCommerce con Google Merchant in pochi istanti
Hai mai notato che Google mostra i feed prodotto tra i suoi risultati?
Sono così accattivanti e allettanti!
Attirano subito l'attenzione degli utenti convincendoli a fare clic sul prodotto per visualizzarlo e portandoli così direttamente nella tua pagina negozio.
Google Merchant: la brillante idea di Google, concepita per coloro che mirano a incrementare le vendite.
Pensaci un attimo! Quel semplice clic non solo ti permette di raggiungere lo scopo ma porterà sul tuo sito gli utenti che sono già propensi ad acquistare e non sarà difficile prevedere che le tue vendite aumenteranno.
Tutto quello che devi fare dopo aver registrato l'account su Google Merchant è attivare il nostro plugin YITH Google Product Feed for WooCommerce e creare il file corretto che include i prodotti da te selezionati per poterli mostrare in un istante nel motore di ricerca Google.
È un gioco da ragazzi! Il tuo business crescerà oltre ogni aspettattiva.
Guarda gli screenshot qui sotto per scoprire quanto è semplice e veloce.
Versione:

1.22.0

Rilasciata il:

2023-05-15

Versione minima di PHP:

7.0

Requisiti minimi:

WordPress 6.0

and WooCommerce 7.5

Compatibile con:

WordPress 6.2.x

and WooCommerce 7.7.x

Plugin multilingua supportati:

WPML

File di lingua inclusi:

SÌ

Lingue garantite al 100% da YITH:

Italian, Spanish

Traduzioni degli utenti:

Dutch (100%), German (87%)

Supporta:

Il tema YITH Proteo. Tutti i plugin YITH.
CON
YITH GOOGLE PRODUCT FEED

PUOI:
Creare feed per Google Merchant
E mostrare i tuoi prodotti in Google Shopping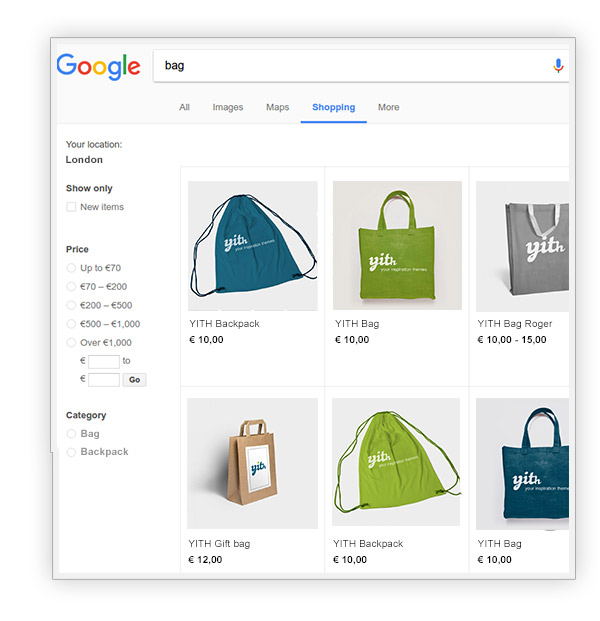 Scegliere i prodotti da includere nei feed
Scegli se mostrare tutti i prodotti o filtrarli per categoria o tag di appartenenza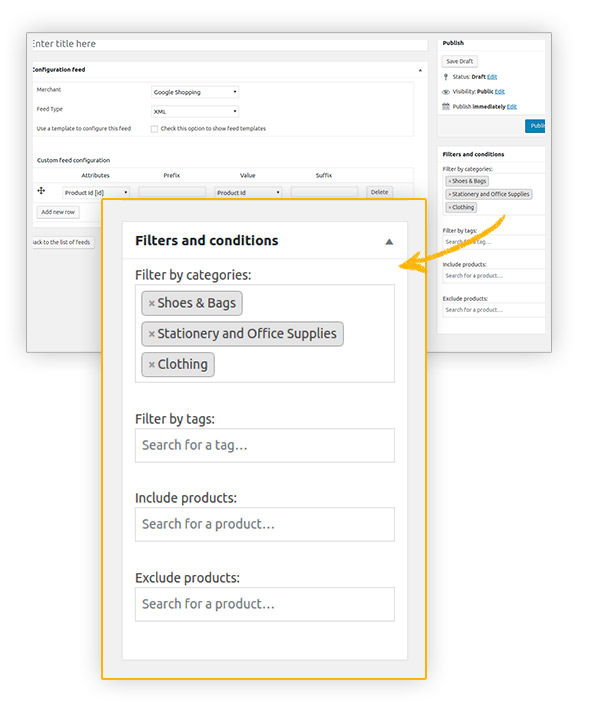 Creare template personalizzati per i tuoi feed
Scegli i campi Google che vuoi mostrare e le informazioni collegate ad ognuno di essi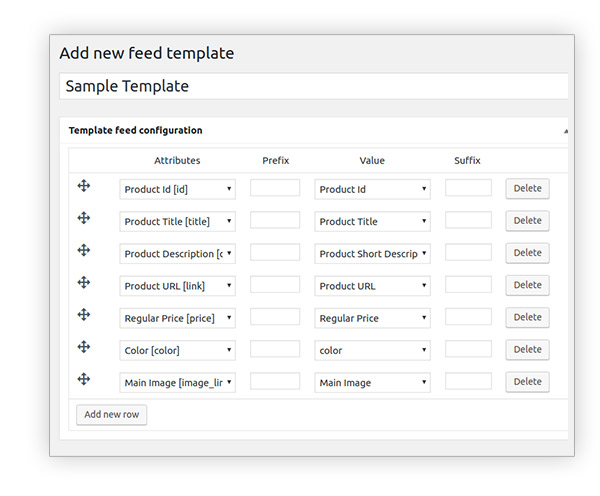 Associare i valori dei campi personalizzati agli attributi Google
Così potrai mostrare informazioni personalizzate in aggiunta a quelle standard fornite da WooCommerce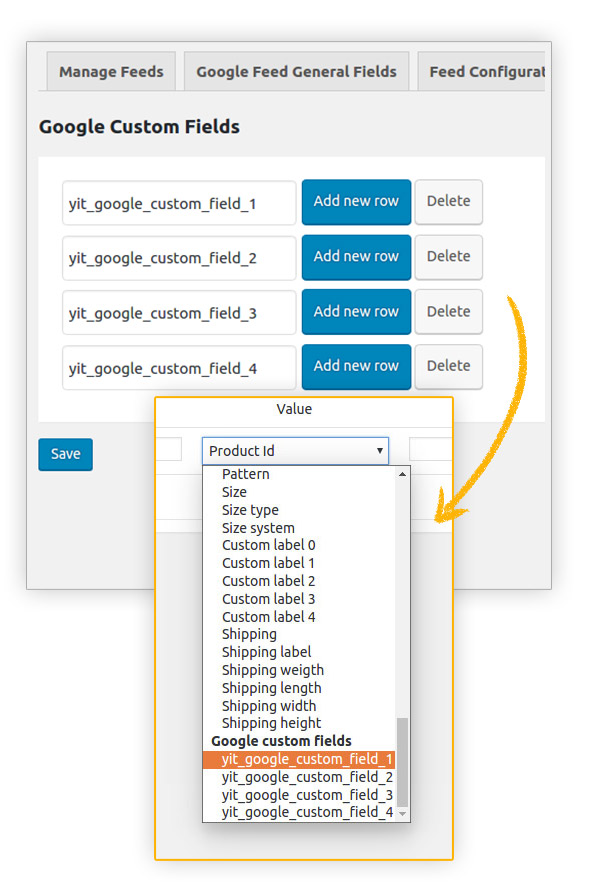 Migliorare i campi generici di Google
Dando a tutti lo stesso valore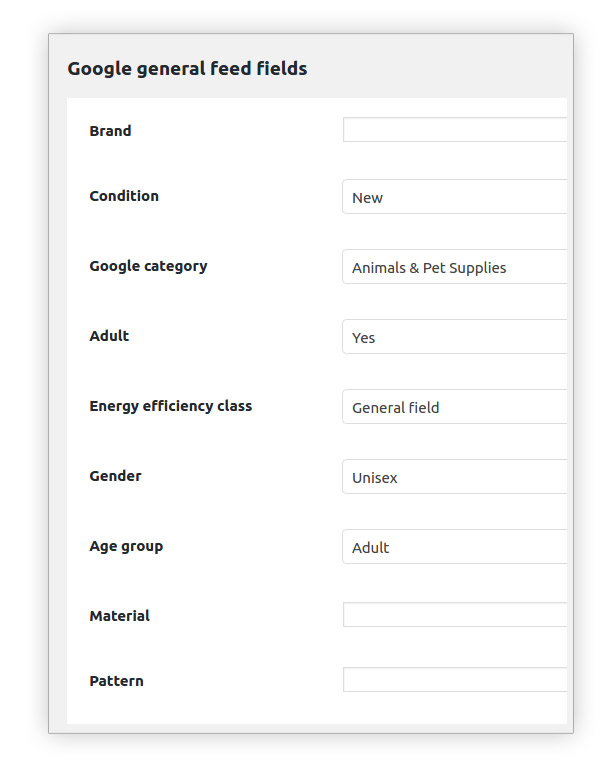 Sovrascrivere i valori dalle impostazioni del singolo prodotto
Sovrascrivi i valori generici del feed sia nei prodotti semplici che in quelli variabili per ciascuna variazione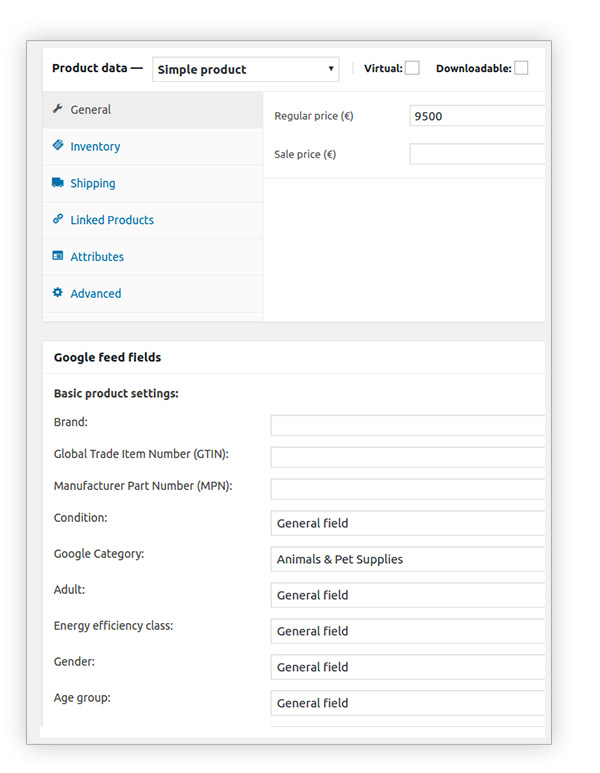 Approfittare della compatibilità con WPML
Puoi facilmente tradurre il plugin con il potente plugin per siti multi-lingua