Non monitorare il costo dei tuoi prodotti potrebbe determinare il fallimento del tuo business
Sottrai i costi dalle entrate e ottieni il profitto, il tuo guadagno effettivo. Questa è una delle leggi che impariamo a scuola e che finiamo per dare per scontata. Poi in realtà finiamo per dimenticarcene quando decidiamo di avviare un'attività.
E spesso iniziamo a cercare un motivo per cui il nostro business non funziona quando è già troppo tardi. Ti chiedi come mai i tuoi margini di guadagno siano così bassi quando le vendite invece vanno bene.
Ti chiedi perché, a dispetto di cinquanta ordini al giorno, la tua attività continua a perdere giorno dopo giorno finché il bilancio dell'azienda va in rosso.
Il motivo è quasi sempre lì, nascosto tra le pieghe di quei costi non considerati che hai trascurato in qualche modo, che non hai preso in considerazione.
Molte attività falliscono perché i proprietari di fatto non pianificano nel dettaglio il rapporto di costi ed entrate. È la storia di Jonathan che ha acquistato i vestiti all'estero per rivenderli nel suo e-commerce.
Il prezzo di vendita era maggiore del prezzo di acquisto e questo bastava a fargli credere che avesse un buon margine di profitto. Ma Jonathan, entusiasta ed inesperto, dimenticava qualcosa. Aveva sottovalutato i costi di spedizione, le dogane, le etichette dei singoli capi. La sua attività che aveva tutte le carte in regola per avere successo riuscì a rimanere in piedi solo per tre mesi.
Il prodotto più venduto dell'ecommerce, una maglietta che i clienti possono personalizzare, era proprio la causa della bancarotta dell'attività: ammesso che avesse anche vendite alte, il costo della personalizzazione – che era stato sottovalutato sin dall'inizio – quello cancellava proprio ogni margine di profitto.
La storia di Jonathan è la storia di tutti gli imprenditori per i quali abbiamo creato il nostro plugin YITH Cost of Goods for WooCommerce.
Uno strumento di controllo semplice e potente che ti permette di monitorare costantemente l'andamento del tuo e-commerce ed analizzare il rapporto tra costi dei prodotti e entrate nette.
Attraverso il nostro plugin puoi includere, per esempio, i costi di spedizione, le tasse, l'IVA, i metodi di pagamento e avere una panoramica a 360 gradi dei tuoi costi totali: questo ti aiuterà a renderti conto di quali prodotti hanno un maggiore margine di profitto (e non sono necessariamente quelli che vendono di più!), che tipo di profitto otterrai in caso di promozioni o sconti e qual è il prezzo di vendita che copre tutti i costi, specialmente quelli che passano inosservati e che in realtà fanno la differenza per il successo della tua attività.
Versione:

1.21.0

Rilasciata il:

2023-03-06

Versione minima di PHP:

7.0

Requisiti minimi:

WordPress 6.0

and WooCommerce 7.3

Compatibile con:

WordPress 6.2.x

and WooCommerce 7.5.x

Plugin multilingua supportati:

WPML, Loco Translate

File di lingua inclusi:

SÌ

Lingue garantite al 100% da YITH:

Italian, Spanish

Traduzioni degli utenti:

German (99%), Dutch (100%)

Supporta:

Il tema YITH Proteo. Tutti i plugin YITH.
CON
YITH COST OF GOODS

PUOI:
Impostare i costi di ciascuno dei tuoi prodotti
Per i prodotti variabili puoi scegliere se impostare un prezzo diverso per ogni variazione o meno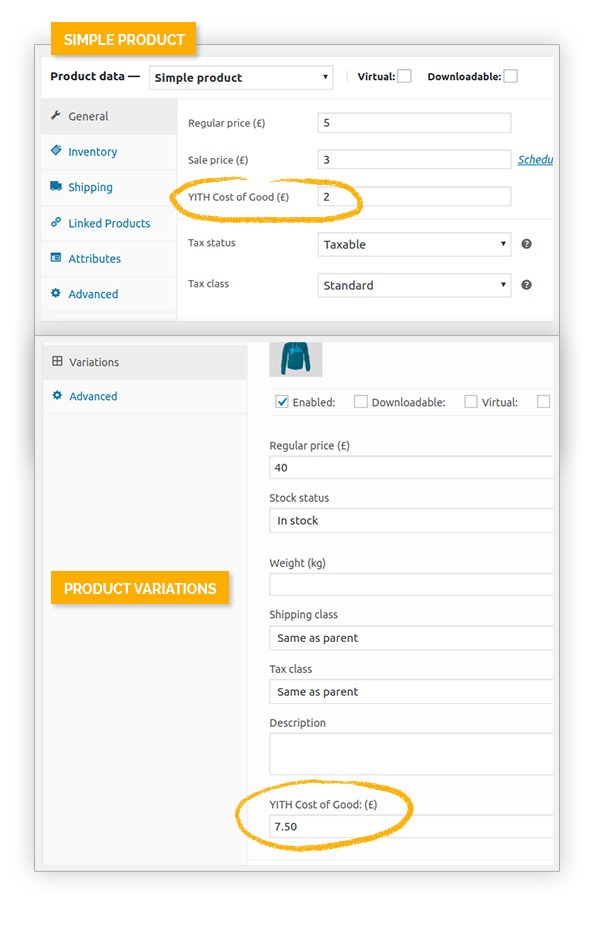 Aggiungere i costi di più prodotti con un solo clic
Modifica il costo di prodotti diversi contemporaneamente con lo strumento per azioni di gruppo nella pagina Prodotti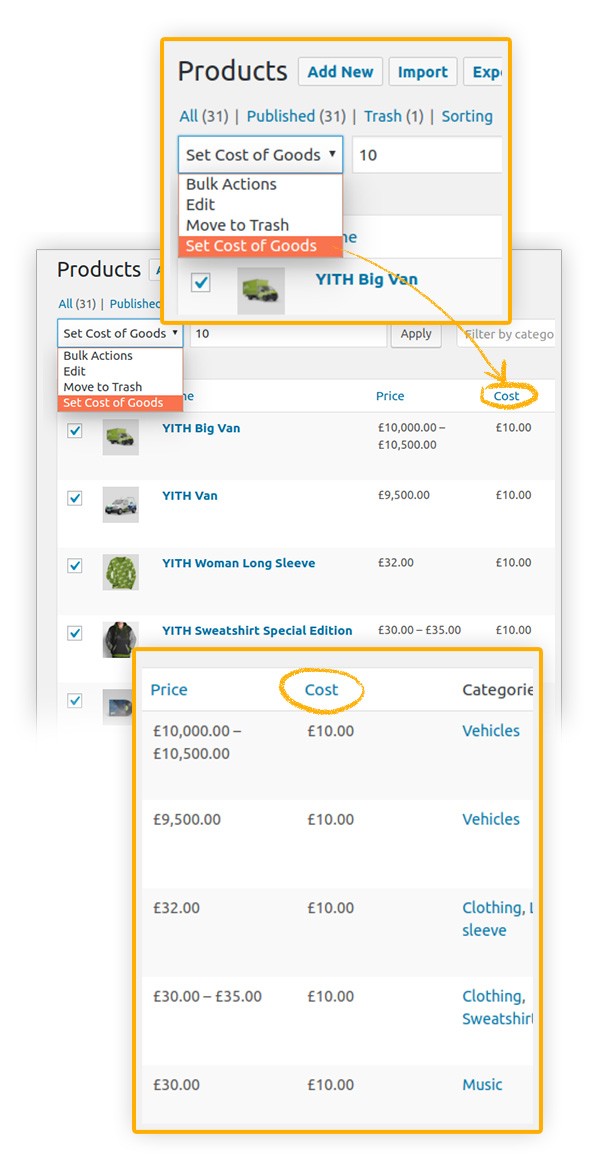 Riconoscere i vantaggi in tempo reale e il potenziale profitto del tuo magazzino
Permetti all'amministratore di conoscere il potenziale del negozio facendo una stima dei profitti di tutti i prodotti in magazzino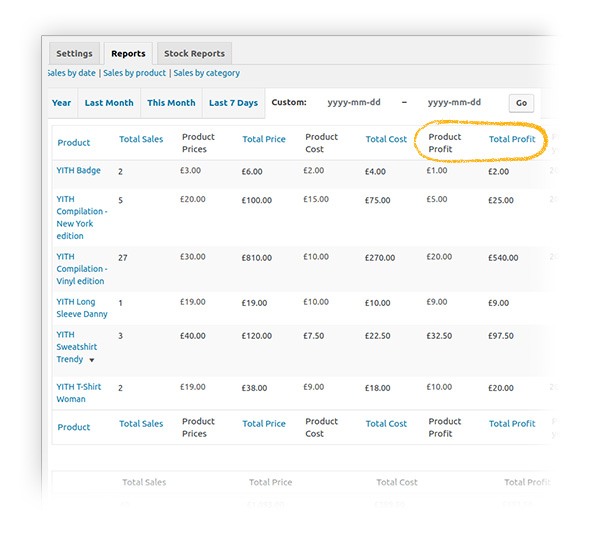 Esportare i dati in file CSV
Per ottenere tutte le informazioni in modo rapido e sicuro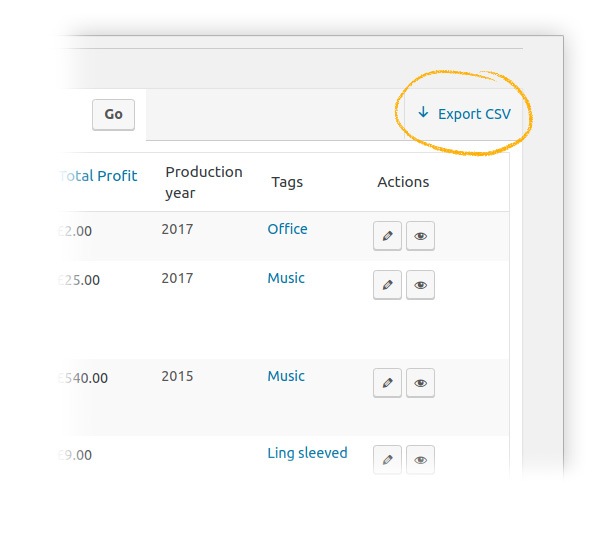 Filtrare i tuoi prodotti per facilitare la ricerca
Filtra per prodotto, data, categoria, tag o per qualsiasi altro campo personalizzato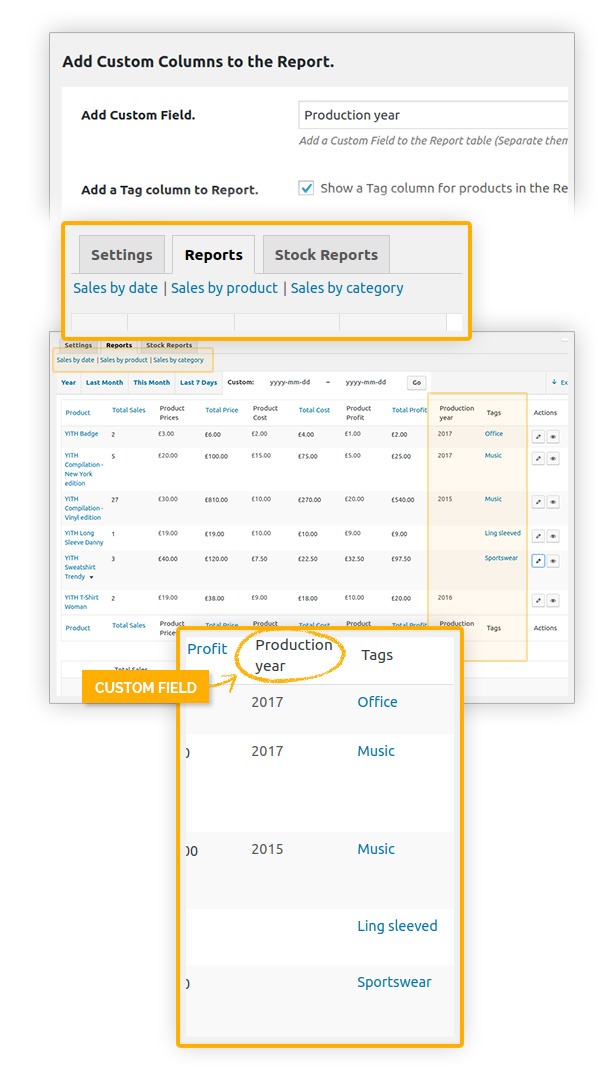 Abilitare/disabilitare i costi di spedizione, le tasse e le altre commissioni nella tabella con tutti gli importi
Puoi scegliere se includere queste spese all'elenco dei costi totali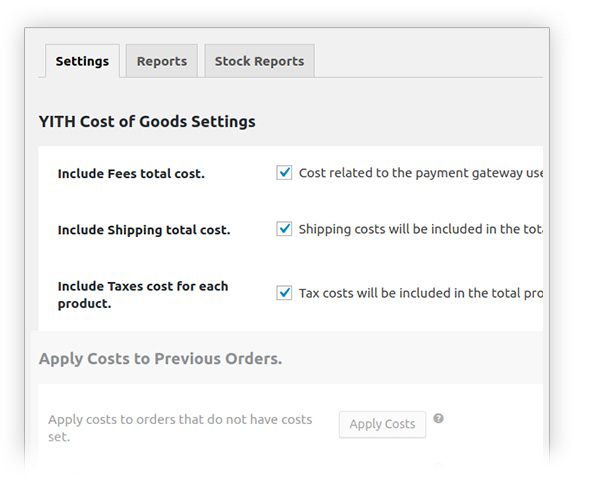 Visualizzare i costi negli ordini
Verifica il costo unitario nel riassunto dell'ordine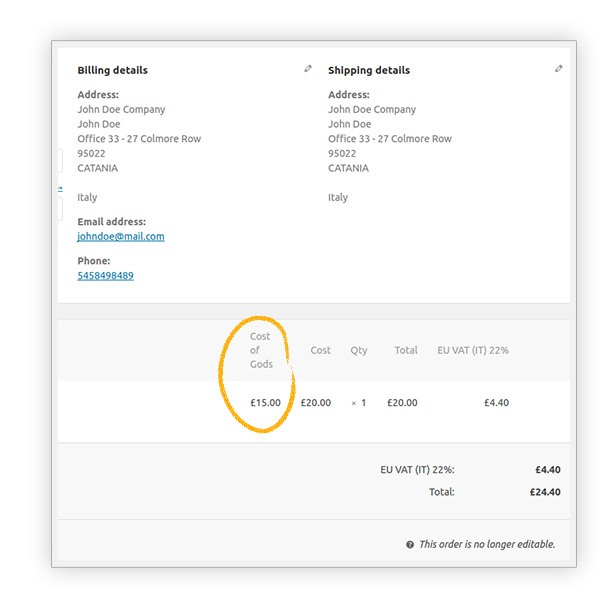 Monitare l'inventario dei prodotti da un'unica schermata
Per evidenziare subito il potenziale vantaggio che otterresti dalla vendita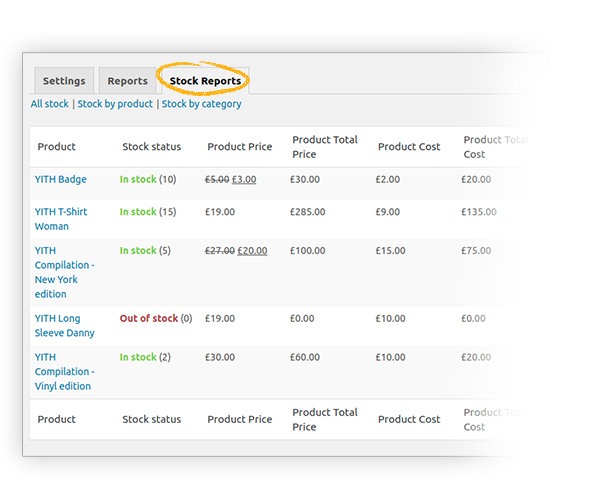 Approfittare della compatibilità con WPML
Puoi facilmente tradurre il plugin con il potente plugin per siti multi-lingua