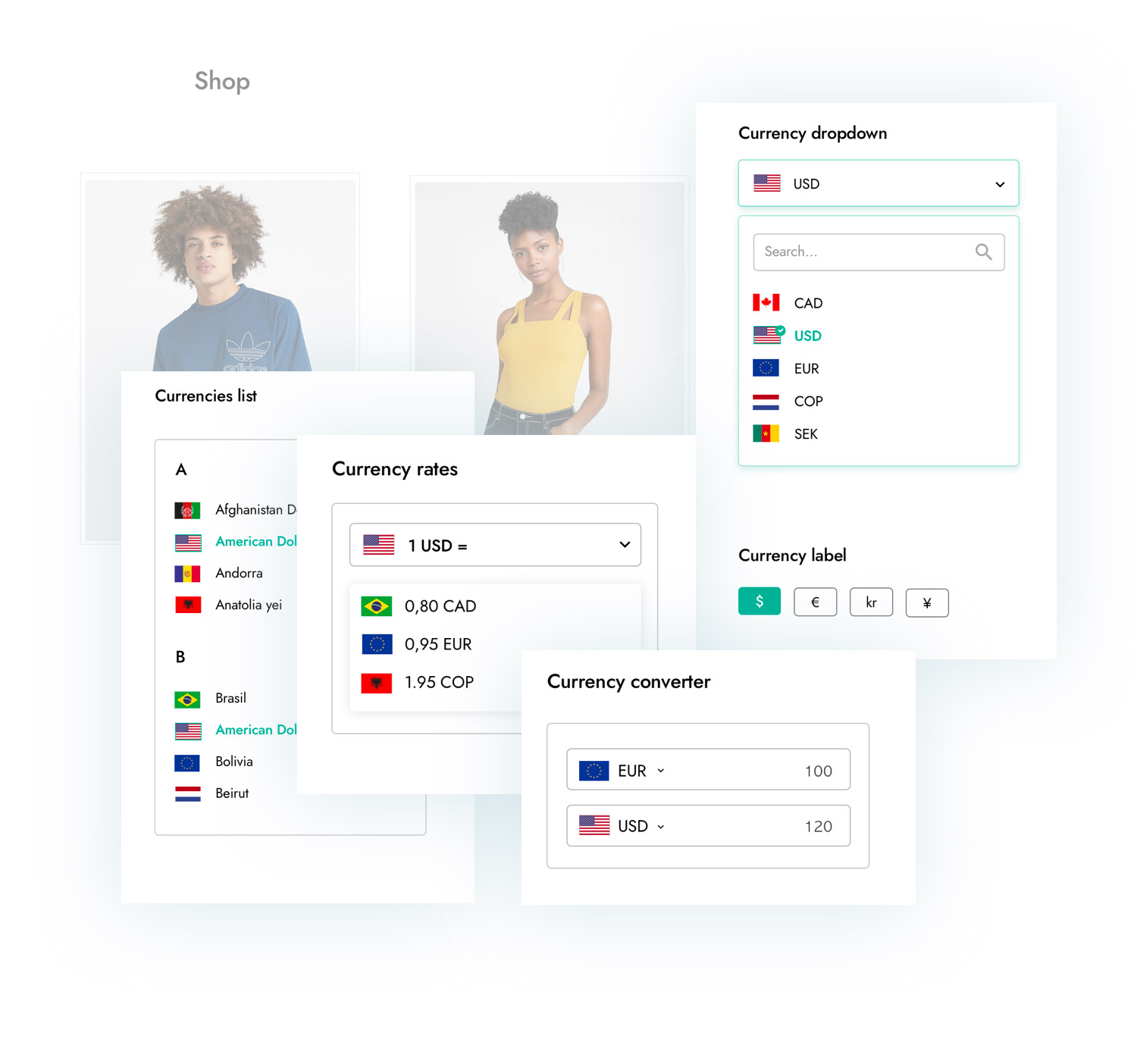 Reach new markets and sell products worldwide by simply adding unlimited currencies to your e-commerce store
If you have an e-commerce store, it's now time to expand your audience to a global level: the positive side of selling online is that you can easily reach customers from all corners of the world: you can internationalize your business with just a few clicks.
Though, users prefer visiting stores where prices are displayed in their own local currency and they are very unlikely to finalize an order in a currency they are not familiar with. For this reason, if you don't want your business to have geographical limits and want to sell your products "beyond borders and boundaries", it is key that your shop is user-friendly and focussed on the needs of the market shares that you intend to reach.
With our YITH Multi-Currency Switcher, you will be able to add multiple currencies to your shop and offer a totally positive user experience. Speak in terms of roubles to your Russian customers and in terms of dollars to US visitors; show your product prices in pounds to buyers in the UK and in Yuan to buyers in China. Just one plugin to expand your business internationally and make your shop more usable for all your users, regardless of where they are.
Add an unlimited number of currencies with just a few clicks
From the first plugin tab, you will be able to add as many currencies as you wish for your shop, easily and quickly. For each currency, you will be able to display the currency symbol or set up a custom text, upload an icon (like the flag) or set the number of decimals to show, and much more.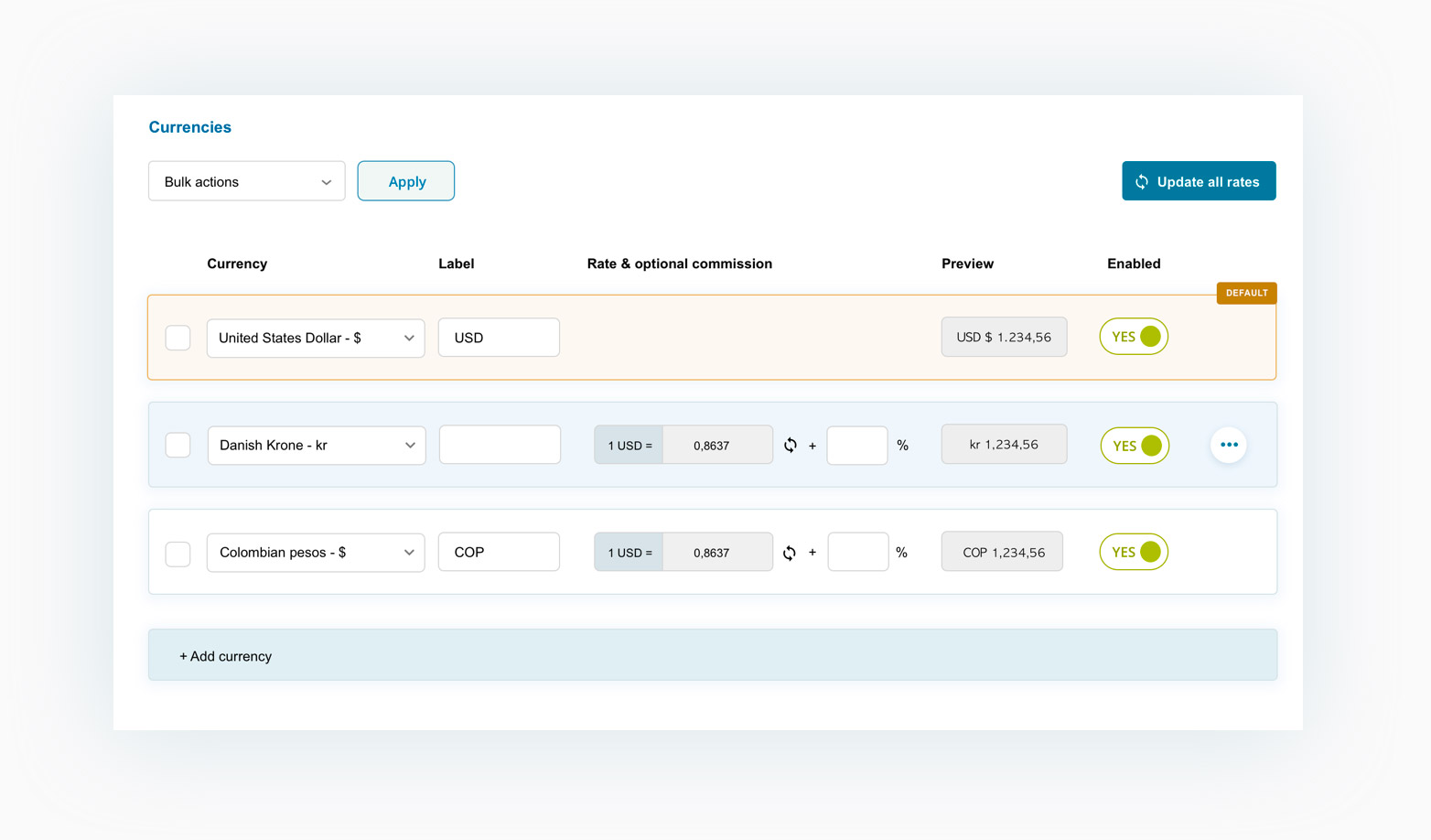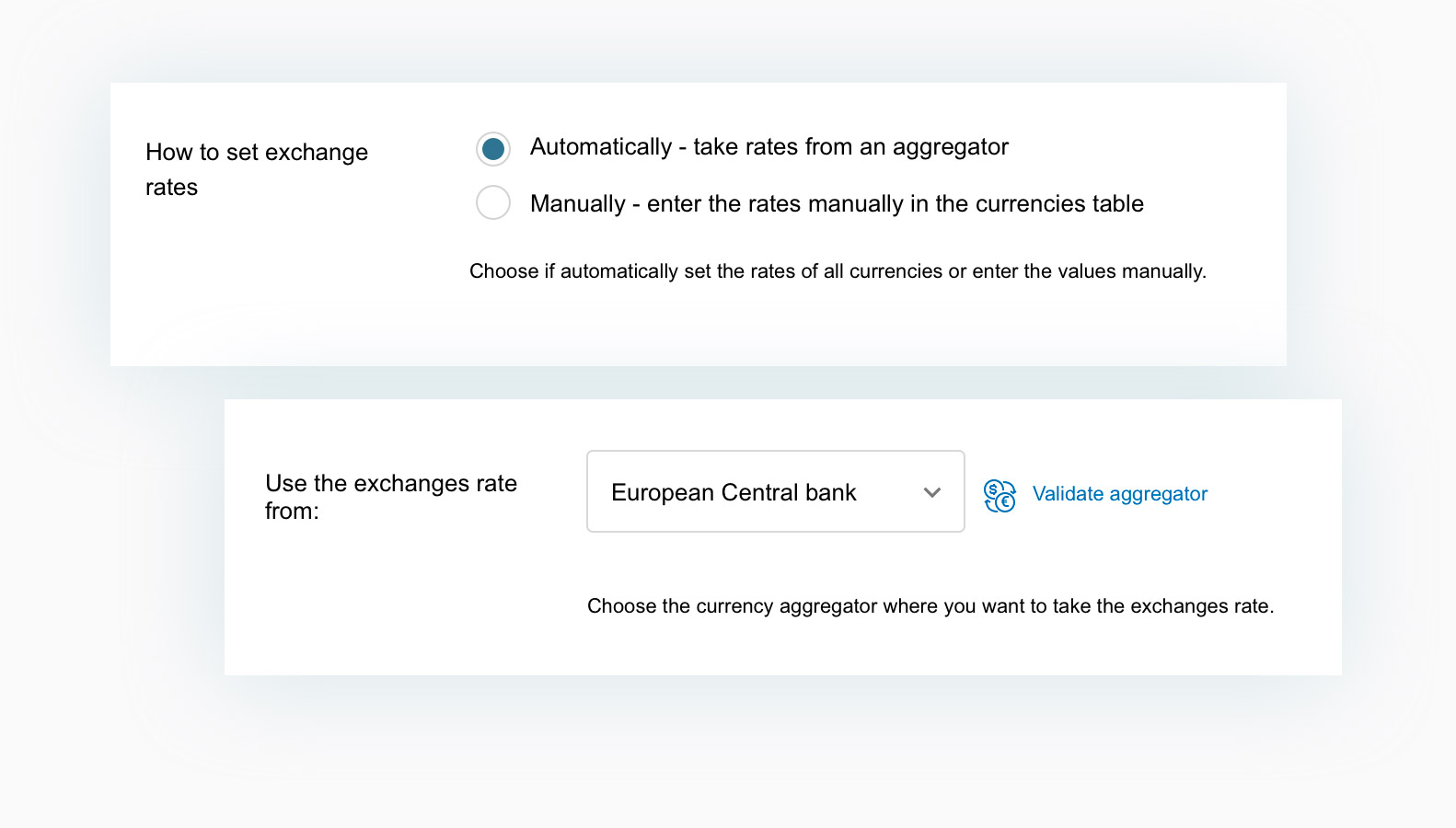 Set the exchange rate manually or use the API (of the European Central Bank, Google Finance, or other providers) to keep them always up to date
You can either enter the exchange rates manually or keep them automatically updated thanks to the API included in the plugin.
Set a custom time interval to automatically update the exchange rates
Choose whether to update the exchange rates once a month, once a week, every day, twice a day… it's totally up to you. You can control how often the plugin will pull the updated rates from the provider to always show the right price in a totally automatic way.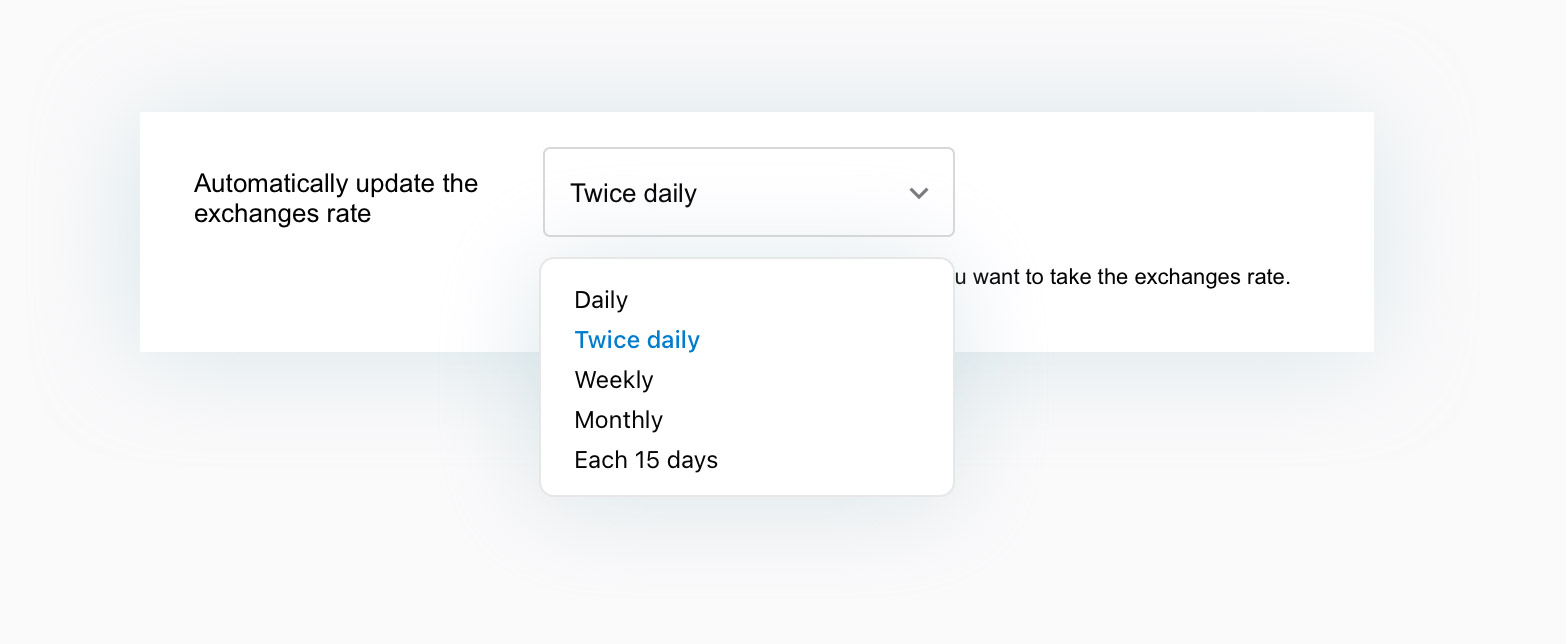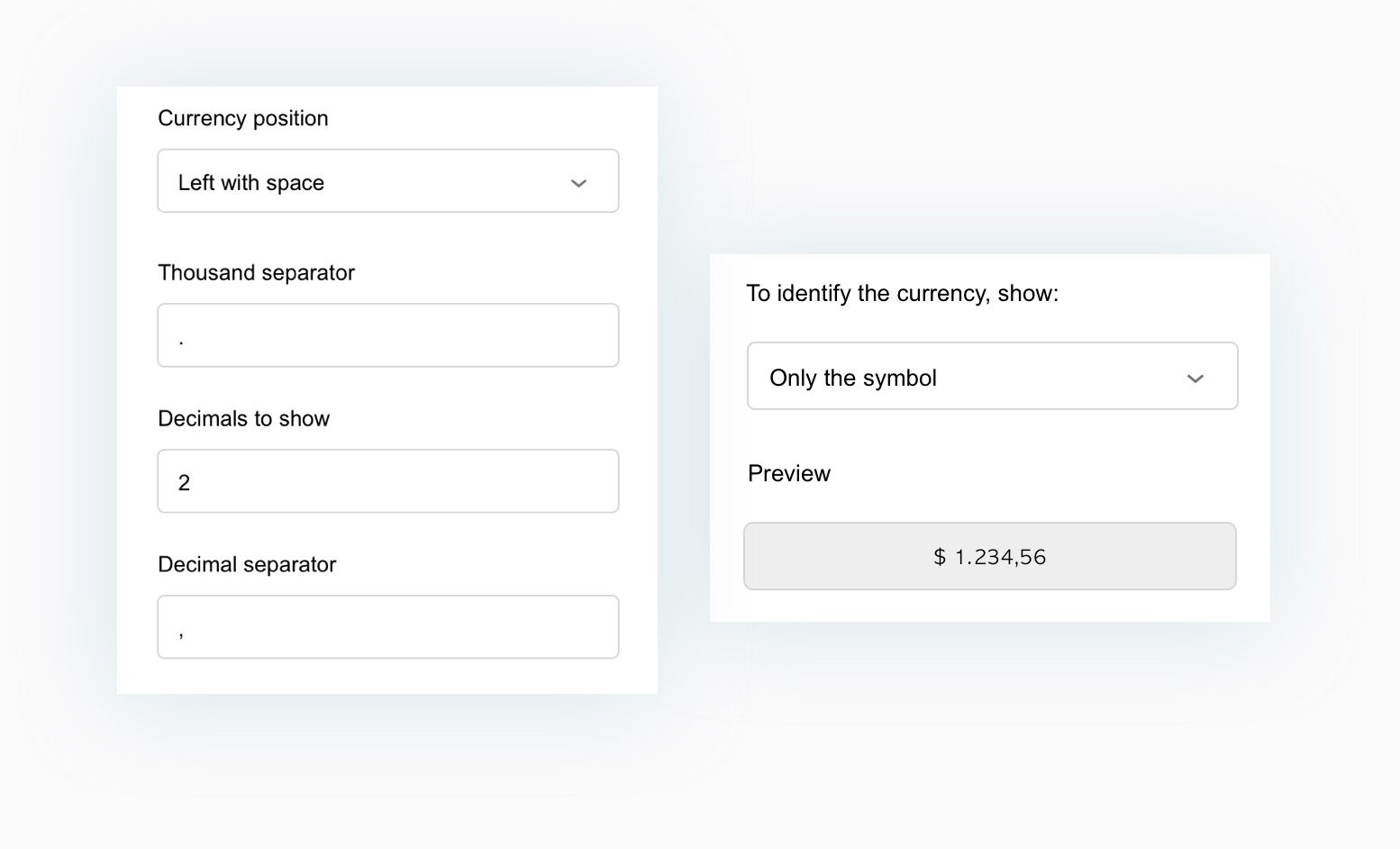 Choose the format of the currency to show on the site (position of the symbol, separators, and label.)
For every one of the currencies that you add, you can choose the position of the symbol (on the left, on the right, with or without the space separator), you can set your own decimal and thousand separators, the number of decimals, and choose whether to show the currency as a symbol ($, € etc.), as a text label (USD, EUR, etc.) or both ($-USD, €-EUR, etc.).
Disable some of the payment methods for users paying in a specific currency
Do you want that users paying in USD can only pay with a credit card? Or those paying in pesos should not be able to view PayPal? The plugin gives you the possibility to disable the payment methods for specific currencies and have full control over the payment methods offered.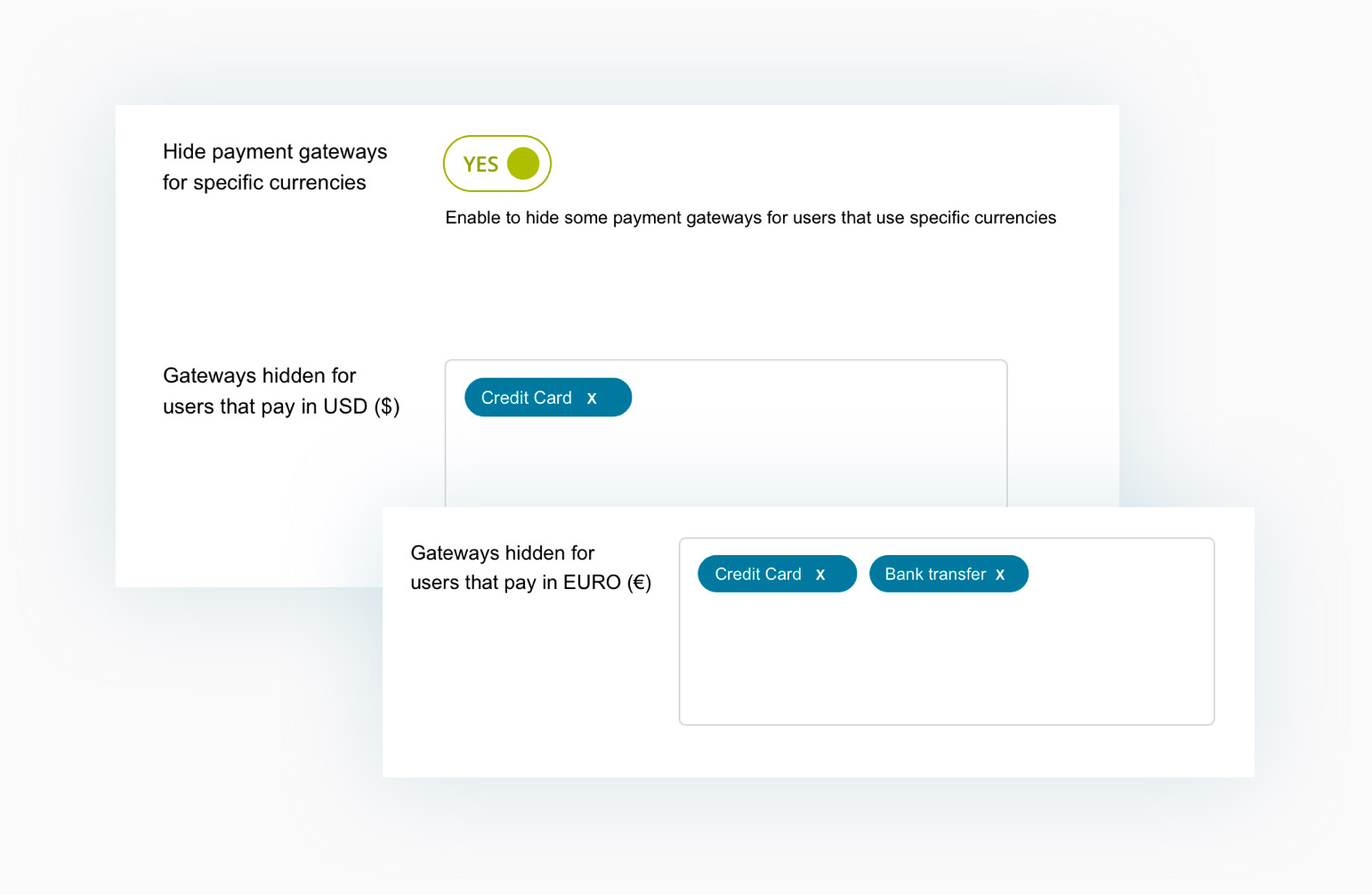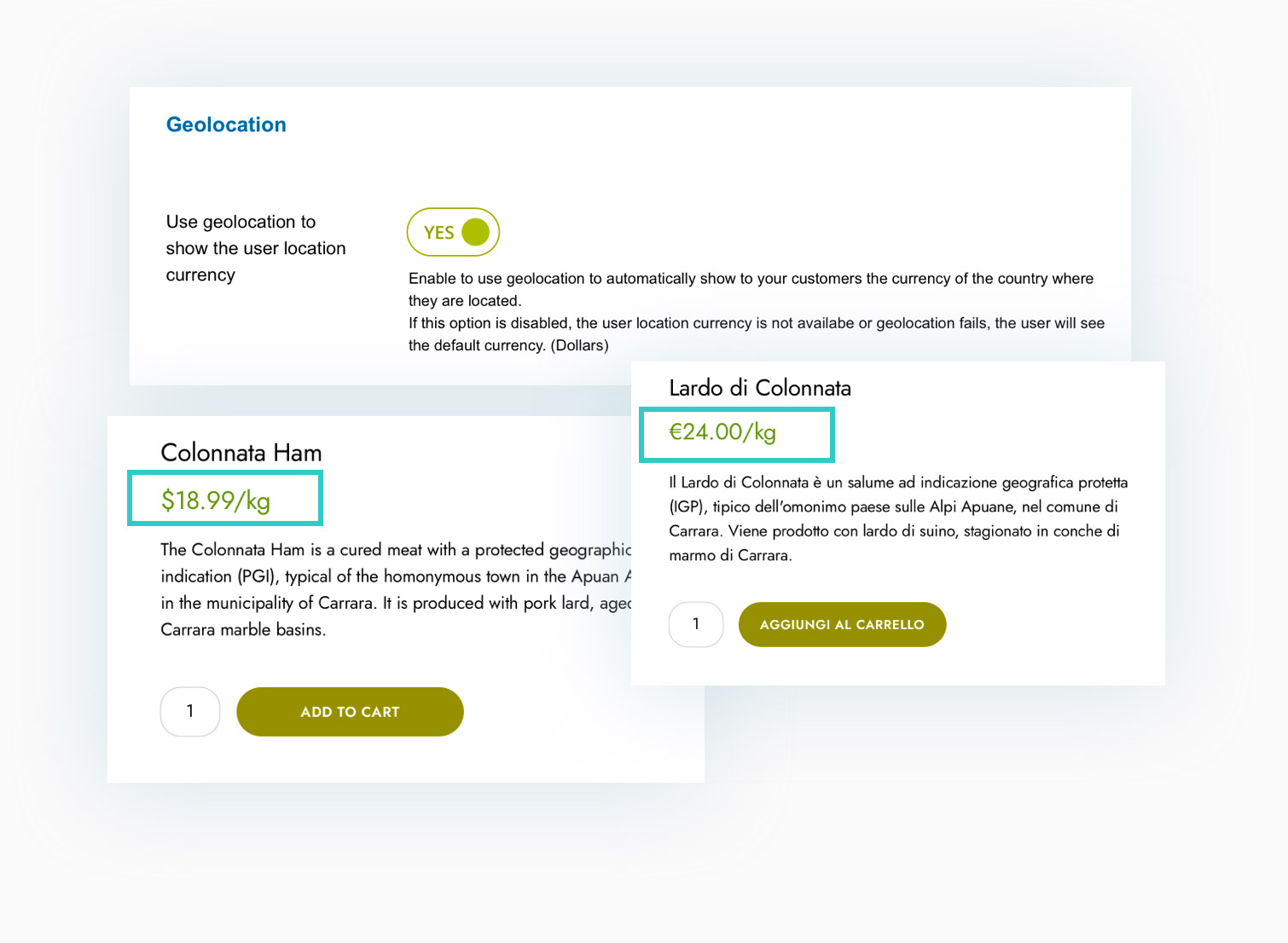 Geolocate users and automatically display prices in their local currency
Users might find the action of changing the currency manually a bit frustrating. To improve your shop's user experience, you can geolocate your users and show them their local currency in a totally automatic way. Users from the US will view prices in US dollars, users in the EU will view prices in Euros, and so on: the best way to make every customer feel comfortable.
Create custom rules to choose which currency to show to users from a specific region
Create custom rules to choose which rules will be displayed by default to users based on their origin country and override the geolocation options. I.e. Do not show Argentinian users prices in their local currency (Argentine pesos), but show them in US dollars.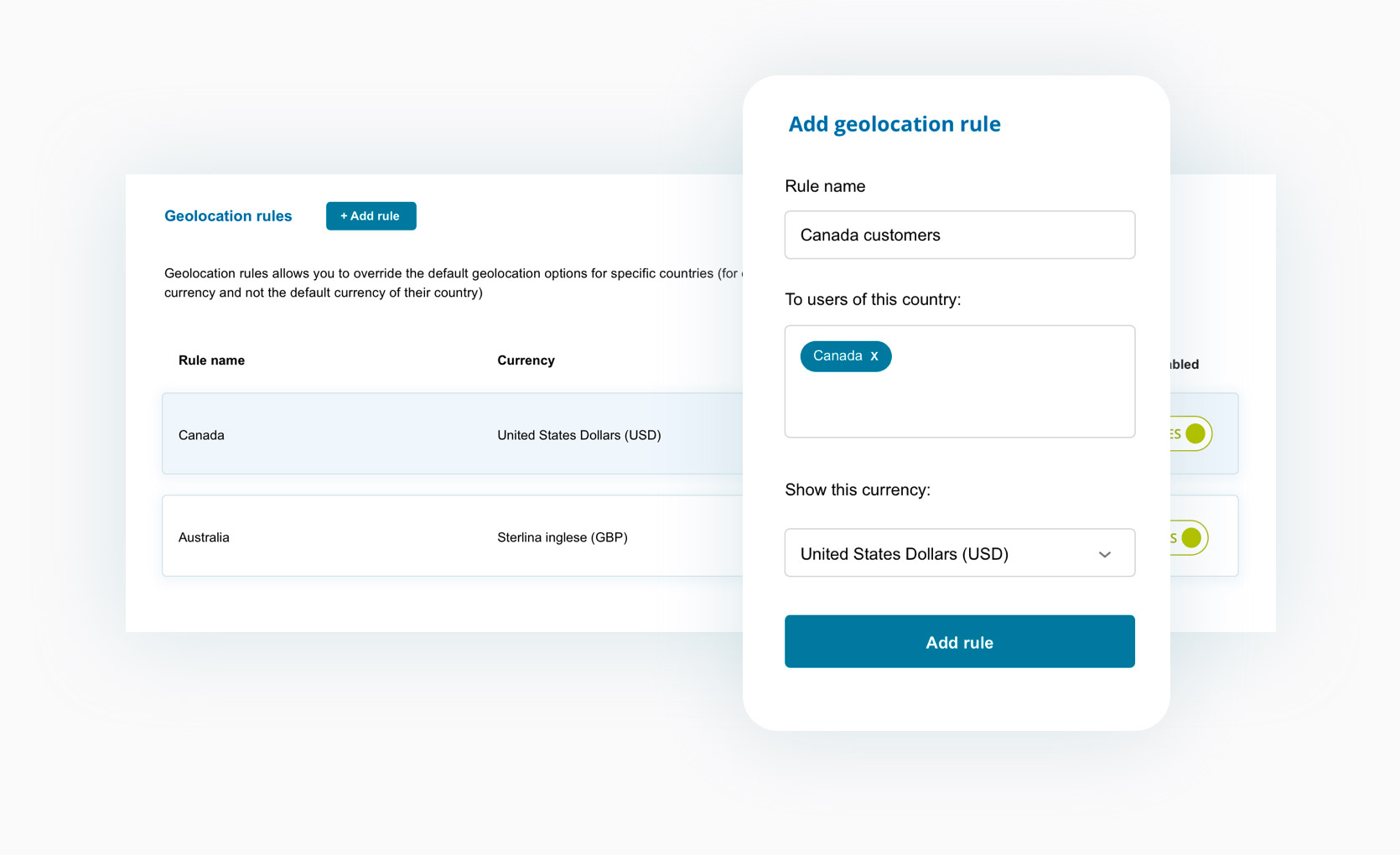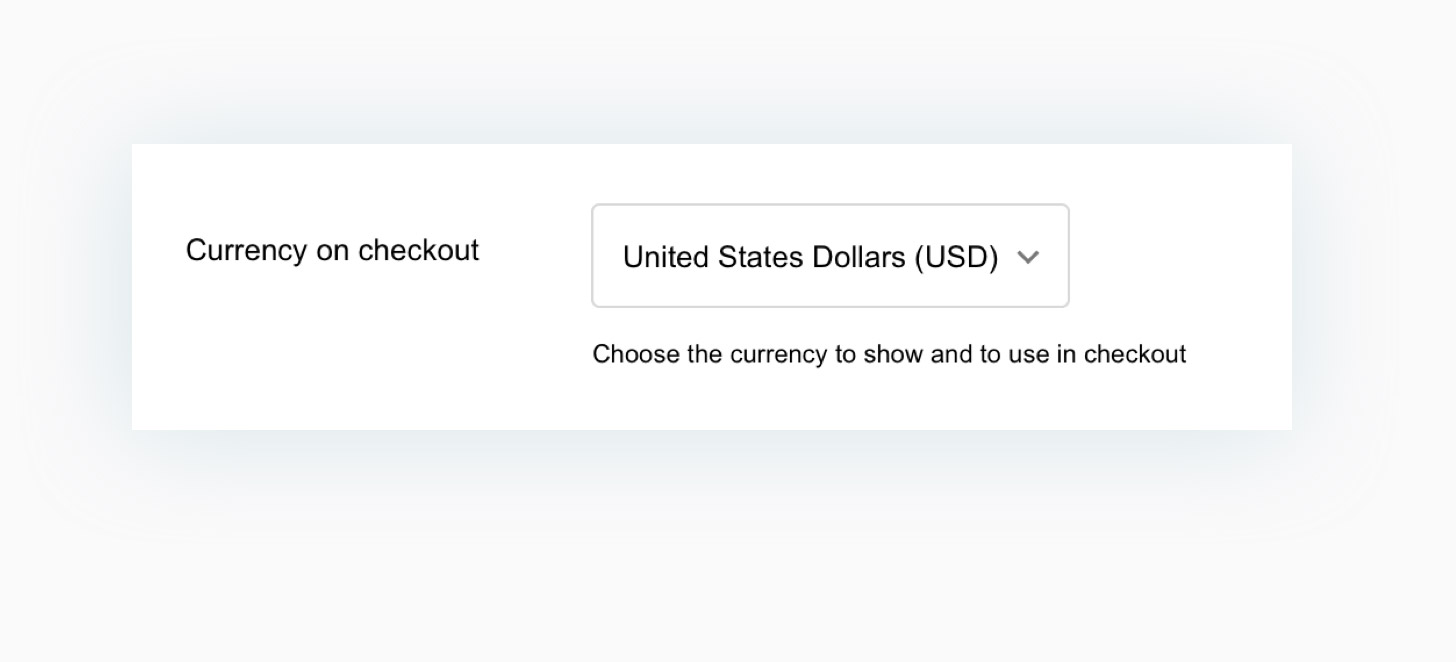 Set up and show a default currency on the Checkout page
Do you want users to view prices in their local currency but allow them to pay only in one default currency? With just one click, you will be able to force a default currency at the checkout for all your users.
Enable a sticky currency converter
Looking for a modern solution with an eye-catching and impactful design? With just one click, you can activate some sticky currency badges to display on the right or left side of your screen.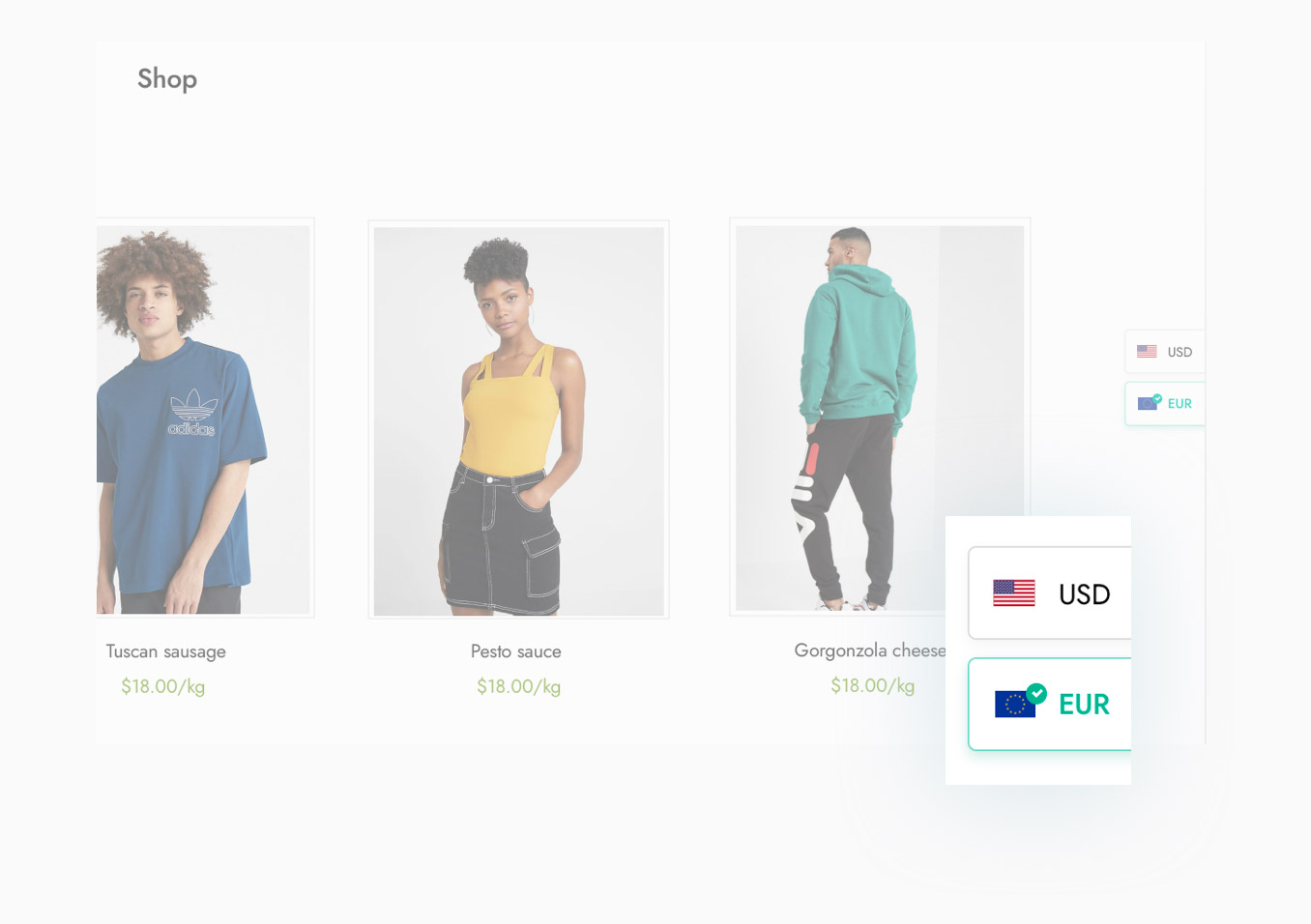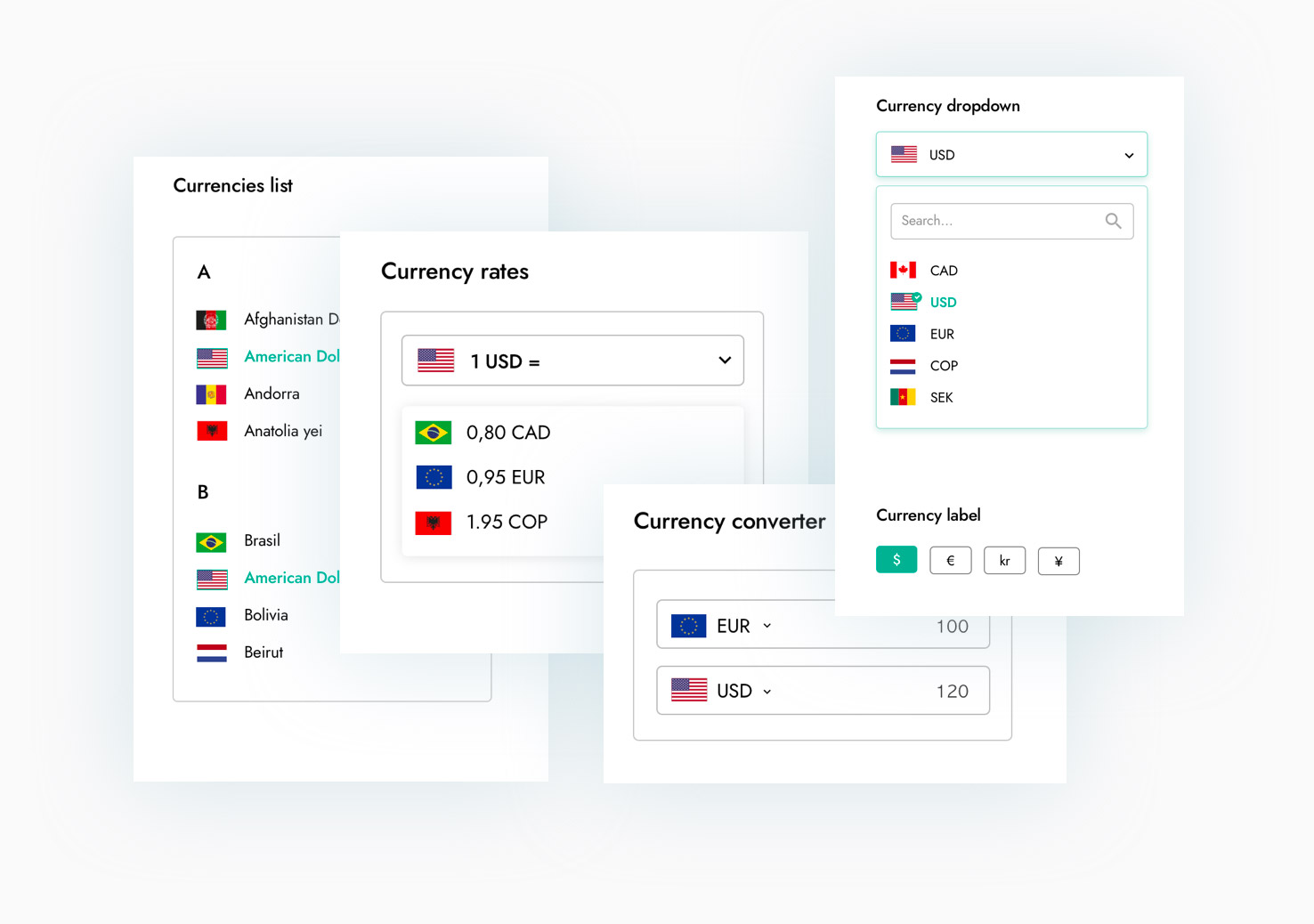 Use shortcodes, widgets, and Gutenberg blocks to show a list of currencies and the switcher anywhere in your shop
You can create unlimited shortcodes and add them anywhere on your site or use the built-in Gutenberg blocks or Elementor widgets.
Customize the style of the shortcodes (colors, flags, etc.) based on your design needs
Customize the look of every shortcode with your own colors and style, flag display, and flag position. Every widget has a modern and minimal style that makes all the tools perfect for any e-commerce theme.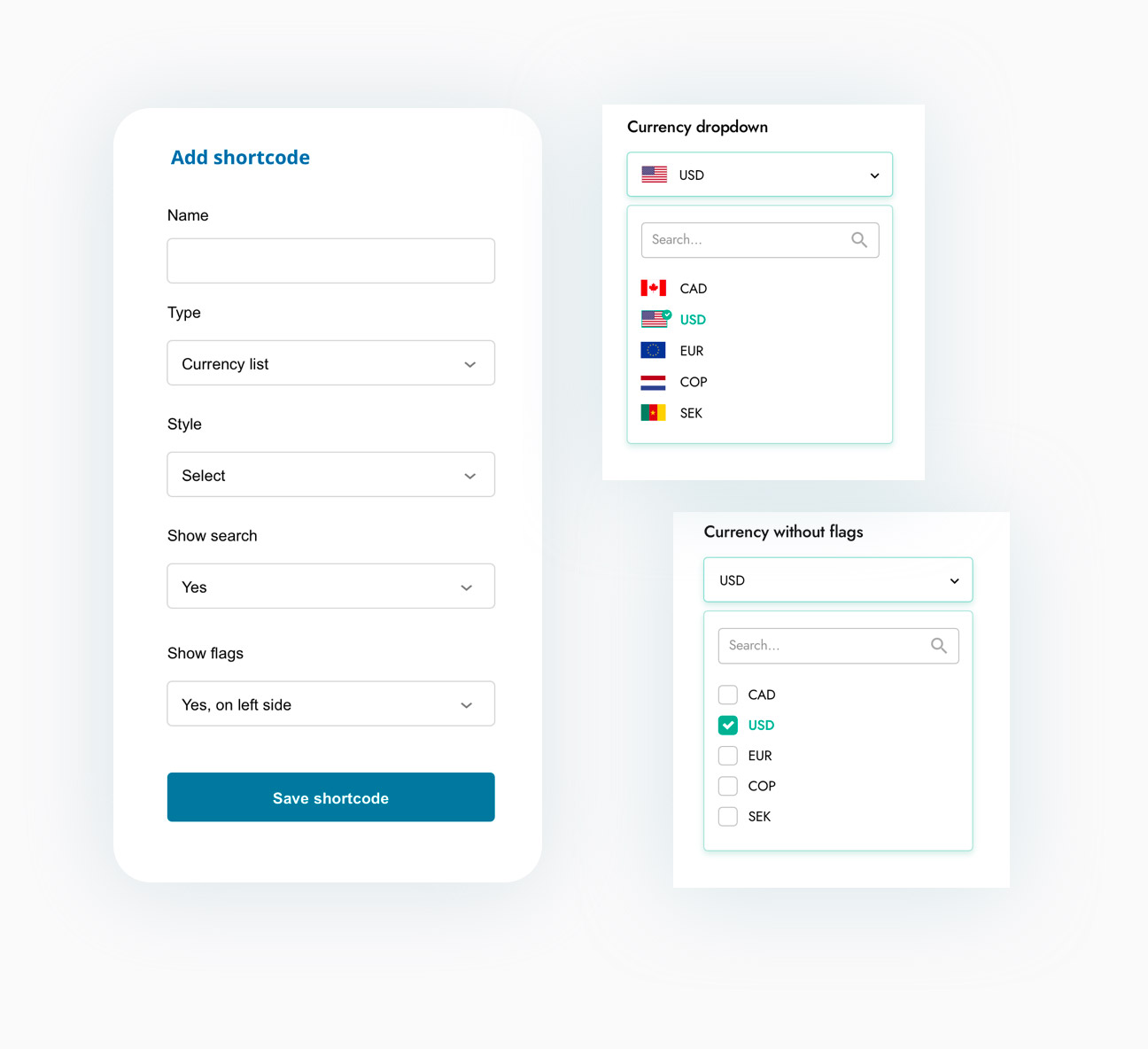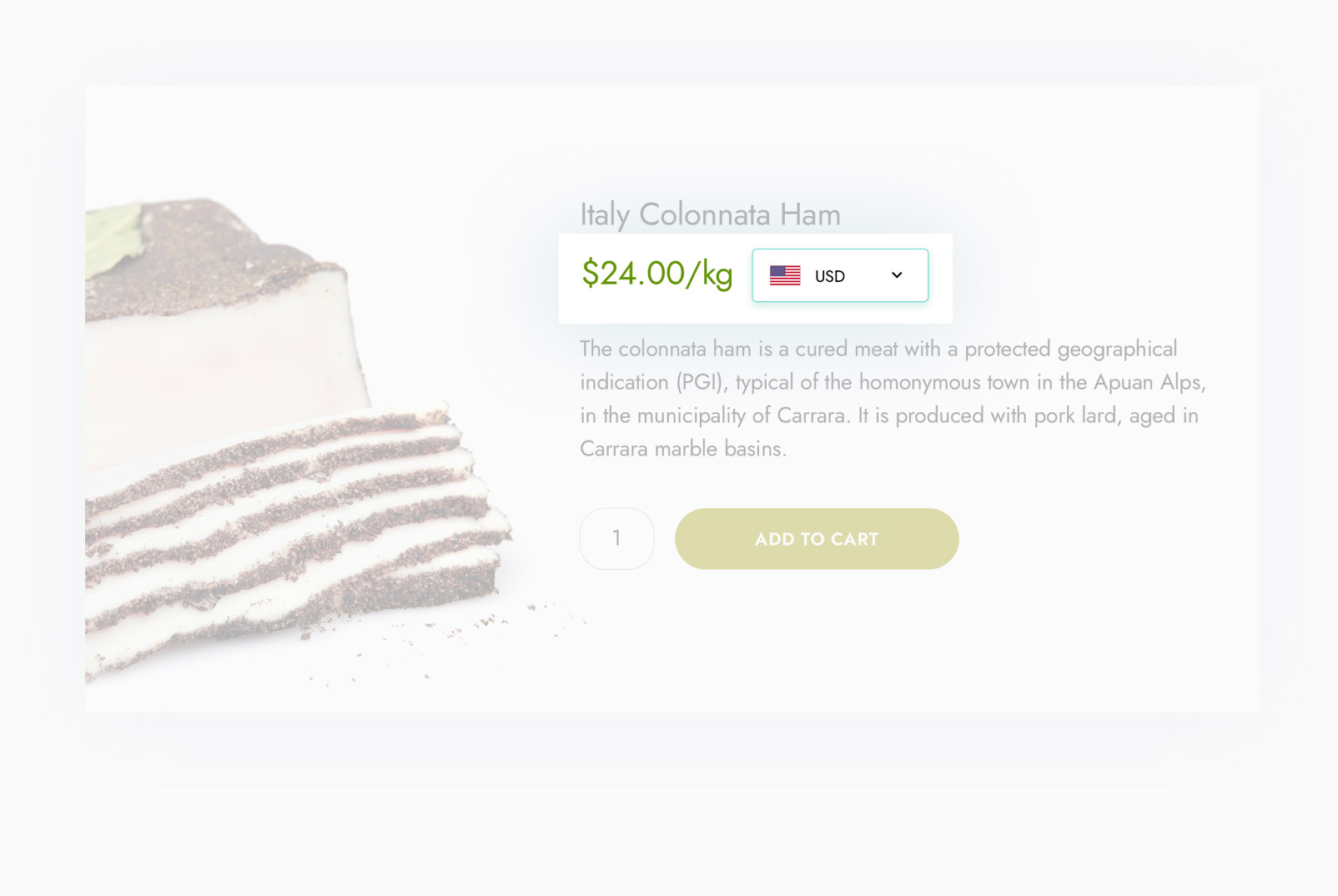 Choose whether to show a currency switcher on the product page
Enable the option to show a select dropdown on every product page to let the user convert the price of the product into a different currency.
Set the price of every product in every currency manually
You can either let the product price update automatically based on the exchange rates or enter a different value for every currency and so set up the price manually. This way you can set different prices based on where the customer is buying from and based on the currency displayed.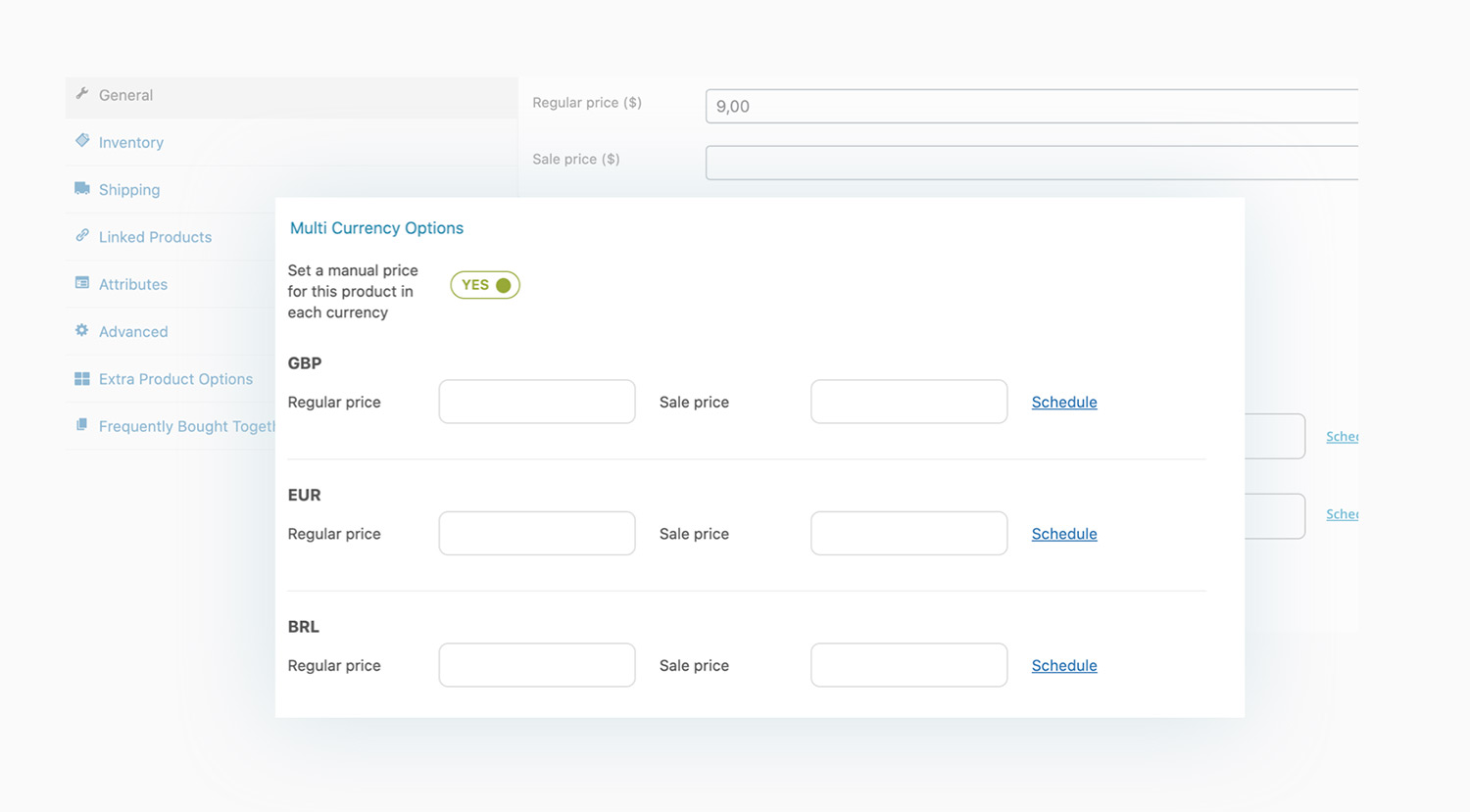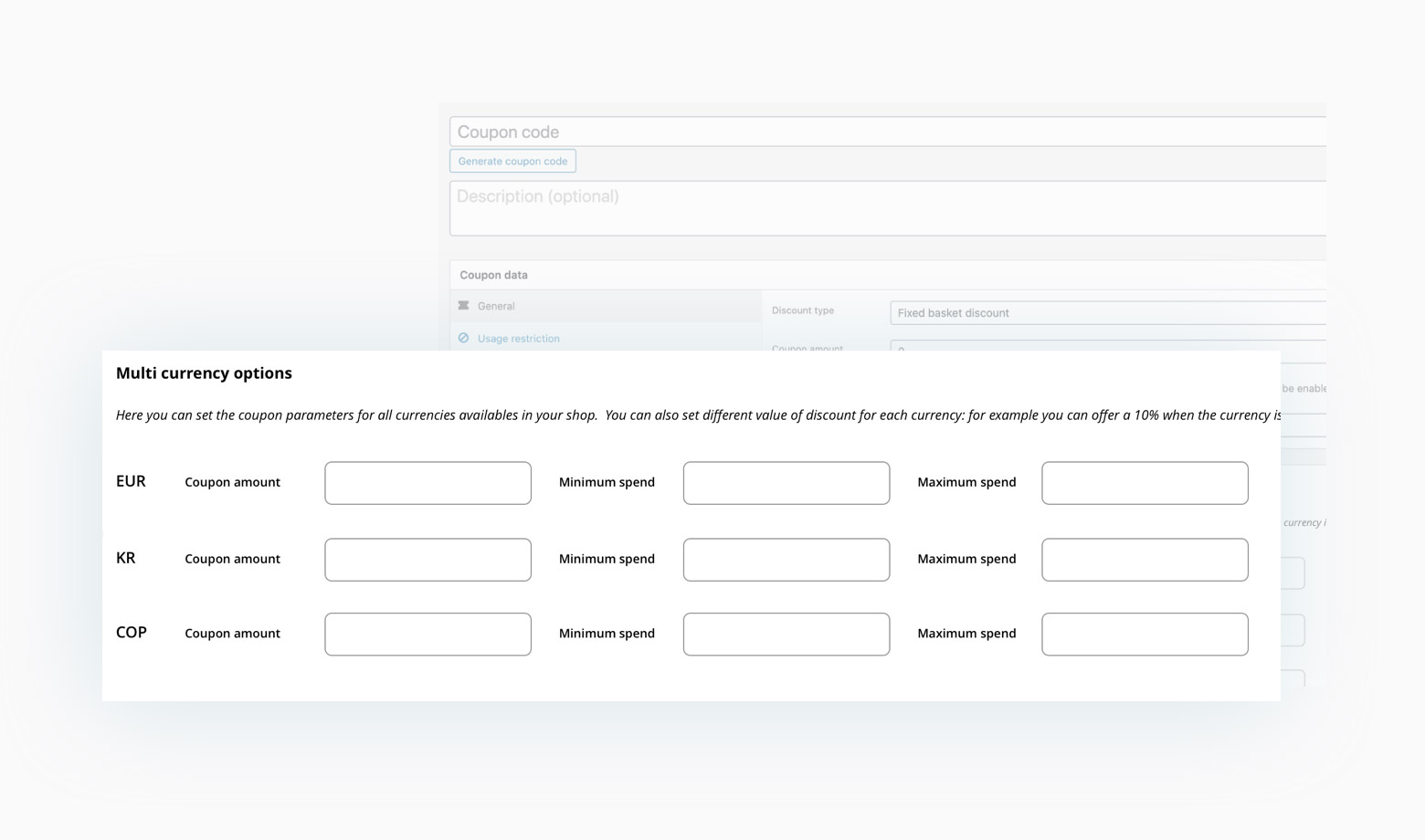 Set the values of the coupon code for every currency of your shop
Configure the values of the coupon codes you create for every available currency, so you can create custom promotions for every currency.