YITH WooCommerce Anti-Fraud solves this problem by blocking orders placed by possible scammers.
You obsessively take care of your site every day, you control everything, from the smallest expense to the pleasant income. Then, while you are checking every single order, you find out that you have to delete some of the sales because they are fraudulent purchases. Scams.
Do you know that in the event of fraudulent purchases made with a credit card,90% of the times the bank will compensate the buyer, thus making you lose the sale made and the product sold?
This plugin checks if there are suspicious actions during the purchase process by assigning them a coefficient of risk which will block the order automatically if it is too high, setting it as pending.Meanwhile, you will receive an email and you will be free to discretely check the possible buyer, asking for more information before approving the purchase of the product and so on. Two simple words: goodbye scams!
YITH WooCommerce Anti-Fraud was designed appositely for all of those vendors that are tired to try the impossible in order to boost the number of their customers and their sales only to run into a huge rate of fraudulent purchases.
A fraudulent purchase affects your store in several ways:
It increases the risk of refunds for the vendor
It increases the risk of ending up into banks' blacklists.
It makes vendors waste precious time while having to deal with every single fraudulent transaction.
It damages the public image of your company in the eyes of customers.
Scams are rising in numbers and as a vendor you have the right and the need to protect yourself, in order to create a truly functional store with no security weakness.
Version:

1.33.0

Released:

2023-11-13

Minimum PHP version:

7.0

Requires:

WordPress 6.2

and WooCommerce 8.1

Compatible up to:

WordPress 6.4.x

and WooCommerce 8.3.x

Supported multilanguage plugins:

WPML, Weglot, Loco Translate

Translation ready:

YES

Languages 100% guaranteed by YITH:

English, Italian, Spanish

Languages provided by users:

Dutch (94%),French (97%), Greek (94%)

Support for:

YITH Proteo theme. All YITH plugins.

Supported third party themes:

Avada, Divi, Flatsome, Neighborhood, Storefront, X

GDPR Compliant:

Yes
WITH
YITH ANTI-FRAUD

YOU CAN:
Choose the risk limits
Set manually the risk value of all rules!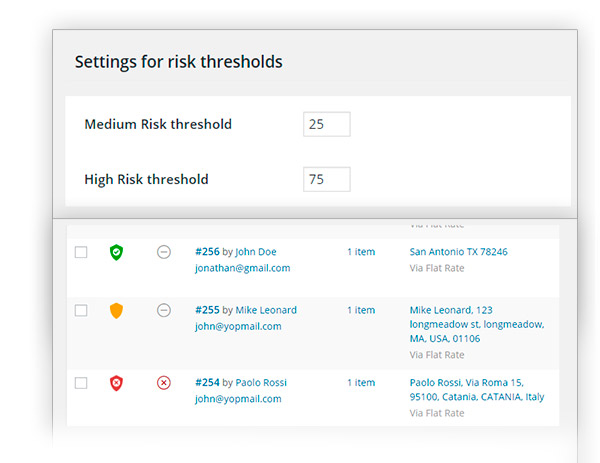 Give the right weight
Set the importance of the rules and configure their weight.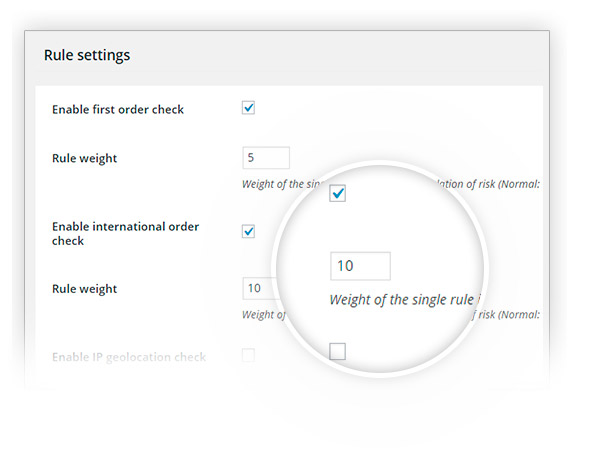 Block suspicious emails
Add the domain you don't trust and block all orders from accounts with those email addresses.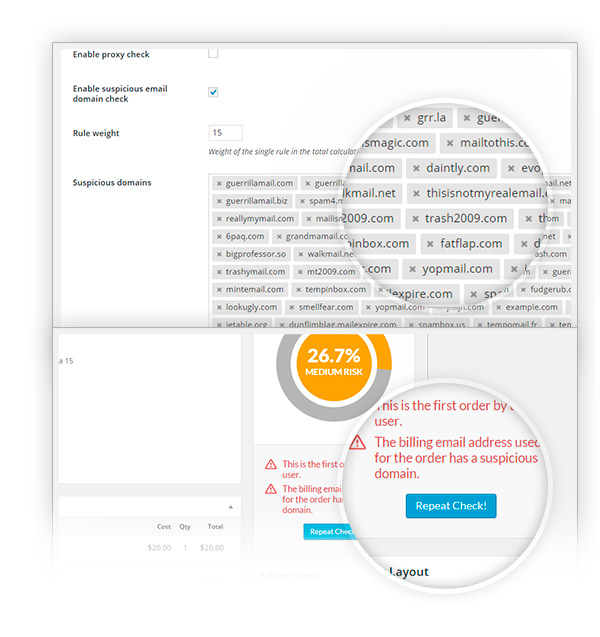 Check the order amount
Pay attention to orders exceeding the purchase average in your shop or the threshold you specified.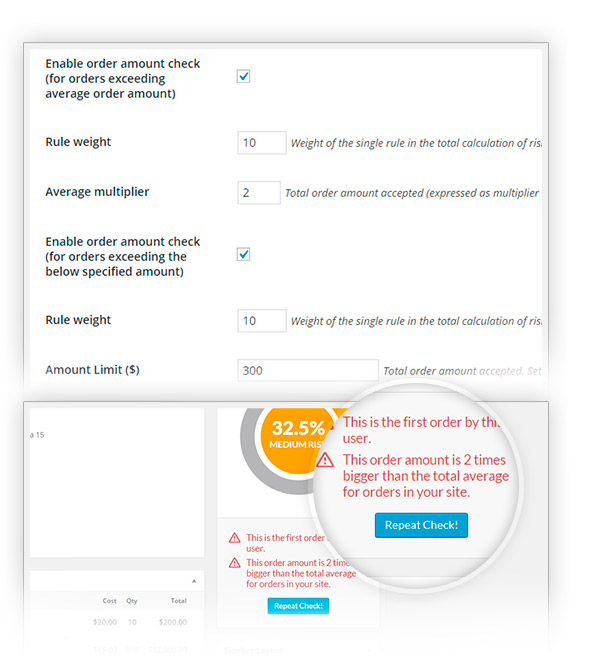 Check large amounts of sudden orders
A huge amount of orders from the same IP in a short time span can be definitely suspicious: be ready for that!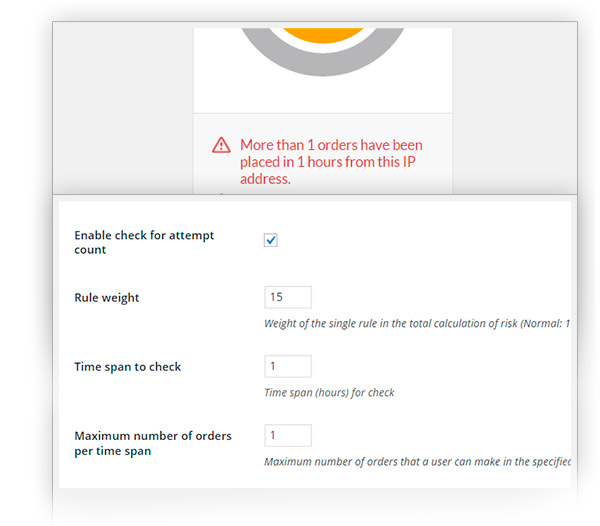 Be aware of orders made behind a proxy
This procedure is often used to elude some kind of limitation.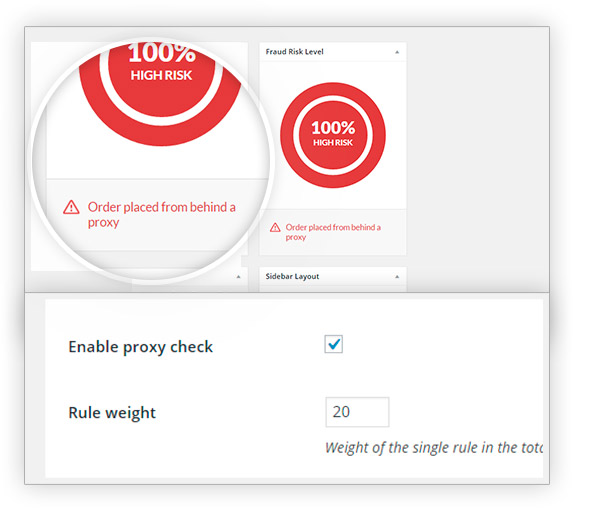 Check the billing information
The plugin will let you know if the same user has made an order with different billing information from those used in the past.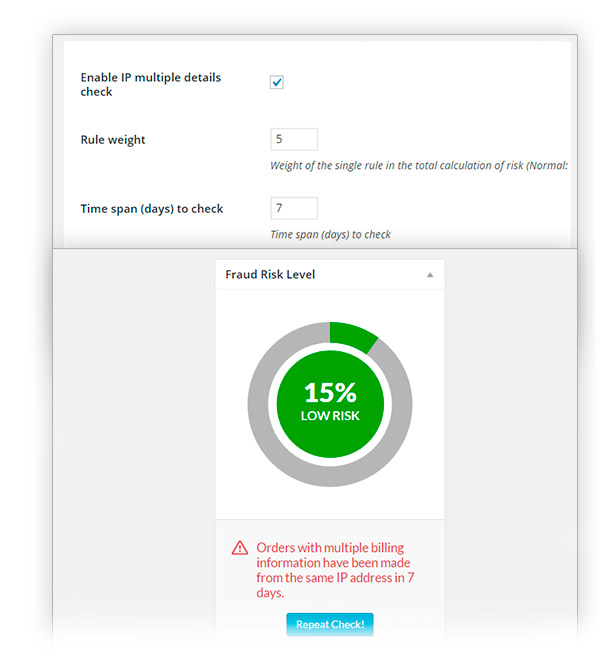 Block orders from selected countries
A regional lock that can prevent purchases from countries you don't want.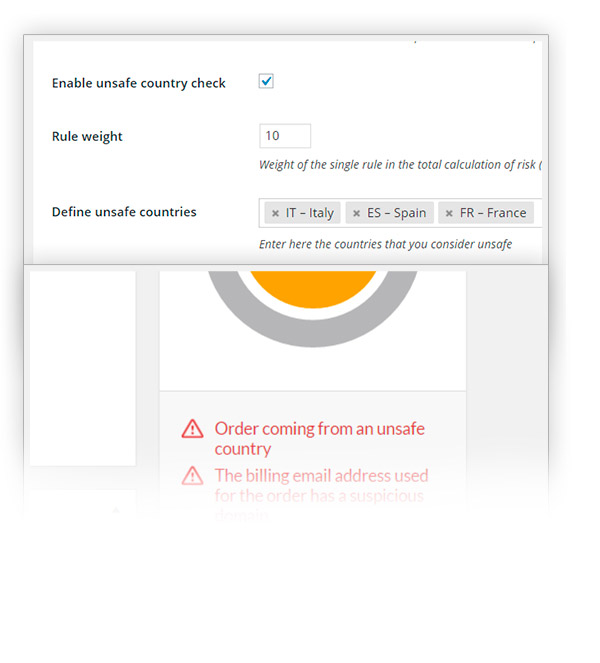 Benefit from a blacklist
The perfect way to list all those fraudulent users.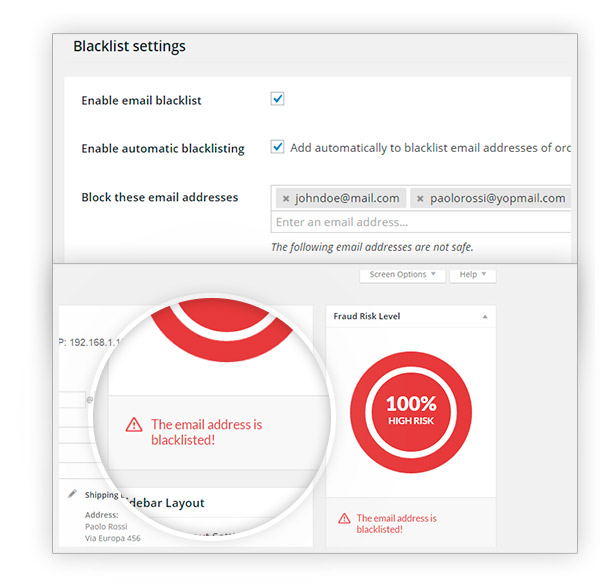 Cancel all suspicious orders
All those orders that have a high value of risk can be automatically cancelled.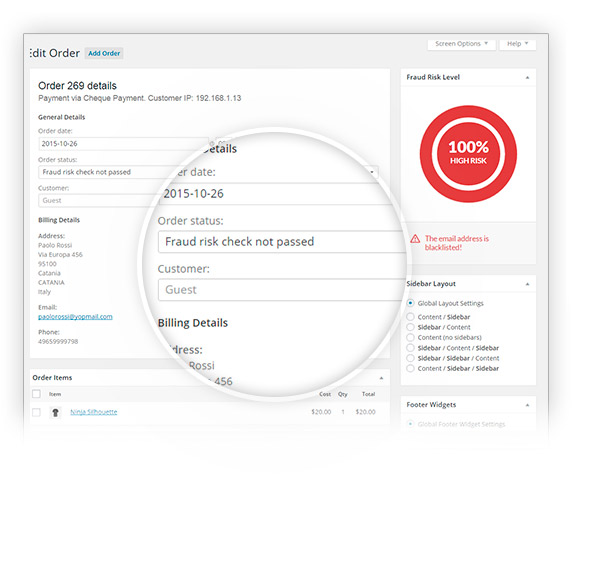 Request an email verification
To those users that try to purchase with a PayPal address.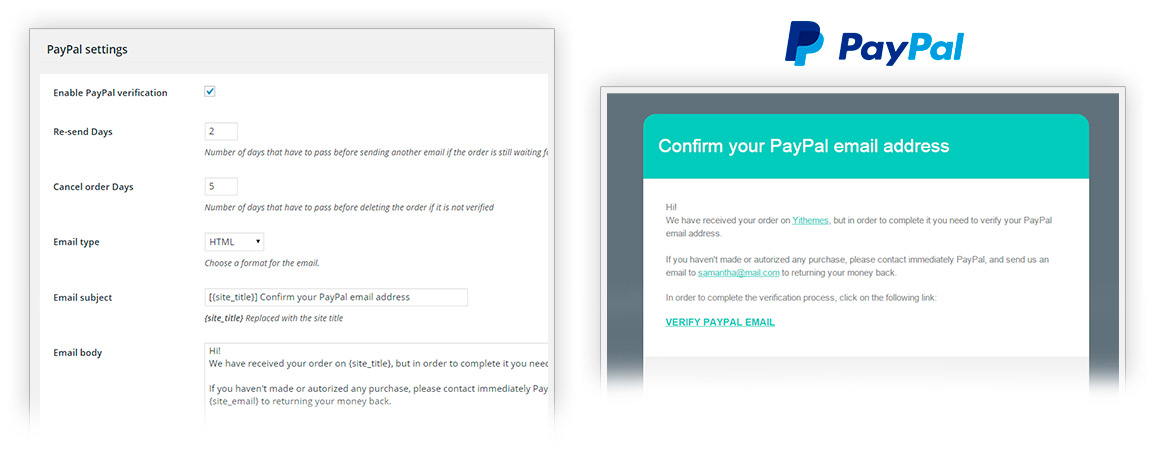 Take advantage of the WPML compatibility
You are free to easily translate the plugin with the powerful WPML tool