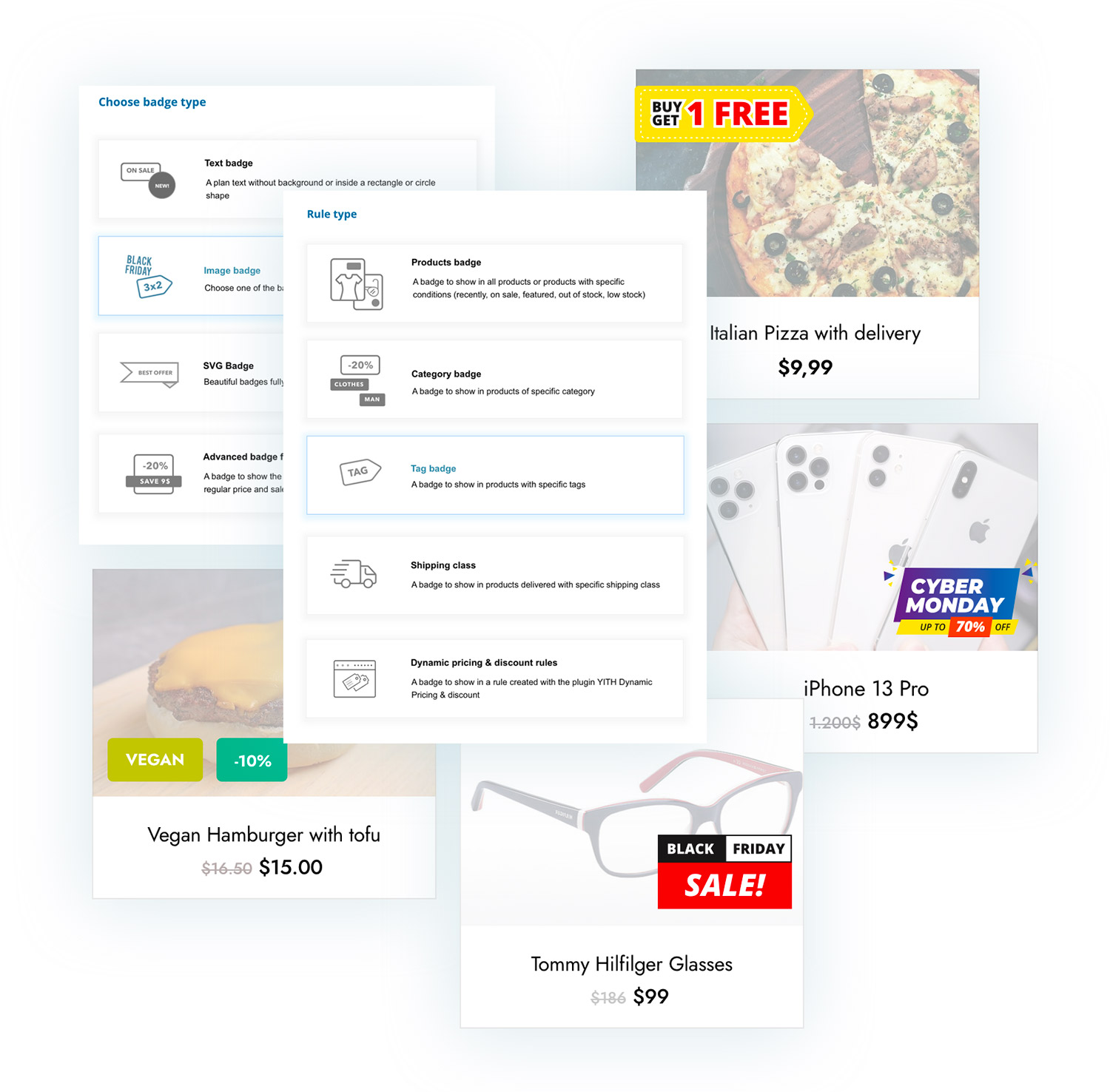 Highlight products, features and promotions with graphic badges to boost sales in your shop
Research on e-commerce websites proves that using product badges increases conversion rates by 55%.
In your own personal experience, how interesting are the badges on products that have a "50% off" or "Black Friday Deals!", "Buy 1 Get 1 Free" when you enter a shop or check a store front? Without those badges, you wouldn't even have known about those offers. The same happens to your customers: a badge system can highlight offers, new or featured products, special features of the items you are selling or something that's about to run out of stock.
YITH WooCommerce Badge Management allows you to use a wide library of badges that are included or to create unlimited custom badges through a powerful builder. You can manage automatic badge display rules for your shop or manage badges individually for the products or the promotions you prefer.
Badges can be a powerful marketing tool and you can use them to lead customers toward specific purchases.
Create unlimited badges: simple, CSS or image badges
Use the badge builder to create unlimited badges for your shop. You can create either simple badges (just text and background), pick a customizable CSS badge (you can change text, color, size, etc.) or choose an image badge from the library or even upload your own image and use it as a badge.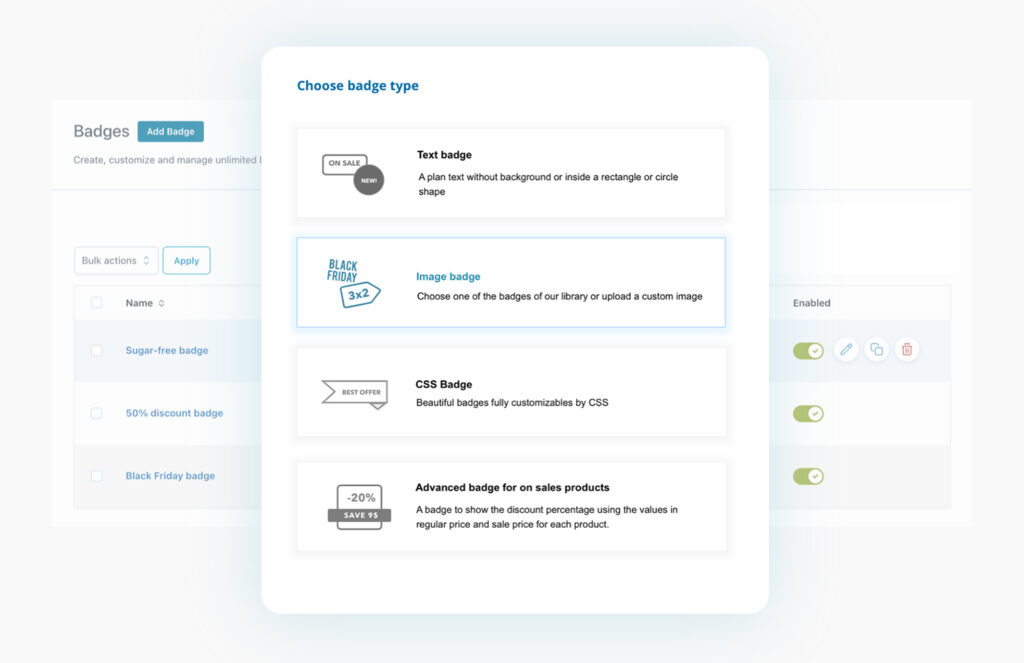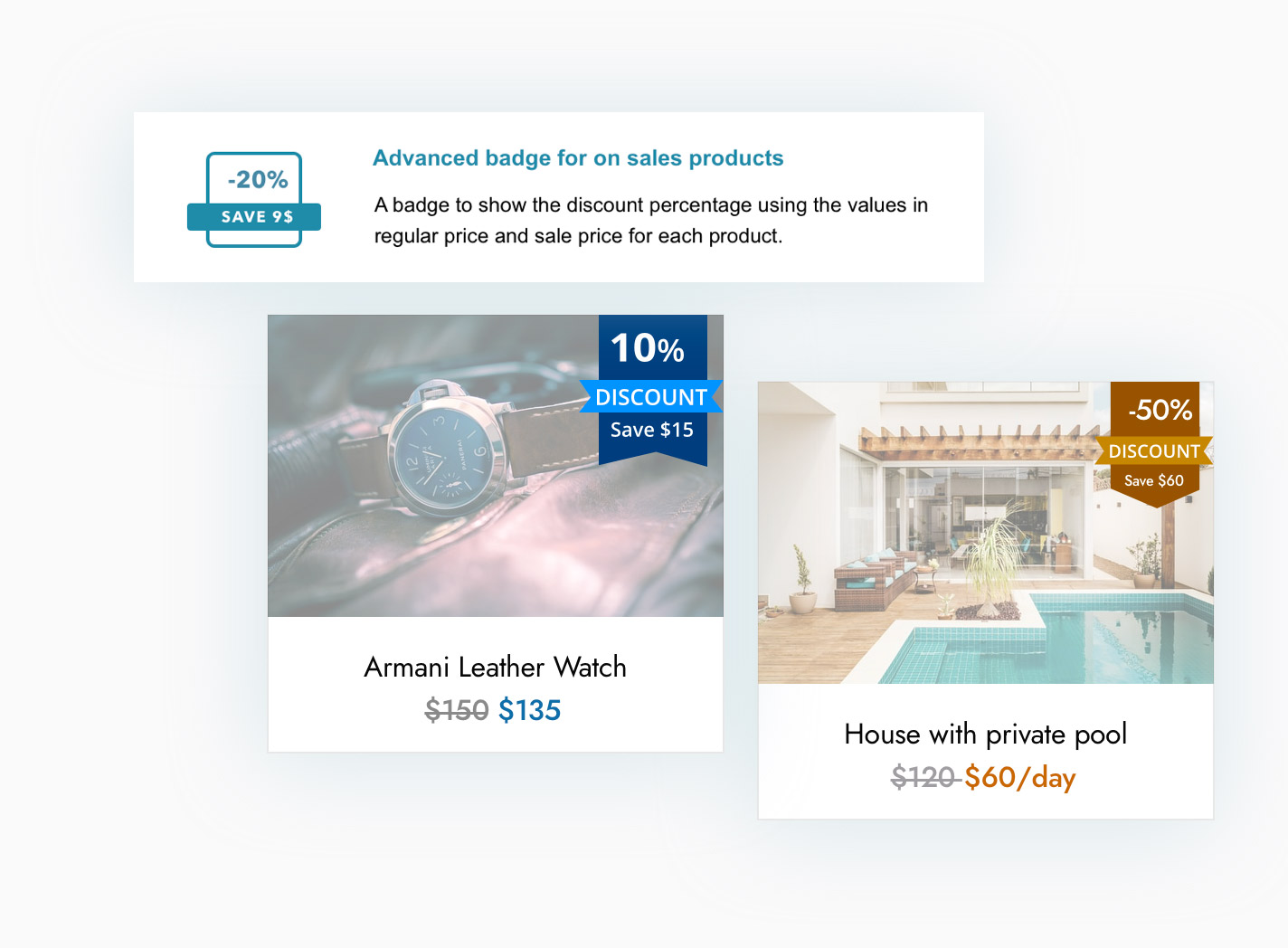 Create advanced badges to dynamically show the discount and saving
Advanced badges calculate and show the discount percentage on the product automatically and, if you want to, also the amount that the customer is saving. The perfect solution for instant feedback on prices, discounts, and offers, and to push the customer to buy.
Use the badge builder to customize every detail of your badges
Thanks to the built-in badge builder you can customize every detail of your badges: text, colors, size, radius, padding, opacity. You can also rotate the badge and choose its position with drag & drop and preview it in real time.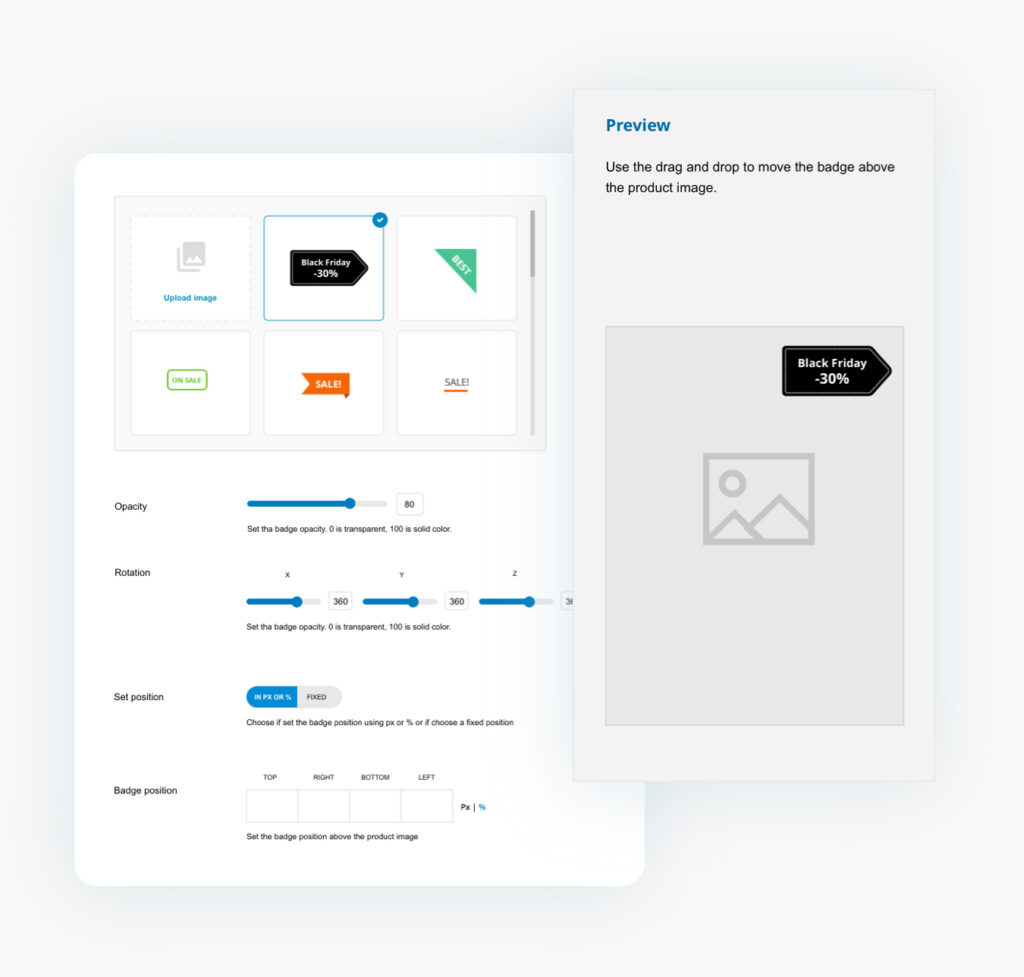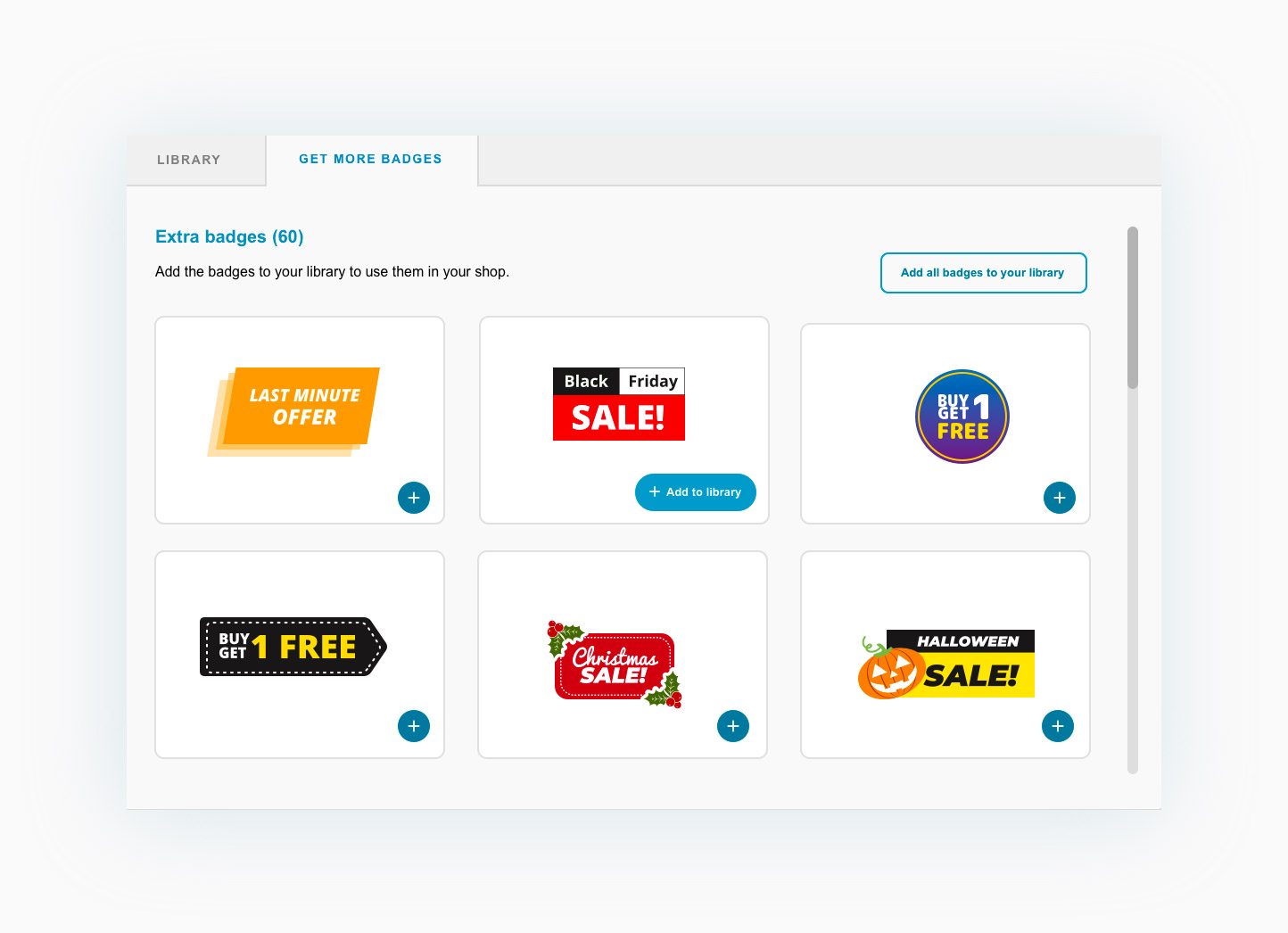 New
Hot
Access a free library with 60 ready-to-use badges for Black Friday, Christmas, End-of-season sales, Cyber Monday, etc. (and we will add more!)
One of the newest features is the badge library, where you will be able to download the badges we provide for free. At the moment you can find 60 badges, and most of them are themed: Black Friday, Christmas, Halloween, Valentine's day, Cyber Monday, End-of-season sales, and many more. We keep adding more and newer badges to enrich the library and offer you more and more freedom.
Choose whether to show the badges to all users, only specific users or roles
You can choose whether to show the badges to all your shop users or to specific user roles only. If you use the plugin with YITH WooCommerce Membership, you can also decide to show the badges to members only.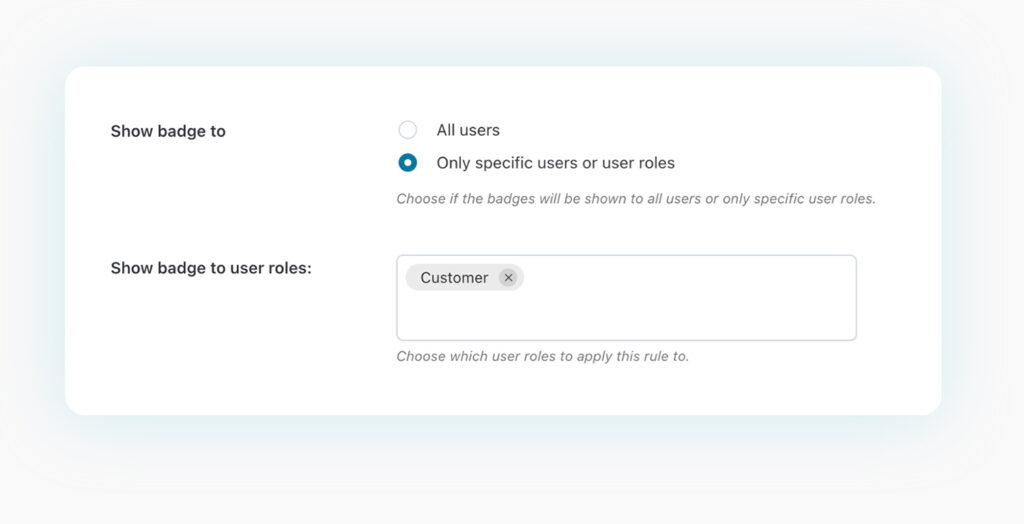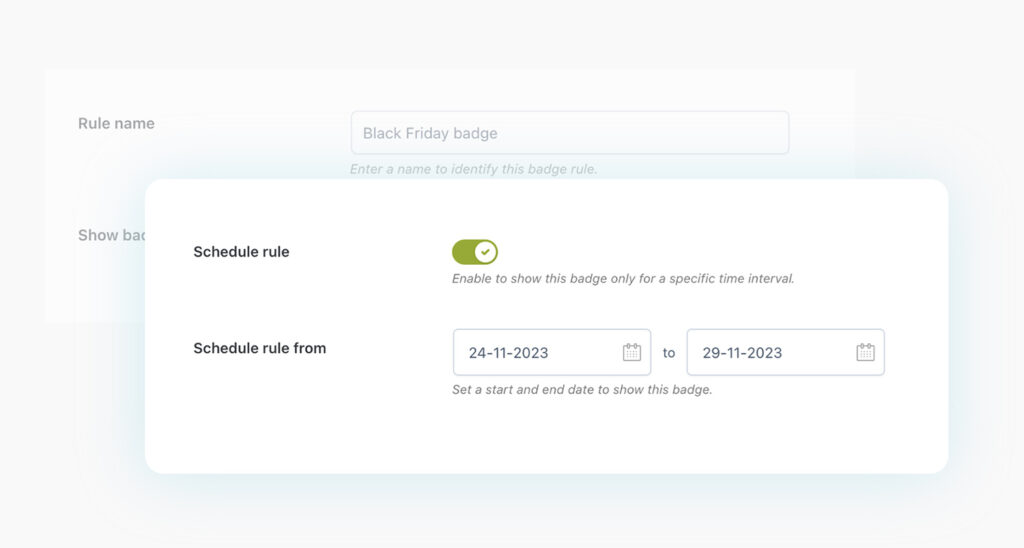 Schedule the badges to set when, and how long, they will be displayed
Do you want to show a Black Friday badge only on the day the promotion runs or schedule a Christmas badge from 1 to 31 December? Use the built-in option to schedule the badge and it will be automatically disabled at the end.
Create custom rules to assign the badges to specific products (new, featured, in stock, out of stock, low stock, etc.)
Create a "New" badge for products that have been recently added to the shop, a "Featured" one to give visibility to the featured products, a "Hot" badge for bestsellers, or another one to locate the low-stock products and so on. Thanks to the custom rules, you will be able to assign different badges to any kind of product available.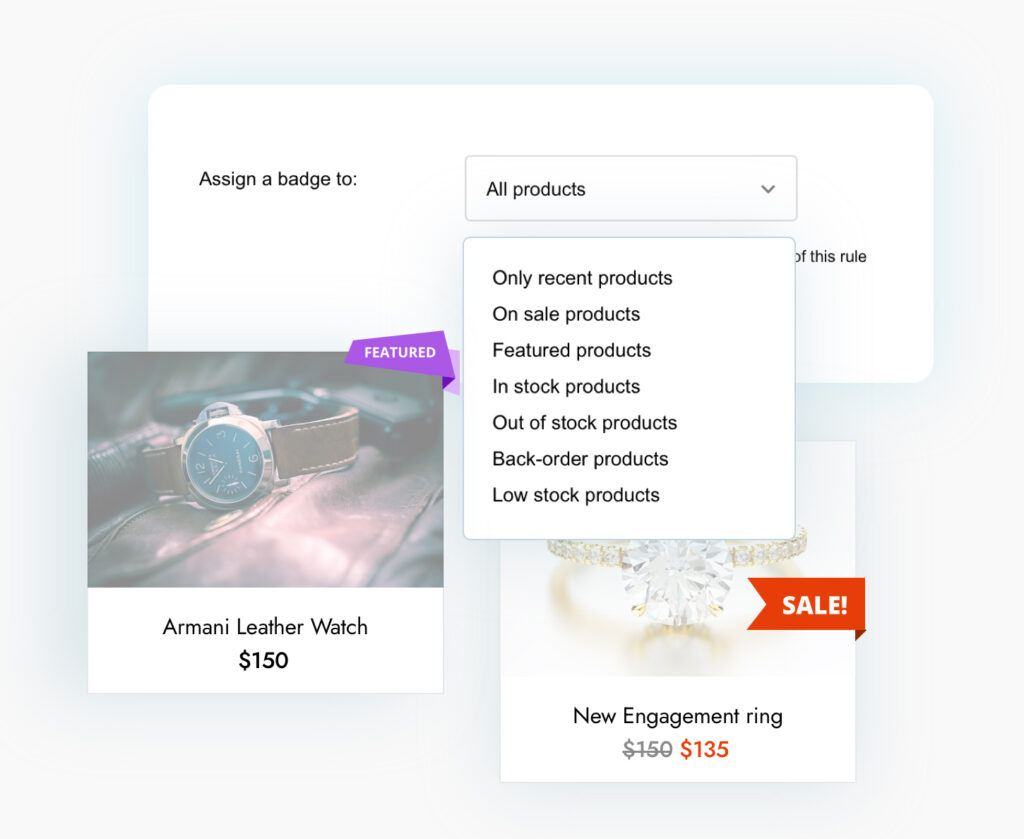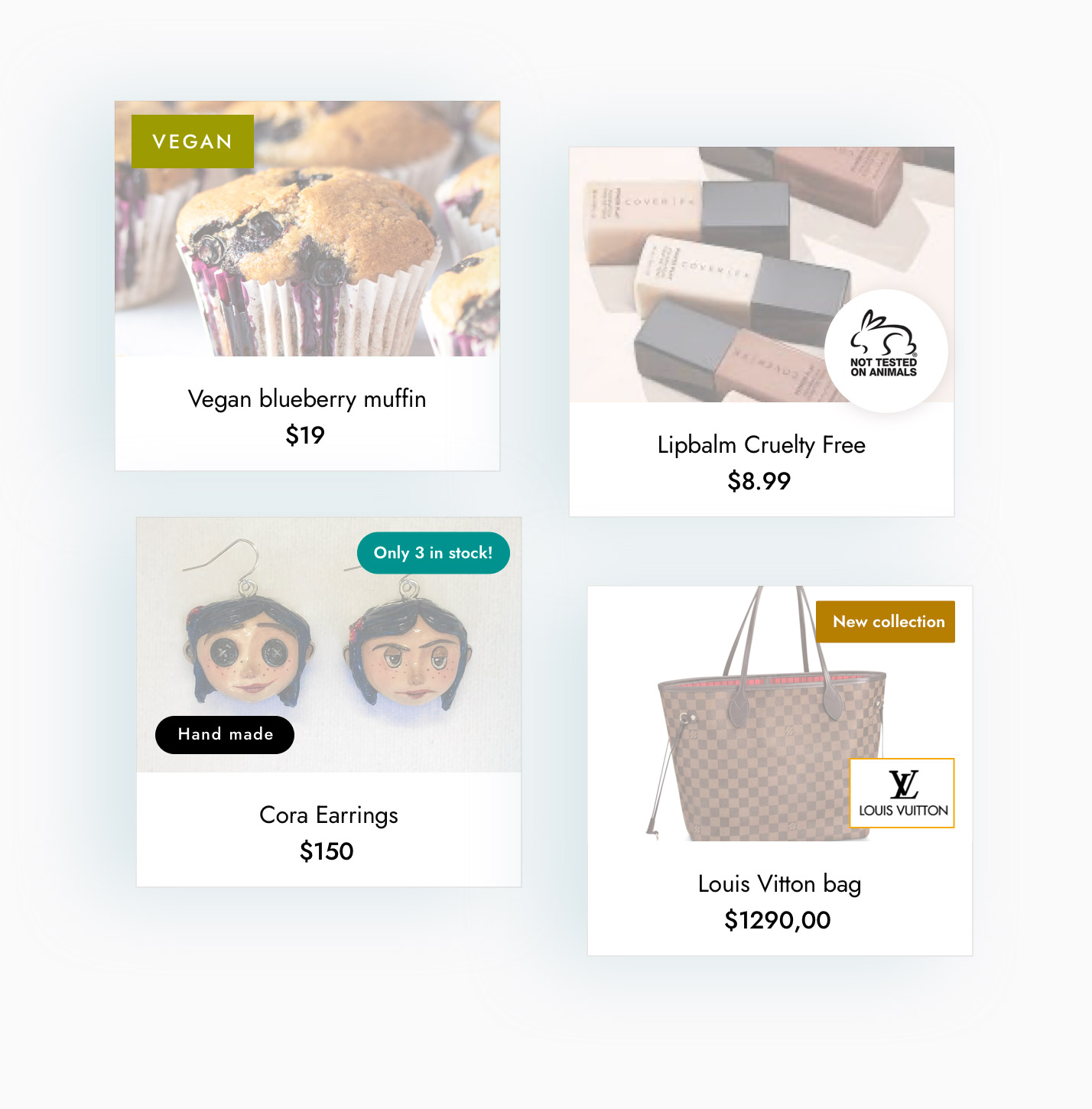 Create custom rules to assign the badges to specific categories or tags
Badges are not just for highlighting discounts or deals: you can also use them like in the biggest shops (like Zalando, H&M, Asos, just to mention a few) to highlight products of specific categories ("plus size", "eco-friendly", etc.) or to emphasize your products' features and strengths. If you sell food, for example, you can build badges like "vegan", "sugar-free", "gluten-free". You can also build badges with the names of the brands or the stylists, or even with specific technical details that could turn out to be useful to your users looking for specific and niche products. There are basically unlimited possibilities to use them.
New
Assign badges to specific product variations
The plugin allows you to assign badges to specific product variations. In this way, you can, for example, assign a low-stock badge only to the black XL t-shirt, and make sure it does not appear on other variations of the same product, in a different color or size.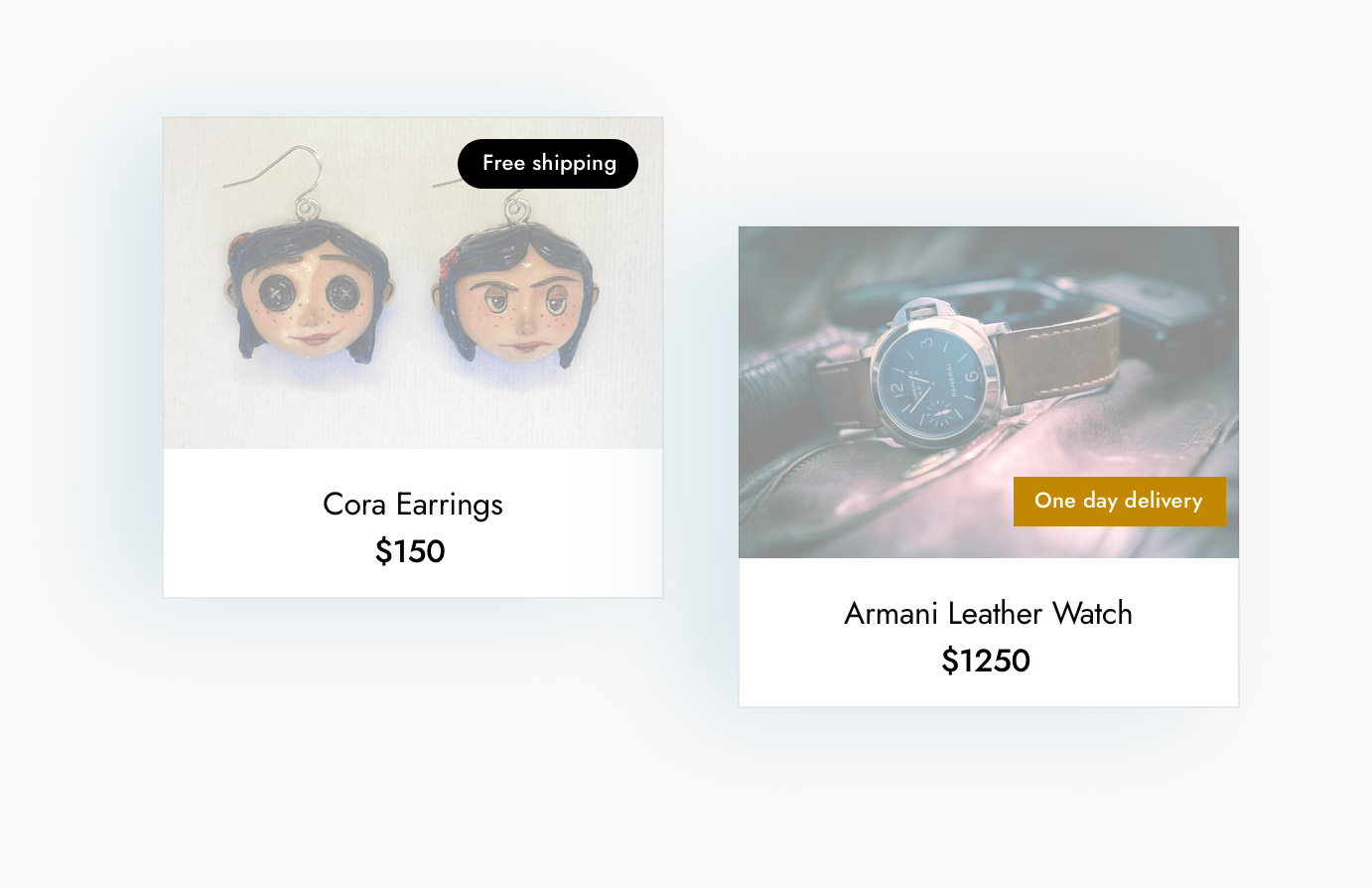 Assign badges to highlight products that benefit from specific shipping classes
Do you want to show a badge for "low cost", "free" or "express" shipping that is available on specific products and categories only? You can create specific badges and apply them to the shipping classes that you create in WooCommerce.
Assign badges to highlight products with a specific promotion or discount set up with the YITH Dynamic Pricing & Discount plugin
YITH WooCommerce Badge Management and YITH WooCommerce Dynamic Pricing & Discount is a mix that should not miss in any online store. If you set up advanced discounts and promotions with Dynamic Pricing & Discount – for instance, a 10% off all products on Black Friday or Christmas – you will be able to automatically assign the badge to emphasize those products with a running promotion.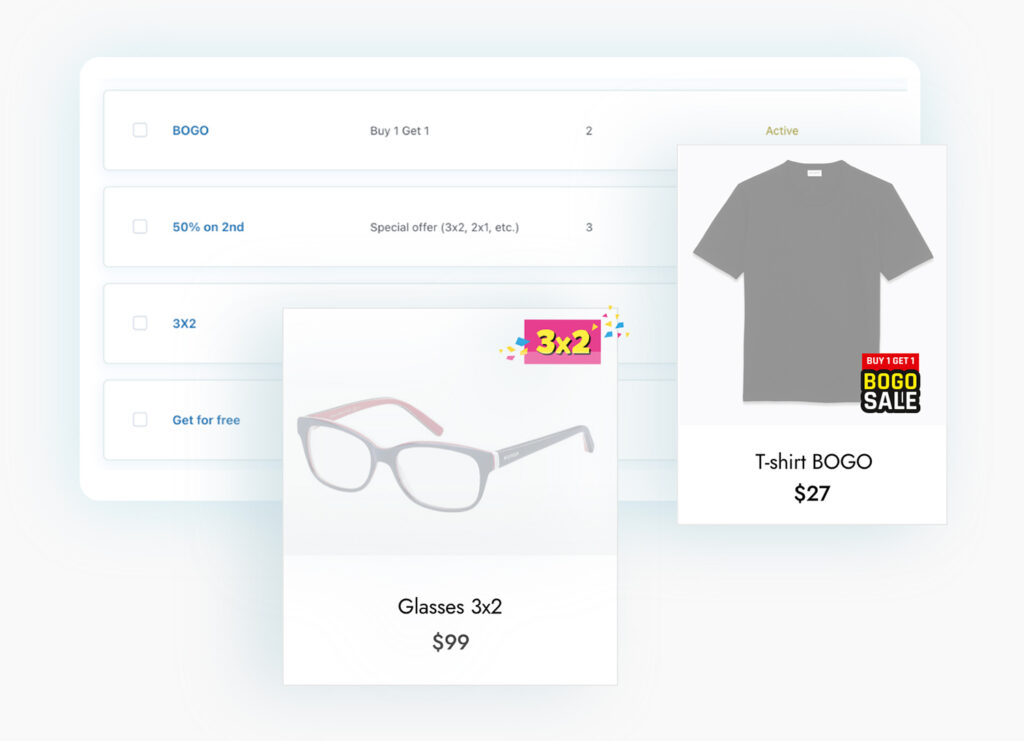 Use WPML to translate the badges into the languages available in your shop
Thanks to the compatibility with the WPML plugin, you can translate all the badges into your shop languages and show custom messages to your customers, regardless of where they are located.