A subscription is a way of collecting payments that happen on a regular basis over an agreed period. This concept has been around for ages and is not new to the sales industry.
The shift to digital sales has actually made this tool more effective because more businesses now rely on recurring payments, and electronic payments make fee collection more accurate and secure.
These days, lots of businesses are selling subscriptions as part of their services. Sometimes, these payments are needed for the service to work properly. Other times, they're just a way to boost sales.
Now, let's check out some examples of popular online subscription business models. After that, we'll show you how you can achieve similar results on your own eCommerce site built with WooCommerce.
We went with WooCommerce because it lets you set up subscriptions and recurring payments with just a few clicks. Even without programming experience, you can create this kind of business model.
Before we proceed, let's quickly clarify what a subscription is and its features. This will help you when you're ready to apply them to your own business model.

What is a subscription and how it works
If you're thinking of starting a subscription-based business, it's essential to have a clear understanding of how they work. It's also important not to mix them up with other sales models.
Just a quick heads up – subscriptions and installment payments may seem similar, but they're actually quite different in their purpose and process.
An installment payment means dividing the total cost of a product or service into multiple payments. This way, you don't have to pay the entire amount upfront, which is great for expensive purchases.
In this situation, the customer has to finish paying off all the installments on time. Once that's done, they become the proud owner of the product or service they bought.
When it comes to recurring subscription payments, things are similar yet different. Recurring payments can be a great option for pricey products or services, but it offers unique features for both the buyer and the seller.
Subscriptions usually offer customers a recurring product or service as long as they keep their subscription. If they cancel, they'll lose the benefits.
Taking a specific example:
Installment payments – When you buy product/service A, you don't have to pay for it right away. Instead, you can split the payment out over X installments.
Recurring payments – When you sign up for our recurring payment plan, you'll receive product/service A every month until you decide to cancel.
Basically, you can cancel a recurring payment whenever you want without causing any harm to the seller. You may lose some benefits, but it won't be as bad as not paying installment payments.

Subscription business models
Earlier, we talked about multiple business models that accept recurring payments in their online stores. Now, let's take a quick look at some of them together.
Commercial entities can be divided based on their use of subscriptions. Some businesses rely on subscriptions as the core of their service, while others offer them as an optional add-on.
Subscription business
You don't have to do much research to come across these types of business opportunities online. In fact, you might have already stumbled upon one while scrolling through your free time.
All streaming services operate on a subscription-based business model. This means that in order to access their content, you'll need to become a subscriber.
Netflix, Amazon Prime Video, Disney+, Hulu, and more, they all operate on a subscription model. This means that customers pay a monthly or yearly fee to access their collection of movies and TV shows.
Customers have the option to cancel their subscription whenever they want. However, if they do cancel, they will no longer have access to the catalog exclusively reserved for subscribers.
Certainly, the existence of such a service is dependent on recurring payments, however, there are other factors to consider as well.
In the gaming industry, there are also subscription services available. For instance, Electronic Arts offers a low-cost monthly subscription that provides access to a wide collection of games in its catalog.
Another example we can suggest is Mystery Boxes. Some businesses offer a deal that gets you a surprise subscription box full of different products on a regular basis. It's a unique way to sell items and adds an element of excitement and mystery to the buying experience.
Moving on to the field of education and e-Learning, the sale of online courses have become very popular and businesses are opting to offer content through subscriptions spread out over several months instead of one-time purchases.
Recurring payments help increase the number of clients who might have avoided the course due to the high initial cost and add more value to the course.
Recurring payments inside traditional eCommerce
Some businesses rely on customer subscriptions for their identity, while others offer it as an extra service in their catalog.
Amazon, the leading eCommerce platform, operates just like any other online retailer. Customers create an account, purchase products and then receive their order through shipping.
Where then are subscriptions found in this equation? Actually two places.
One of the most popular subscription services available today is Amazon Prime. It's important to note that while many long-time users may forget, it is actually an optional service that requires recurring payments.
Amazon provides customers with an annual subscription that grants exclusive benefits, such as free shipping and same-day delivery. This subscription creates two types of customers: Regular and Prime.
Recurring payments are also present in products that are periodically purchased. For instance, when you buy products like supplements, medicine, food, or household items that have finite use, Amazon may recommend subscribing to that particular product. The client has the option to choose the frequency of the payment and receive the product accordingly.
Suppose you purchase a significant amount of kibble for your cat. You are aware that it will last for roughly three weeks, after which you will need to buy it again.
Amazon provides a solution to automate this process and offers a 5/10% discount if customers activate the subscription. This is how Amazon retains customers who may have otherwise chosen to shop elsewhere.
Amazon is a great example of how subscription services can work for a variety of businesses, even those that were originally designed for more traditional sales methods.

Why creating subscriptions is a smart move
We've already seen that some businesses need recurring payments. But let's think about it – why should you consider adding subscriptions to your WooCommerce online store?
Basically, this tool helps you making each customer more valuable without spending money on new advertising campaigns or persuading them to come back to the store.
Lots of businesses provide their customers with a monthly subscription that doesn't cost much and includes discounts and offers. This way, even if the customers don't come back often, they can still benefit from the deals and the business can earn more money in the long run.
Basically, if a subscription price isn't too much and offers some kind of benefit, people are more likely to keep it. However, if a subscription is very expensive, people are more likely to cancel it after the first renewal.
It is, therefore, a quick and easy method of increasing the value of each customer and creating a smooth and growing flow of business with with hardly any effort from the salesperson.

How to sell subscriptions with WooCommerce
Earlier, we talked about how you can easily integrate a system with a WooCommerce. Now, we'll walk you through the process step by step.
To start with, let's use the WooCommerce Subscription plugin that lets you to set up recurring payments on your online store. You have the option to try this plugin for free or purchase the premium version.
With the free version, you can easily set up regular payments on a daily or monthly basis. Additionally, you have the option to choose a subscription term that works best for you.
Regardless, you'll see that using the plugin is incredibly easy. Actually, we only need to provide you with a two-step guide to give you a full understanding of the plugin.
After you've set up your online store and activated it (in case you need extra help, check out our detailed guide), there are only two sections you'll need to focus on.
When you're creating the product, you'll notice an option in the product data. There will be a box to tick marked "Subscription.":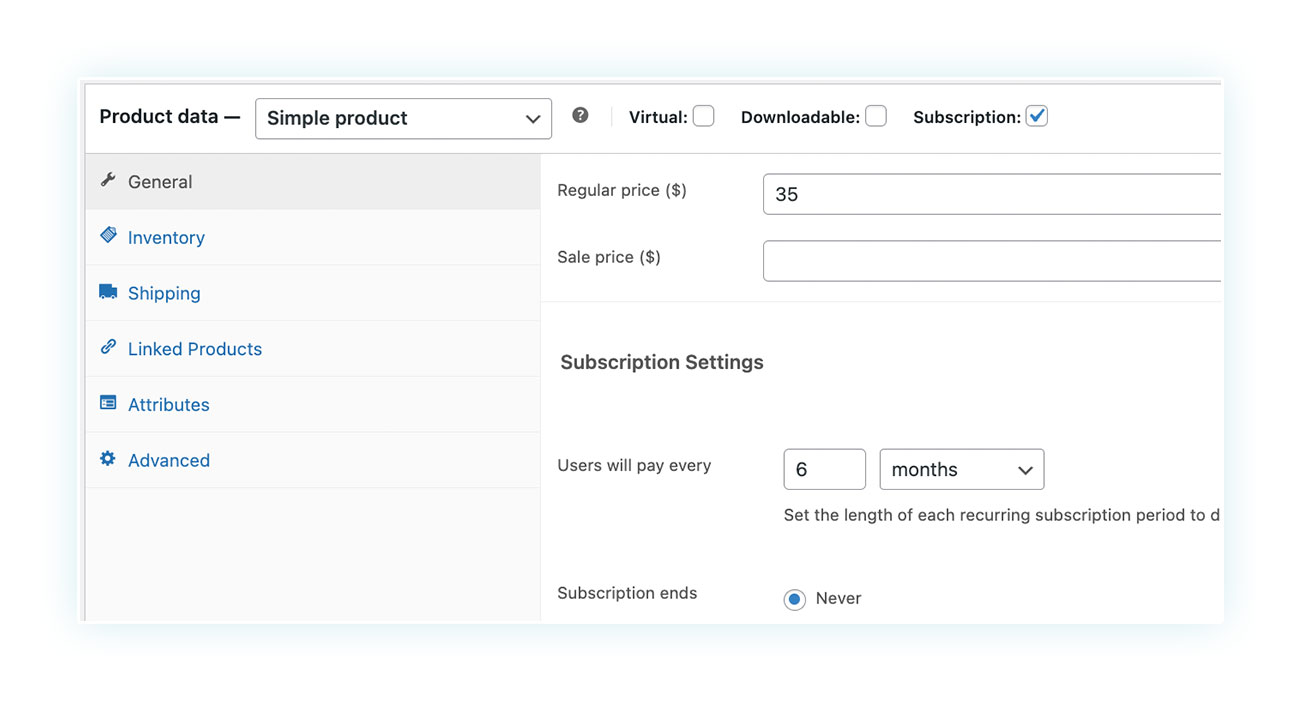 When you enable it, you can check out all the subscription settings. This includes when you'll be charged again and when your subscription might end.
To access the plugin dashboard, just head to the WordPress side menu and look for YITH > Subscription.
In this part, you'll find a few tabs that are separated into different categories:
Dashboard – That allows you to have a summary view of how your business is performing with subscriptions, with all the values that may be important in defining your strategy.

Subscriptions – You can easily see a list of all your subscriptions on your eCommerce platform and take different actions related to them.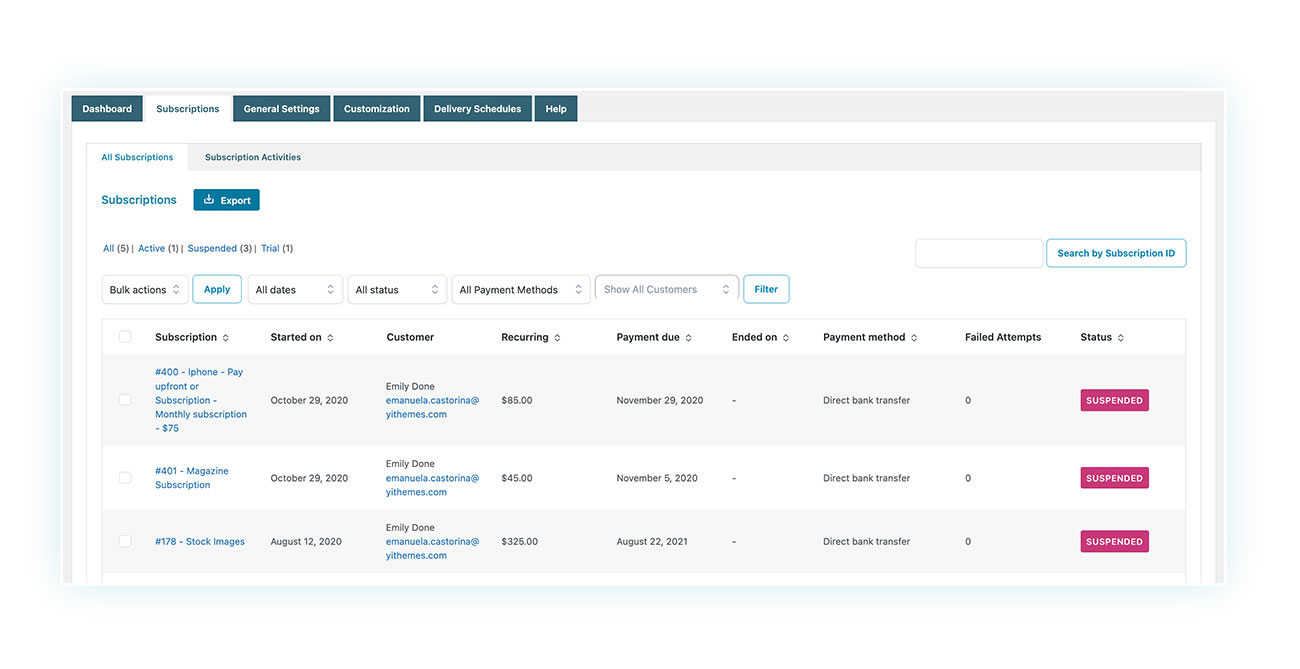 General settings – This section allows you to decide the behavior of the plugin under different circumstances and the basic functionality of multiple subscriptions.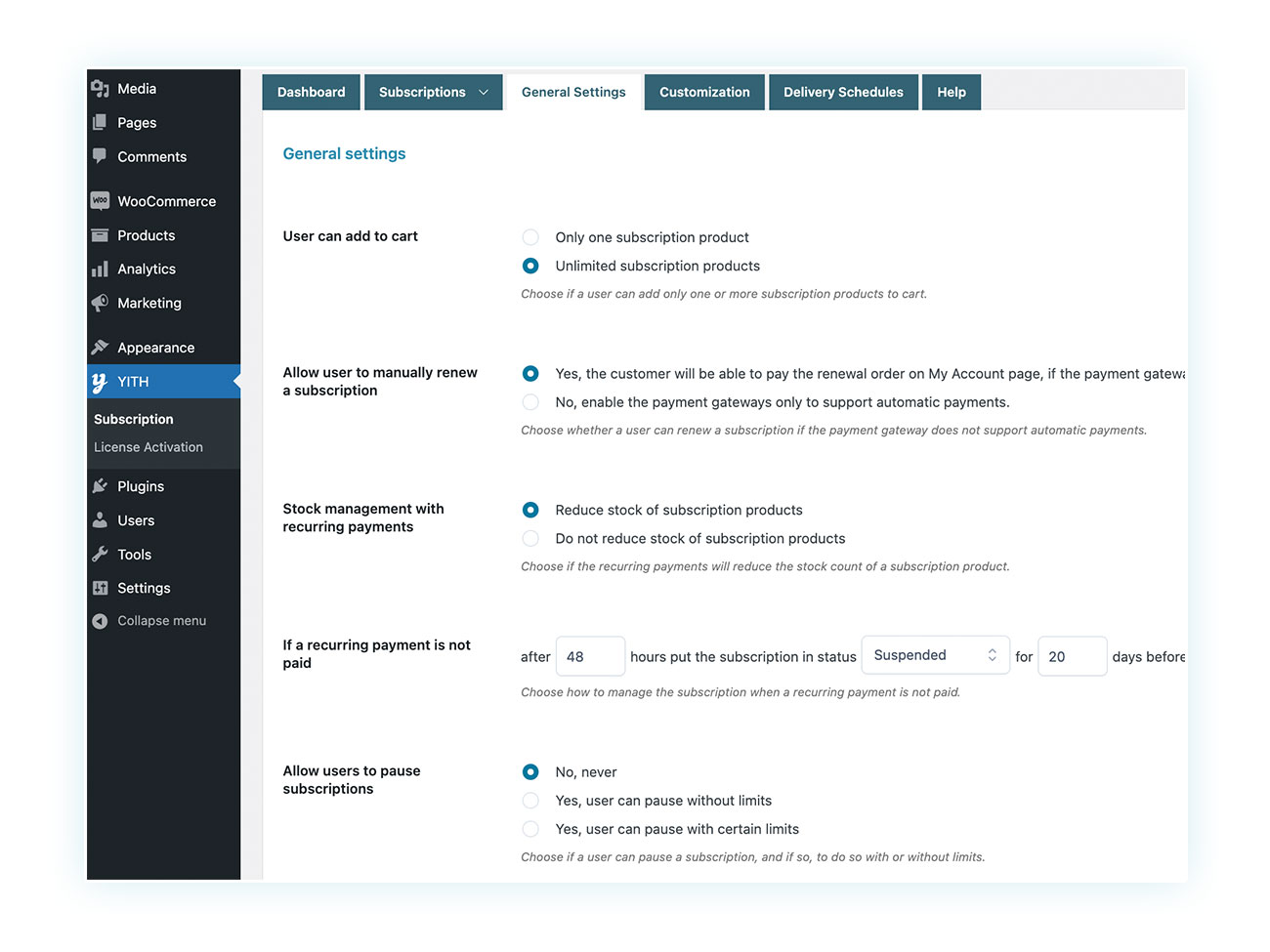 There are a few other tabs, but the ones you really want to focus on for creating and selling your subscription products are these ones.
Before bringing this tool into your store, here are some tips to keep in mind:
Be careful with the payment gateway – To set up automatic payments through this plugin and run a smooth business, you'll need to integrate a digital gateway. While manual payments through wire transfer are an option, recurring payments can only be made through specific methods.
Keep track of the store – Even though the plugin will warn you if there are any issues, sometimes customers might accidentally forget to renew or try to get something for free.
Give customers the opportunity to cancel – We suggest providing a way for customers to unsubscribe whenever they want to avoid upsetting them. However, it's crucial to find the right balance between making it too easy or too hard to cancel.
Pros and cons of subscriptions
Let's take a look at some advantages and disadvantages to help you decide whether or not to use this plugin.
PROS:
Recurring revenue – With a subscription system, you can build a sustainable business that generates steady and increasing revenue over time. As you keep adding new customers to the existing ones, your earnings will keep growing.
Constant money – Don't worry if some customers decide to skip the subscription process. Actually, this type of business is very reliable and has a steady cash flow. That means fewer risks and more chances to invest in the future.
Marketing savings – As a salesperson, getting customers to repeat a purchase can be tough. But with subscription, you can rest assured that they'll be coming back for more after their first payment.
New businesses – Earlier, we learned that some business models can only work if they use subscription-based solutions.
Of course, since it is a tool, it may be associated with negative aspects depending on the seller's use. Here are a few examples.
CONS:
Greater attention to detail – Making a subscription-based product is easy, but it demands more effort from the salesperson. They need to focus on both the settings and sales page to ensure it's a success.
Less conversion – Not all businesses with subscriptions face this, but usually, convincing someone to subscribe requires more persuasion than making a one-time purchase.
Maintenance and control – If your business has subscriptions, it can do well. However, you should monitor your sales and keep track of any changes in subscriptions. If you notice a lot of people leaving, you need to take action.
FAQ
What are the advantages of starting a subscription-based business with WooCommerce?
Subscriptions have benefits like creating exclusive business models and steady revenue growth that require less marketing investment.
What are the technical requirements to start a subscription-based business on WordPress and WooCommerce?
To create recurring payments, you only need an eCommerce website built with WordPress and WooCommerce, the WooCommerce Subscription plugin, and at least one electronic payment method. No major technical requirements are necessary.
How can I customize my WooCommerce store to fit the specific needs of my subscription-based business?
Any store can have subscriptions and it's important to focus on the "My Account" page for customers to manage their subscriptions. Also, highlight the benefits of each subscription on the sales page.
Are there specific WordPress themes for a subscription-based online store?
You can choose a specialized theme for WooCommerce like Proteo, or opt for a subscription-based theme such as TheCrate or thebox. TheCrate is perfect for businesses that sell subscription boxes services.
What payment platforms are recommended for subscription management on WooCommerce?
Digital payments support recurring subscriptions. WooCommerce Subscription plugin works with different payment gateways including PayPal, Stripe, Braintree, Amazon Pay, and eWay. Check the plugin page for more information on "supported gateways".
How can I manage tax settings and invoices for my subscription-based business with WooCommerce?
You can create notes and receipts for your orders in WooCommerce. Subscriptions are just a series of orders. Additionally, you can add other plugins for extra features.
What marketing and promotion strategies are best suited to increase sales of a subscription-based business?
To make a successful subscriptions business, there are a few strategies you can use. One is to offer a lower price for the first purchase, then switch to the full price for renewals. Another is to create an affiliate system that offers a commission only on the first payment, using a tool like the WooCommerce Affiliates plugin.
What plugins and analytics tools can I use to monitor the performance of my subscription-based store?
The WooCommerce Subscription plugin gives you a full summary of your subscriptions, such as the amount of renewals and how they compare to past periods.
How can I improve the subscription renewal rate in my WooCommerce store?
To keep customers coming back, it's important to figure out why they might cancel their subscription. Sometimes, the benefits may not be enough, the cost might be too high, or the option to cancel might be too easy to click. By providing great customer service, you can identify and solve any issues that could cause someone to cancel.
How can I provide top-notch customer service for my subscription-based business?
We suggest being upfront with customers about what they are getting into. Additionally, implementing a live-chat system can help you promptly address any customer inquiries or issues, which may negatively impact your sales.