Sometimes chance or "destiny" drives us into the unknown just to show us the places we choose to remain. Something like that happened to Alexis, one of our developers and a crew member of July.
Almost two years ago, after finishing two higher courses of computer science, a scholarship was the gateway to YITH, where he is now part of this great team. He is in charge of supporting our customers and also updates or improves our plugins. This is his first job and he will always remember his first day with great esteem.
All the team members welcomed me very well, and now I think that working at YITH has, somehow, changed my life, both personally and professionally.
This was one of the few experiences he was able to live in the office actually because due to the pandemic situation he has worked more from home than with his colleagues. Something that for him has had both positive and negative aspects.
Working from home has had some different stages. At the beginning, I felt very strange, since we have lost all the warm contact with the colleagues in the office. It took a few months until I got used to the new situation from working from home. Of course, it also has some good things. For example, I don't have to wake up very early in order to go to the office. In this way, I can rest better, prepare and organize the day in a better way.
Perhaps because of this, one of his favorite moments of the day is undoubtedly the meetings with the rest of the team where he can somehow recover the contact we lost with the pandemic.
But that hasn't stopped him from continuing to grow as a professional. He is doing fantastic things to contribute to the team. We'll give you a little preview: Alexis is now working on the development of Live Push Notifications, a plugin with strategic push notifications based on buyer validation and social proof principles. But don't despair, it will be released veeeeeery soon. Stay tuned to our social networks. 
I hope this new plugin will be useful for many customers and that it will be well accepted by them.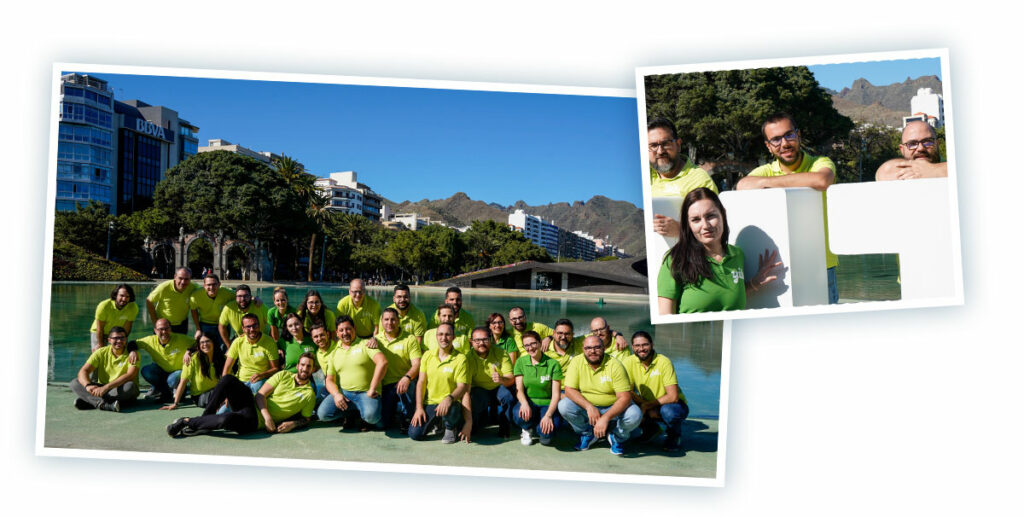 As you can imagine, developing a plugin it's not an easy path. Considering the short period he has been working with WordPress, he has been able to solve complications successfully.
I have faced some complications, but working hard to solve them, I have learned many new things that I hope can be very useful in the near future. I have gained a lot of experience in everything related to WordPress and the e-commerce environment.
That's why right now a typical Alexis day is usually always the same:
My working day starts at 08:00 greeting the colleagues in our internal chat. After this, I read the emails and check if there are any pending tasks to complete, drink a coffee and I start working on supporting our customers. Some days of the week, we have a meeting with the rest of the developers of the team. After this, I usually continue to work on support until lunchtime, more or less. After lunch, I have time to work on other projects like updating or improving our plugins, although lately, I dedicate a large part of my day to Live Push Notifications.
He usually dedicates a large part of his day to customer support, although it's not always an easy task and he has to combine it with updating some plugins. That's why Alexis doesn't hesitate for a second when he talks about the best customer he's ever had.
The best type of customer is the one who understands that we do everything we can to help him solve his problems and the one who thanks us when we finish our work.
Now that we know a little bit about what Alexis does at YITH, let's take a look at his hobbies. He loves sports, of all kinds, especially soccer and tennis, but another of his most appreciated hobbies is listening to all kinds of music, especially pop.
In addition, he has another passion that he shares with most of the Canary Islanders: food. He lives in a municipality in the north of Tenerife called La Orotava, one of the key points in the map of any Tenerife resident. And not precisely because of the beauty of the place or because there is the highest peak in Spain, el Teide, but because of the "guachinches".
These named "guachinches" are typical establishments of the northern area of Tenerife where you can eat traditional homemade food accompanied by homegrown or local wine. A must-visit because of the unique gourmet quality (you will lick your fingers). Of course, do not expect a fancy restaurant, because these places are usually located in unaesthetic places because what is really important is the food.
There are so many typical and delicious dishes here in the Canary Islands that it's very difficult to choose just one. But, if I had to bet on one, I would definitely choose a good portion of "Papas, Piñas y Costillas".
Probably when the pandemic restrictions are over, Alexis will do two things: go eat a good plate of "Papas, Piñas y Costillas", but he also has another idea in mind:
There are too many things we've stopped doing because of Covid, but I think the first thing I'll definitely do is travel.
Alexis has trained with this team, has worked with them, and is about to launch the first plugin developed entirely by himself. He only can express gratitude for this great team.
I can resume what is YITH for me with a few words: a real family.
Check out other crew-members' stories and how they started working at YITH. If you want to connect with Alexis you can do so via twitter @asaldel96.