As the title suggests, Tania lives and breathes the Canarian spirit. Also at work, with passion, eager determination and always kind words. Tania creates content for the blog and YITH's Spanish YouTube channel. With a heart of gold, Tania cares deeply for her colleagues and the countless customers she reaches with her content.
She was born and raised in Tenerife and joined YITH in the meantime earning her master's degree in Journalism and Digital Communication.
Curiously enough, I started working at Quinta Estrella Tenerife, Nando and Sara's vacation rental company, creating content for the blog and recording spectacular places in Tenerife for YouTube. One day Marco asked me if I understood a video of YITH Italy. I did a test, and I have not stopped recording tutorials for YITH Spain ever since. All this without even having any idea what a plugin was when I arrived at the company.
But luckily, Tania learned on the job very quickly, and as the communications pro she is, she's not afraid to ask her co-workers for help.
It is satisfying when I ask my colleagues something that may seem silly, and they answer you without judging your little knowledge about that topic. Without thinking that it is silly, they are always willing to help and answer you with a smile and kindness even though their day is chaotic. This describes the YITH family for me.
It's the time she spends with her teammates that makes her feel like a part of this family.
Just one month after starting at YITH, the Italian team came to Tenerife to visit and work together. I was very nervous because I had not spoken to practically any of them. When I arrived, they greeted me warmly, talked to me, helped me, and made me feel like one of the team, even with the language barrier.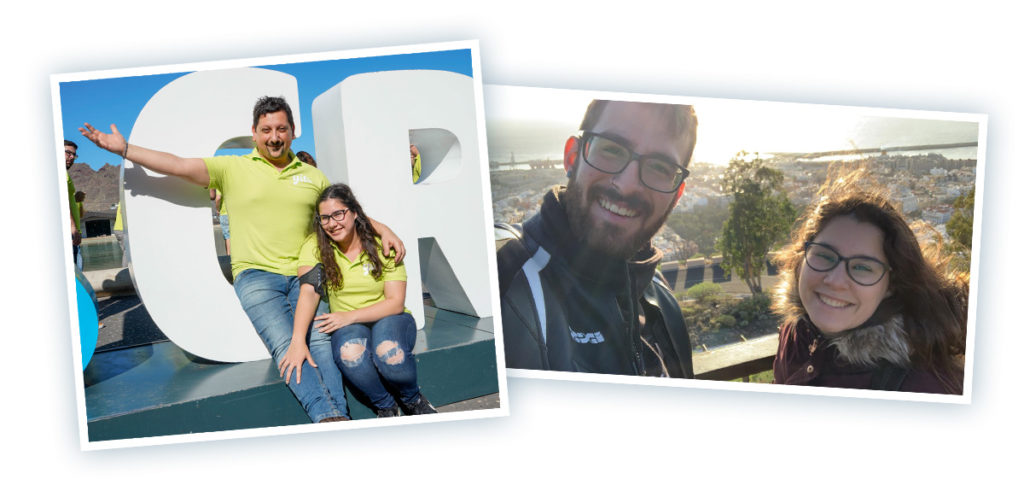 Now during the pandemic, Tania works mostly from home. While she misses seeing the team every day, she still finds joy in her work with her colleagues.
Maybe the best part of my workday is when we all join a video call. Also, I love receiving messages on YouTube thanking us for the videos or praising my Canarian accent. You feel the human contact that we lack working from home. These are the little things that make my day a better day.
And Tania's days are usually pretty packed. In between recording video tutorials, she keeps track of our social media schedule, writes new blog posts, has an eye on YouTube comments as well as on all kinds of statistics.
But like all of us, Tania is not working 24/7. In her off time, she can often be found watching some sports.
I love to watch any kind of sport: especially soccer, but also tennis, MotoGP, basketball. In fact, when it's the Olympic Games, I can spend a lot of time watching all of it. Besides, I usually follow women's sport a lot, which doesn't have the visibility it deserves here in Spain.
While she likes traveling and can't wait to visit Paris after the pandemic, Tania is a true Caranarian at heart. Ask her about her home island of Tenerife, and you will see the joy in her eyes.
I really love this island, its customs, mountains, beaches, food, El Teide, its people, and its accent. Tenerife makes everyone feel at home, and I'm sure that's why so many people stay here. It is a feeling that you can only experience if you come.
But who can blame her? Especially her hometown of Los Realejos sounds like a truly magical place.
Los Realejos has something special: the 'Fuegos y Cruces de Mayo' (May 3rd), a tiff between two streets. Both streets decorate their crosses and streets with flowers, and at night there are pyrotechnic displays. Both want to be the best. Who wins? Always the town.
So it's no surprise, with regards to her favorite dish, Tania stays close to home as well.
Any Canarian dish is delicious. Potatoes stewed with mojo and kneaded gofio will make you lose your mind. Also, croquettes can never be missing.
Take a look at our YouTube channels, follow us on Twitter, Instagram, or Facebook, and find out more about other team members.