E-commerce stores with multiple vendors (commonly known as "marketplaces") are becoming a widely used online business model; just think of websites such as Amazon, Zalando, SHEIN, Etsy, and AliExpress. They are all multi-seller platforms that offer customers a wide range of products by making the store reach a large number of users.
Creating a marketplace with WooCommerce and WordPress is possible and, if you have the right tool, easy too. That's why we invested almost six months in the redesign of our YITH WooCommerce Multi Vendor / Marketplace plugin: we wanted to offer YITH customers a simple solution that was as complete as possible.
So, it's official: we have released version 4.0 of YITH WooCommerce Multi Vendor / Marketplace.
This new version offers endless new possibilities, improvements and options in order to make it the optimal solution. Below, you will find the most interesting new features:
1. A redesigned UI and an improved UX
After some time without improving the UX/UI of this plugin, we took the time and opportunity to add new options to improve the design and to make the configuration process even more intuitive.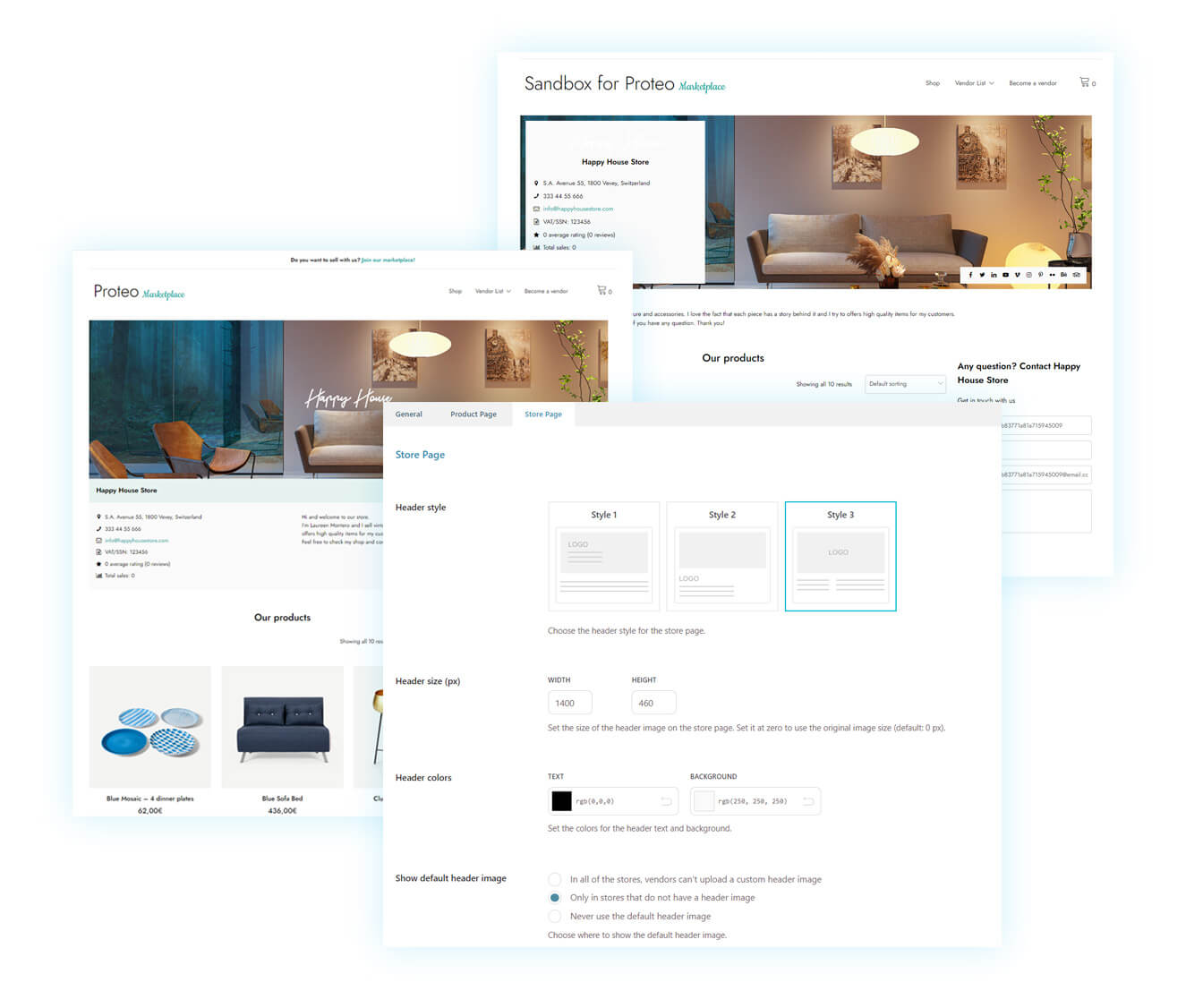 2. Custom registration form for vendors
In the plugin you can also find a default form that you can customize to your liking. You'll find default fields like "Store Name", "Store Email" or "Phone", to which you can add your custom options without limit. But don't worry, you will be able to add or remove the fields already created, edit them, vary their position in the form and set them as mandatory.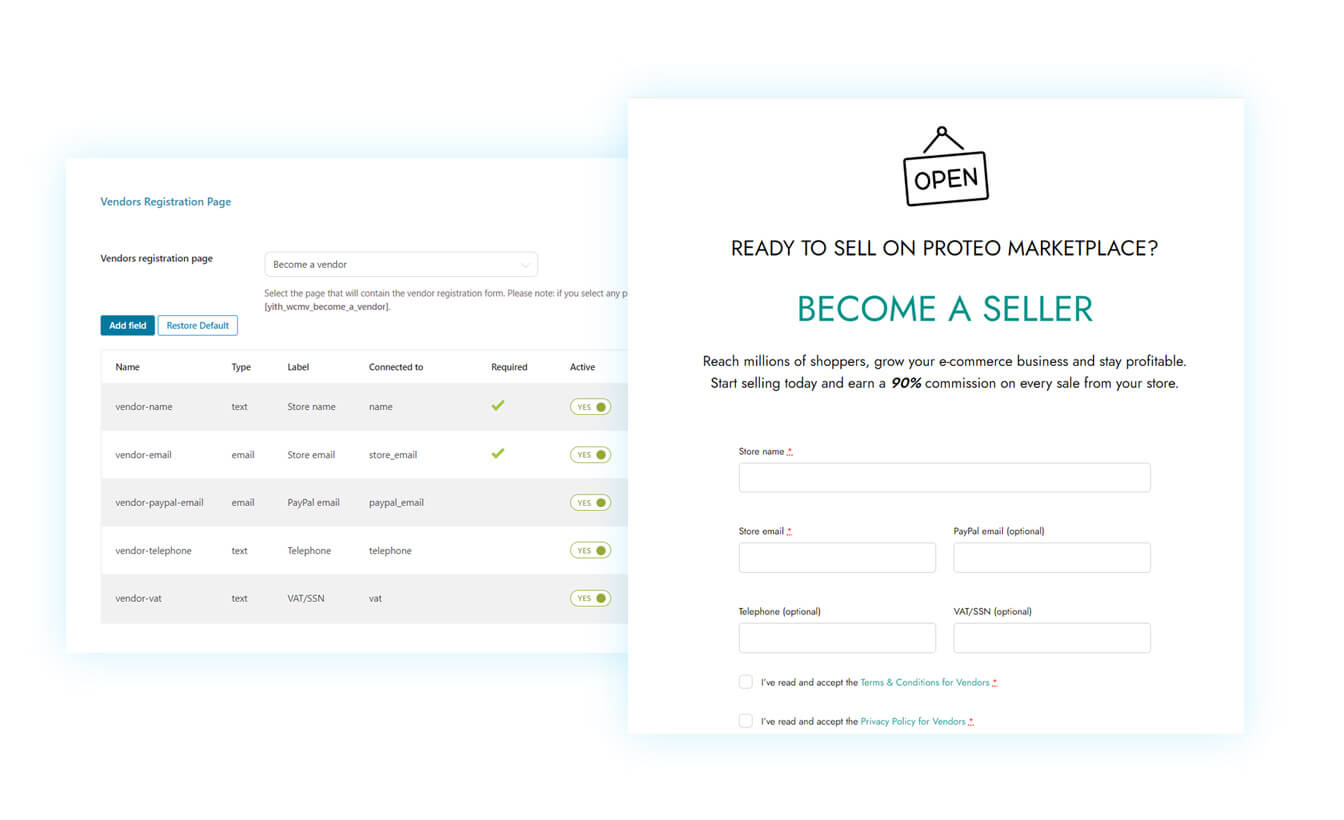 Once you have created your form, you can add it to any page of your store using Gutenberg blocks or the following specific shortcode.
[yith_wcmv_become_a_vendor]
In addition, a checkbox can be added to ask vendors to accept your terms and conditions, as well as your Privacy Policy.
3. Vendors can add their own staff members
With this new version we also wanted to add a very interesting feature: a new "Staff manager" module that allows vendors to create their own store personnel. Each employee will be able to create products, manage orders and the shop according to the permissions given to them.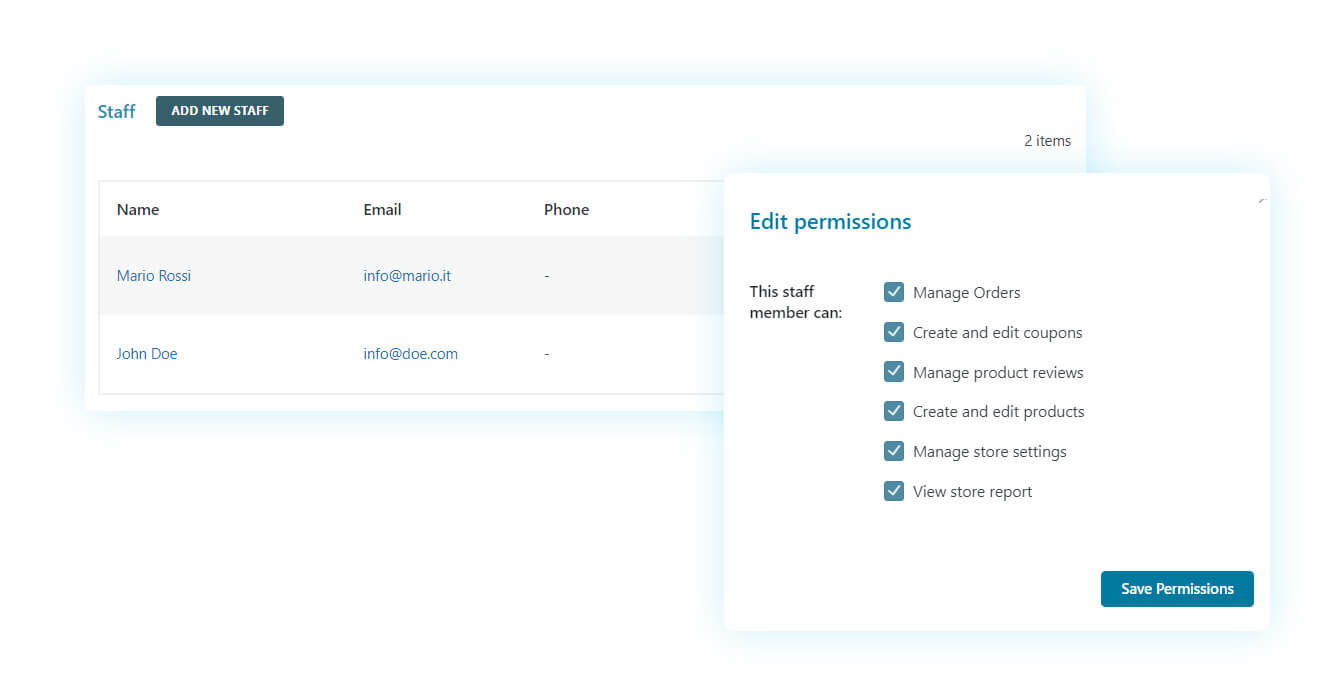 4. Vendor announcements module
Did you ever wanted to give specific messages to each vendor? You are in the right place! Since version 4.0, we have created an additional new module called "Announcements" where the administrator can create custom messages and display them on the dashboard of every vendor, specific vendors or those who meet specific requirements.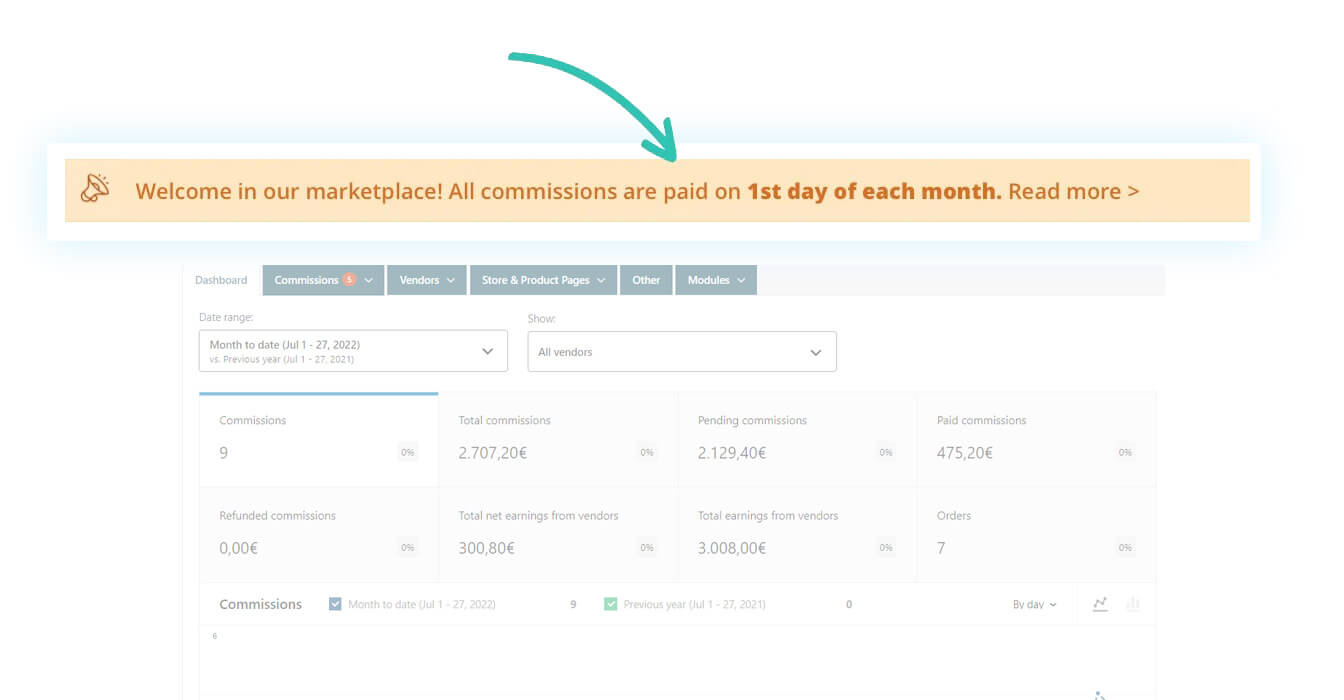 For example, you can show a custom notice to the vendor John Doe, a second announcement to those who have a total of $50,000 in sales and another one for the rest. You can also show them only on the dashboard of "featured" vendors, and so on. These are just a few examples of the many options available to manage the announcements module.
5. Monitor commissions, vendors and earnings from the integrated dashboard
Knowing who are the best-vendors or best-performing vendors is not an easy task. Unless you use the new advanced dashboard to monitor your multi-vendor store.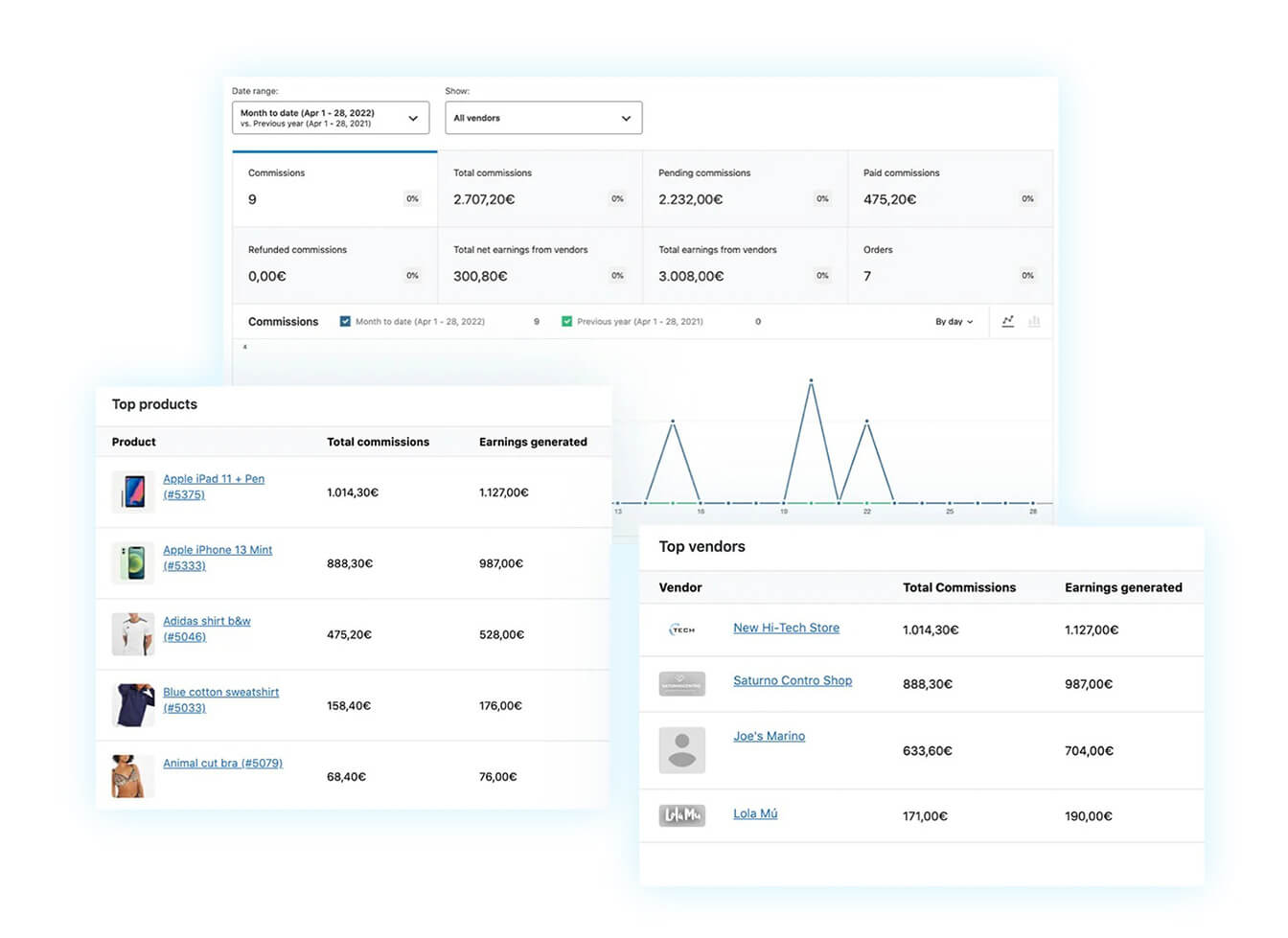 You can monitor generated, paid or pending commissions, total orders placed, generated earnings, or know the most profitable products, that is, the ones that generate the most commissions, among other things.
6. Improvements to the "Report Abuse" module
We have also improved the module for reporting abuse. If you activate the dedicated option, a link will be shown on each product page so that users can click on it, add their data and explain the reason for the report.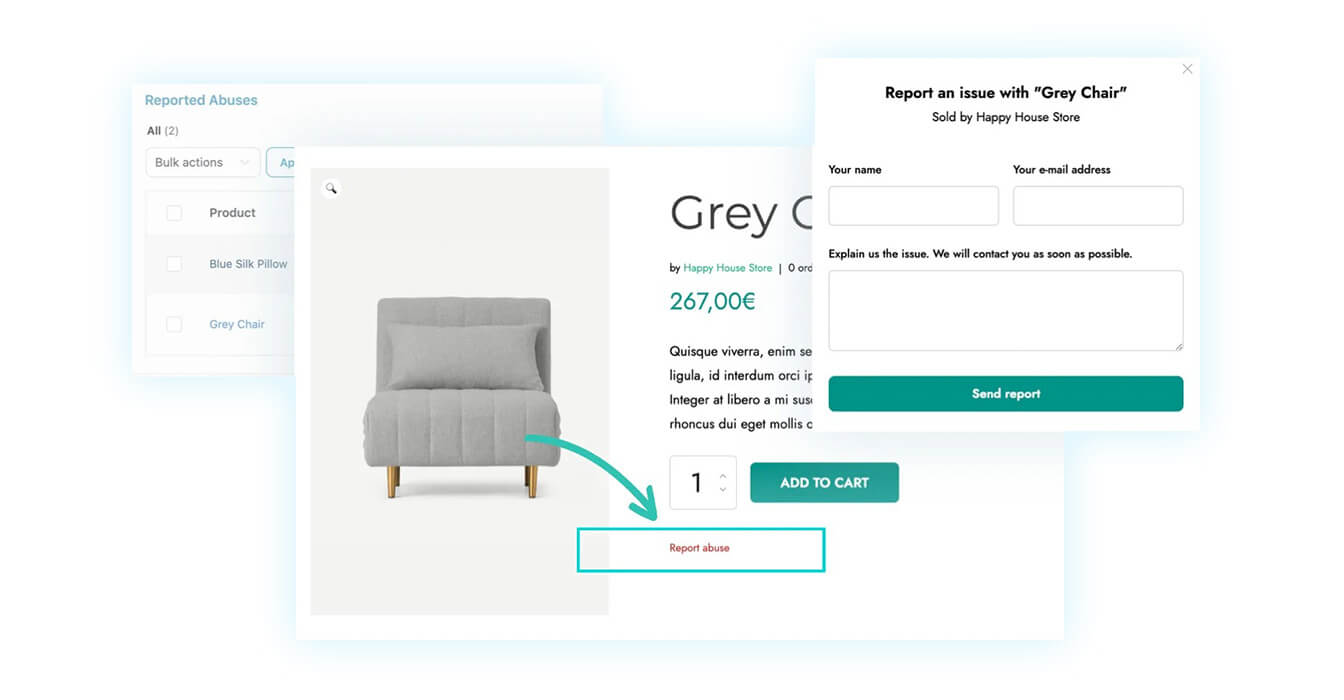 And how would administrators be able to view the reports made? Very simple: they could be easily monitored in a table from the backend.
In conclusion
This is the first major update, but don't worry, there will be many more. We are working on new features: options related to the payment of commissions, an assistant for the vendor, so that he can create his store even more easily, among many others.
And something very important that we will progress with: a new dashboard for the vendor. Our goal is to make this plugin the best solution available online for creating a marketplace with WooCommerce. And we're going to do it!
Check out the new YITH WooCommerce Multi Vendor / Marketplace landing page and its live demo to test all the new features.
Suggestions, comments, questions or requests? Leave a comment to share your opinion and we'll keep you updated! 🙂