Activa las donaciones en tu sitio y permite a los clientes enviarte una cantidad de su elección
Las donaciones en línea son un fenómeno que se ha afianzado en los últimos años cada vez más: los usuarios hacen donaciones para apoyar proyectos culturales, recaudar fondos para iniciativas de diferentes tipos, expresar su gratitud por un servicio o un producto que han recibido.
Tanto si se trata de una cuestión de unos pocos euros o de cantidades considerables, si deseas crear un sitio que brinde la posibilidad de hacer donaciones, lo que necesitas es sin duda una solución simple, lo más versátil posible.
En general, es bastante difícil obtener contribuciones desinteresadas de nuestros clientes, especialmente teniendo en cuenta lo difícil que es convencerlos de comprar algo, por lo que un sistema de donación debe ser silencioso, simple de usar y eficiente.
Para cumplir con esta necesidad y ofrecer la oportunidad de convertir una simple tienda de comercio electrónico en una herramienta diseñada para recolectar donaciones, ¡hemos creado YITH WooCommerce Donations!
Debido al constante aumento de las tiendas de comercio electrónico, los pagos en línea se vuelven cada vez más seguros y también la posibilidad de realizar donaciones.
Además de las asociaciones de beneficencia y los proyectos sin fines de lucro en línea, también los propietarios de sitios de comercio electrónico de tamaño medio pueden necesitar una forma de obtención de dinero (imagina que estás dando un producto gratuito y deseas brindar a los usuarios la posibilidad de contribuir libremente para financiar tu trabajo).
Y sabes lo difícil que es, si no imposible, configurar tu tienda de comercio electrónico para que puedas permitir el pago de una cantidad variable, cantidad que los usuarios eligen justo antes de pagar.
Bueno, YITH Donations for WooCommerce tiene como objetivo hacer todo esto fácil de configurar y en unos simples clics: asociar una donación a un producto o dar la posibilidad a tus usuarios de hacer donaciones en tu sitio, contando con la confianza del plugin de WooCommerce.
Este plugin ha sido diseñado para representar la mejor solución para aquellos que están dando sus primeros pasos en las ventas en línea y veteranos del marketing digital.
Gracias a sus funciones, como la posibilidad de añadir formularios de donación a varios productos o la de hacer que la donación sea opcional o secundaria. El shortcode te permitirá mostrar este plugin libremente en tu sitio web, podrás configurar tu sistema de donación en este momento y sin necesidad de asistencia técnica.
Este es el escenario ideal para las empresas de caridad, las personas creativas que desean ser sostenidas por sus seguidores, proyectos de financiación colectiva y mucho más.
Versión:

1.27.0

Publicada:

2023-09-14

Versión mínima de PHP:

7.0

Requiere:

WordPress 6.1

and WooCommerce 7.9

Compatible hasta:

WordPress 6.3.x

and WooCommerce 8.1.x

Plugins multidioma compatibles:

WPML, Loco Translate

Traducción lista:

SÍ

Idiomas 100% garantizados por YITH:

English, Italian, Spanish

Idiomas proporcionados por usuarios:

French ( France ) 100%, Dutch (100%)

Compatible con:

Tema YITH Proteo. Todos los plugins de YITH excepto: YITH WooCommerce Deposits and Down Payments, YITH WooCommerce Name Your Price, YITH WooCommerce Role Based Prices,YITH WooCommerce Request a Quote

Temas de terceros compatibles:

Avada, Divi, Flatsome, Neighborhood, Storefront, X

Plugins de terceros compatibles:

Aelia Currency Switcher
CON
YITH DONATIONS

PUEDES:
Establecer una cantidad mínima y máxima
Una de las características más solicitadas para recibir las donaciones más adecuadas según tus necesidades.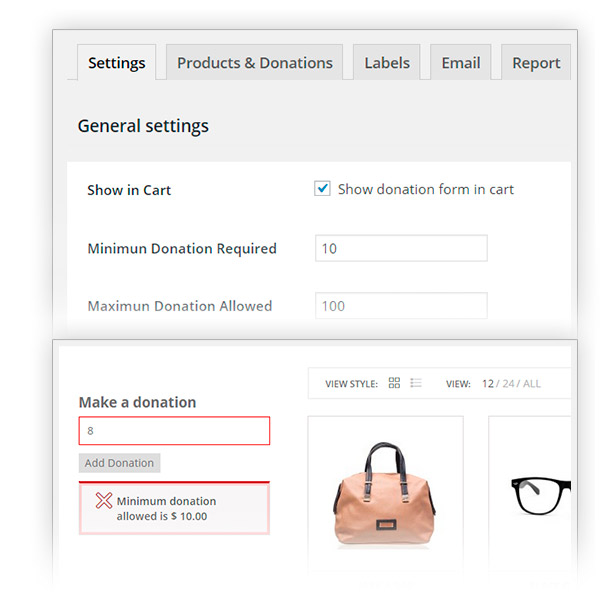 Añadir un formulario en el carrito
Una posición estratégica para impulsar a los usuarios a hacer una donación.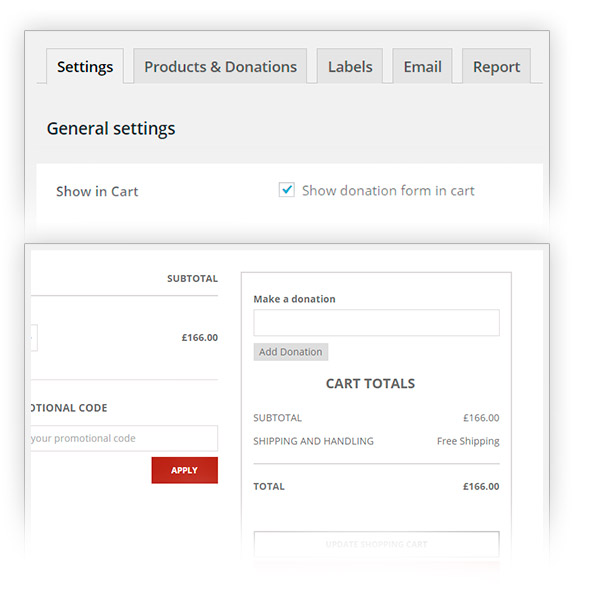 Anima a hacer una donación en la página del producto
¡Agrega el formulario en la página de detalle y haz las donaciones obligatorias para los productos!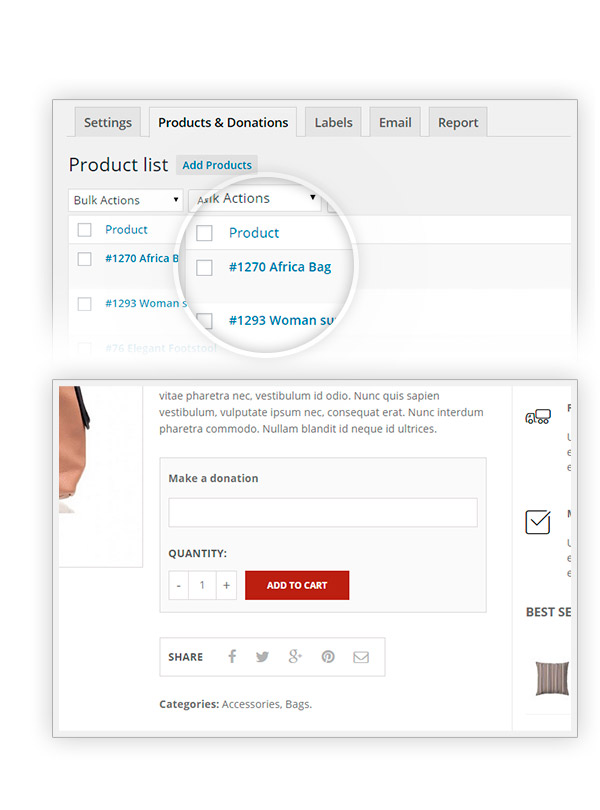 Cambiar textos y estilo
Podrás editar el plugin como prefieras desde el panel de configuración.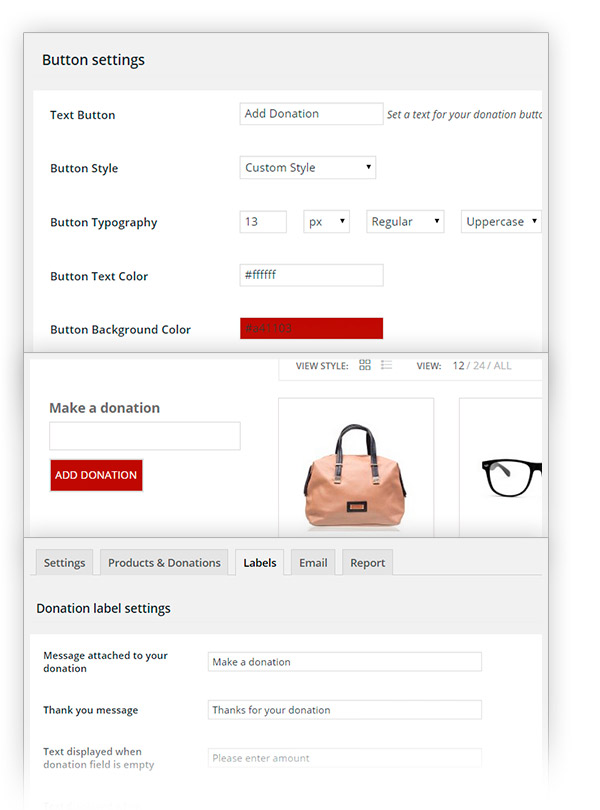 Elige diferentes opciones de pago
Ofrece a tus benefactores mejores soluciones por su amabilidad.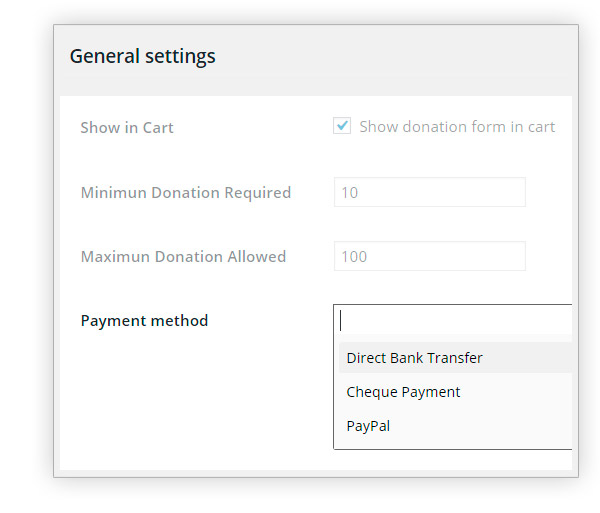 Mostrar cantidades predefinidas para la donación
O permite a tus clientes introducir libremente una cantidad personalizada.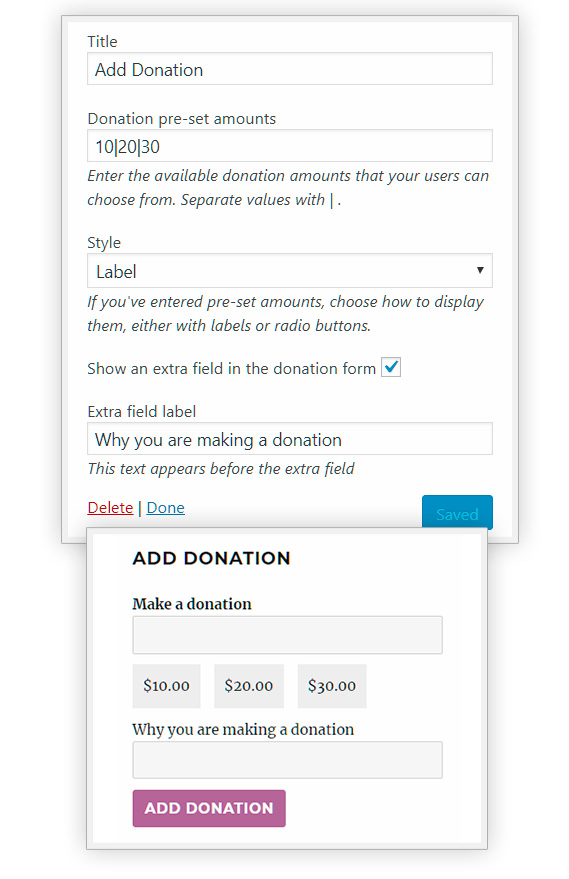 Mostrar la cantidad de donación en general
¡Gracias a un cómodo widget que puedes añadir a las barras laterales de tu sitio!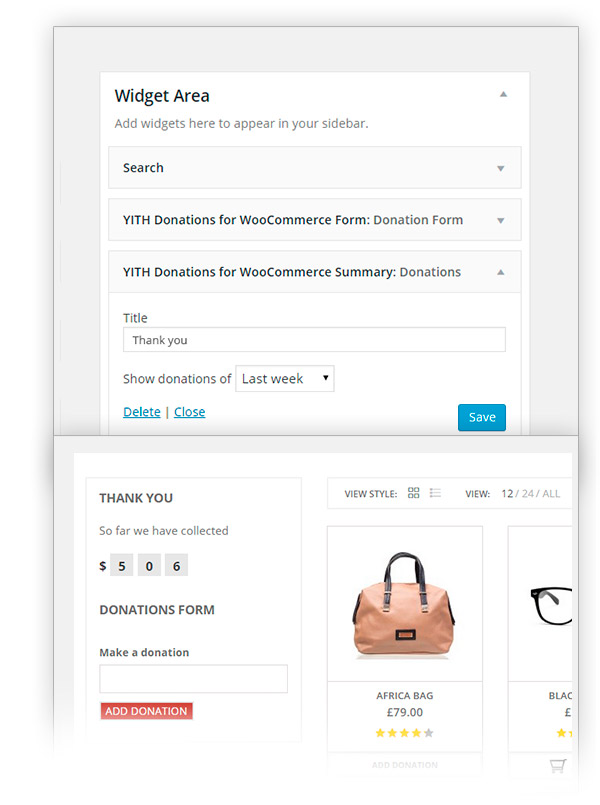 Colocar el formulario donde quieras
Utiliza el shortcode disponible para elegir la posición que desees.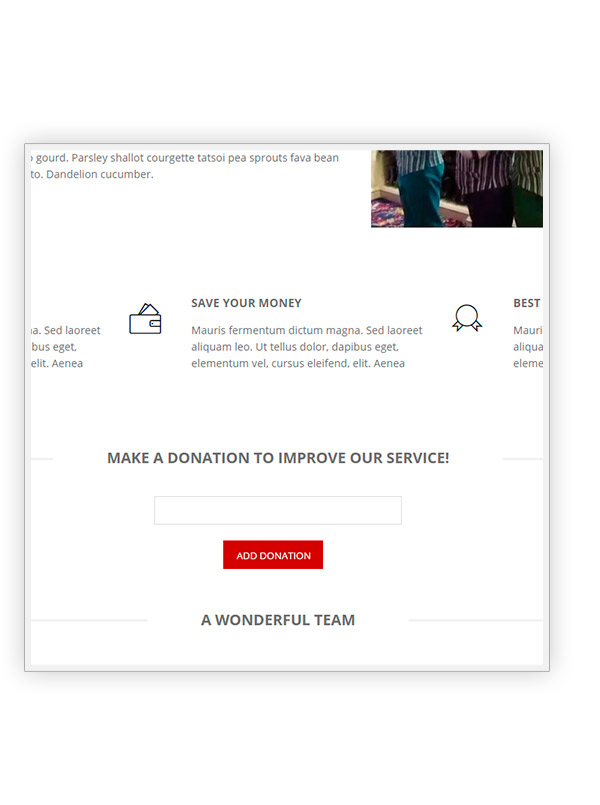 Cambia el correo electrónico que envías a tus usuarios
¡Agradece a tus benefactores con un correo electrónico dedicado a ellos!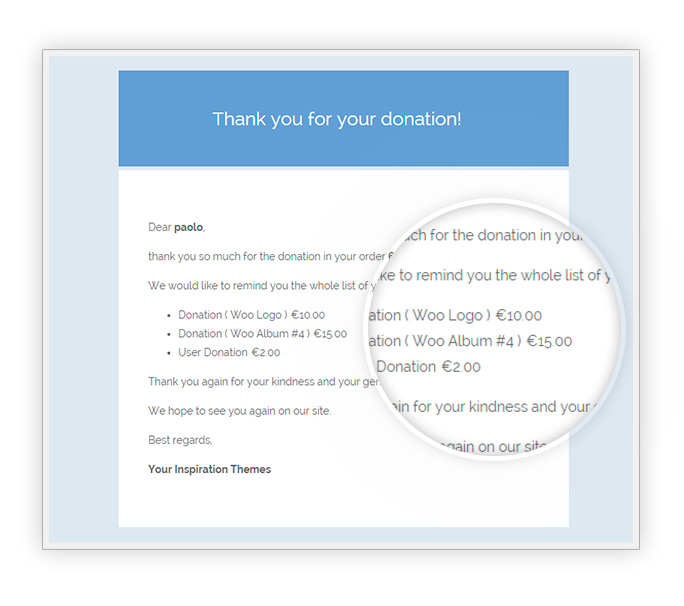 Aprovechar la compatibilidad con WPML
Puedes traducir el plugin fácilmente con la potente herramienta de WPML