Abilita il tuo sito a ricevere donazioni e permetti ai clienti di inviarti una somma di denaro a loro scelta
Le donazioni online sono un fenomeno che ha preso sempre più piede negli ultimi anni: gli utenti fanno donazioni per sostenere progetti culturali, per iniziative di raccolta di fondi, per esprimere la loro gratitudine per un servizio o un prodotto che hanno ricevuto.
Sia che si tratti di pochi euro o di una cifra consistente, se vuoi creare un sito che offra la possibilità di fare donazioni, quello di cui hai bisogno è di sicuro una soluzione semplice e il più versatile possibile.
Di solito è piuttosto difficile ottenere contributi altruistici dai nostri clienti, soprattutto se consideriamo quanto sia dura convincerli ad acquistare qualcosa che è quindi il motivo per cui un sistema di donazioni necessita di essere efficace e piuttosto semplice da usare.
Per andare incontro a questo bisogno ed offrire l'opportunità di trasformare un semplice negozio e-commerce in uno strumento concepito per raccogliere donazioni, abbiamo creato YITH WooCommerce Donations!
A causa della costante crescita dei negozi e-commerce, i pagamenti online stanno diventando sempre più sicuri e così pure la possibilità di fare donazioni.
Oltre alle associazioni di beneficenza e ai progetti online no profit, anche chi possiede siti e-commerce di media impresa può necessitare di questo modo di trasferire denaro (pensa di offrire un prodotto gratuito e dare la possibilità agli utenti di contribuire liberamente a finanziare il tuo lavoro).
E sai quanto è difficile, se non addirittura impossibile, impostare il tuo e-commerce in modo da permettere un pagamento di importo variabile, importo che gli utenti stessi scelgono appena prima di pagare.
Bene, YITH Donations for WooCommerce mira esattamente a rendere tutto questo facile da impostare e in pochi clic: associa una donazione ad un prodotto o permetti agli utenti di fare donazioni al tuo sito contando sullo stabile e ricco plugin WooCommerce.
Questo plugin è stato concepito per rappresentare la soluzione migliore sia per coloro che stanno muovendo i primi passi nelle vendite online che per i veterani del marketing digitale. Grazie alle sue funzionalità, come ad esempio poter aggiungere dei form per le donazioni a diversi prodotti o rendere la donazione opzionale o secondaria allo shortcode che ti permetterà di mostrare liberamente questo plugin sul tuo sito, potrai subito configurare il tuo sistema di donazioni senza bisogno di assistenza tecnica.
Questo è lo scenario ideale per le associazioni di beneficenza, per le persone creative che desiderano essere sostenuti dai loro ammiratori, per i progetti di raccolta fondi e molto altro!
Versione:

1.21.0

Rilasciata il:

2023-03-03

Versione minima di PHP:

7.0

Requisiti minimi:

WordPress 6.0

and WooCommerce 7.3

Compatibile con:

WordPress 6.2.x

and WooCommerce 7.5.x

Plugin multilingua supportati:

WPML, Loco Translate

File di lingua inclusi:

SÌ

Lingue garantite al 100% da YITH:

English, Italian, Spanish

Traduzioni degli utenti:

French ( France ) 100%, Dutch (100%)

Supporta:

Il tema YITH Proteo. Tutti i plugin YITH eccetto: YITH WooCommerce Deposits and Down Payments, YITH WooCommerce Name Your Price, YITH WooCommerce Role Based Prices,YITH WooCommerce Request a Quote

Temi di terzi supportati:

Avada, Divi, Flatsome, Neighborhood, Storefront, X

Plugin di terzi supportati:

Aelia Currency Switcher
CON
YITH DONATIONS

PUOI:
Impostare una somma minima e massima
Una delle funzionalità più richieste per ricevere le donazioni più adatte alle tue necessità.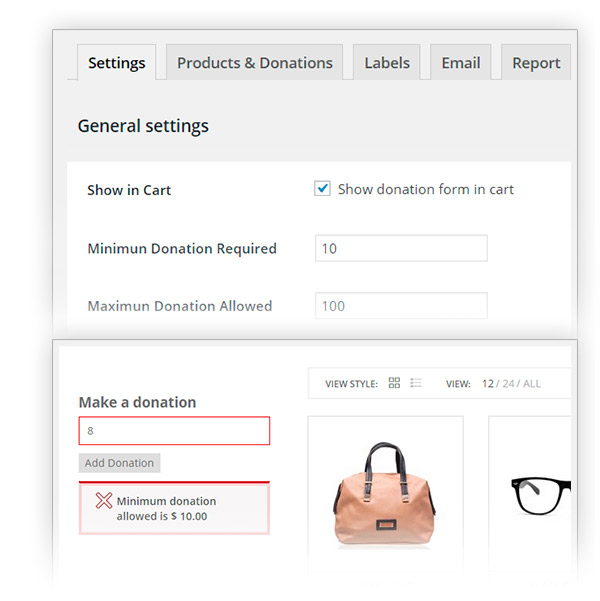 Aggiungere un form al carrello
Una posizione strategica per spingere gli utenti a fare una donazione.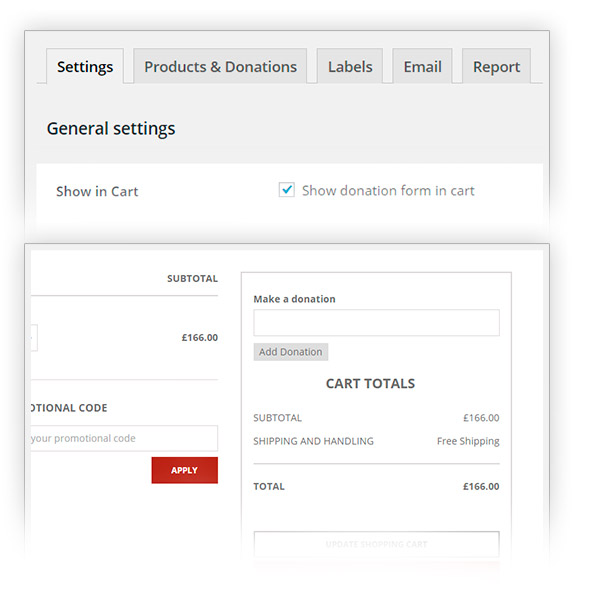 Incoraggiare a fare una donazione dalla pagina prodotto
Aggiungi il form nella pagina dettaglio e rendi le donazioni obbligatorie per i prodotti!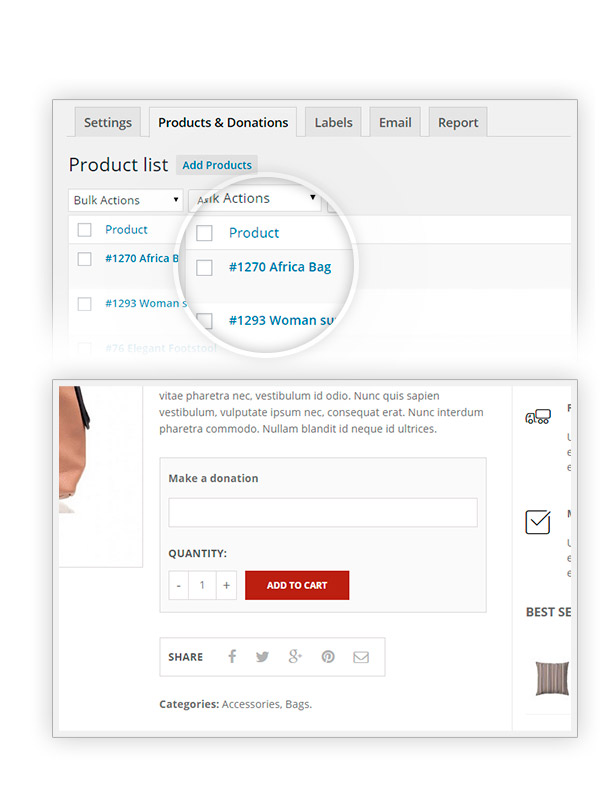 Cambiare testi e stile
Modificare il plugin come preferisci dal pannello impostazioni.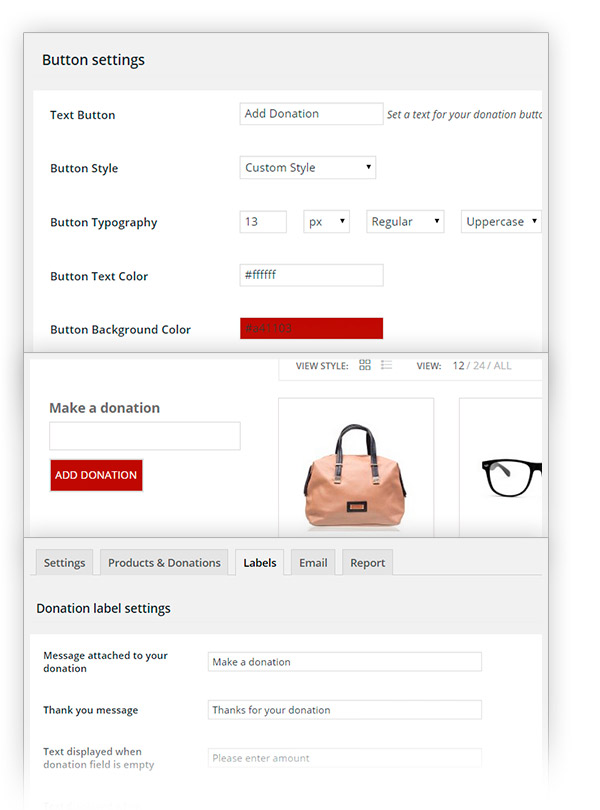 Scegliere diverse opzioni di pagamento
Offri ai tuoi donatori soluzioni migliori per la loro gentilezza.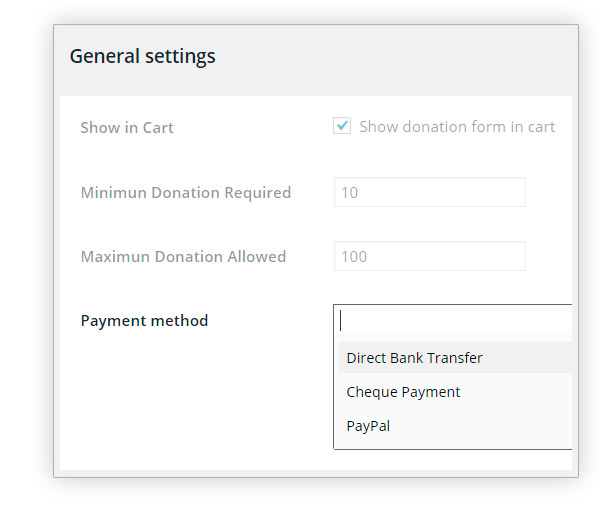 Mostrare degli importi predefiniti per la donazione
O lasciare al cliente la libertà di inserire un importo a sua scelta.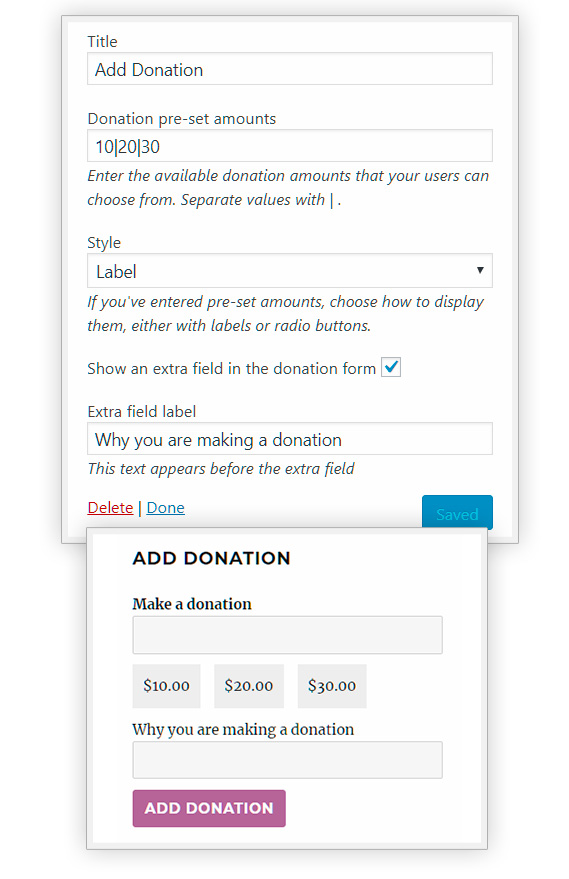 Mostrare l'ammontare complessivo della donazione
Grazie al comodo widget che puoi aggiungere alle barre laterali del tuo sito!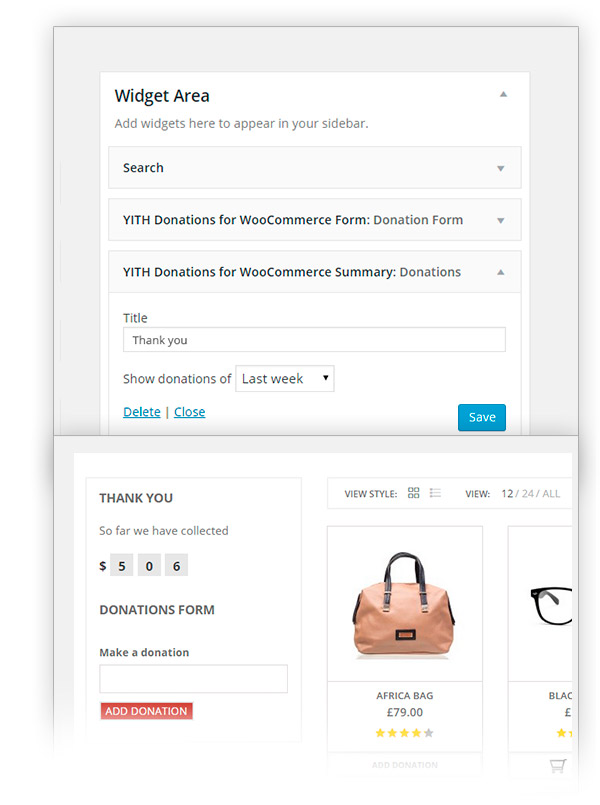 Posizionare il form dove preferisci
Usa lo shortcode disponibile per scegliere la posizione che vuoi.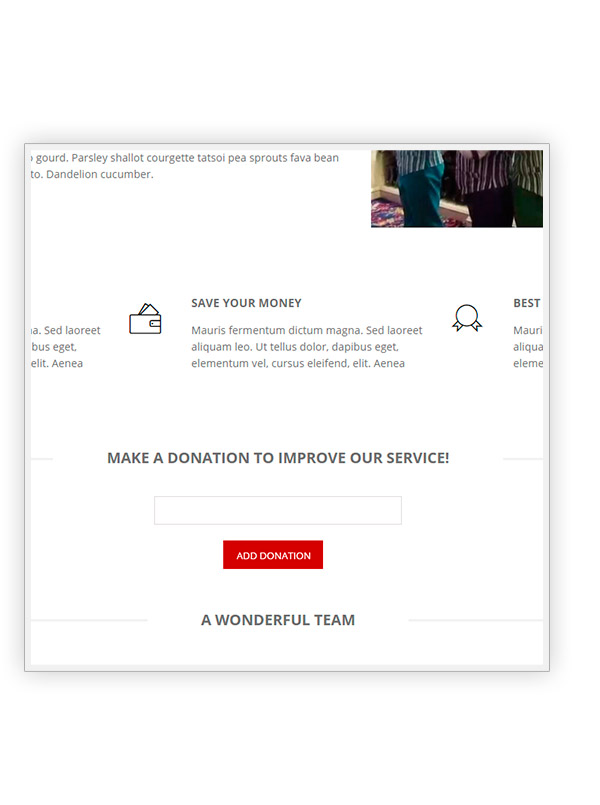 Cambiare l'email da inviare agli utenti
Ringrazia i donatori con un'email su misura per loro!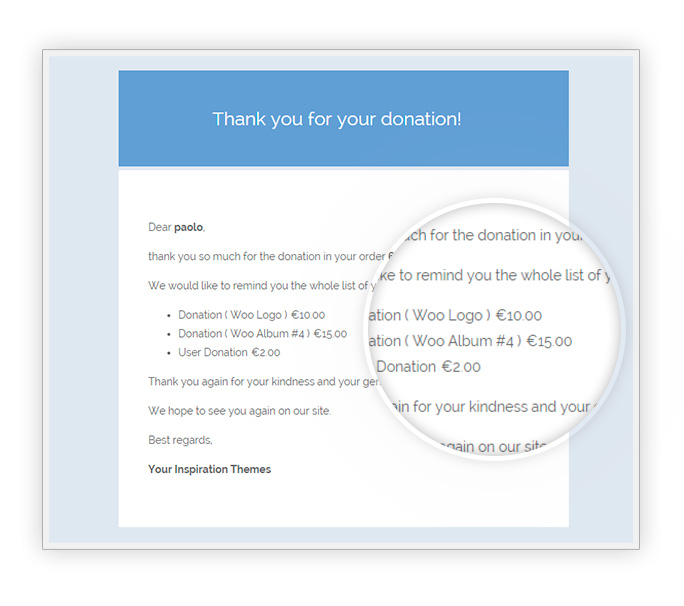 Approfittare della compatibilità WPML
Puoi facilmente tradurre il plugin con il potente strumento per siti multi-lingua