Enable your site for donations and allow customers to send you an amount of money of their own choice
Online donations are a phenomenon that has been getting a foothold in recent years more and more: users make donations to support cultural projects, to collect for fundraising initiatives, to express their gratitude for a service or a product they have received.
Whether it is a matter of few euros or of considerable amounts, if you want to create a site that gives you the possibility to make donations, what you need is certainly a simple solution, as versatile as possible.
It is generally rather hard to obtain selfless contributions from our customers, especially considering how hard it generally is to convince them to buy something, which is why a donation system needs to be quiet simple to use and efficient.
In order to meet this need and offering the opportunity to turn a simple e-commerce store in a tool designed to collect donations, we have created YITH WooCommerce Donations!
Due to the constant increase of e-commerce shops, online payments become more and more secure and so also the possibility to make donations.
Besides charity associations and non-profit projects online, also owners of medium size e-commerce sites may need such a way of money transfer (think you are giving a free product and you want to give users the possibility to contribute freely to finance your work).
And you know how difficult it is, if not even impossible, to set your e-commerce shop so that you can allow a payment of a variable amount, amount that users themselves choose just before paying.
Well, YITH Donations for WooCommerce aims exactly to make all this easy to set up and with few simple clicks: associate a donation to a product or give the possibility to your users to make donations to your site, counting on the stable and rich WooCommerce plugin.
This plugin was designed to represent the best solution for both those who are moving their first steps into online sales and veterans of digital marketing.
Thanks to its functions, such as the chance to add donation forms to several products or the chance to make the donation optional or secondary to the shortcode that will allow you to display this plugin freely on your website, you will be able to set up your donation system right now and with no need for technical assistance.
This is the ideal scenario for charity companies, creative people who wish to be sustained by their followers, collective funding projects and much more!
Version:

1.27.0

Released:

2023-09-14

Minimum PHP version:

7.0

Requires:

WordPress 6.1

and WooCommerce 7.9

Compatible up to:

WordPress 6.3.x

and WooCommerce 8.1.x

Supported multilanguage plugins:

WPML, Loco Translate

Translation ready:

YES

Languages 100% guaranteed by YITH:

English, Italian, Spanish

Languages provided by users:

French ( France ) 100%, Dutch (100%)

Support for:

YITH Proteo theme. All YITH plugins except for: YITH WooCommerce Deposits and Down Payments, YITH WooCommerce Name Your Price, YITH WooCommerce Role Based Prices,YITH WooCommerce Request a Quote

Supported third party themes:

Avada, Divi, Flatsome, Neighborhood, Storefront, X

Supported third party plugins:

Aelia Currency Switcher
WITH
YITH DONATIONS

YOU CAN:
Set a minimum and maximum amount
One of the most requested feature to receive the most suitable donations for your needs.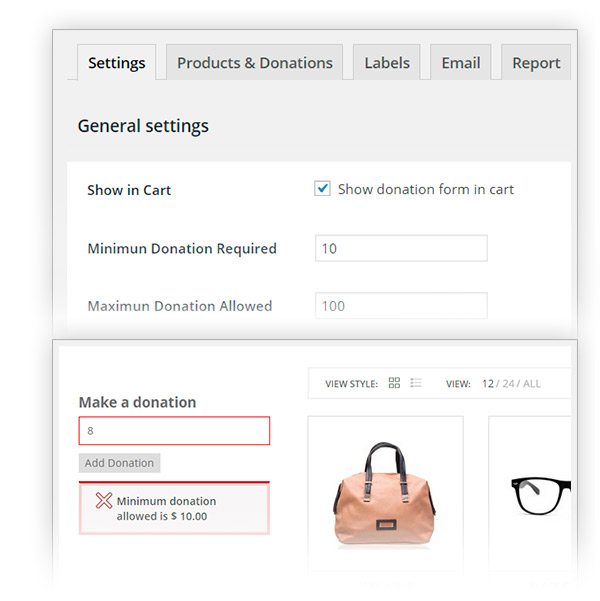 Add a form to the cart
A strategic position to push users to make a donation.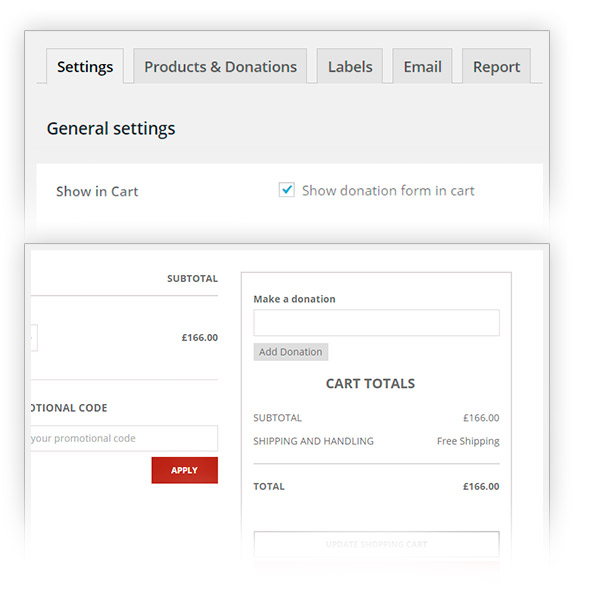 Encourage users to make a donation from the product page
Add the form in the detail page and make donations mandatory for products!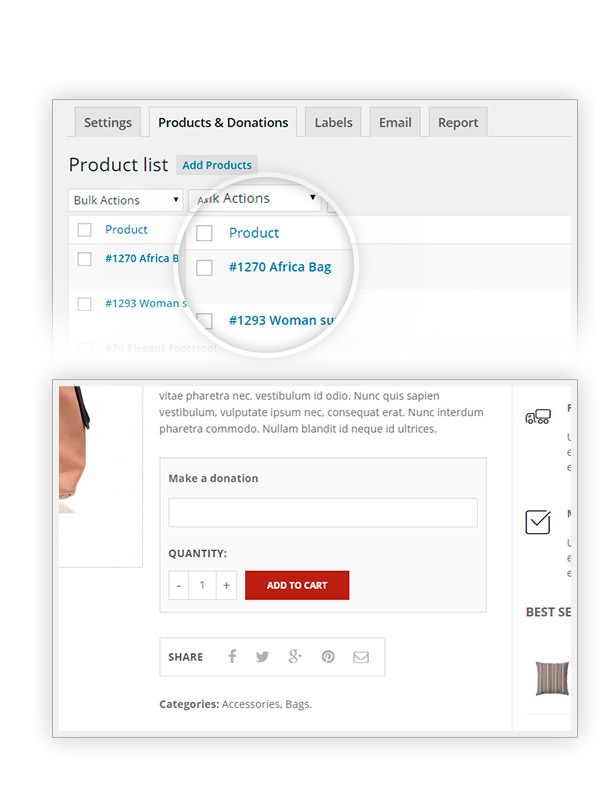 Change texts and style
Edit the plugin as you prefer from the settings panel.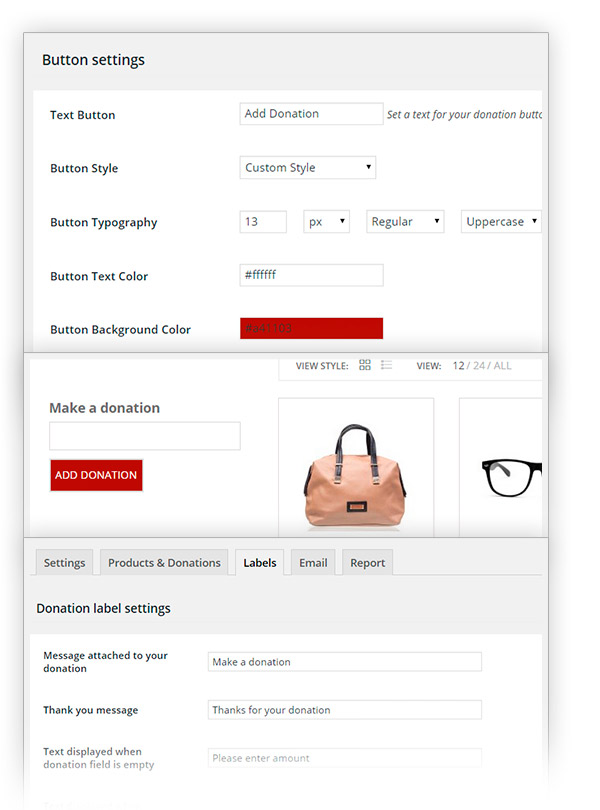 Choose different payment options
Offer to your givers better solutions for their kindness.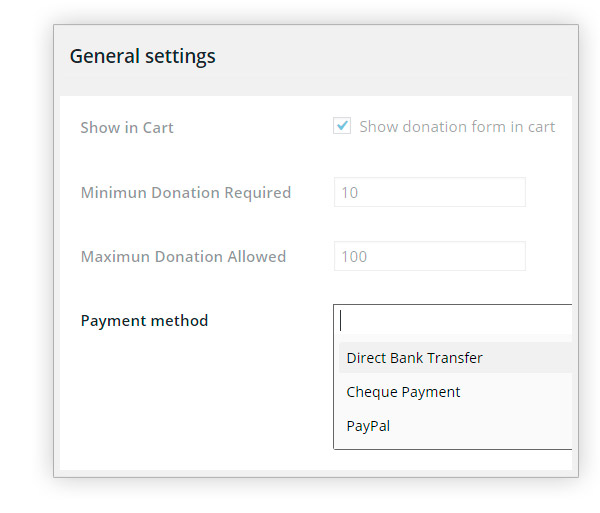 Show pre-set amounts for the donation
Or leave your customers free to enter a custom amount.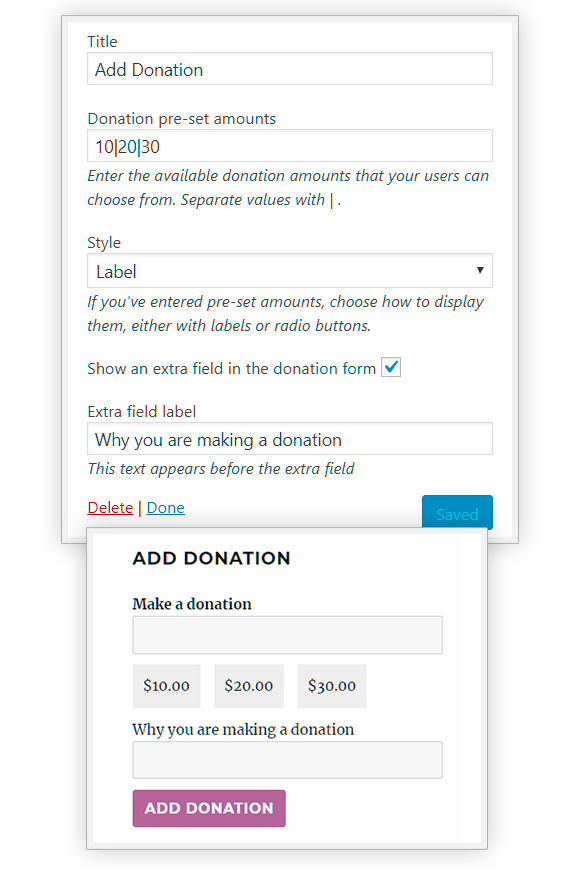 Show the overall donation amount
Thanks to a comfortable widget you can add in the sidebars of your site!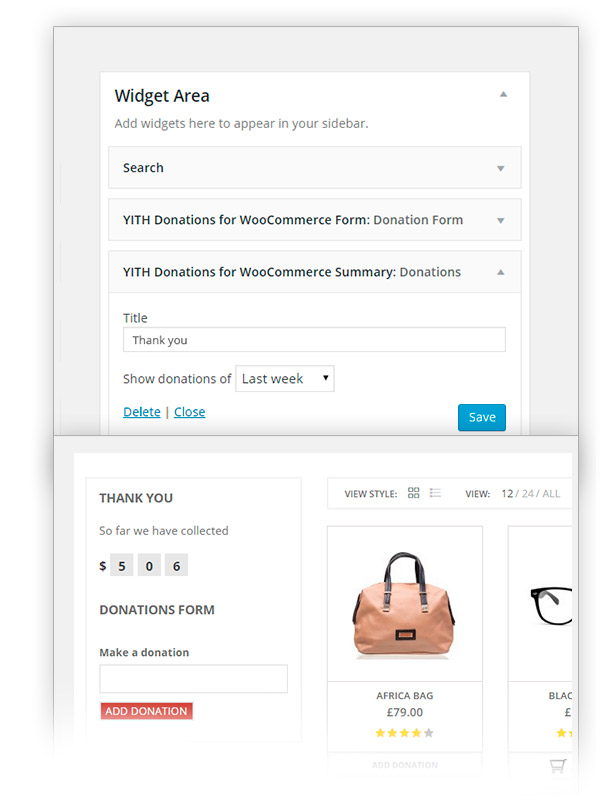 Place the form where you want
Use the available shortcode to choose the position you want.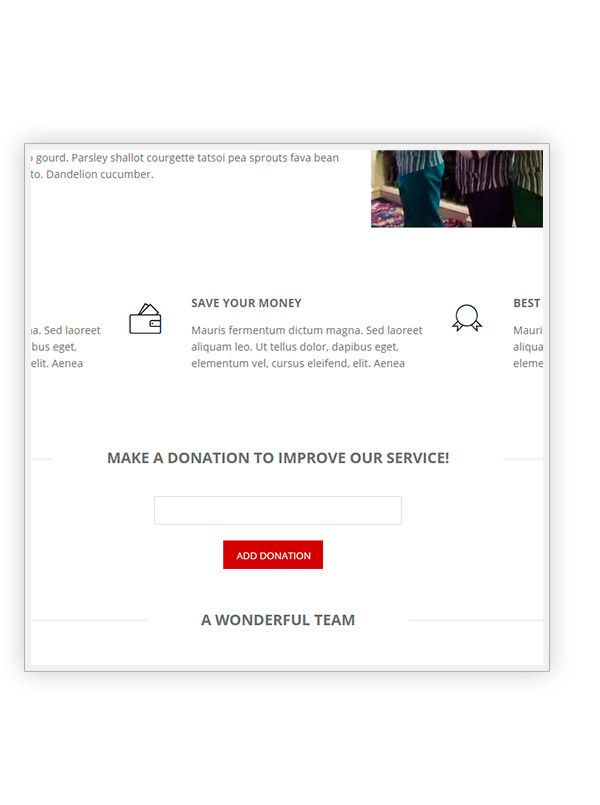 Change the email you can send to users
Thank givers with an email tailored for them!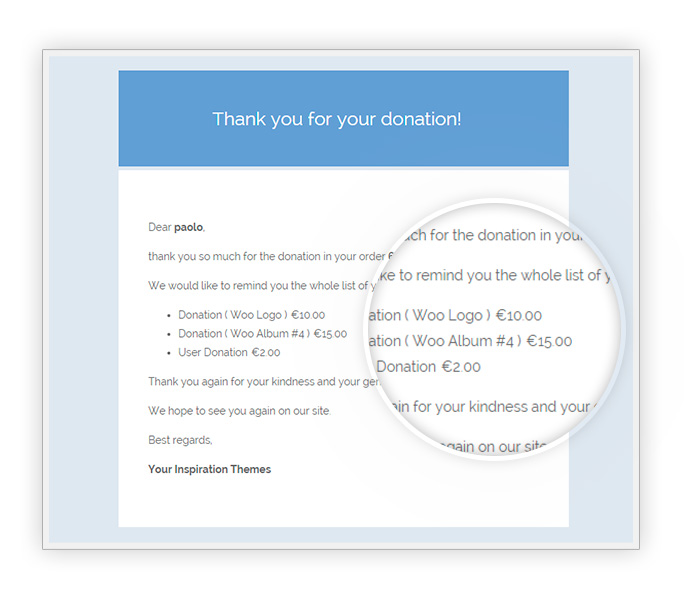 Take advantage of the WPML compatibility
You are free to easily translate the plugin with the powerful WPML tool