Da un paso adelante y ofrece a tus clientes la oportunidad de ahorrar dinero permitiendo que elijan el método de pago más cómodo
¿El precio de tus productos es el correcto?
Cada vez que necesitas asignar precios a los productos nuevos que tienes a la venta, surgen muchas preguntas: deseas tratar a tus clientes bien pero algo puede interferir con tu decisión de cuál puede ser el precio final y las buenas intenciones simplemente no son suficientes.
Algunas de estas preguntas pueden referirse al precio aplicado para cada transacción por la pasarela de pago elegida.
El mayor problema es el hecho de que si tienes la intención de añadir este coste directamente al precio del producto, eso influirá en las decisiones de tus clientes y podrían terminar comprándolo en alguna otra tienda pagando un poco menos por ello. Y de esta manera, no solo has perdido una venta, sino también un cliente potencial.
Claramente, no puedes darte el lujo de perder dinero, pero puedes considerar que agregar ese coste al precio final tampoco es bueno, ya que cada pasarela de pago tiene precios diferentes y terminarías mostrando un precio caro incluso cuando el método de pago elegido por el usuario no lo requiere
La solución es muy simple, todo lo que necesitas hacer es aplicar el precio para cada transacción en el momento exacto en que tu cliente escoge su método de pago para que no tengas que subir el precio de tu producto, ¡Incluso podrás hacer un descuento!
YITH Dynamic Pricing per Payment Method for WooCommerce es la solución definitiva para este problema que mantenía a los clientes lejos de comprar hasta ahora.
Después de instalarlo, finalmente podrás decidir si aumentar o no el precio (en porcentaje o como una cantidad fija), pero también realizar descuentos en el total del pedido.
Además podrás programar incrementos o descuentos para un rango de tiempo fijo a fin de tener control total.
Imagina que hay una promoción en uno de los métodos de pago que utilizas, en este caso, en tan solo unos pocos clics podrías notificar a tus clientes de esta promoción y aplicar el descuento directamente durante el proceso de pago de forma dinámica.
Por favor, tenga en cuenta: esta función no está disponible para los pedidos creados manualmente desde el panel de control por el administrador o los encargados de la tienda, debido a una limitación de WooCommerce. La página de pago, de hecho, muestra y permite el pago de un pedido existente y no permite modificar el pedido. Por lo tanto, los totales del pedido tampoco se recalcularían y no se mostraría ningún cambio, incluidos los cargos adicionales basados en el método de pago seleccionado, porque esta página no recarga los totales vía AJAX como lo hace la página de pago
Versión:

2.18.0

Publicada:

2023-09-13

Versión mínima de PHP:

7.0

Requiere:

WordPress 6.1

and WooCommerce 7.9

Compatible hasta:

WordPress 6.3.x

and WooCommerce 8.1.x

Plugins multidioma compatibles:

WPML, Loco Translate

Traducción lista:

SÍ

Idiomas 100% garantizados por YITH:

Italian, Spanish

Idiomas proporcionados por usuarios:

Dutch (95%), Persian (69%), French (100%), German (100%), German Formal (100%)

Compatible con:

Tema YITH Proteo. Todos los plugins de YITH
CON
YITH DYNAMIC PRICING PER PAYMENT METHOD

PUEDES:
Aumentar o disminuir el coste de pedido en base al método de pago
Editar dinámicamente el precio al aplicar un descuento o un cargo adicional fijo o porcentual en relación con el valor del carrito.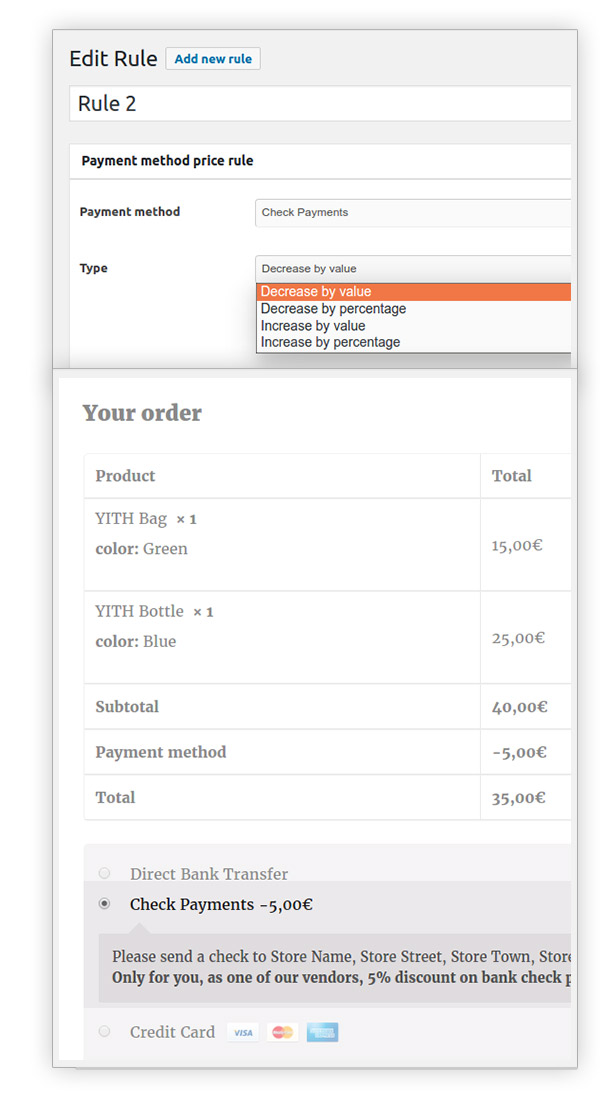 Crear una o más reglas de precio por método de pago
Cada regla se aplica en el total del carrito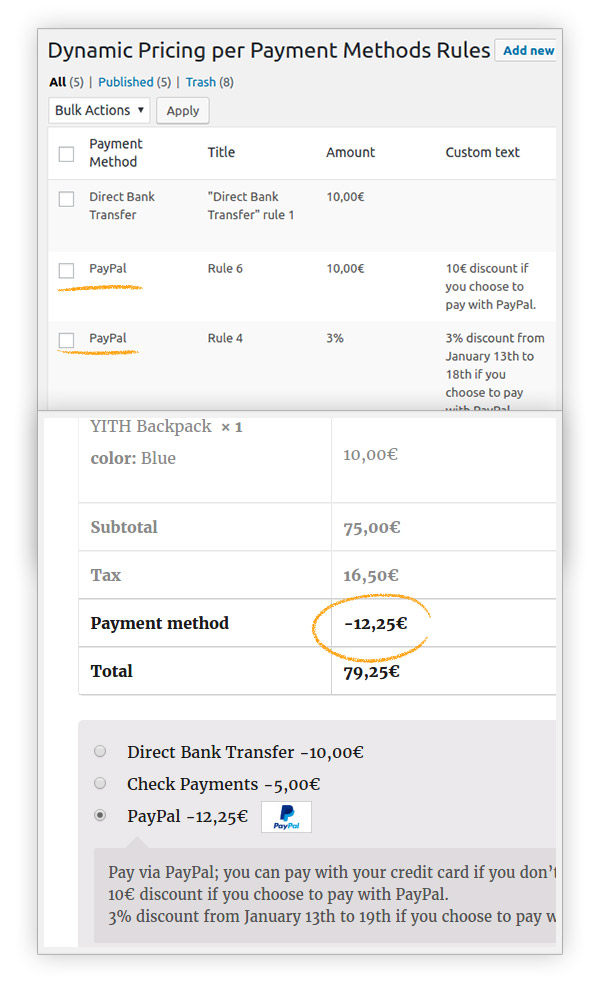 Añadir notas a los métodos de pago disponibles
Insertar uno o más mensajes a mostrar en cada método de pago en la página de pago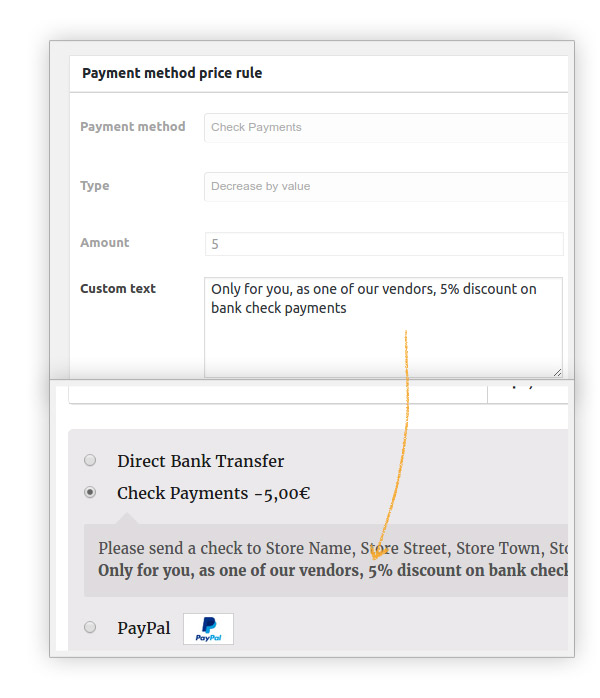 Aplicar el incremento o descuento extra solamente a los usuarios especificados
Seleccionar los roles de usuario a asociar con cada regla de pago creada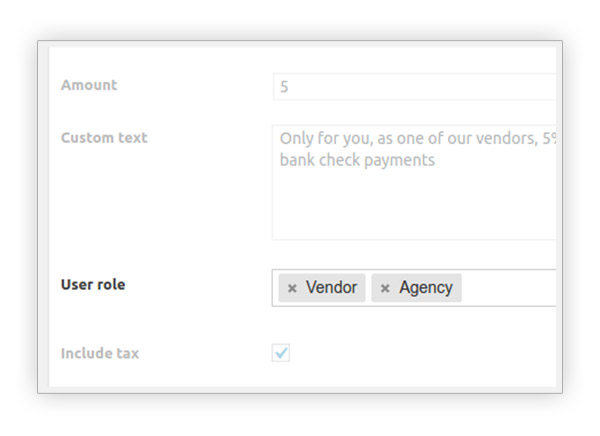 Incluir o excluir impuestos en la cantidad total a editar
Elige el método que mejor se adapte a tus necesidades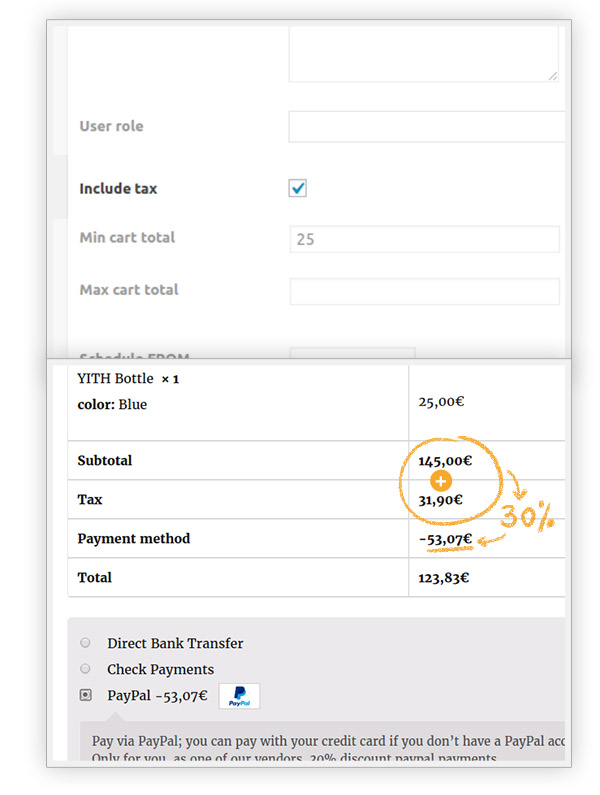 Comprobar la cantidad del carrito
Aplica la regla de pago sólo si la cantidad cumple con los parámetros mínimos y máximos establecidos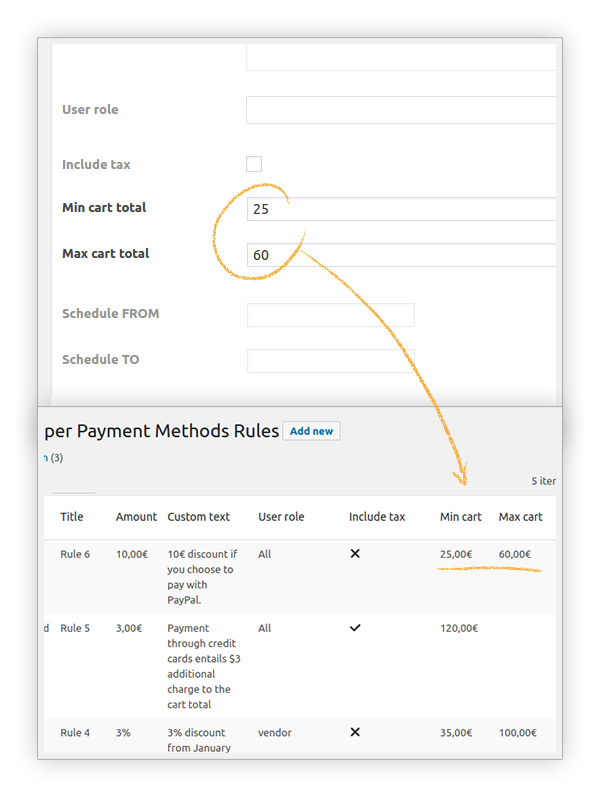 Programar la activación de la regla de pago
Elección del comienzo y/o la fecha de finalización a través del calendario relacionado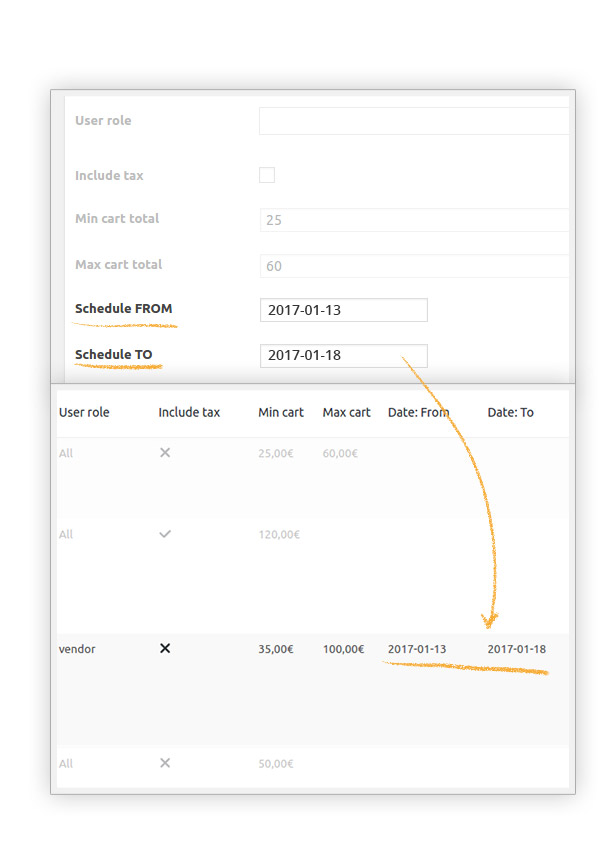 Aprovechar la compatibilidad con WPML
Puedes traducir el plugin fácilmente con la potente herramienta de WPML