Step forward and offer your customers the chance to save money allowing them to chose the most convenient payment method
Is the final price of your products the right one?
Every time you need to assign prices to new products you have for sales, many questions arise: you want to treat your customers well treated but something may interfere with your decision of what the final price might be and good intentions just aren't enough.
Some of these questions may concern the price applied by the payment gateway of choice, for each transaction.
The most warning factor is the fact that if you intend to add this cost directly to the final product price, that's going to influence your customers' decisions and might end up purchasing it from some other store paying a little less for it. And just like that, you lost not just a sale, but a potential customer.
Clearly, you can't afford to lose money, but you might consider that adding that cost to the final price isn't nice either, since every gateway has different prices and you would end up with showing an expensive price even when the payment method chosen by the user doesn't require it.
The solution is very simple, all you need to do is to apply the increase in the exact moment your customer is picking their payment method so that you won't have to raise the price of your product, you'll even get to lower it instead!
YITH Dynamic Pricing per Payment Method for WooCommerce is the ultimate solution for this issue that kept customers away from purchasing until now.
After installing it, you will finally get to decide whether or not to increase the price (in percentage or as a fixed amount) but also to perform discounts on the total amount of the order.
You will also be able to schedule increases or discounts for a fixed time frame in order to have full control.
Imagine there is a promotion on one of the payment methods you use, in this case in just a few clicks you could notify your customers of this promotion and apply the discount directly during the checkout dynamically.
Please, note: this feature is not available for orders created manually from the backend by the admin or shop managers, because of a limitation of WooCommerce plugin. The pay page, in fact, shows and allows payment for an existing order and doesn't allow the order to be modified. So, order totals would also not be re-calculated, and any changes, including extra fees based on the selected payment method, would not be shown because this page does not reload totals via AJAX like the checkout does
Version:

2.19.0

Released:

2023-10-03

Minimum PHP version:

7.0

Requires:

WordPress 6.1

and WooCommerce 8.0

Compatible up to:

WordPress 6.3.x

and WooCommerce 8.2.x

Supported multilanguage plugins:

WPML, Loco Translate

Translation ready:

YES

Languages 100% guaranteed by YITH:

Italian, Spanish

Languages provided by users:

Dutch (95%), Persian (69%), French (100%), German (100%), German Formal (100%)

Support for:

YITH Proteo theme. All YITH plugins.
WITH
YITH DYNAMIC PRICING PER PAYMENT METHOD

YOU CAN:
Increase or decrease the order cost basing on the payment method
Edit the price dynamically by applying a discount or a fixed or percentage extra charge in relation to the cart value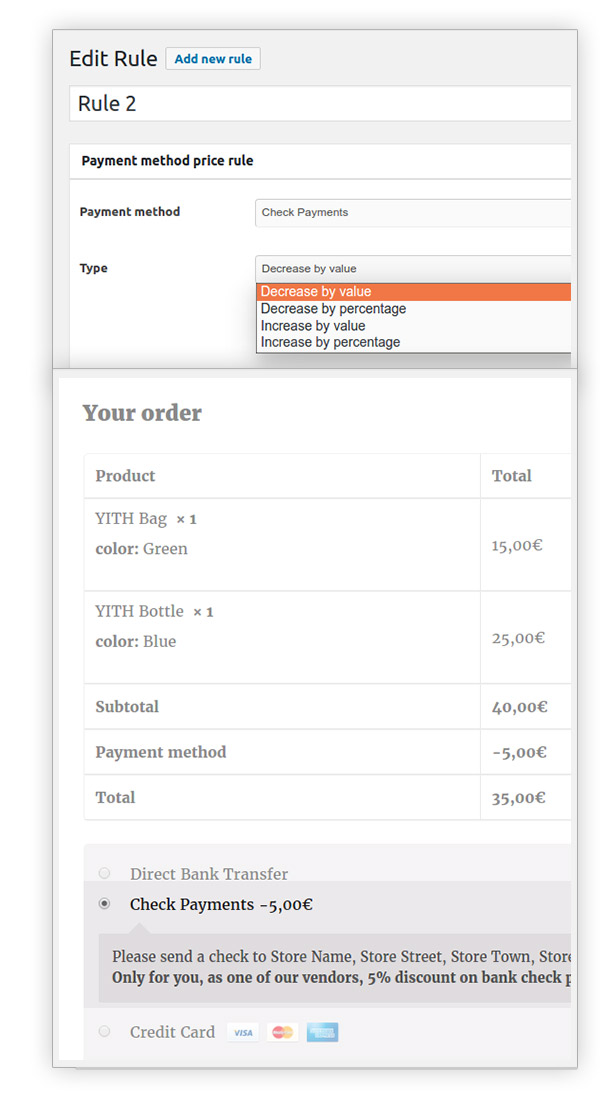 Create one or more price rules per payment method
Each rule is applied on the cart total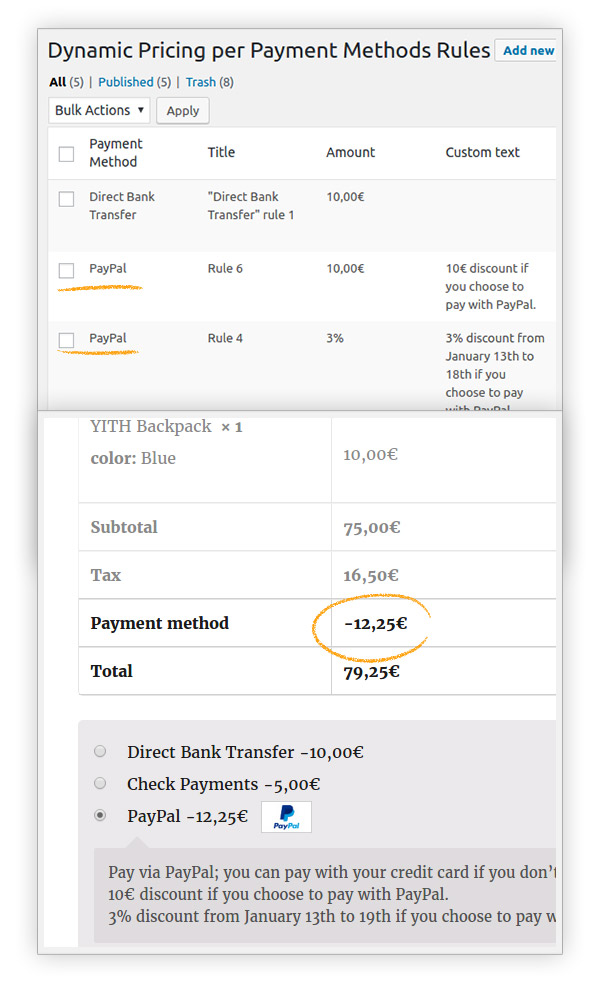 Add notes to the available payment methods
Inserting one or more messages to show in each payment method on the Checkout page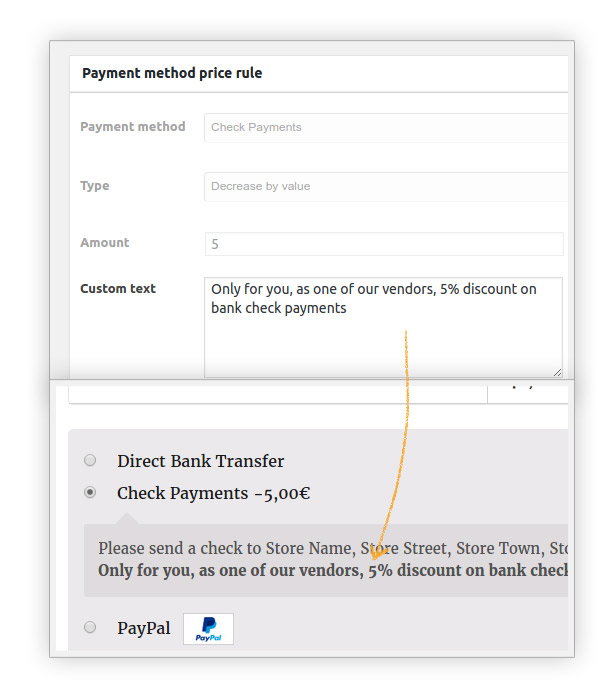 Apply the discount or the extra charge only to specified users
Selecting the user roles to associate with each payment rule created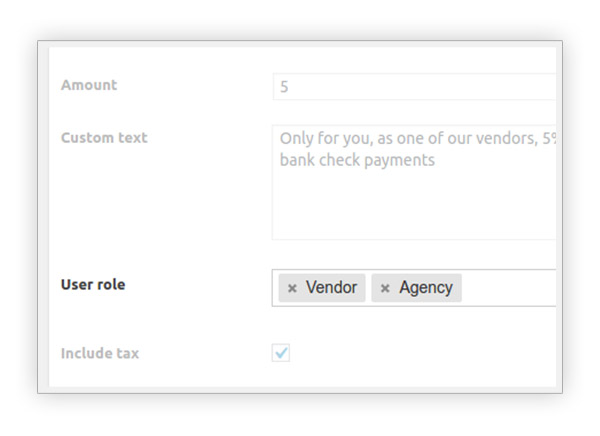 Include or exclude taxes in the total amount to be edited
Choose the method that better suits your needs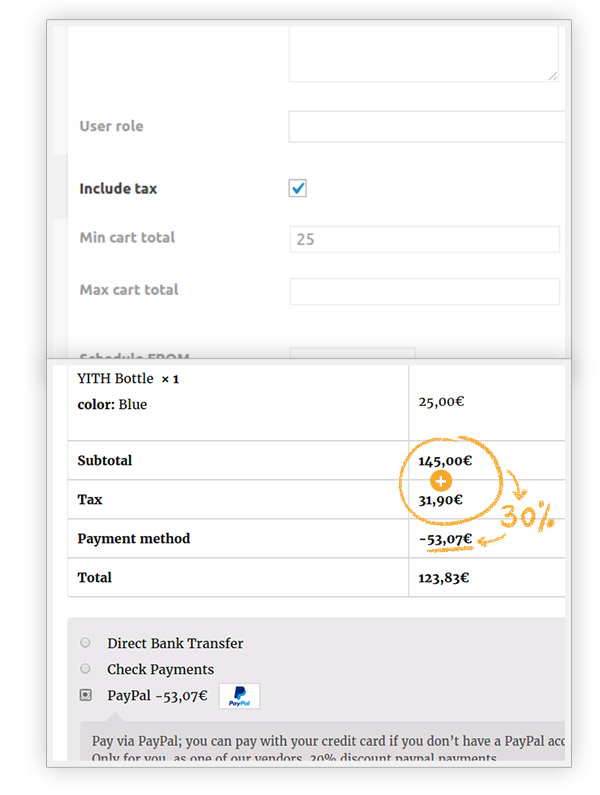 Check the cart amount
By applying the payment rule only if the amount meets the provided minimum and maximum parameters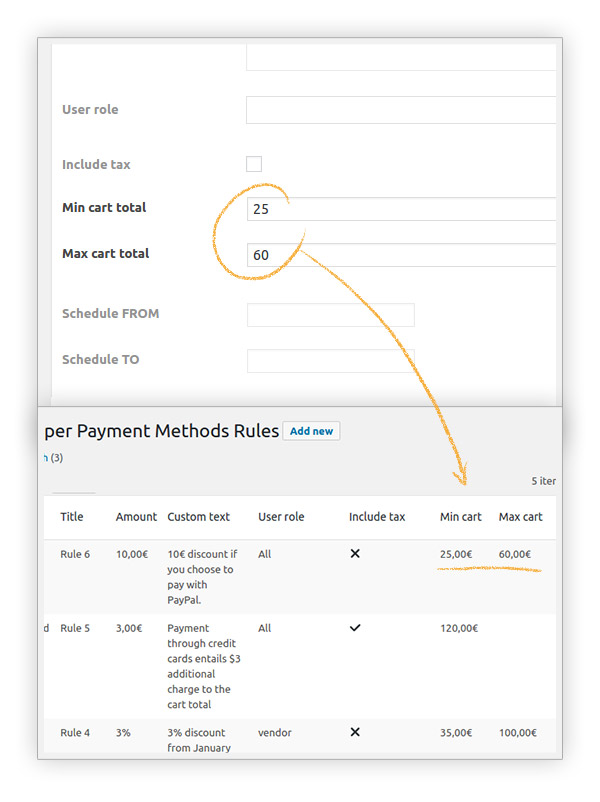 Schedule the payment rule activation
Choosing start and/or end date through the related calendar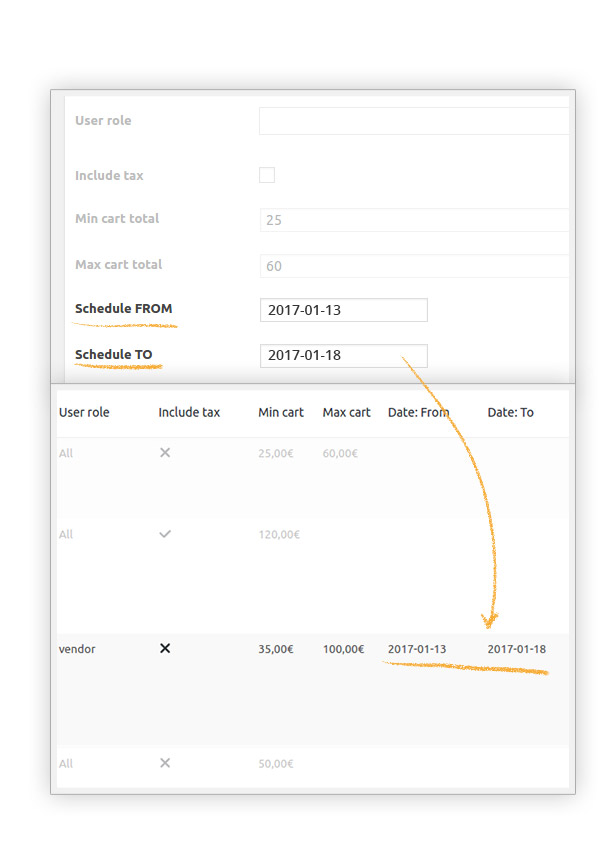 Take advantage of the wpml compatibility
You are free to easily translate the plugin with the powerful WPML tool