Fai un passo avanti ed offri ai tuoi clienti la possibilità di risparmiare scegliendo il metodo di pagamento più conveniente
Il prezzo finale dei tuoi prodotti è quello giusto?
Ogni volta che devi assegnare i prezzi ai nuovi prodotti che hai in vendita, sorgono molte domande: vuoi trattare bene i tuoi clienti ma qualcosa potrebbe interferire con la tua decisione su quale dovrebbe essere il prezzo finale e le buone intenzioni non bastano.
Alcune di queste domande possono riguardare il prezzo applicato dal gateway di pagamento scelto per ogni transazione.
La cosa più allarmante è che se hai intenzione di aggiungere questo costo direttamente al prezzo finale del prodotto, questo influenzerà le decisioni dei tuoi clienti che potrebbero acquistare in un altro negozio ad un prezzo leggermente inferiore. E all'improvviso perdi non solo una vendita ma anche un potenziale cliente.
Ovviamente non puoi permetterti di perdere denaro ma dovresti considerare che aggiungere un costo al prezzo finale del prodotto non è la giusta soluzione dato che ogni gateway ha costi diversi e finiresti con il mostrare un prezzo eccessivo anche quando il metodo di pagamento scelto dall'utente non lo richiede.
La soluzione è molto semplice: tutto ciò che devi fare è applicare l'aumento nel momento esatto in cui il tuo cliente sceglie il metodo di pagamento così non dovrai alzare il prezzo del prodotto, anzi, potrai perfino abbassarlo!
YITH Dynamic Pricing per Payment Method for WooCommerce è la soluzione ottimale a questo problema che finora ha tenuto i clienti lontani dall'acquisto.
Dopo l'installazione potrai finalmente decidere se aumentare o meno il prezzo (in percentuale o come importo fisso) ed anche applicare sconti sull'importo totale dell'ordine.
Per avere il pieno controllo potrai anche programmare aumenti o sconti per un intervallo di tempo fisso.
Immagina una promozione in corso su uno dei metodi di pagamento che utilizzi: in questo caso potrai informare i tuoi clienti ed applicare lo sconto in modo dinamico direttamente durante l'acquisto in soli pochi clic.
Attenzione: questa funzionalità non è disponibile per gli ordini creati manualmente dall'amministratore o shop manager da backend a causa di una limitazione del plugin WooCommerce. Infatti, la pagina di pagamento mostra e permette il pagamento per un ordine esistente ma non permette di modificarlo. Il totale dell'ordine non sarebbe quindi ricalcolato e qualsiasi modifica, inclusi i costi extra in base al metodo di pagamento selezionato, non verrebbero mostrati in quanto questa pagina non ricarica i totali in AJAX come invece avviene al checkout.
Versione:

2.20.0

Rilasciata il:

2023-11-13

Versione minima di PHP:

7.0

Requisiti minimi:

WordPress 6.2

and WooCommerce 8.1

Compatibile con:

WordPress 6.4.x

and WooCommerce 8.3.x

Plugin multilingua supportati:

WPML, Loco Translate

File di lingua inclusi:

SÌ

Lingue garantite al 100% da YITH:

Italian, Spanish

Traduzioni degli utenti:

Dutch (95%), Persian (69%), French (100%), German (100%), German Formal (100%)

Supporta:

Il tema YITH Proteo. Tutti i plugin YITH.
CON
YITH DYNAMIC PRICING PER PAYMENT METHOD

PUOI:
Aumentare o diminuire il costo dell'ordine in base al metodo di pagamento
Modifica il prezzo in modo dinamico applicando uno sconto o un costo extra, fisso o percentuale, in base al valore del carrello
Creare una o più regole di prezzo per metodo di pagamento
Ogni regola viene applicata sul totale del carrello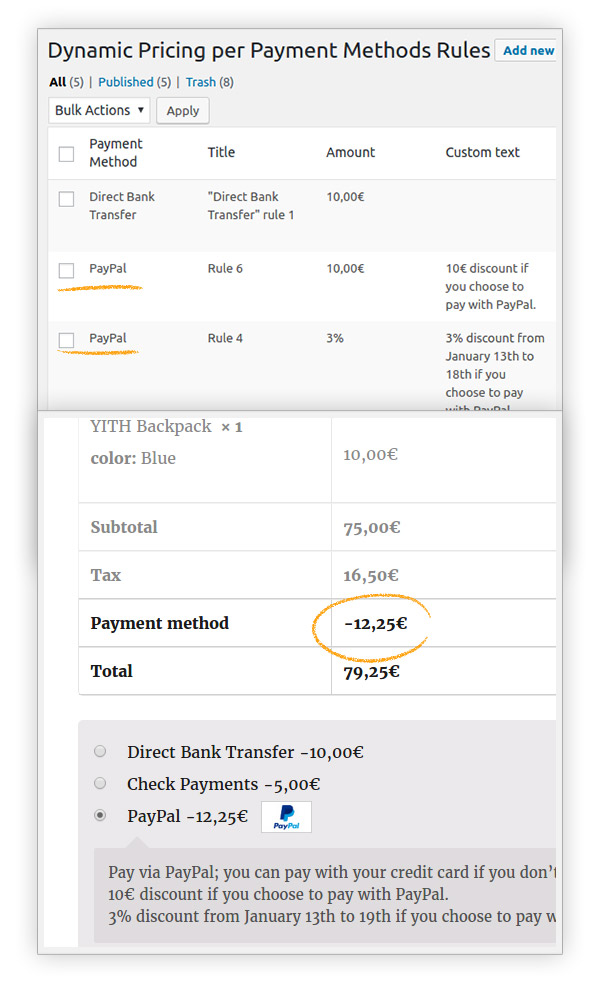 Aggiungere note ai metodi di pagamento disponibili
Inserendo uno o più messaggi da mostrare nel metodo di pagamento nella pagina Checkout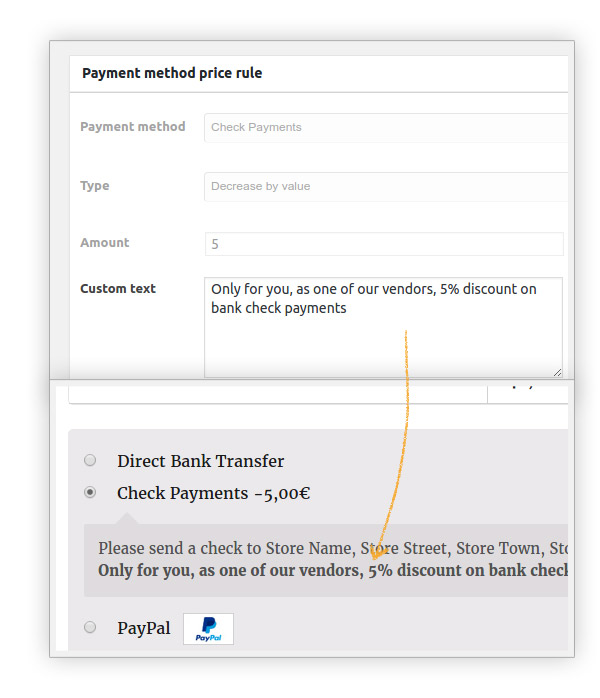 Applicare lo sconto o il costo extra solo agli utenti specificati
Selezionando i ruoli utente da associare ad ogni regola di pagamento creata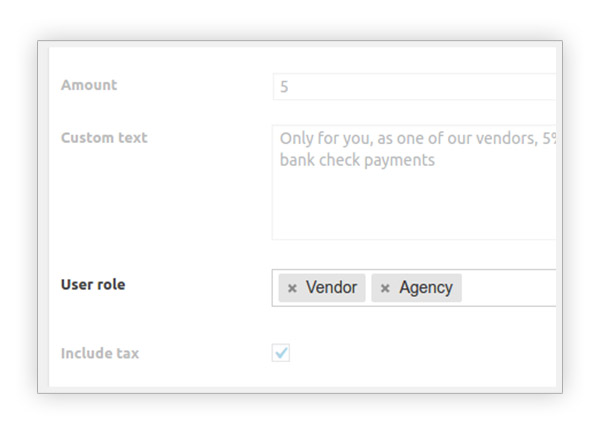 Includere o escludere le tasse nell'importo totale da modificare
Scegli il metodo che soddisfa meglio le tue esigenze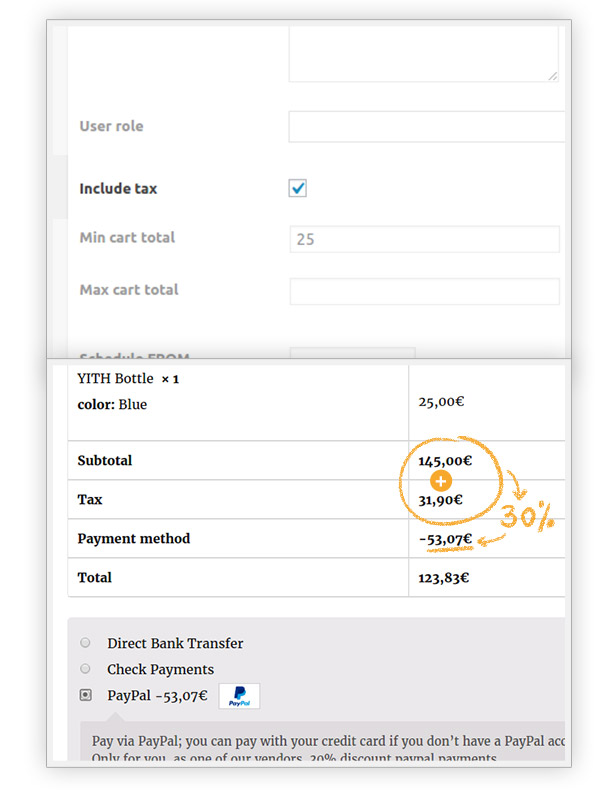 Controllare l'importo del carrello
Applicando la regola di pagamento solo se l'importo rispetta i parametri minimo e massimo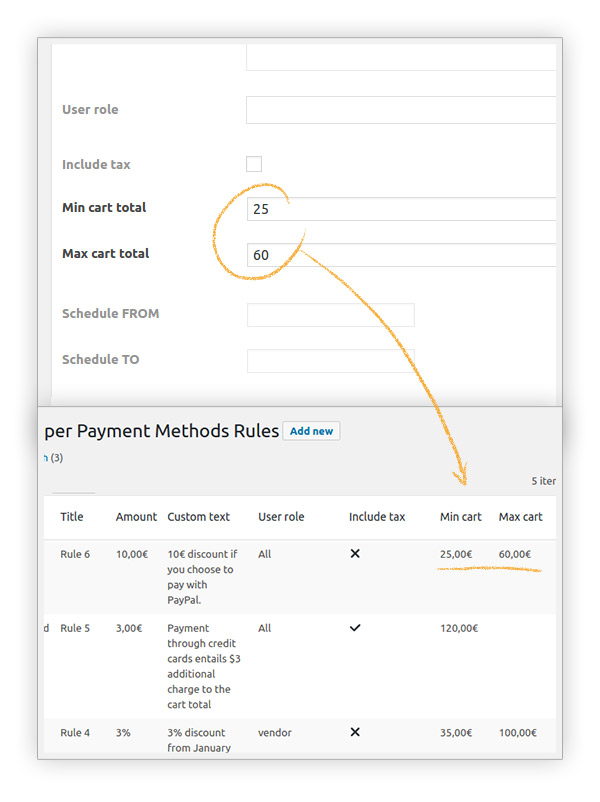 Programmare l'attivazione della regola di pagamento
Scegliendo la data di inizio e/o fine tramite l'apposito calendario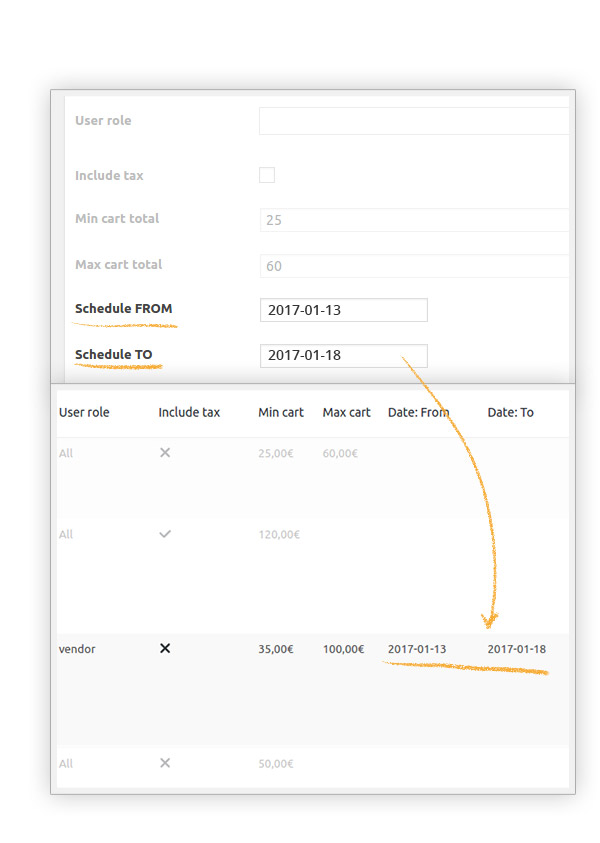 Approfittare della compatibilità con WPML
Puoi facilmente tradurre il plugin con il potente strumento per siti multilingua