Utiliza las valoraciones para incrementar las ventas de tus productos
Las valoraciones son el elemento clave de cualquier comercio electrónico: los comentarios de los clientes que ya compraron un producto o servicio de tu sitio web son vitales para que tu actividad obtenga credibilidad en línea.
Considera la importancia que las principales plataformas de ventas del mundo, como Amazon, otorgan a las valoraciones. Es fácil entender por qué: cada valoración es realizada por un cliente que garantiza la calidad de tus productos, una opinión desinteresada que sin duda afectará más a las ventas que cualquier otra cosa que los vendedores puedan decir.
Gracias a YITH WooCommerce Advanced Reviews puedes proporcionar a tus valoraciones ese toque extra que les dará una mayor visibilidad y aumentará tus ventas.
Según Internet Retailer, puedes aumentar la tasa de conversión de tu comercio electrónico en un 14-76% solo añadiendo valoraciones de productos a tu tienda en línea. Además, algunos estudios de mercado encontraron que el 77% de los consumidores leen las valoraciones antes de comprar en línea.
Los números son claros: tanto si tienes un pequeño comercio electrónico o un gran negocio en línea, las valoraciones son la forma más sencilla de mejorar las ventas de tus productos y fidelizar a los clientes.
Nuestro plugin te permitirá gestionar las valoraciones realizadas por clientes que hayan comprado uno o más productos de tu sitio web de la manera más fácil, y consultarlos de forma rápida y práctica.
Gracias a opciones como la que permite a los usuarios filtrar las valoraciones por calificación, o la que permite a los usuarios evaluar una valoración y ver cuántas personas ya la han juzgado como útil.
Hemos escuchado las solicitudes de nuestros clientes al crear este plugin, estableciendo nuestro objetivo principal de aumentar la efectividad del sistema de valoraciones de WooCommerce y automatizar sus funciones para ahorrar tiempo que podría ser utilizado gestionando otros aspectos de tu tienda.
También introducimos la posibilidad de que los usuarios respondan a las valoraciones para crear un diálogo entre los usuarios, y la posibilidad de editar las valoraciones para que una valoración negativa se convierta en positiva y deje de dañar tus ventas.
Tus clientes también podrán evaluar valoraciones y penalizar las que no sean útiles, a fin de crear un sistema automatizado y funcional.
¡Las valoraciones son el escaparate de tu tienda, por lo que eliges mostrar tus productos de la mejor manera!
Versión:

1.31.0

Publicada:

2023-09-13

Versión mínima de PHP:

7.0

Requiere:

WordPress 6.1

and WooCommerce 7.9

Compatible hasta:

WordPress 6.3.x

and WooCommerce 8.1.x

Plugins multidioma compatibles:

WPML, Loco Translate

Traducción lista:

SÍ

Idiomas 100% garantizados por YITH:

Italian, Spanish, Greek

Idiomas proporcionados por usuarios:

French (100%), German (100%), Portuguese (Portugal) (88%), Portuguese (Brazil) (78%), Slovenian (80%), Persian (80%), Dutch (100%), Hebrew (94%)

Compatible con:

Tema YITH Proteo. Todos los plugins de YITH

Constructores de página compatibles:

Elementor
CON
YITH ADVANCED REVIEWS

PUEDES:
Resumir la valoración con un título
Los usuarios pueden añadir un título para hacer una breve reseña del contenido de la valoración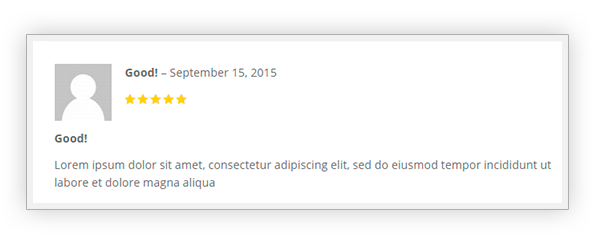 Añadir un archivo adjunto a la valoración
Los usuarios pueden adjuntar un archivo como una imagen, por ejemplo, a sus valoraciones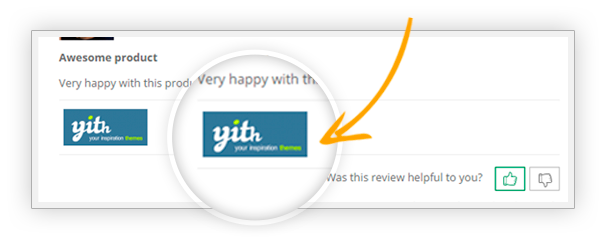 Personalizar colores
Puedes establecer el esquema de color más conveniente para que tu diseño incluya valoraciones en el sitio de la mejor manera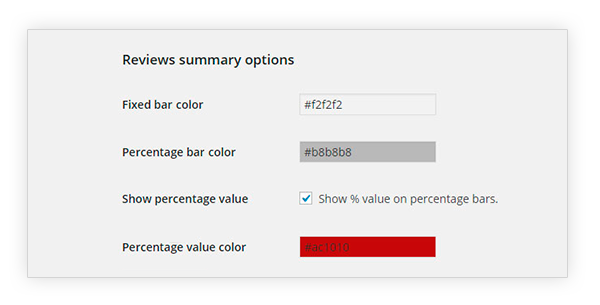 Representar gráficamente las valoraciones
Puedes representar claramente las opiniones recibidas con porcentajes y gráficos de barras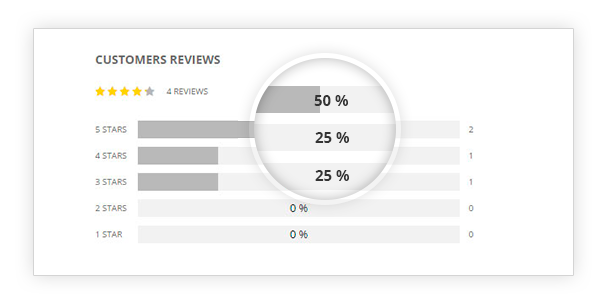 Votar una o más valoraciones
Los usuarios pueden marcar las valoraciones útiles o no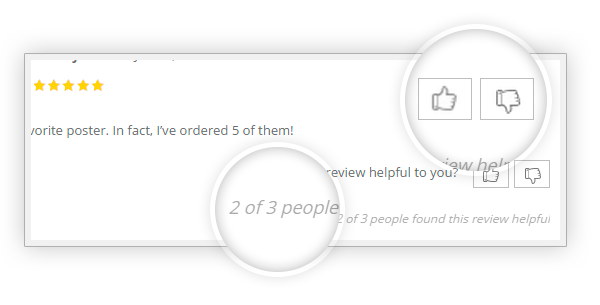 Establecer cuántas valoraciones quieres mostrar
Puedes elegir cuántas valoraciones mostrar en la página. Las demás se cargarán a través de AJAX cuando haces clic en el botón 'Cargar más'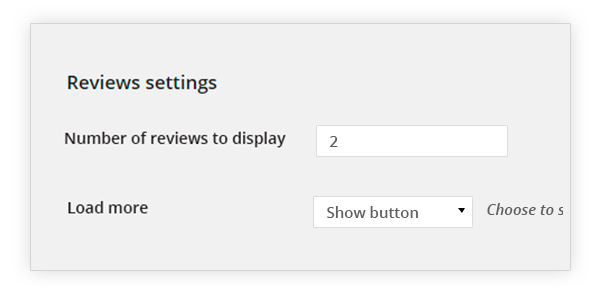 Activar Recaptcha para las valoraciones
Asegúrate de que no hayan robots escribiendo y respondiendo valoraciones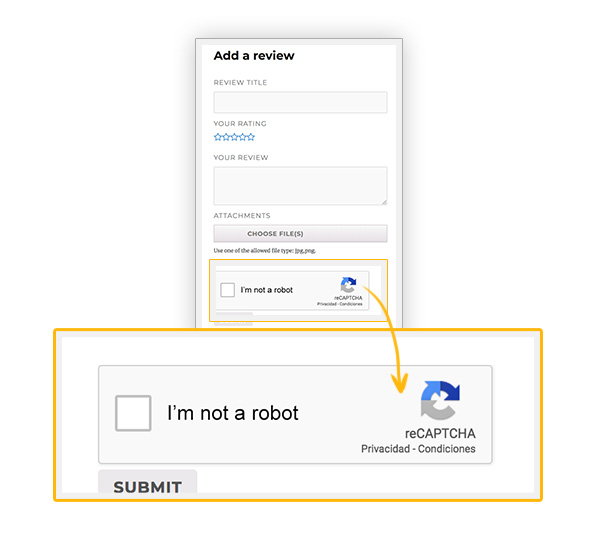 Gestionar libremente las respuestas de las valoraciones
Para cada producto, puedes permitir que los usuarios respondan, o puedes prevenir cualquier respuesta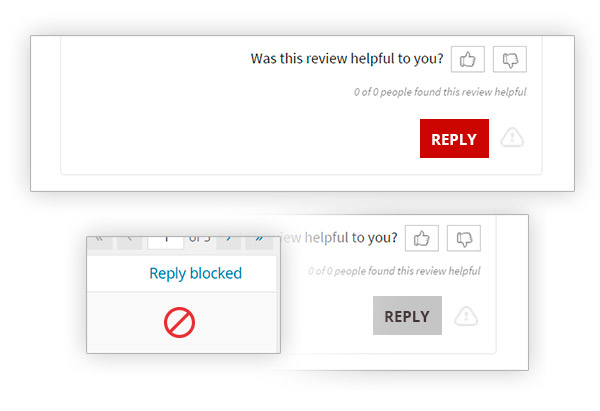 Aprobar valoraciones manualmente
Antes de que sean visibles para todos y evita potenciales valoraciones inapropiadas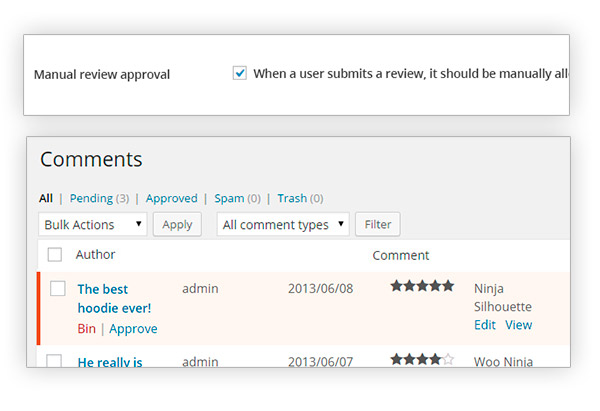 Decide qué usuarios pueden votar en tu sitio
Usuarios registrados o no registrados, ¡depende de ti! ¿quién quieres que vote en tu tienda?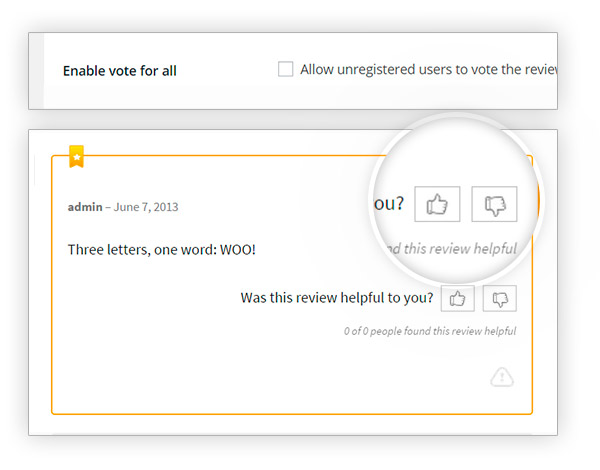 Identificar valoraciones inapropiadas
Tus usuarios pueden participar en mejorar tu sitio: pueden ayudarte a encontrar valoraciones inapropiadas para ocultarlas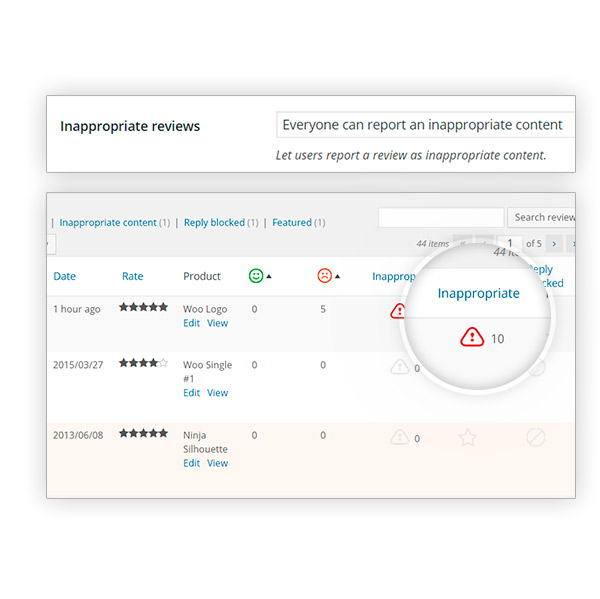 Destacar las valoraciones más útiles
Tendrán un estilo diferente y todo el mundo podrá diferenciarlas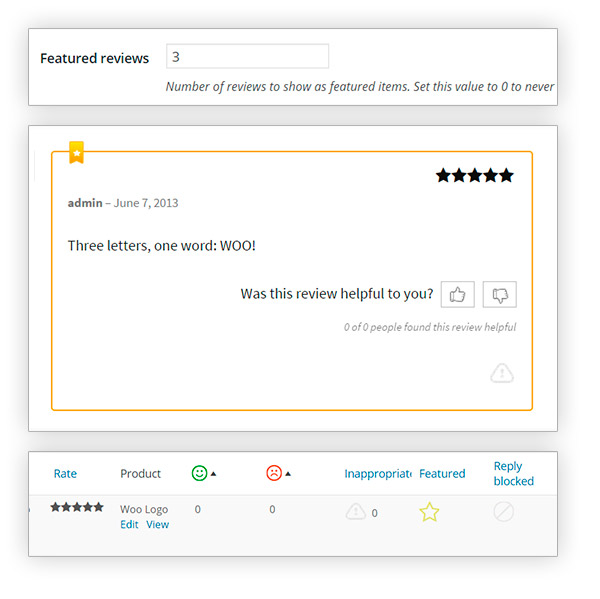 Supervisar todas las valoraciones en una sola página
Gracias al tipo de contenido 'valoraciones' tendrás cada pequeño detalle a tu alcance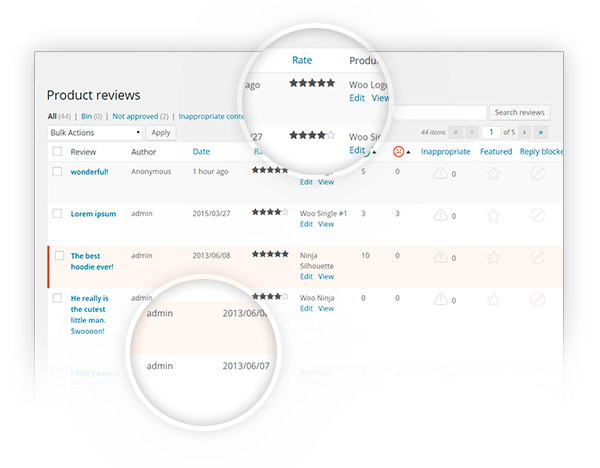 Analizar tus productos en profundidad
Descubriendo cuántas valoraciones hay y cómo las han valorado los usuarios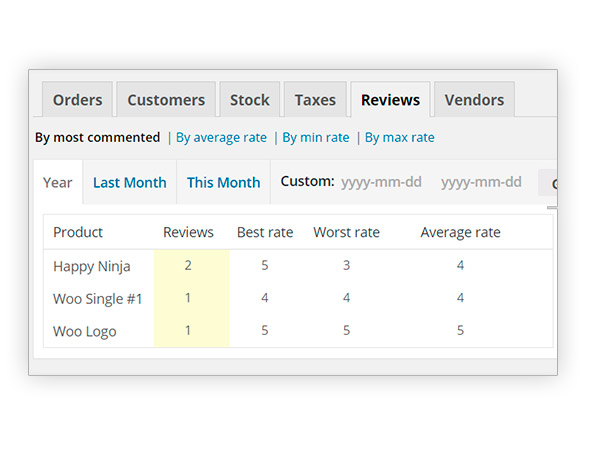 Permitir solo una valoración
Tus usuarios podrán escribir solamente una valoración para cada producto comprado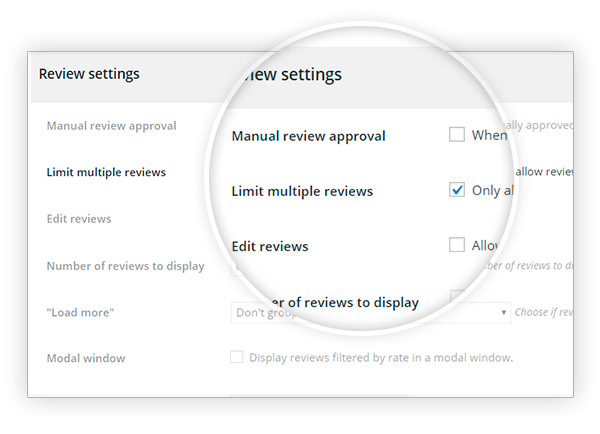 Habilitar la edición de la valoración
Una vez escrita, los usuarios podrán editar sus valoraciones.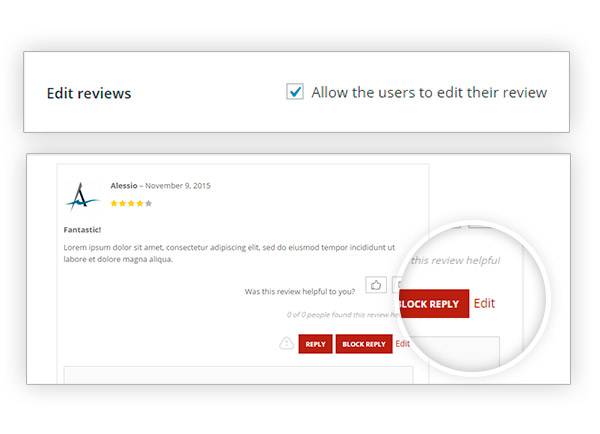 Filtrar las valoraciones por calificación
Haciendo clic en una sola calificación, verás solamente las valoraciones y la calificación con el mismo valor en una ventana modal (por ejemplo, mostrando solo valoraciones de cinco estrellas)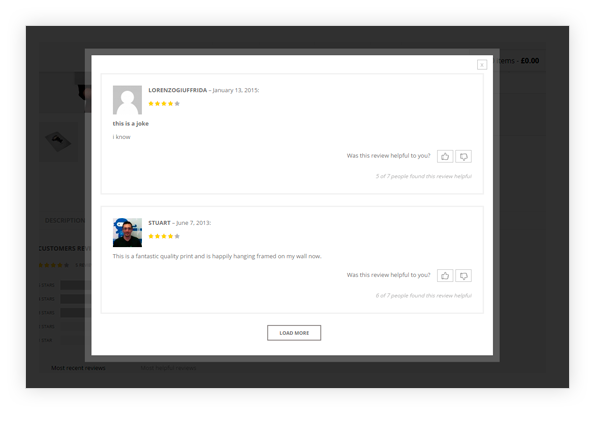 Interactuar con los snippets de valoración de Google
Para mostrar la calificación del producto también en las páginas de búsqueda de Google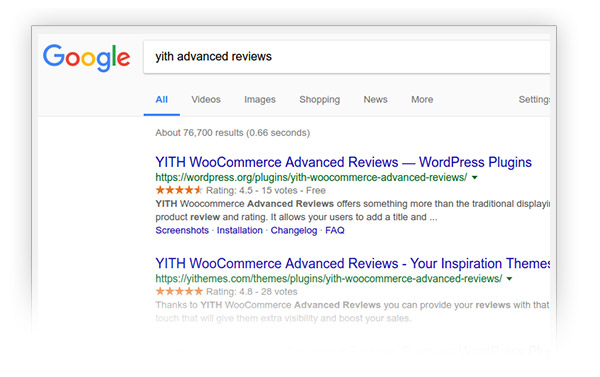 Aprovecha la compatibilidad con WPML
Podrás traducir el plugin fácilmente gracias a la potente harramienta de WPML