Editar el rol de los usuarios automáticamente una vez que ocurran hechos seleccionados
Así es la naturaleza de los negocios: cada cliente es diferente del otro y conociendo bien tus políticas de precios y tu forma de tratar con ellos, ellos siempre querrán más y si no lo garantizas, se frustrarán y pasarán a tus competidores
¿Cuántos tipos de clientes tienes?
Algunos de ellos quieren ser tratados de forma diferente a los demás, ya que compran muchos productos cada mes, aquellos que quieren ser privilegiados porque son clientes antiguos y así sucesivamente…
Pero, ¿cómo podrías darle privilegios a cada uno de tus clientes, sabiendo que cada uno de ellos tiene necesidades diferentes?
Claro, cuando administramos una tienda pequeña, podemos seguramente cambiar la función del usuario accediendo a las opciones de WooCommerce, dándoles efectivamente ventajas que otros no tienen, pero cuando estos clientes llegan a 10, 20 o 100 … puede convertirse en un problema.
¡Lo más importante es asignar ventajas a usuarios específicos automáticamente!
Nuestro YITH Automatic Role Changer for WooCommerce se encarga de este trabajo mientras trabaja con tus necesidades y las de tus clientes.
Después de instalarlo, podrás, por ejemplo, asignar un rol de usuario específico a todos aquellos que compran un producto específico o asignar el rol VIP a aquellos que rebasan una cierta cantidad de compra o en un marco de tiempo específico.
¿Te das cuenta de lo potente que puede ser esta estrategia de marketing?
Este plugin está listo para combinarse con el plugin de membresía, suscripción, sistema de puntos y recompensas, etc… Conoce todas las características e integraciones con otros plugins.
Versión:

1.33.0

Publicada:

2023-09-07

Versión mínima de PHP:

7.0

Requiere:

WordPress 6.1

and WooCommerce 7.8

Compatible hasta:

WordPress 6.3.x

and WooCommerce 8.1.x

compatible con WPML:

SÍ

Traducción lista:

SÍ

Idiomas 100% garantizados por YITH:

English, Italian, Spanish

Idiomas proporcionados por usuarios:

Dutch (94%), French (94%), German (94%), Greek (94%)

Compatible con:

Tema YITH Proteo. Todos los plugins de YITH
CON
YITH AUTOMATIC ROLE CHANGER

PUEDES:
Crear un sistema automático de distribución de roles
Crea tantas reglas como quieras y elige qué roles deseas asignar a los clientes después de una o más compras.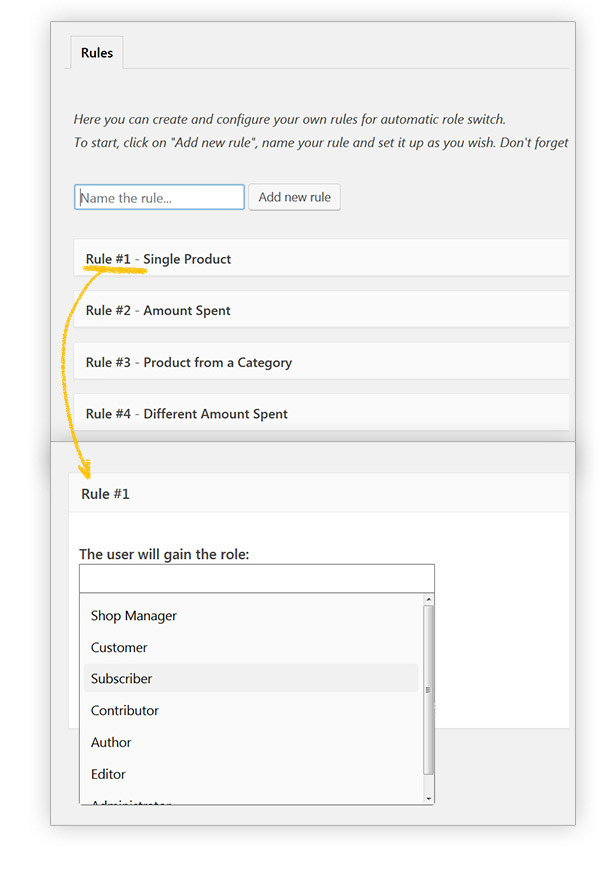 Elegir qué clientes necesitan comprar para obtener un rol específico
Elige si deseas asignar un rol después de adquirir un producto específico o un producto de una categoría o etiqueta específica.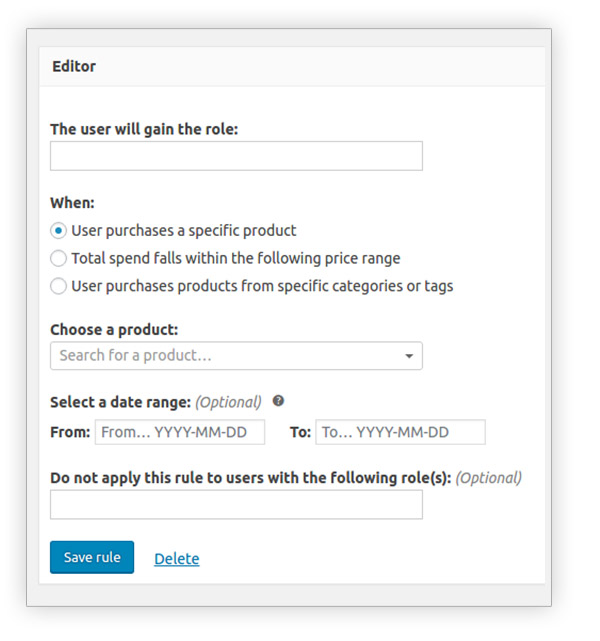 Establecer la cantidad gastada requerida para obtener un rol específico
Fija una cantidad mínima y máxima requerida.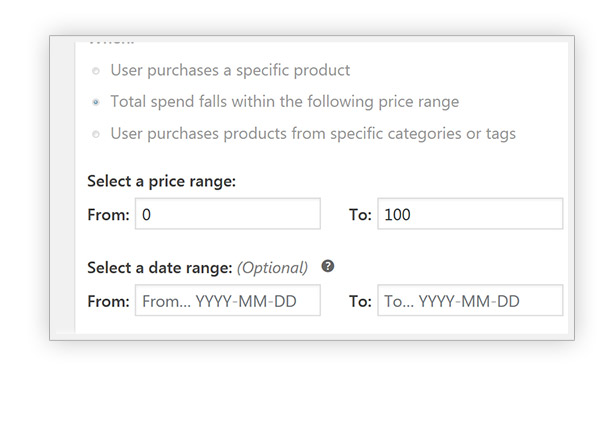 Establecer una restricción de tiempo para cada regla
Elige el día de comienzo y/o de finalización para crear ofertas temporales después de las cuales no se asignarán roles y serán eliminados.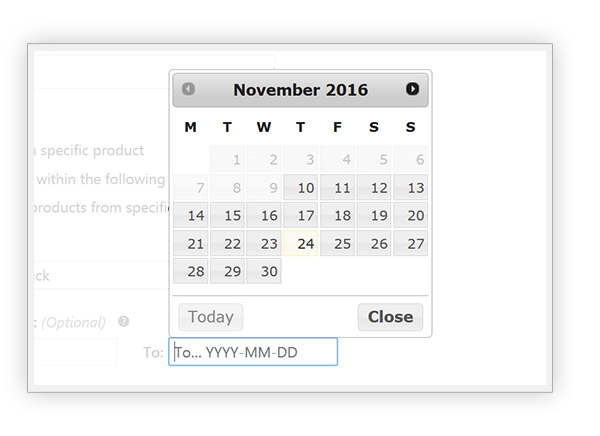 Impedir la aplicación de un rol de forma incorrecta
Especificando los roles de usuario a los que no quieres aplicar la regla configurada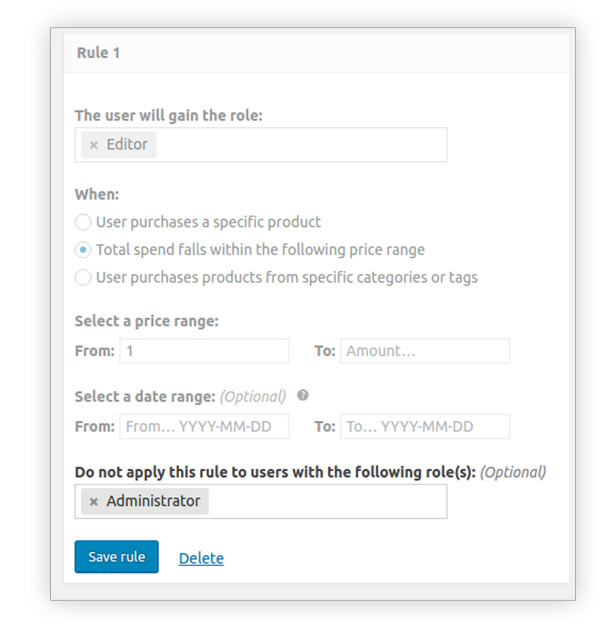 Mantenerte informado sobre los roles obtenidos por tus clientes
El administrador y los clientes reciben una notificación de correo electrónico cada vez que se asigna un rol después de una transacción.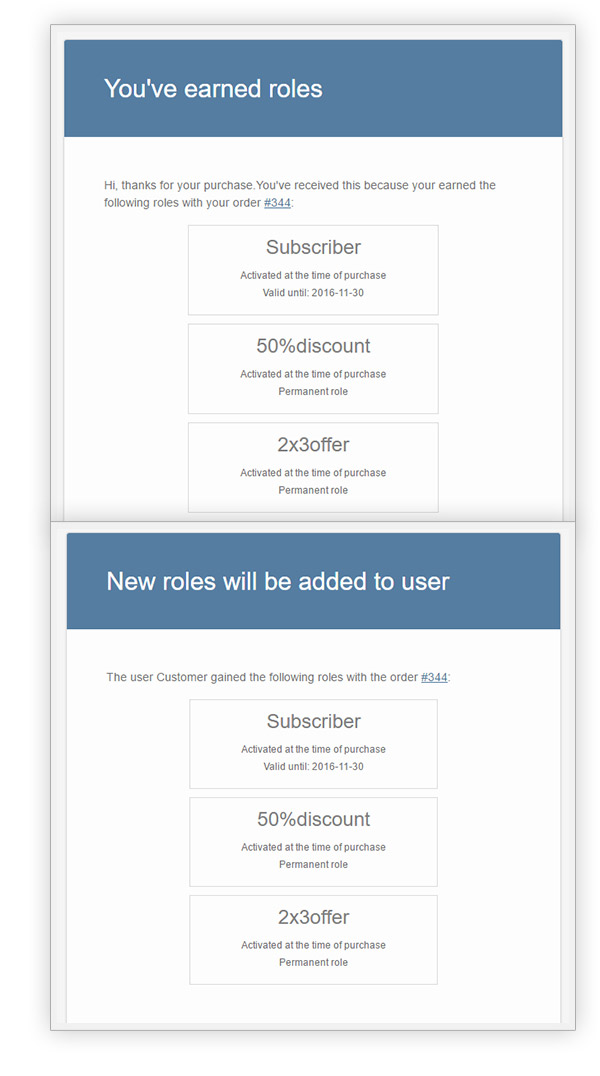 Detectar fácilmente los pedidos que incluyen una atribución de rol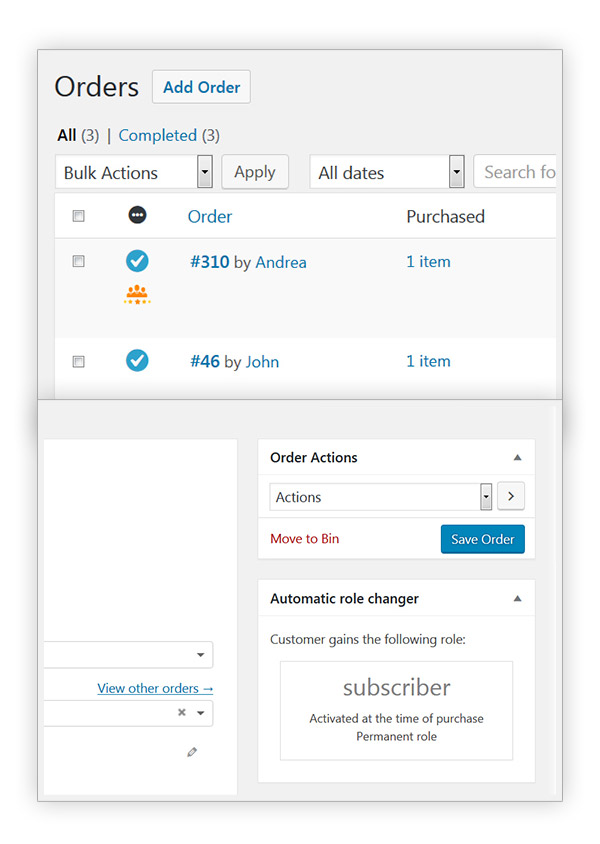 Utilizar los roles creados con el plugin de Members
Extiende las funciones del plugin a otros roles además de los predeterminados de WordPress y WooCommerce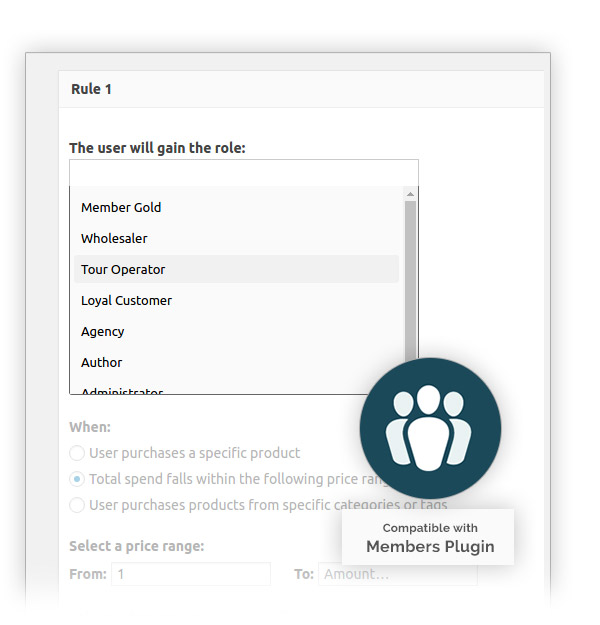 Cambiar de rol automáticamente
El rol cambiará automáticamente si cumples con condiciones específicas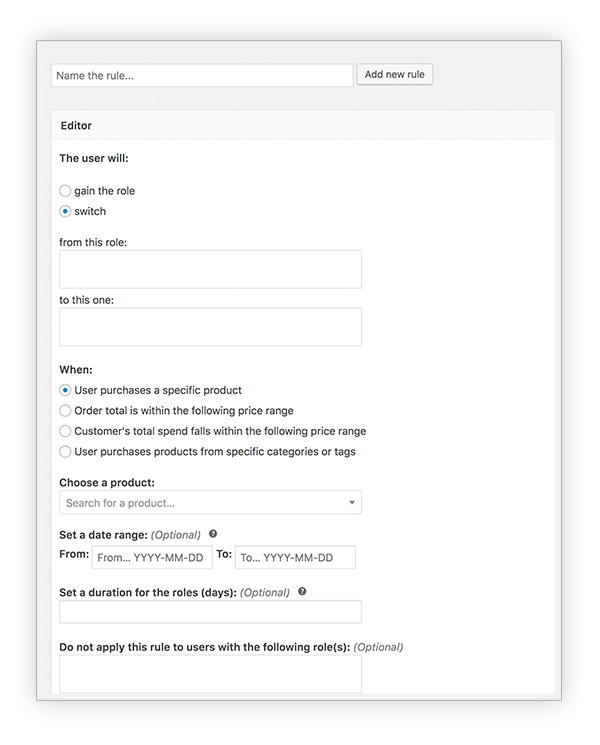 Aprovechar la compatibilidad con WPML
Puedes traducir el plugin fácilmente con la potente herramienta de WPML