¡Aumenta tus ventas ahora gracias a un sistema de reservas fácil y eficiente!
¿Estás cansado de perder clientes debido a un sistema de reservas complejo e ineficaz? ¿Te gustaría recibir un mayor número de reservas y optimizar la capacidad?
¡YITH Booking and Appointment for WooCommerce es el plugin que estás buscando!
Construido bajo la solicitud directa de muchos de nuestros clientes, YITH Booking for WooCommerce integra una tienda de comercio electrónico construida con WooCommerce con un sistema de reservas simple que puede ser utilizado tanto por clientes como por vendedores: esto es ideal para todos aquellos profesionales que no pueden basar su negocio en solo ventas.
YITH Booking and Appointment for WooCommerce es un plugin desarrollado para agencias inmobiliarias y agencias de viajes, ¡pero no solo para ellas! ¡Los peluqueros, médicos, asesores de negocios y todos aquellos que puedan beneficiarse de un sistema de reserva de viajes, artículos o fechas deben probarlo!
YITH Booking and Appointment for WooCommerce ha sido uno de los plugins más solicitados, ¡y es por eso que hemos podido adaptarlo a tus necesidades!
Este plugin te permite crear un sistema de reserva dinámico, el precio se procesará en tiempo real de acuerdo con las solicitudes de tus clientes. Esto te permite organizar tus reservas por fecha, período o temporada, número de personas involucradas y mucho más.
YITH Booking and Appointment for WooCommerce también te permite realizar búsquedas específicas en tu sitio web, utilizando filtros de búsqueda avanzados como datos, número de reservas, ubicación y servicios.
Tendrás una vista clara y efectiva de las reservas de tu sitio web y tendrás la oportunidad de organizar tus solicitudes utilizando una serie de filtros, como fecha, período, fecha de salida, nombre, apellido y mucho más. ¡También podrás exportar las reservas de tu sitio web en CSV, ICS o PDF y ver el calendario completo de tu trabajo!
Este plugin también ofrece muchas otras características que te ayudarán a personalizar y optimizar tu sitio web, como una forma específica de administrar tus correos electrónicos de reserva, la posibilidad de añadir un mapa, un sistema detallado de pago de reserva, un tema de reserva incluido, Google Calendar y la sincronización con servicios de reserva externos a través de ICS.
Versión:

2.2.0

Publicada:

2021-09-10

Versión mínima de PHP:

7.0

Requiere:

WordPress 5.4 or higher

and WooCommerce 4.5 or higher

Compatible hasta:

WordPress 5.8.x

and WooCommerce 5.7.x

Plugins multidioma compatibles:

WPML, Loco Translate

Traducción lista:

SÍ

Idiomas 100% garantizados por YITH:

English, Italian, Spanish, Dutch, Greek

Idiomas proporcionados por usuarios:

French (100%), German(100%), Norwegian - Bokmål (100%)

Compatible con:

Tema YITH Proteo.Todos los plugins de YITH excepto:YITH WooCommerce Product Bundles
2.2.0 - Released on 10 September 2021
New: support for WooCommerce 5.7
Update: YITH plugin framework
Update: language files
Dev: added 'yith_wcbk_booking_is_available_data' filter to manipulate is_available check data results
2.1.28 - Released on 9 August 2021
New: support for WooCommerce 5.6
Update: YITH plugin framework
Update: language files
Fix: availability issue when requesting confirmation for a booking product in combination with WPML
Tweak: fixed issue with quotes in global rules
Tweak: added responsive style for 'Create booking' page
Tweak: show vendor products only when searching for booking products in calendar in combination with YITH WooCommerce Multi Vendor
Tweak: hide booking products when searching for a person type that is not enabled in those products
Tweak: fixed default duration set in daily bookings form after opening it through Search Form results
Dev: new filter yith_wcbk_people_label to customize "People" label
2.1.27 - Released on 1 July 2021
New: support for WordPress 5.8
New: support for WooCommerce 5.5
New: Norwegian (Bokmål) translation
Update: YITH plugin framework
Update: language files
Tweak: added WPML translation to person types
Tweak: added 'notranslate' class to date-pickers to prevent issues with dates when translating pages through Google Translate
Tweak: improved service description shown in tooltip
Tweak: store Google Maps coordinates retrieved by address in transient to reduce external calls to Google Maps API
Dev: added yith_wcbk_maps_pre_get_location_by_address filter, to allow retrieving coordinates by address
Dev: added yith_wcbk_maps_get_location_by_address_use_transients filter, to allow disabling transients when retrieving coordinates by address through Google Maps
Dev: added yith_wcbk_maps_get_location_by_address_success filter, to allow custom action after retrieving coordinates by Google Maps
Dev: added yith_wcbk_maps_get_location_by_address filter, to allow filtering location coordinates retrieved by Google Maps
Dev: added yith_wcbk_check_for_monthly_discount filter used to apply the monthly discount conditionally
Dev: added yith_wcbk_search_form_submit_label filter used to change the Search Form submit button label
2.1.26 - Released on 3 June 2021
New: support for WooCommerce 5.4
Update: YITH plugin framework
Update: language files
Fix: date-picker minimum date issue with negative timezone offsets
Fix: re-initialize Search Form fields after filtering products through YITH Ajax Product Filters
Dev: added yith_wcbk_i18n_clear filter
Dev: added yith_wcbk_get_price_based_on_search_param filter
Dev: added yith_wcbk_search param to get_posts params when searching for booking products
2.1.25 - Released on 10 May 2021
New: support for WooCommerce 5.3
Update: YITH plugin framework
Update: language files
Fix: support for YITH WooCommerce Request a Quote
Tweak: improved time select field style
2.1.24 - Released on 12 April 2021
New: support for WooCommerce 5.2
New: translate service description through WPML
Update: YITH plugin framework
Update: language files
Fix: wrong price amount shown in the search form results when using WooCommerce Multi Lingual and WPML
Tweak: added specific CSS class to add-to-cart button of booking products that require confirmation
Dev: added yith_wcbk_get_minimum_advance_reservation filter
Dev: added yith_wcbk_get_minimum_advance_reservation_unit filter
2.1.23 - Released on 5 March 2021
New: support for WordPress 5.7
New: support for WooCommerce 5.1
Update: YITH plugin framework
Update: language files
Dev: added yith_wcbk_set_buffer filter
Dev: added yith_wcbk_product_booking_tabs filter
2.1.22 - Released on 27 January 2021
New: support for WooCommerce 5.0
New: German translation
Update: YITH plugin framework
Update: language files
Dev: added yith_wcbk_buffer_field_custom_attributes filter
Dev: added yith_wcbk_product_form_widget_mobile_fixed filter
Dev: added yith_wcbk_search_form_label_location filter
Dev: added yith_wcbk_search_form_label_tags filter
Dev: added yith_wcbk_add_to_cart_for_selected_data action
2.1.21 - Released on 30 Dec 2020
New: support for WooCommerce 4.9
Update: plugin framework
Update: language files
Tweak: prevent issues with timezones in date-picker
Tweak: prevent issue when synchronizing calendars with external services that requires the User-Agent set in the request header
Dev: added yith_wcbk_is_last_minute_discount_allowed filter
2.1.20 - Released on 01 Dec 2020
New: support for WordPress 5.6
New: support for WooCommerce 4.8
New: set 'minimum advance reservation' in hours
Update: plugin framework
Update: language files
Fix: issue with timezone when checking for availability on current day
Dev: new filter 'yith_booking_cart_item_data'
2.1.19 - Released on 28 Oct 2020
New: support for WooCommerce 4.7
Update: plugin framework
Update: language files
Tweak: redirect after registration if the customer is submitting a booking confirmation request
Dev: added yith_wcbk_booking_calculate_cost_apply_person_type_rule_to_all_people filter
Dev: added yith_wcbk_service_price filter
2.1.18 - Released on 15 Oct 2020
New: greek translation
Update: plugin framework
Update: language files
Tweak: redirect after login if the customer is submitting a booking confirmation request
2.1.17 - Released on 05 Oct 2020
New: support for WooCommerce 4.6
Update: plugin framework
Update: language files
Fix: issue with service quantities when max is set to zero
Tweak: improved style
Tweak: added support for ajax add-to-cart for booking products
Dev: added yith_wcbk_calendar_booking_classes filter
Dev: added yith_wcbk_search_form_label_categories filter
2.1.16 - Released on 17 Sep 2020
New: support for WordPress 5.5
New: support for WooCommerce 4.5
New: show related booking details in orders
Update: plugin framework
Update: language files
Fix: issue when selecting the 'End Date' and using inline datepickers
Fix: timezone offset in iCal files when the offset is greater than 9
Tweak: force updating coordinates (retrieved by location) when saving booking products if they are not set
Tweak: fixed double arrows shown in selects
Tweak: disable Request a Quote button if the booking product fields are not filled
Tweak: prevent notice for trying to get property of non-object
Tweak: services with min quantity set to zero will be considered as optional if the customer choose set the quantity to zero, so they will be not added to the booking
Dev: new filter 'yith_wcbk_time_select_edit_booking_minute_step'
Dev: new filter 'yith_wcbk_plugin_panel_args'
2.1.15 - Released on 03 Jul 2020
New: support for WooCommerce 4.3
Update: plugin framework
Update: language files
Fix: issue with Google Calendar sync when creating bookings through the Create Booking page on backend
Tweak: prevent issue when booking product form is shown in products shown in the WP Customizer
Tweak: prevent calendar style issues in combination with some themes
Tweak: localized missing strings in Logs tab
Dev: added yith_wcbk_searched_categories filter
Dev: added yith_wcbk_related_booking_title filter
Dev: added yith_wcbk_totals filter
2.1.14 - Released on 18 May 2020
New: support for WooCommerce 4.2
Update: plugin framework
Update: language files
Fix: issue when 'cancelled term' is set to 1 month
Dev: added yith_wcbk_service_free_text filter
2.1.13 - Released on 23 April 2020
New: support for WooCommerce 4.1
New: support for YITH Proteo theme
New: pagination for bookings in My Account > Bookings endpoint
Update: plugin framework
Update: language files
Update: YITH Booking theme 1.2.0 includes option to enable/disable sticky header and options to change header and footer colors
Fix: add-to-cart URL in search results now includes searched parameters
Tweak: prevent 'get property of non-object' issue
Dev: fixed object type for Availability Rule and Price Rule objects
Dev: added yith_wcbk_[OBJECT_TYPE]_object_default_data filter
Dev: added yith_wcbk_booking_endpoints filter
Dev: added yith_wcbk_endpoint_booking filter
Dev: added yith_wcbk_availability_rule_day_fields filter
Dev: added yith_wcbk_after_availability_rule_options action
Dev: new parameter $booking for 'yith_wcbk_my_account_booking_column_[COLUMN_ID]' hook
Dev: new parameter for 'yith_wcbk_booking_is_available_non_available_reasons' filter
Dev: added yith_wcbk_product_metabox_form_field_html filter
Dev: added yith_wcbk_booking_product_create_availability_time_array filter
2.1.12 - Released on 28 February 2020
New: support for WordPress 5.4
New: support for WooCommerce 4.0
Update: plugin framework
Update: language files
Fix: hidden orders in combination with YITH Deposits
Fix: auto-fill people when searching through Booking Search Forms in popup
Fix: issue when parsing iCal files if they contains additional information beyond normal events
Tweak: prevent issues when saving search forms
Tweak: prevent issues if 'date' column is not set
Tweak: prevent issues on bulk actions if 'post' query string is not set
Dev: new filter yith_wcbk_create_booking_order_item_data
Dev: added yith_wcbk_count_booked_booking_in_period_args filter
Dev: added yith_wcbk_get_future_bookings_by_product_args filter
Dev: added yith_wcbk_create_booking_assign_order_default filter
Dev: added yith_wcbk_product_get_not_available_dates_force_no_cache filter
Dev: add 'is_create_page' param to ajax request in booking create form
2.1.11 - Released on 9 January 2020
New: support to YITH WooCommerce Sms Notifications
Fix: issue with YITH WooCommerce Request a Quote when adding to quote hourly booking products
Tweak: prevent issues when calculating service costs
2.1.10 - Released on 7 January 2020
Update: Spanish language
Fix: issue when retrieving custom extra costs
2.1.9 - Released on 20 December 2019
New: support for WooCommerce 3.9
New: integration with YITH WooCommerce Review Reminder
New: send 'Cancelled Booking' email to customers when the booking is cancelled by the customer
New: when searching for booking products with Booking Search Forms on Shop page, prices reflect the selected parameters (dates, people and services)
New: search forms autofilled after searching
Update: language files
Fix: integration with YITH WooCommerce Deposits and Down Payments
Fix: issue with non-numeric values
Fix: issues with custom extra cost when used with WPML
Fix: issue with search form widget when using WP Customizer
Fix: wrong "from" and "to" fields in request a quote table
Fix: issue when emptying booking categories field
Fix: init plus and minus in people select box
Tweak: improved style
Dev: added yith_wcbk_booking_form_after_label_duration action
Dev: added yith_wcbk_ics_event_summary filter
Dev: added yith_wcbk_ics_event_description_data filter
Dev: added yith_wcbk_ics_event_description filter
Dev: added yith_wcbk_google_calendar_sync_event_args filter
Dev: added yith_wcbk_searched_value_for_field filter
2.1.8 - Released on 5 November 2019
Update: plugin framework
Update: Dutch language
2.1.7 - Released on 30 October 2019
2.1.6 - Released on 28 October 2019
New: support for WordPress 5.3
New: support for WooCommerce 3.8
New: panel style
Update: plugin framework
Fix: issue with price for bookings created through the Create Booking page if prices include taxes in WooCommerce
2.1.5 - Released on 11 October 2019
Fix: next month issue on calendar
Fix: frontend styles for RTL languages
Fix: update lookup table when syncing the booking price to avoid issues when sorting and filtering booking products by price
Update: plugin framework
Update: language files
Tweak: fixed people label in search forms
Tweak: specific CSS class for services in booking_services shortcode
Dev: new filter 'yith_wcbk_notice_for_request_confirmation_login_required'
Dev: new filter 'yith_wcbk_button_text_for_request_confirmation_login_required'
Dev: new filter 'yith_wcbk_apply_weekly_discount' to prevent applying to of quickly discount in combination with monthly discount
Dev: new filter 'yith_wcbk_ajax_booking_available_times_formatted_time' to let third party code filter time labels
Dev: new action 'yith_wcbk_after_request_confirmation_action'
Dev: new filter 'yith_wcbk_redirect_after_request_confirmation_action'
2.1.4 - Released on 5 August 2019
New: set date format for date pickers
New: display Date Picker inline
New: option to delete event on Google Calendar when the booking is deleted
New: RTL support for admin side
New: support to WooCommerce 3.7
Update: plugin framework
Update: language files
Fix: only the customer assigned to the booking can view it
Fix: non-available message issue in case the selected start date is not allowed
Fix: add to cart validation when Max bookings per unit is greater than 1
Fix: including iCal file only in booking emails, not WooCommerce ones
Fix: Google Calendar sync on booking status update
Fix: allow booking on same date for 'Full day' booking products
Fix: set min date for 'End date' field when the 'Start date' field is filled by default
Fix: whole disabled day issue when an hourly booking product is booked on midnight
Fix: service prices shown in tooltip in combination with WPML Multi Currency
Fix: support to YITH WooCommerce Multi Vendor: show externals in calendar to the related vendor only
Fix: support to YITH WooCommerce Multi Vendor: admin can create Vendor services with the same name of the admin ones
Fix: support to YITH WooCommerce Multi Vendor: issue with 'Booking status (Vendor)' email
Fix: support to YITH WooCommerce Multi Vendor 3.3.7: suppress filters for booking post type to avoid issues when retrieving booking product availability through AJAX
Fix: integration with YITH WooCommerce Catalog Mode
Fix: booking form style in combination with Elementor plugin
Fix: calendar style
Tweak: display order status in Bookings list
Tweak: set default email type to HTML for booking emails
Tweak: prevent issues in Edge browser by disabling autocompletion in search forms
Tweak: added 'bk-to-date' and 'bk-from-date' CSS classes to date-pickers
Tweak: store timestamp in booking note through current_time instead of using MySQL timestamp, to prevent issues with different server timezones
Tweak: prevent issues with duration field
Tweak: improved support to YITH Deposits: booking is automatically set to cancelled if the balance order is set to cancelled
Tweak: improved styles
Dev: added yith_wcbk_booking_pdf_logo_url filter
Dev: added yith_wcbk_product_retrieved_externals filter
Dev: added yith_wcbk_user_can_view_booking filter
Dev: added yith_wcbk_search_booking_products_show_daily_bookings_with_at_least_one_day_available filter
2.1.3 - Released on 23 May 2019
New: custom extra costs per product
Update: plugin framework
Fix: issue when sorting and managing price and availability rules
Fix: prevent issue when creating booking from order with wrong data
Fix: issue on booking edit page if the related product was deleted
Fix: outlook issue for emails with iCal attached
Fix: issue when creating booking services in product edit page
Tweak: possibility to set the price to a specific value in Price Rules
Tweak: UX improvement for price rules
Tweak: UX improvement for availability rules
Tweak: include check-in and check-out times when attaching iCal in emails
Tweak: prevent notice in cart validation
Tweak: prevent issues in product row actions
Tweak: delete booking product cache after creating a new booking
Tweak: improved style
Dev: added yith_wcbk_show_user_info_in_pdf_only_for_admin filter
Dev: added yith_wcbk_allow_creating_people_types_in_product_edit_page filter
2.1.2 - Released on 23 April 2019
New: set decimal prices for services
Fix: availability issue
Fix: search form issue when searching for booking products with time on a specific date
Fix: cancel bookings when resuming orders to prevent multiple paid bookings when the payment fails
Fix: time condition if the from time is greater than the to time
Tweak: allow to translate custom labels through WPML String Translations
Tweak: fixed order awaiting payment issue in WooCommerce 3.6
Tweak: fixed issue with minimum duration
Tweak: use CRUD to save meta in orders
Dev: added yith_wcbk_product_availability_rules_when_checking_for_availability filter
Dev: PHPUnit Tests: deprecated get_booking_prop tests
2.1.1 - Released on 29 March 2019
New: support to WooCommerce 3.6.0 RC 1
Update: language files
Update: YITH Booking theme 1.1.3
Fix: integration with Multi Vendor: issue when associating a booking service to vendors
Fix: price calculation with fixed duration
Fix: prevent memory issues
Tweak: check for booking availability directly in cart
Tweak: added product link in error cart message
Tweak: improved performances
Dev: added yith_wcbk_request_confirmation_login_required_notice filter
Dev: added yith_wcbk_booking_product_calculated_price_totals_formatted filter
2.1.0 - Released on 18 March 2019
New: completely redesigned product settings panel to improve the plugin usability and to make it easier to set up booking products
New: extra costs
New: weekly discount
New: monthly discount
New: last minute discount
New: extra price for every person added to a specified value
New: possibility to show details about booking price totals on frontend
New: create a people type directly in product page (via AJAX)
New: create services directly in product page (via AJAX)
New: multiply base price by number of people
New: multiply fixed base fee by number of people
New: tooltip in booking service shortcode
Update: YITH Booking theme 1.1.2
Update: language files
Fix: WPML integration
Fix: availability time range issue
Fix: availability rule issue when overriding a non-bookable rule
Fix: js date issue on calendar on due to Daylight Saving Time
Fix: search form results when there are hourly and per-minute booking products
Fix: removed arguments in product links in search form results on hourly and per-minute booking products
Fix: cache issue on non-available dates with external service synchronization
Fix: added service quantities when paying for booking that requires confirmation
Fix: integration with YITH WooCommerce Deposits and Down Payments: prevent deposits on request confirmation bookings
Fix: issue when counting people as separate booking
Fix: person type counting issue in booking form when checking for availability
Fix: person types issue in Booking form
Fix: issue when translating 'View cart' text
Fix: show people type only if published
Tweak: improved Booking Form style
Dev: WooCommerce CRUD for Booking products
Dev: added yith_wcbk_booking_product_last_minute_discount_applied_on filter
Dev: added yith_wcbk_booking_product_calculated_price_totals filter
Dev: added yith_wcbk_product_get_not_available_dates filter
2.0.10 - Released on 4 February 2019
Update: plugin framework
Update: language files
Fix: warning when saving product
2.0.9 - Released on 16 January 2019
Update: YITH Booking theme 1.1.1
Update: plugin framework
Update: language files
Fix: search form issue in combination with WPML
Fix: issue when creating Bookings in Create Booking page in combination with WPML
Fix: date format in orders for hourly and per-minute booking products
Fix: integration with Multi Vendor: allow vendor to edit their own services
Fix: cancelled by customer notification
Fix: issues when searching for bookings when permalink structure is set to plain
Fix: translation issue for day/days text
Fix: month calendar issue
Fix: calendar style issue
Fix: sorting fields in Search Forms
Fix: non well formed numeric value in Search form results
Fix: allowed days in datepicker can be updated
Fix: pagination and sorting when search form results are shown in shop page
Tweak: set default people to empty in Search Forms
Tweak: fixed calendar issue
Tweak: duration unit strings to downcase
Dev: added yith_wcbk_search_form_start_date_input_data filter
Dev: added yith_wcbk_booking_product_calculated_price filter
Dev: added yith_wcbk_booking_product_get_calculated_price_html filter
Dev: added yith_wcbk_booking_product_get_price filter
Dev: added yith_wcbk_format_duration function
Dev: added yith_wcbk_booking_services_separator filter
Dev: added yith_wcbk_booking_services_html filter
Dev: added yith_wcbk_booking_services_html function
2.0.8 - Released on 5 December 2018
New: support to WordPress 5
New: search form results include booking products with time if there is at least one slot available in the selected dates
New: possibility to hide services in Search Forms only
New: set Geocode API key different by Google Maps API key to allow different restriction settings for the API keys
Update: YITH Booking theme 1.1.0: support to WordPress 5 and Gutenberg, option to enable/disable product gallery in header through WP Customizer, improved style and so on...
Update: language files
Fix: YITH WooCommerce Request a Quote integration: display quantity for services in quotes
Fix: issue when showing Booking Map in Quick View
Fix: save _booking_id meta data in order items to prevent creation of multiple booking from the same order item
Fix: display quantity for services in order item meta
Fix: default value for timeselect
Fix: service quantity issue for booking with 'request confirmation' option enabled
Fix: add to cart validation for all day bookings
Fix: error message in cart validation for max bookings per unit reached
Fix: messages for non-available reasons
Fix: check for bookings and booking product in cart when validating add-to-cart for max bookings per unit
Fix: YITH Deposits integration: hide deposit form in widget when it's closed in mobile
Fix: cache availability issue when saving global availability
Fix: check for minimum people when checking for availability
Fix: regenerate booking product data when booking status changes, if needed
Fix: availability issue on translated booking products in combination with WPML
Tweak: set order_item_id meta in bookings after creating orders for 'request confirmation' bookings
Tweak: prevent warning with PHP 7
Tweak: improved calendar when showing End Dates for booking with min duration set
Tweak: fixed js issue with ECMAScript < 6
Tweak: fixed minor issue when getting location by address with empty address
Tweak: removed Search Form Results popup from the DOM when it's closed
Tweak: added CSS class to duration fields based on duration type of the booking product
Tweak: improved style
Dev: PHPUnit Test - check for minimum people when checking for availability if 'count_persons_as_bookings' enabled
Dev: PHPUnit Test - cost ranges
Dev: added yith_wcbk_booking_product_create_availability_time_array_custom_time_slots filter
Dev: added yith_wcbk_delete_data_for_booking_products function
Dev: added yith_wcbk_sync_booking_product_prices function
Dev: added yith_wck_booking_helper_count_booked_bookings_in_period_get_post_args filter
Dev: added yith_wck_booking_helper_count_booked_bookings_in_period filter
Dev: added yith_wcbk_cache_delete_{$object_type}_data action
Dev: added yith_wcbk_cache_delete_object_data action
Dev: added yith_wcbk_booking_product_after_regenerating_data action
Dev: added yith_wcbk_cache_get_object_data_object_id filter
Dev: added yith_wcbk_cache_get_object_data_{$object_type}_id filter
Dev: fixed filter name 'yith_wcbk_booking_metabox_info_after_first_column'
2.0.7 - Released on 23 October 2018
New: support to YITH WordPress Test Environment
New: cost rule by time range
New: 'Update non-available dates on loading (AJAX)' option, useful to prevent issues when using cache plugins
New: added non-available reasons in messages
New: possibility to include buffer in Time increment for hourly and per-minute booking with duration in fixed units
Fix: issue when searching for category
Fix: issue when searching for availability with types of people
Fix: integration with Request a Quote
Fix: prevent adding booking products in orders through 'Add products' box
Fix: issue with external sync
Tweak: fixed hide/show times with changing duration unit
Tweak: prevent warnings since PHP 7.1
Tweak: changed Booking name in Booking details on my account
Tweak: stored booking product location to prevent too many requests for Google places
Tweak: added 'bk-non-available-date' CSS class in datepicker
Dev: added yith_wcbk_booking_get_name filter
Dev: added yith_wcbk_logger_enabled filter
Dev: added yith_wcbk_js_people_selector_params filter
2.0.6 - Released on 27 September 2018
New: support to 3.5.0-beta.1
New: option to automatically set paid bookings to complete
New: possibility to show booking details in order items
New: Completed Booking email
New: booking form is auto-filled after clicking on product in search results shown in Shop Page
New: possibility to edit 'Booking Services' label
Fix: integration with YITH WooCommerce Request a Quote
Fix: issues with old PHP versions
Fix: issue when scrolling booking form on mobile
Fix: removed people field for booking with no person
Fix: calendar JS issue when Booking Search form is in Product Single page
Fix: 'Show More Results' in Search Form results
Fix: availability issue for 'All day' bookings when adding to cart
Fix: timezone issue with Google Calendar by adding timezone information in iCal files
Fix: cache issue with time availability on past dates if you book the product today
Fix: duration label
Update: Plugin Framework
Update: language files
Tweak: improved style of onoff fields in the table of types of people
Tweak: split services in email into additional and included
Tweak: fixed pricing issue when using variables
Tweak: fixed enabling/disabling cache
Tweak: fixed datepicker style in Create Booking page
Tweak: fix product price sync
Tweak: improved speed performance when searching for booking products through Search Forms
Tweak: added possibility to set default category in Search Form shortcode
Tweak: fixed footer action position in Booking PDF
Tweak: show label instead of input field if min = max for booking duration
Tweak: removed duplicated yith_wcbk_before_booking_form action
Dev: added yith_wcbk_get_service_type_labels function
Dev: added yith_wcbk_split_services_by_type function
Dev: added yith_wcbk_booking_get_service_names filter
Dev: added yith_wcbk_assets_bk_global_params filter
Dev: added yith_wcbk_no_add_to_cart_for_selected_data filter
Dev: added yith_wcbk_get_max_months_to_load function and filter
Dev: added yith_wcbk_booking_form_service_info_html filter
Dev: added yith_wcbk_order_parse_booking_data filter
Dev: added yith_wcbk_order_get_booking_order_item_details filter
Dev: added yith_wcbk_is_cache_enabled filter
2.0.5 - Released on 23 July 2018
New: set quantity for Booking Services
New: 45, 60, 90 minute steps
New: Buffer between two bookings
New: possibility to set the first available time as default selected
New: possibility to search by tags in Booking Search Forms
New: possibility to edit further labels such as From, To, Duration, Services, People, Total people
New: French translation (thanks to Josselyn Jayant)
Fix: added 'select people' label in people selector when no person was selected
Fix: YITH WooCommerce Request a Quote support
Fix: click on people selector label
Fix: 'first available' date issue
Fix: issue when sorting products by price
Fix: available date issue in calendar
Fix: issue with url when synching external bookings
Fix: iCal import timezone offset
Tweak: possibility to set values in booking form via query strings
Update: YITH Booking theme
Update: language files
Tweak: improved style
Tweak: prevent notices on Booking Create page
Tweak: prevent sync URL issues with booking.com sync
Tweak: fixed textdomain for untranslatable strings
Tweak: added login link in notice for request confirmation booking
Tweak: added option to enable/disable booking cache
Tweak: added log when errors occur on getting Google Maps location coordinates
Dev: added yith_wcbk_product_form_get_booking_data_available_args filter
Dev: added yith_wcbk_cart_get_booking_data_from_request filter
Dev: added yith_wcbk_before_create_booking_page action
Dev: added yith_wcbk_calendar_booking_title filter
Dev: added yith_wcbk_calendar_single_booking_data_booking_title filter
Dev: added yith_wcbk_booking_get_title filter
Dev: added yith_wcbk_booking_get_raw_title filter
Dev: added yith_wcbk_request_confirmation_login_required filter
Dev: added yith_wcbk_product_sync_price_before action
Dev: added yith_wcbk_product_sync_price_after action
Dev: added yith_wcbk_duration_minute_select_options filter
Dev: added yith_booking_form_params filter
Dev: added yith_wcbk_get_minimum_minute_increment function
Dev: added yith_wcbk_get_minimum_minute_increment filter
2.0.4 - Released on 20 June 2018
Fix: YITH Booking Theme package
Fix: 'All day' booking end date
Fix: issue with 'All day' bookings in calendar
Fix: duration issue when saving 'all day' bookings
Fix: availability in past for hourly and per-minute bookings
Tweak: prevent issue with out-of-date PHP versions
2.0.3 - Released on 12 June 2018
New: support to WPML Multi Currency
New: possibility to set booking products as non-virtual to allow shipping for them
New: added 'search for keyword' in Search Forms
New: view Booking availability in calendar
New: view booking calendar for each booking product
New: 'Check min/max duration' option to choose whether it considers the minimum and maximum duration to show available dates in the calendar
Fix: issue when adding to cart 'all day' bookings with fixed dates
Fix: integration with YITH WooCommerce Catalog Mode
Fix: integration with YITH WooCommerce Multi Vendor
Fix: datepicker issue in Firefox
Fix: issue when saving cost rules, including costs with variables
Fix: style issues in mobile
Fix: message issues in booking form
Fix: availability issue with 'All day' booking products
Fix: calendar issue on iOS devices
Fix: hidden People details in PDF if the related booking doesn't have persons
Tweak: added messages directly in Time select to improve usability
Tweak: improved style
Tweak: prevent issues when creating PDF
Update: YITH Booking theme
Update: Italian language
Update: Dutch language
Dev: added yith_wcbk_csv_fields filter
Dev: added yith_wcbk_csv_field_value filter
2.0.2 - Released on 24 May 2018
New: support to WordPress 4.9.6
New: support to WooCommerce 3.4.0
New: Privacy Policy Guide
Update: YITH Booking theme 1.0.2
Fix: style issue in date reange picker
Tweak: improved frontend style
2.0.1 - Released on 21 May 2018
Fix: datepicker arrow issue
Fix: wrong textdomain in some strings
Fix: unlimited 'max bookings per unit'
Fix: prevent issue with some payment methods
Fix: js messages issue in booking form
Fix: widget transition in mobile
Fix: calendar style in frontend
Fix: style of Booking Form widget on mobile devices
Update: YITH Booking theme
Update: Dutch translation
Update: Spanish translation
Tweak: improved usability of Booking Form
Tweak: improved style
Tweak: fixed overlay z-index
Tweak: duration as number field for mobile devices
2.0.0 - Released on 9 May 2018
New: Hourly bookings
New: Per minute bookings
New: All Day bookings
New: Google Calendar integration
New: improved performance
New: YITH Booking theme
New: show booking form in widget
New: daily calendar
New: Booking Notes (private and customer ones) on backend
New: ICS export
New: synchronization through ICS files (Booking Sync tab)
New: show external bookings, loaded by ICS files, on calendar
New: possibility to set "allowed start days"
New: possibility to count people as separated bookings
New: calendar style on backend
New: person type ranges in Booking cost rules
New: booking availability stored by using transient to improve performance
New: load not-available dates via AJAX on frontend to improve performance
New: Background Processes
New: plain email templates
New: booking emails contain the iCal event, so Gmail, for example, will show it in the email
New: "Disable day if no time is available" option
New: booking style
New: people selector
New: unique date range picker
New: possibility to hide included services in Booking product form
New: booking_services shortcode
New: print service descriptions in Booking Form
New: option to automatically reject pending confirmation bookings after X days
New: actions to confirm/reject pending confirmation bookings in New Booking email
New: show 'non bookable' text in price if product is not bookable
New: default start date depends on 'Allow booking no sooner than' option
New: set First Time Available as default start date
New: fill booking form fields automatically when clicking on product links (results of booking search form)
New: show messages for Min and Max duration in booking form
New: possibility to hide Booking Search Form widget in single product
New: show login form if booking form is shown to logged users only
New: Booking List Table style
New: Logs
New: PHPUnit tests
Update: Italian language
Fix: availability issue for max bookings per unit
Fix: availability issue with fixed duration bookings
Fix: availability in past and future
Fix: issue in availability table when creating a new product
Fix: not-available dates
Fix: style of services in booking form
Fix: enqueued jquery-ui style only in Booking pages
Fix: show booking data in YITH WooCommerce Request a Quote emails
Fix: datepickers as readonly to prevent opening keyboard in mobile
Fix: date picker min and max date when calendar range picker is enabled
Fix: tiptip style in Booking list
Fix: responsive calendar style
Fix: copy to clipboard issue with input fields
Fix: booking services not shown in frontend for vendors
Fix: issue in Booking creation on backend
Fix: wp_query issue
Fix: service column width in product list
Fix: notices when getting results of booking search forms
Fix: style in services
Fix: availability dates issue
Fix: non-available booking message on checkout
Fix: Search Form style
Fix: removing non-available booking from cart issue
Fix: WPML issue when paying with PayPal
Fix: PHP7 warning for non-numeric values for prices
Fix: yith_wcbk_is_booking_product issue with post objects
Fix: issue with price rules
Fix: issue in PDF booking details
Fix: hide people in cart, emails and booking details if booking products doesn't have people
Fix: price saved as float to fix issues with comma separator
Tweak: click on the datepicker icon to open the datepicker
Tweak: added label for services (additional and included)
Tweak: possibility to set Default Time Step and Default Start Time for daily calendar view
Tweak: improved table style of cost and person type rules
Tweak: changed status colors
Tweak: new blockUI loader style
Tweak: order item meta set to be unique
Tweak: hidden add-to-cart-timestamp order item meta
Tweak: sorting Booking Labels by name
Tweak: new style in "create booking" page
Tweak: prevent issues on add to cart
Tweak: changed PDF font to Helvetica
Tweak: removed unused PDF fonts
Update: templates
Update: language files
Dev: added yith_wcbk_monthpicker JS function
Dev: added yith_wcbk_datepicker JS function
Dev: added yith_wcbk_print_field function
Dev: added yith_wcbk_print_fields function
Dev: added yith_wcbk_array_add function
Dev: added yith_wcbk_array_add_after function
Dev: added yith_wcbk_array_add_before function
Dev: added yith_wcbk_create_complete_time_array function
Dev: added yith_wcbk_create_date_field function
Dev: replaced yith_wcbk_my_account_bookingss_column_ action with yith_wcbk_my_account_booking_column_
Dev: added yith_wcbk_printer_print_field_args filter
Dev: added yith_wcbk_printer_print_fields_args filter
Dev: added yith_wcbk_my_account_booking_columns filter
Dev: added yith_wcbk_pdf_file_name filter
Dev: added yith_wcbk_csv_delimiter filter
Dev: added yith_wcbk_csv_file_name filter
Dev: added yith_wcbk_booking_get_duration_html filter
Dev: added yith_wcbk_booking_product_create_availability_time_array_unit_increment filter
Dev: added yith_wcbk_show_booking_form_to_logged_users_only_show_login_form filter
Dev: added yith_wcbk_product_get_not_available_dates_before filter
Dev: added yith_wcbk_google_calendar_add_note_in_booking_on_sync filter
Dev: added yith_wcbk_booking_search_form_default_location_range filter
Dev: added yith_wcbk_booking_actions_for_emails filter
Dev: added yith_wcbk_booking_product_get_mark_action_url_allowed_statuses filter
Dev: added yith_wcbk_booking_product_get_mark_action_url filter
Dev: deprecated argument in YITH_WCBK_Booking::update_status method
Dev: class refactoring
Dev: template refactoring
1.0.15 - Released on 30 January 2018
New: support to WooCommerce 3.3.0-rc2
Update: Plugin Framework
Fix: WPML integration
Fix: enqueued frontend scripts only when needed
Fix: service cost per person type issue when 'Multiply all costs by number of people' option is enabled
Fix: booking creating issue in backend
1.0.14 - Released on 10 January 2018
Update: Plugin Framework 3
Fix: Multi Vendor integration: vendors can add services with the same name of the admin vendors
Fix: issue when paying for request confirmation bookings
Fix: booking map in WooCommerce tabs
Fix: YITH WooCommerce Quick View integration
Fix: WooCommerce 3.x notice
Fix: google map issue
Fix: error when creating booking
Fix: error when creating booking from order
Dev: added yith_wcbk_printer_print_field_args filter
Dev: added yith_wcbk_ajax_booking_data_request filter
Dev: added yith_wcbk_cart_booking_data_request filter
Dev: added yith_wcbk_booking_get_formatted_date filter
Dev: added yith_wcbk_booking_product_free_price_html filter
Dev: added yith_wcbk_booking_search_form_default_location_range filter
1.0.13 - Released on 11 October 2017
New: support to Support to WooCommerce 3.2.0 RC2
New: dutch language
Fix: YITH WooCommerce Catalog Mode integration
Fix: term issue in combination with YITH WooCommerce Multi Vendor
Fix: issue pdf booking details
Fix: Booking WP table list responsive issue
Fix: search form result sorting
Fix: month localization through PHP date in month picker
Fix: check if booking has persons when check if it has multiply costs by persons enabled
Dev: added yith_wcbk_ajax_search_booking_products_query_args filter
Dev: added yith_wcbk_ajax_search_booking_products_posts_per_page filter
Dev: added YITH_WCBK_DOING_AJAX constant
Dev: added YITH_WCBK_DOING_AJAX_FRONTEND constant
Dev: added YITH_WCBK_DOING_AJAX_ADMIN constant
Dev: added yith_wcbk_booking_can_be_ filter
Dev: js refactoring booking-map: added yith_booking_map function
1.0.12 - Released on 3 August 2017
New: automatically cancel booking if related order is cancelled
New: added css classes in Booking form rows
Tweak: added desc-tip in settings
Update: language files
Fix: multiple non-purchasable booking notices in cart
Fix: removed empty select in Service edit page options
Fix: button label in search form result
Fix: booking availability if end date is missing
Dev: added yith_wcbk_booking_form_dates_duration_label_html filter
Dev: added yith_wcbk_get_duration_units filter
Dev: added yith_wcbk_booking_product_single_service_cost_total filter
Dev: added yith_wcbk_booking_product_calculate_service_costs filter
Dev: added yith_wcbk_search_booking_products_no_bookings_available_text filter
Dev: added yith_wcbk_search_booking_products_no_bookings_available_after action
Dev: added yith_wcbk_calendar_single_booking_data_before action
Dev: added yith_wcbk_calendar_single_booking_data_after action
1.0.11 - Released on 27 June 2017
Fix: integration with YITH WooCommerce Request a Quote and YITH WooCommerce Multi Vendor
Fix: duration display in booking form
Fix: more than one booking in cart issue in combination with WPML
Tweak: prevent error with old PHP version
Tweak: prevent issue when creating PDF
1.0.10 - Released on 11 May 2017
New: add to cart more than one booking product with the same configuration
Fix: issue in combination with WPML
Fix: search form issue in combination with WPML
Fix: New Booking (Admin) email recipients
Fix: select2 issue in Booking Search Forms with WooCommerce 3.0.x
Tweak: prevent issue if Shop Manager rule doesn't exist
Dev: added yith_wcbk_order_add_booking_details_in_order_item filter
Dev: added yith_wcbk_search_booking_products_before_get_results action
Dev: added yith_wcbk_search_booking_products_after_get_results action
Dev: added yith_wcbk_search_booking_products_search_results filter
1.0.9 - Released on 30 March 2017
Fix: search form result issue
1.0.8 - Released on 23 March 2017
New: support to WooCommerce 3.0-RC1
New: choose whether to show the search form results through popup or in shop page
New: possibility to set start and end date labels
New: New Booking email for admins
New: New Booking email for vendors
Fix: booking status vendor email issue
Fix: date localization
Dev: search form class refactoring
Dev: added yith_wcbk_get_search_form function
Dev: added yith_wcbk_search_booking_products_search_args filter
1.0.7 - Released on 14 February 2017
New: integration with YITH WooCommerce Multi Vendor Premium 1.12.0
New: integration with YITH WooCommerce Quick View Premium 1.1.5
New: spanish language
New: italian language
Fix: add to cart validation issue with booking product already added to the cart
Fix: add booking capabilities on plugin activation only
Fix: cost per person number calculation
Dev: improved integration classes

1.0.6 - Released on 23 January 2017

New: set default start date
New: backend datepicker flat design
Update: language file
Fix: added missing variable
Fix: wrong textdomain
Fix: duration display issue
Dev: added action yith_wcbk_before_booking_form
Dev: added filter yith_wcbk_show_booking_form

1.0.5 - Released on 9 January 2017

New: booking calendar flat design in frontend
New: hide booking form from non-logged users
Fix: issue when all dates are available
Fix: datepicker issue

1.0.4 - Released on 6 December 2016

Fixed: issue when showing info of booking related to a deleted order
Fixed: person type display issues

1.0.3 - Released on 24 November 2016

Added: WPML integration for booking products, people and services
Fixed: admin select style in cost table
Dev: added filter yith_wcbk_booking_form_message_bookable_text

1.0.2 - Released on 10 October 2016

Fixed: integration with YITH WooCommerce Deposits and Down Payments Premium 1.0.4

1.0.1 - Released on 4 October 2016

Added: integration with YITH WooCommerce Request a Quote Premium 1.5.7
Added: integration with YITH WooCommerce Catalog Mode Premium 1.4.3
Added: integration with YITH WooCommerce Deposits and Down Payments Premium 1.0.3
Fixed: service saving issue
Fixed: booking_map shortcode issue
Fixed: pay after booking confirmation

1.0.0 - Released on 31 August 2016
CON
YITH BOOKING

PUEDES:
Crear unidades de reserva fijas
O dar a los usuarios la libertad de elegir la duración de su estancia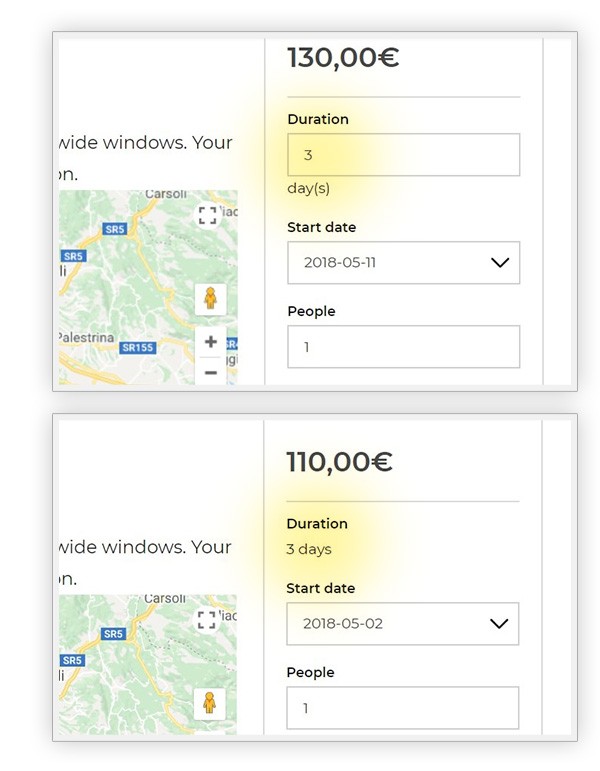 Evitar las reservas no deseadas
Y establecer la duración mínima y máxima para tu reserva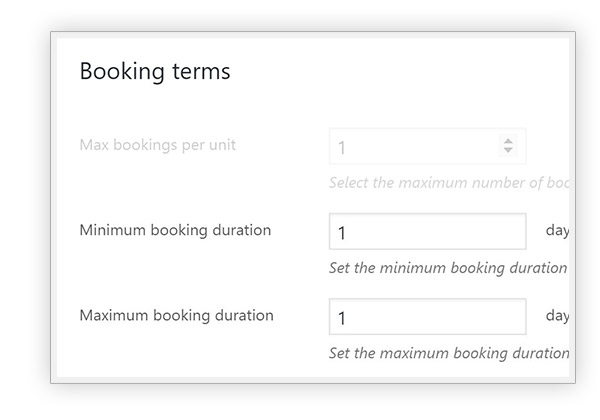 Aceptar solicitudes de reserva inmediatamente
O solamente después de que el administrador lo confirme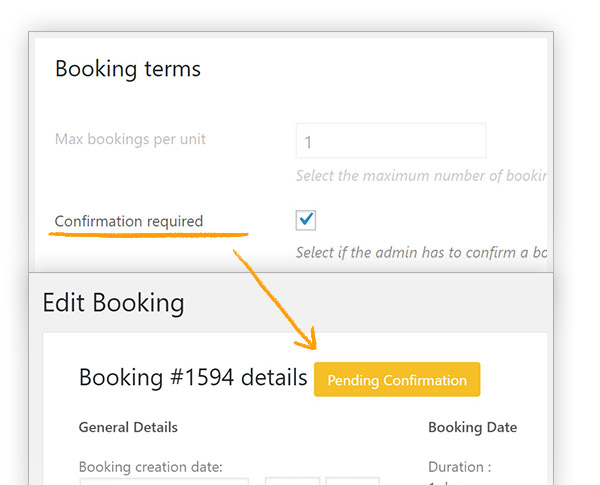 Crear reservas con duraciones diferentes
Por meses, días, horas y minutos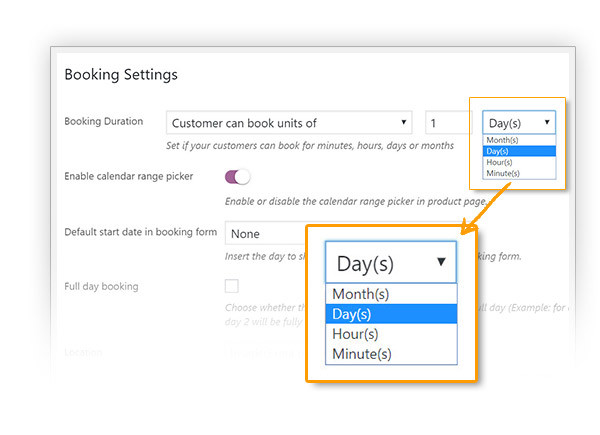 Establecer la característica 'todo el día' en tus productos
Para incluir el último día en la duración de la reserva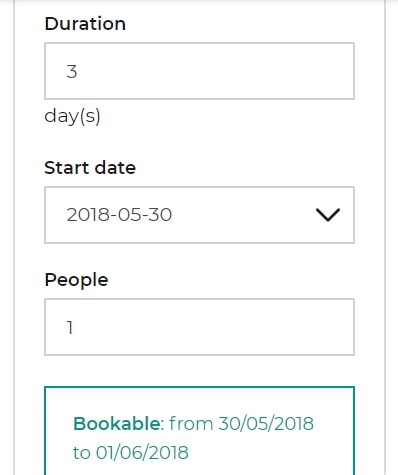 Gestionar el coste de la reserva
Establece un precio base y un coste extra que puede calcularse basado en la duración completa de la estancia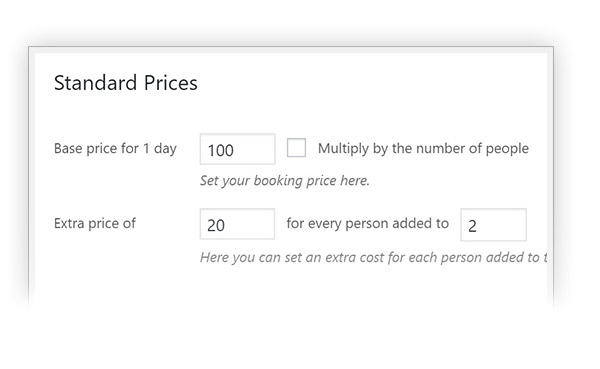 Editar costes dinámicamente
Permite diferentes tasas según la fecha de la reserva, el número de personas, el número de días seleccionados y/o los tipos de personas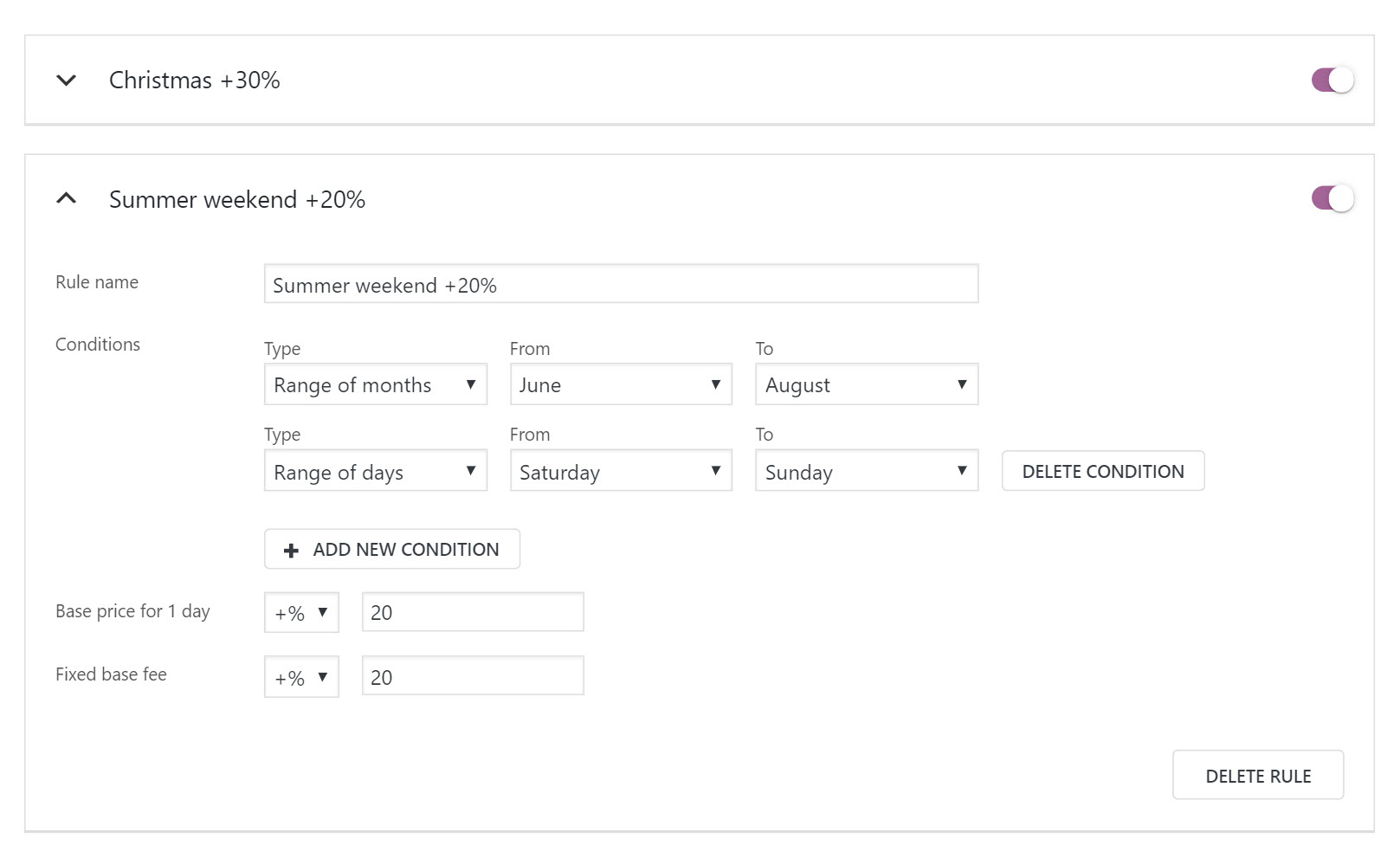 Gestionar la disponibilidad por adelantado
Al establecer un número máximo de reservas que pueden ser aceptadas por la misma fecha para el mismo producto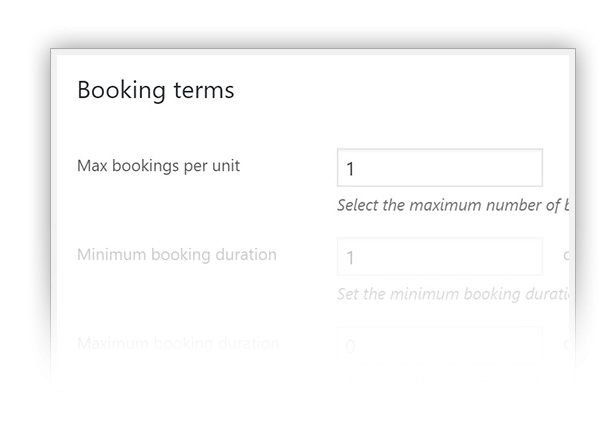 Aprovechar la fácil gestión de la disponibilidad de reservas
Aprobando o rechazando las reservas para días específicos desde tu panel de administración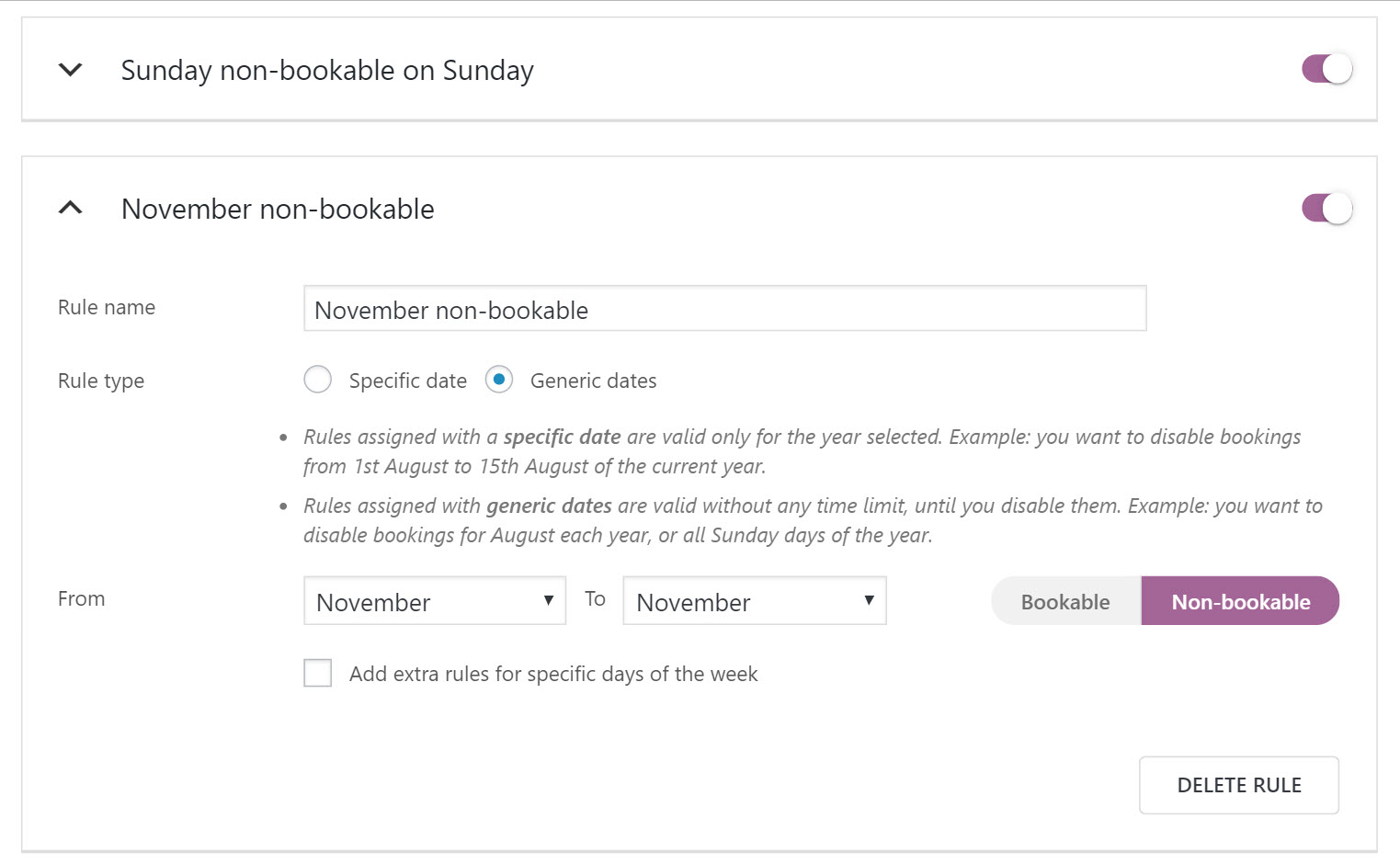 Gestionar los precios y disponibilidad globalmente
Y aplicar la configuración a todos los productos reservables en un movimiento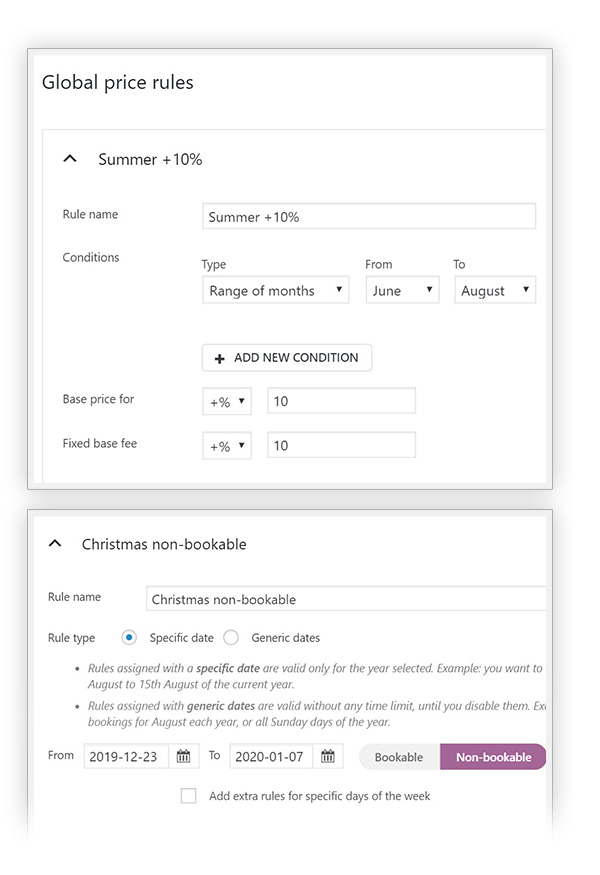 Añadir información de check-in y check-out
Muéstrala a los usuarios directamente en la página del producto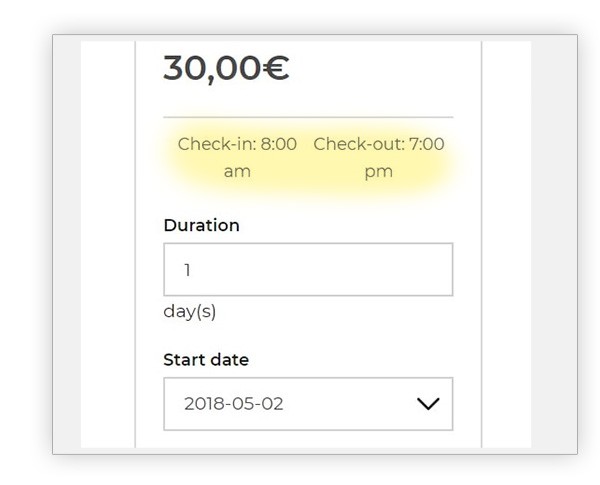 Gestionar el precio de reserva basado en el número de personas
Y elige si multiplicar el coste de la unidad de reserva por el número de personas seleccionadas o no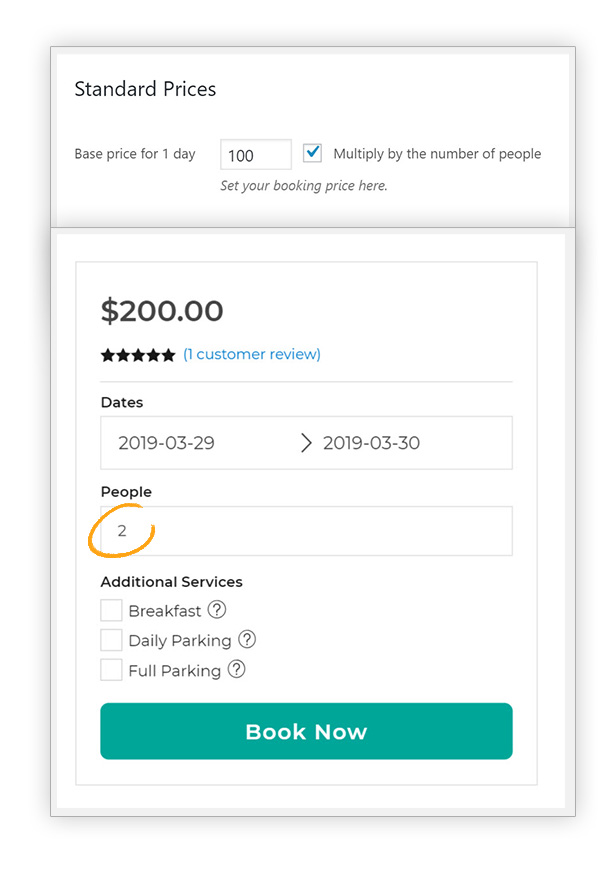 Aplicar diferentes tarifas basadas en las personas que reservan
Hombres, mujeres, niños, adultos, mayores de 60 años son sólo algunas categorías que podrías crear
Añadir servicios extra a tus reservas
Y asignar costes extra para cada uno de ellos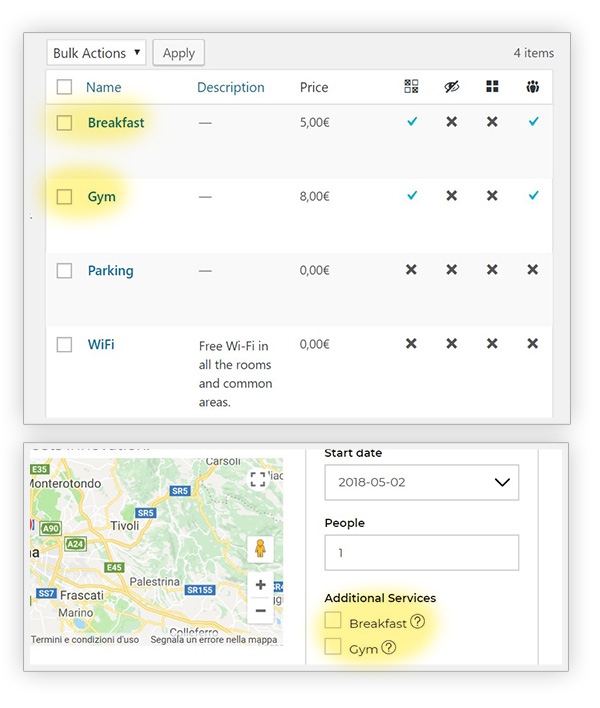 Hacer la búsqueda más fácil
Crea y configura formularios de búsqueda específicos que permiten a los usuarios obtener solamente los resultados que coinciden con los criterios seleccionados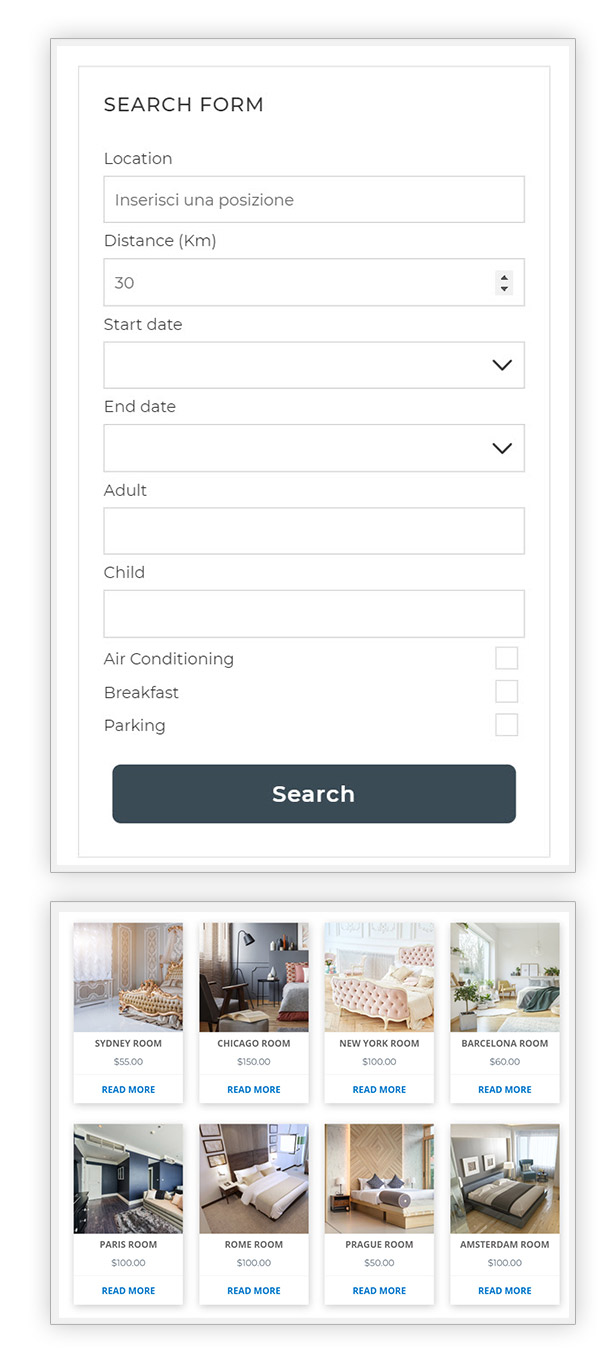 Establecer una ubicación para la estancia reservable mediante Google APIs
Y hacer la búsqueda más fácil permitiendo filtrar por ciudad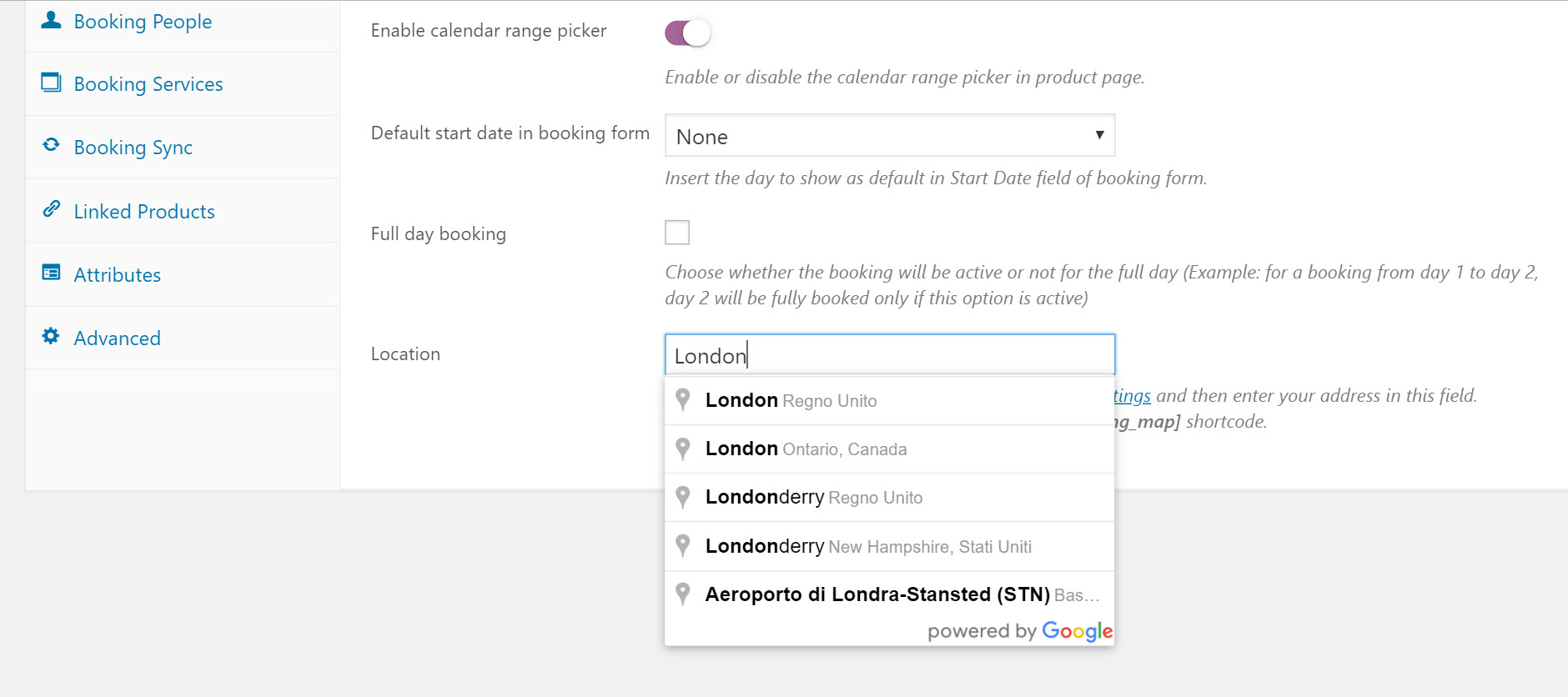 Aprovechar el uso de un calendario dedicado
Donde puedes monitorear rápida y cómodamente todas las reservas recibidas por mes o día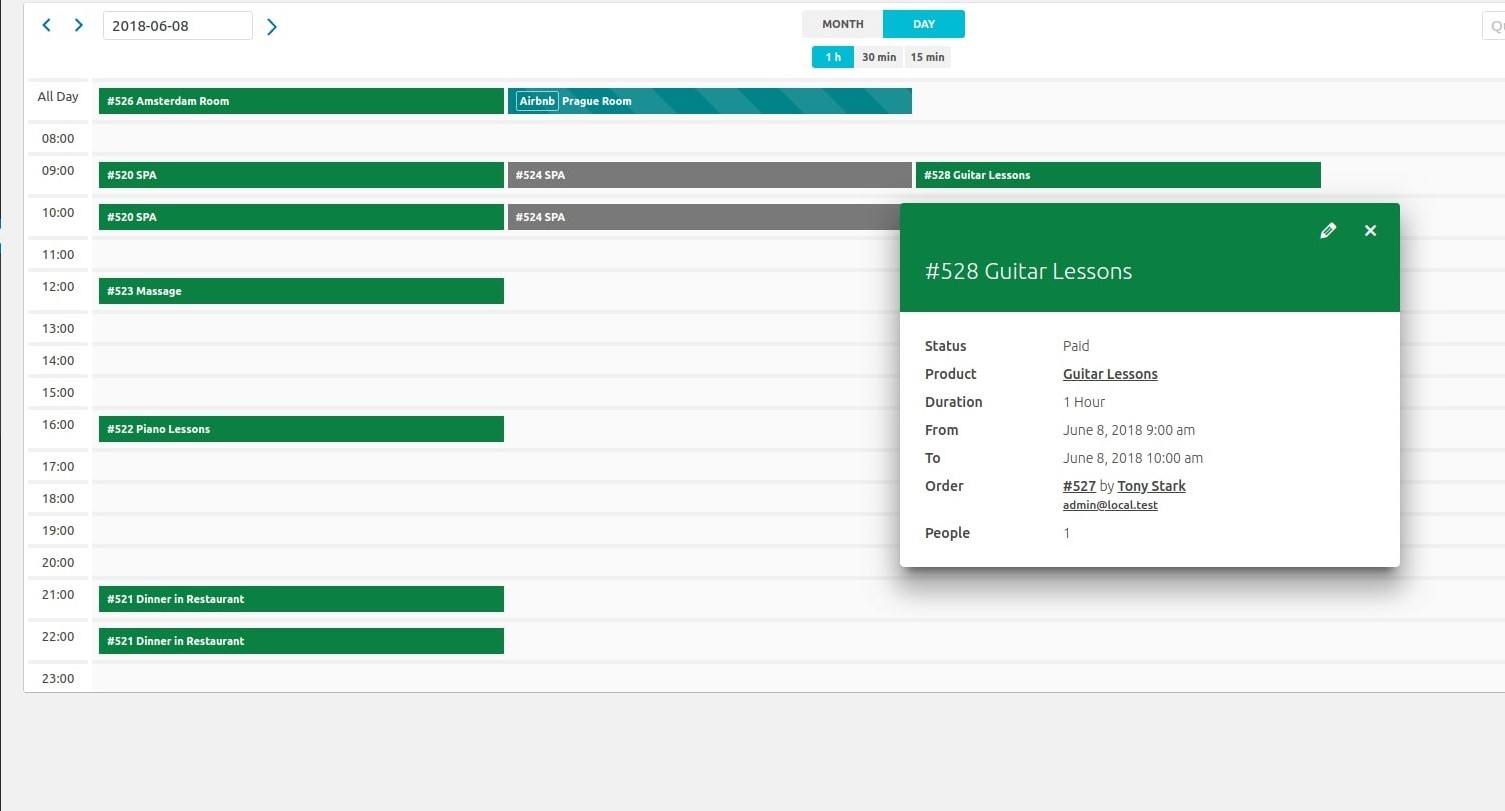 Crear una reserva en nombre del usuario
Podrás crear una reserva directamente en el área de administración y añadir todos los datos necesarios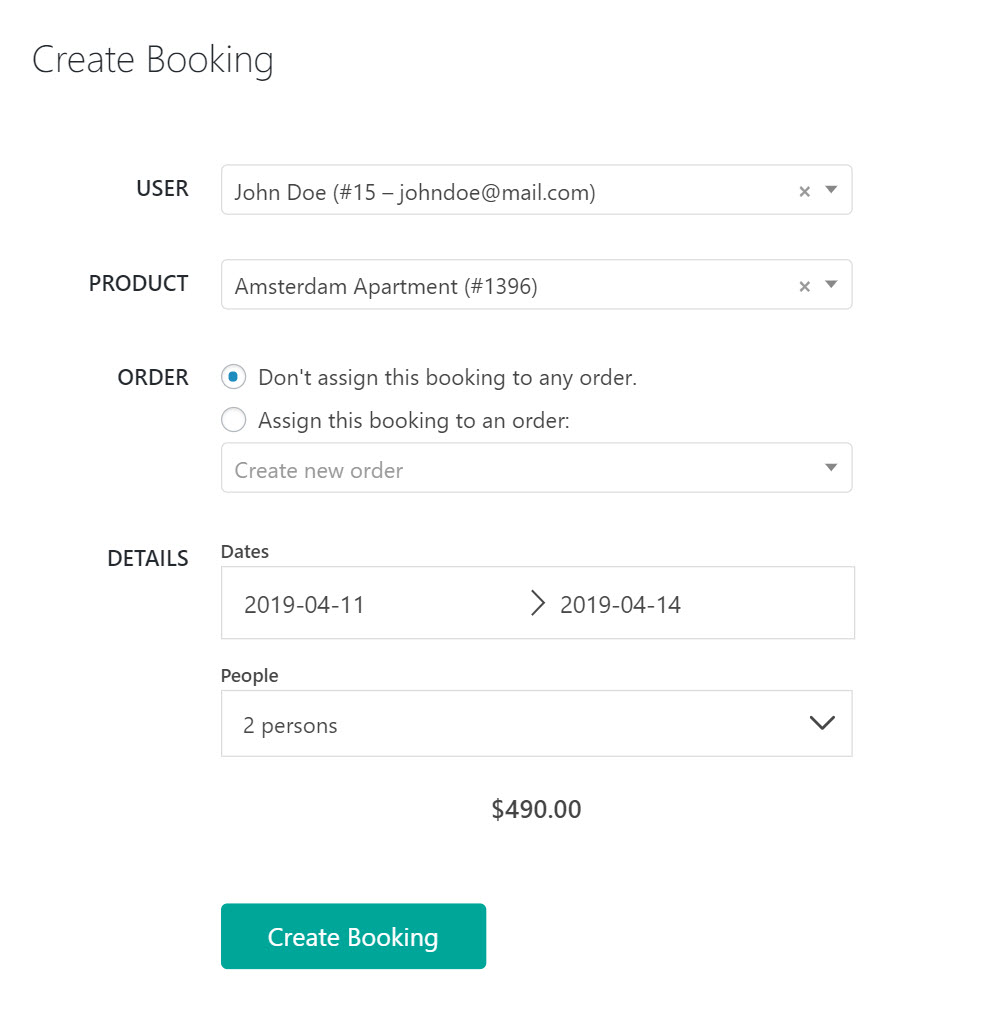 Mantenerte siempre al día sobre el estado de tu tienda
Gracias al correo electrónico de notificación que el plugin te permite enviar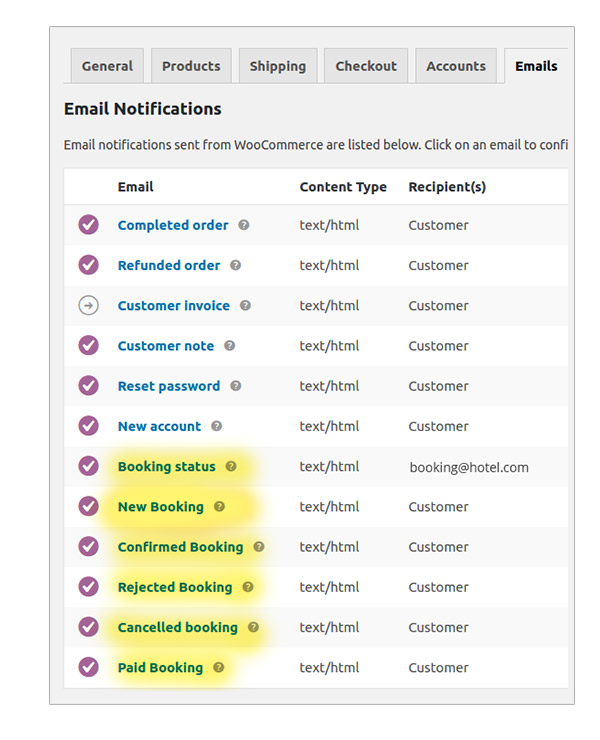 Permitir la cancelación de reservas
Y elegir el plazo máximo para cancelar la reserva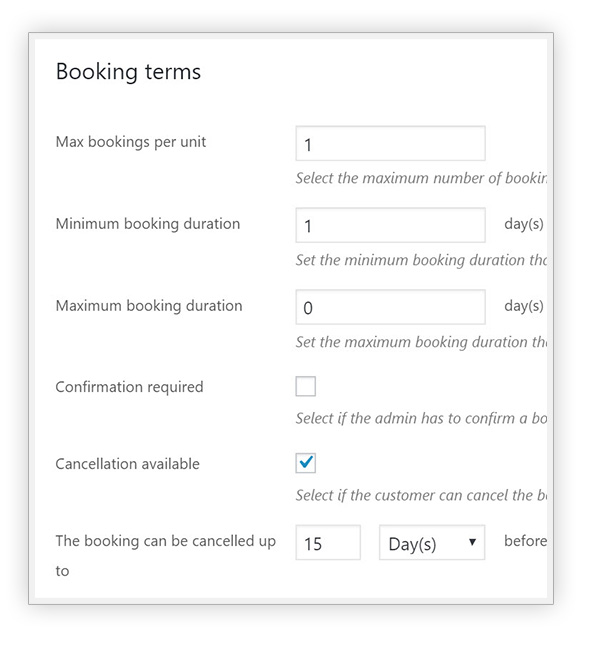 Exportar tus reservas a archivos CSV o ICS
O imprimirlos en archivos PDF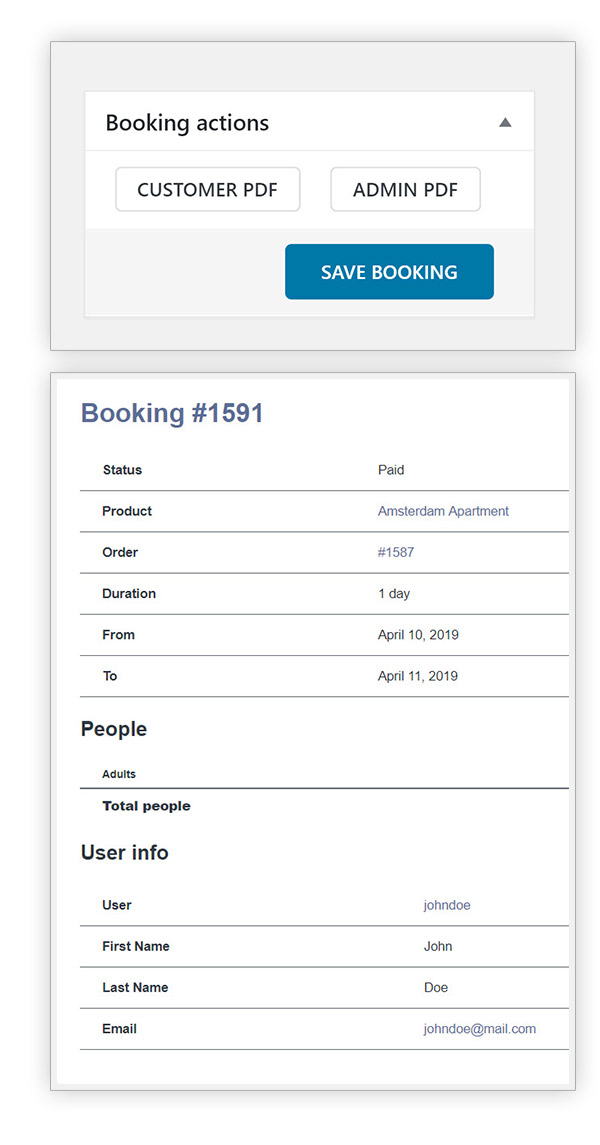 Aprovechar el tema de YITH Booking incluido
Para tener la galería de imágenes de tu producto en la parte superior y una útil barra lateral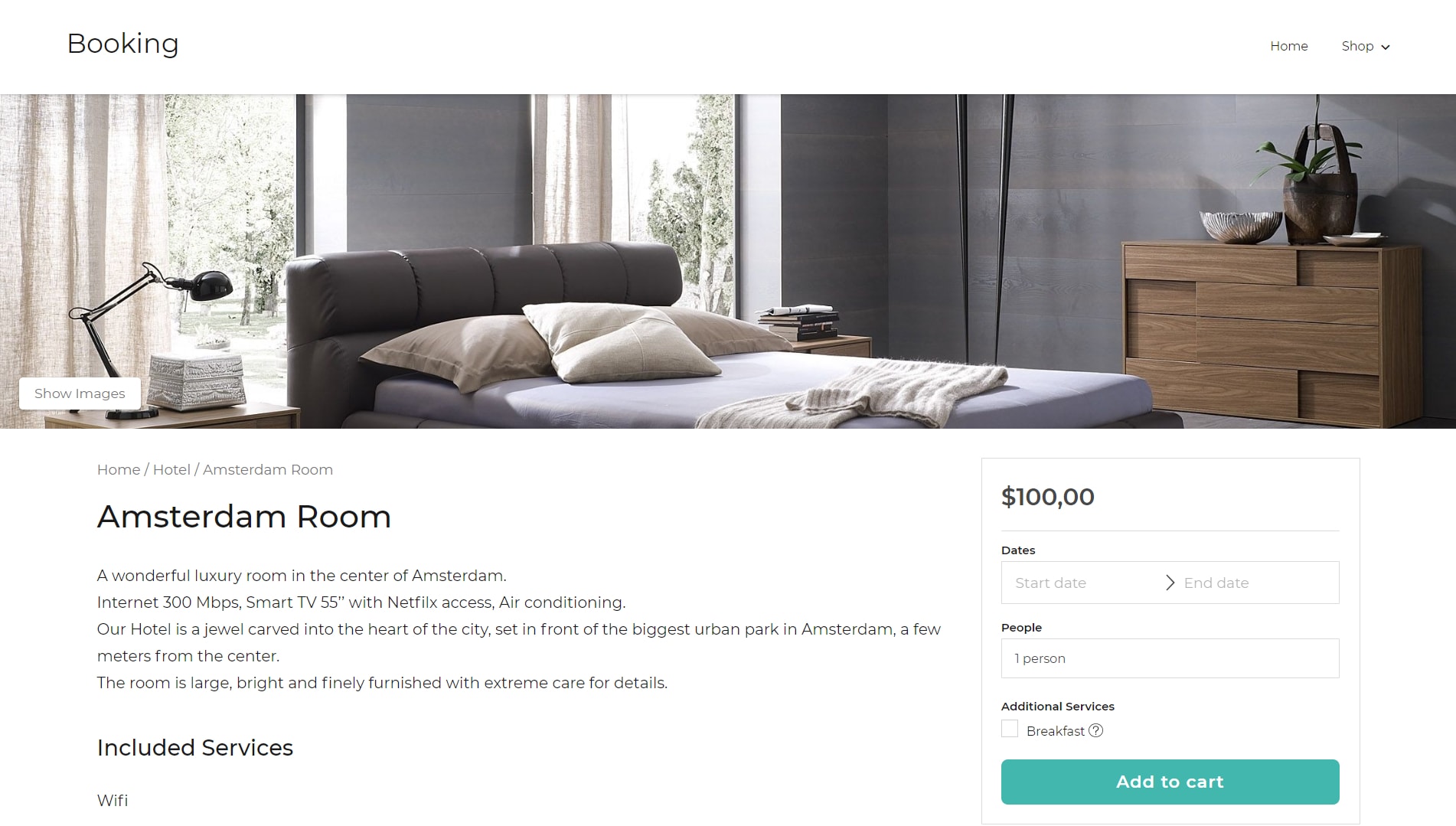 Auto-sincronizar el calendario con servicios como Booking, Airbnb y Homeway
Para evitar el overbooking de tus productos de reserva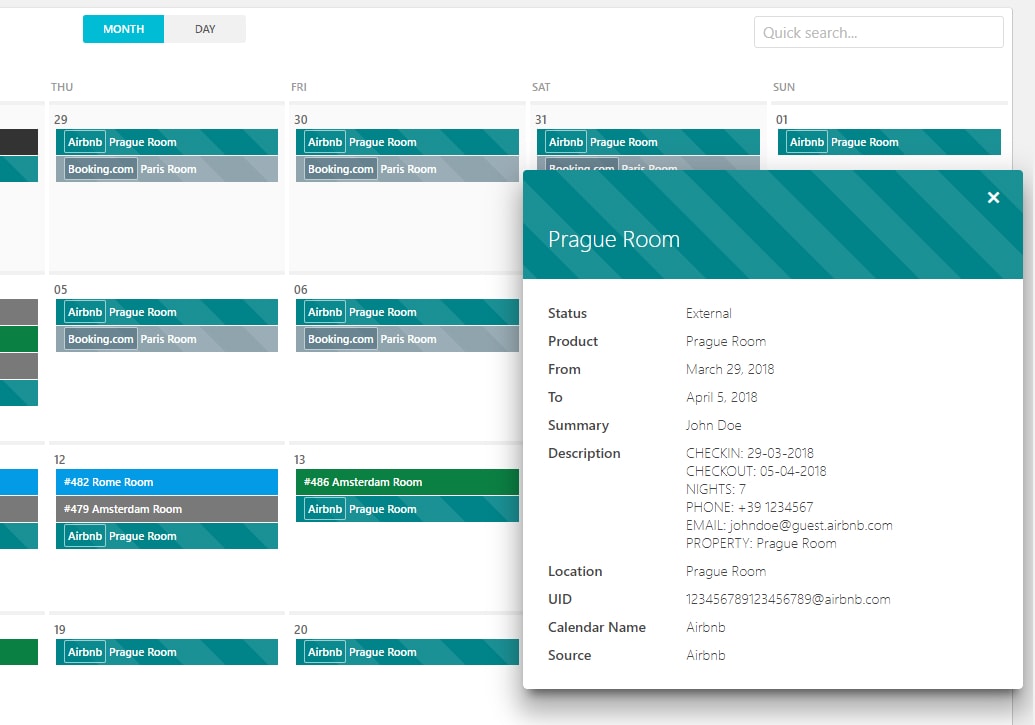 Integrar el Google Calendar
Para ver y sincronizar todos tus productos de reserva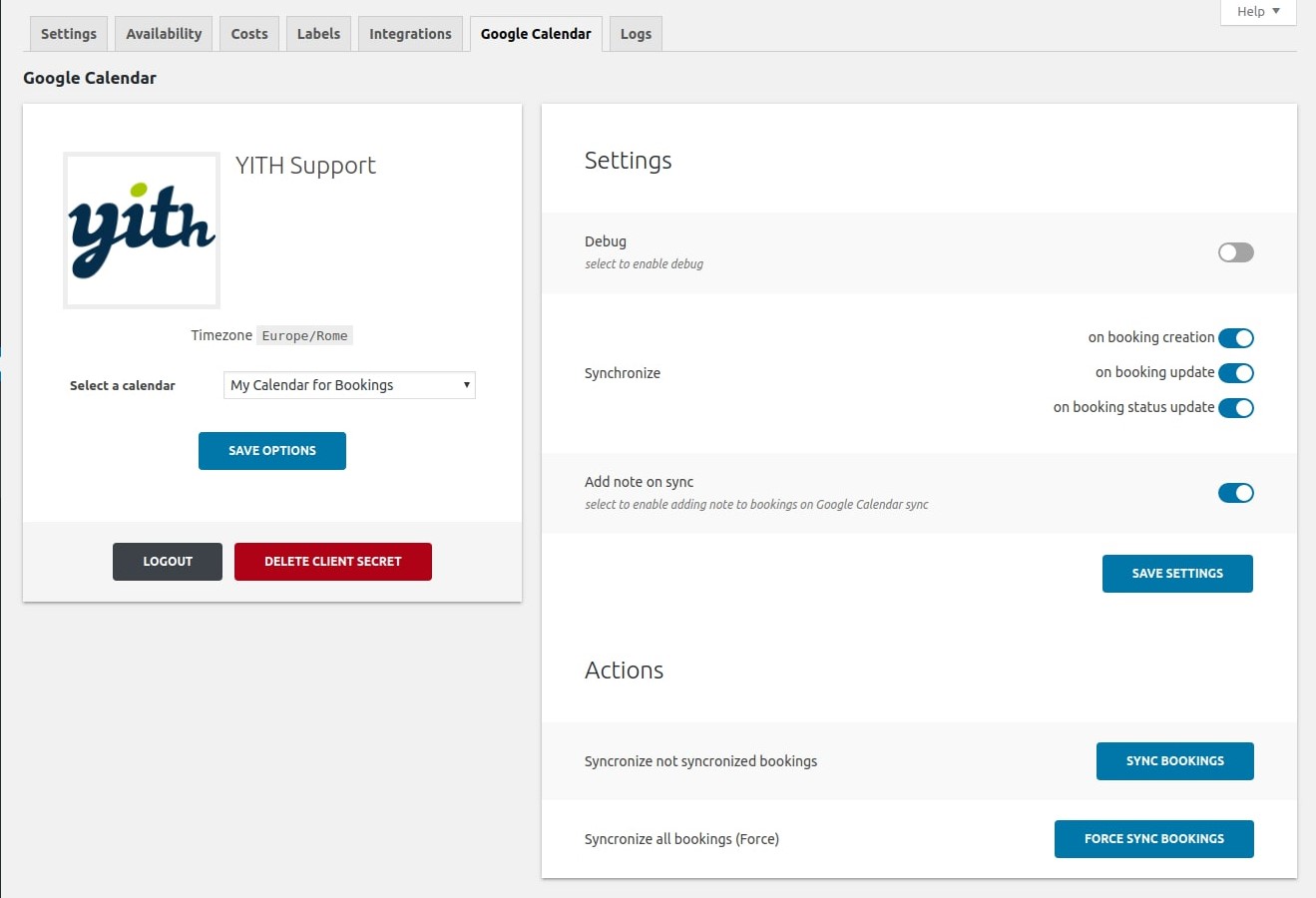 Hacer la ubicación de la estancia inmediatamente clara
Al añadir un mapa de Google mostrando su posición exacta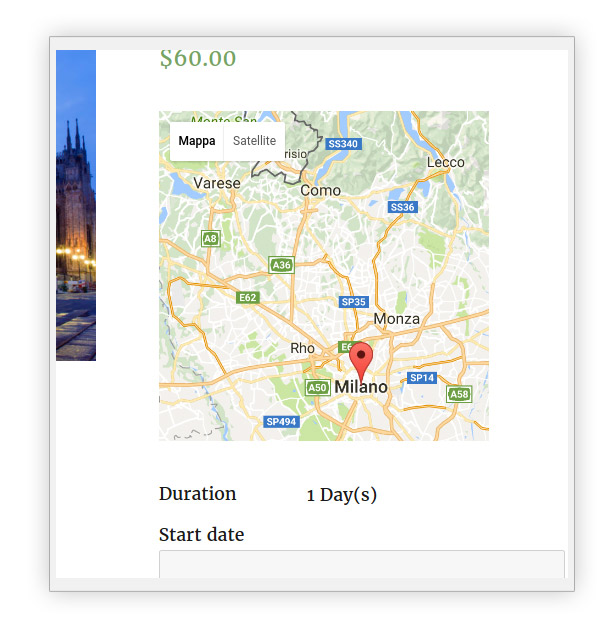 Tema de Booking integrado con Gutenberg
Puedes utilizar un tema claro con la elasticidad de Gutenberg para gestionar la estructura de las páginas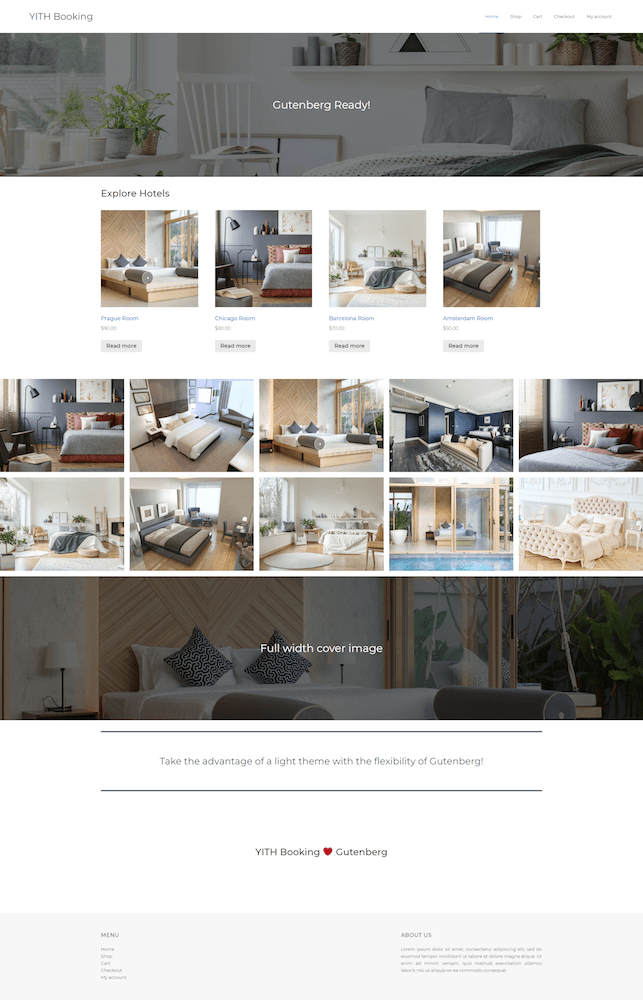 Mover la posición de formulario a la barra lateral
Usando el widget disponible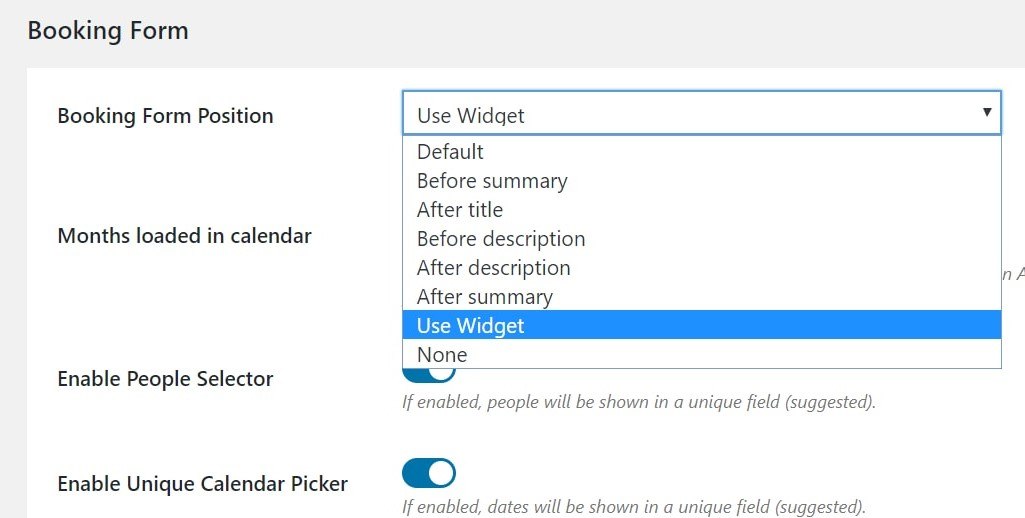 Aprovechar la compatibilidad con WPML
Puedes traducir el plugin fácilmente con la potente herramienta de WPML